About
In few words:
In creating this ebullient opera buffa, Rossini captured all the fiery spirit of the comedy by Beaumarchais that inspired it. A native of Venice, birthplace of commedia dell'arte, Damiano Michieletto is highly sensitive to the burlesque vein in Rossini's music. He transposes the action of this Useless Precaution to a modern-day Seville inspired by the cinema of Almodóvar. Bartolo's monumental building, where Figaro's free spirit whirls and twirls, allows this director to give free rein to his off‑beat imagination.
Opening

First part

100 mn

Intermission

30 mn

Second part

65 mn

End
Il Barbiere di Siviglia

Opera Buffa in two acts (1816)

After Pierre-Augustin Caron de Beaumarchais

Whether you're a member of Arop or not, the friends of the Opera can reserve seats for you on all performance dates, including those not yet open for sale and those announced as sold out.
Gallery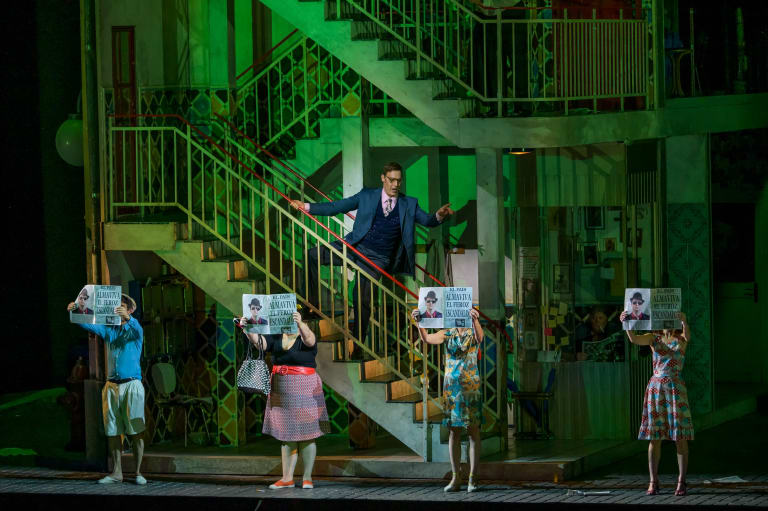 1/18 :
Le Barbier de Séville (saison 19/20) - Krzysztof Bączyk (Basilio)
© Charles Duprat / OnP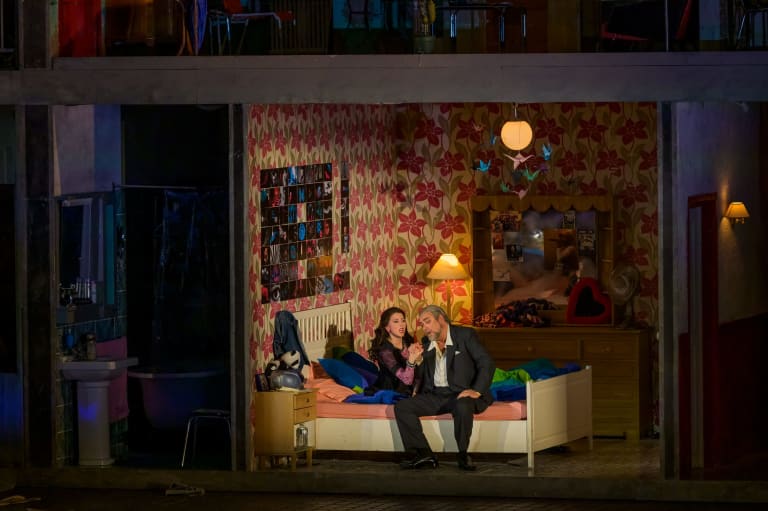 2/18 :
Le Barbier de Séville (saison 19/20) - Lisette Oropesa (Rosina) et Carlo Lepore (Bartolo)
© Charles Duprat / OnP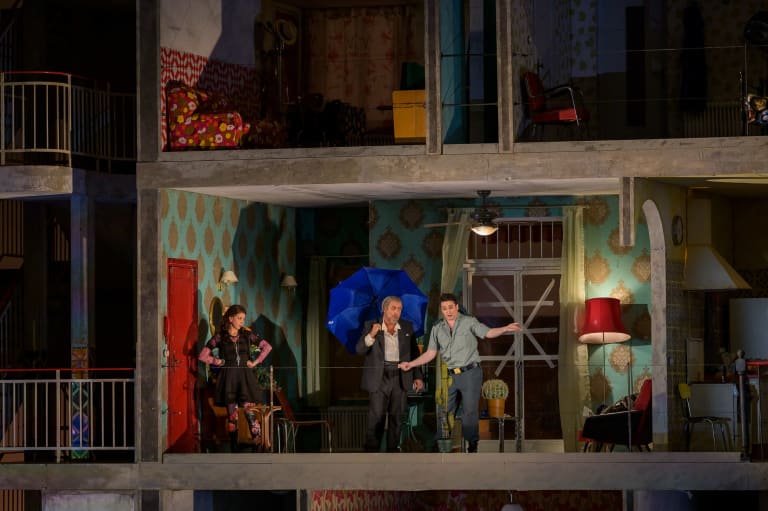 3/18 :
Le Barbier de Séville (saison 19/20) - Lisette Oropesa (Rosina), Carlo Lepore (Bartolo) et Xabier Anduaga (Il Conte d'Almaviva)
© Charles Duprat / OnP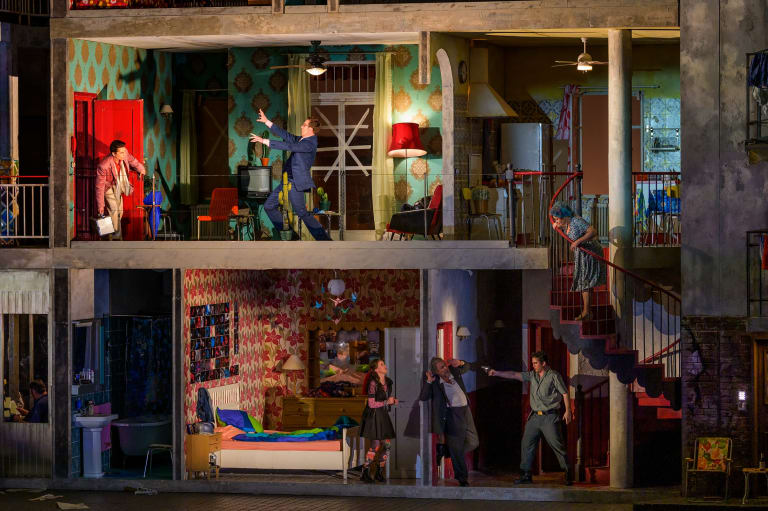 4/18 :
Le Barbier de Séville (saison 19/20) - Ilya Kutyukhin (Figaro), Krzysztof Bączyk (Basilio), Lisette Oropesa (Rosina), Carlo Lepore (Bartolo), Xabier Anduaga (Il Conte d'Almaviva) et Marion Lebègue (Berta)
© Charles Duprat / OnP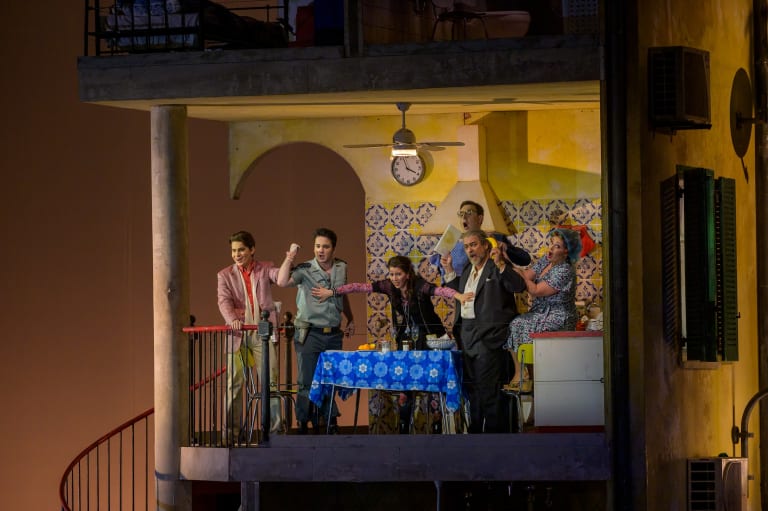 5/18 :
Le Barbier de Séville (saison 19/20) - Ilya Kutyukhin (Figaro), Xabier Anduaga (Il Conte d'Almaviva), Lisette Oropesa (Rosina), Krzysztof Bączyk (Basilio), Carlo Lepore (Bartolo) et Marion Lebègue (Berta)
© Charles Duprat / OnP
6/18 :
Le Barbier de Séville (saison 19/20) - Lisette Oropesa (Rosina), Marion Lebègue (Berta), Krzysztof Bączyk (Basilio), Carlo Lepore (Bartolo), Ilya Kutyukhin (Figaro) et Xabier Anduaga (Il Conte d'Almaviva)
© Charles Duprat / OnP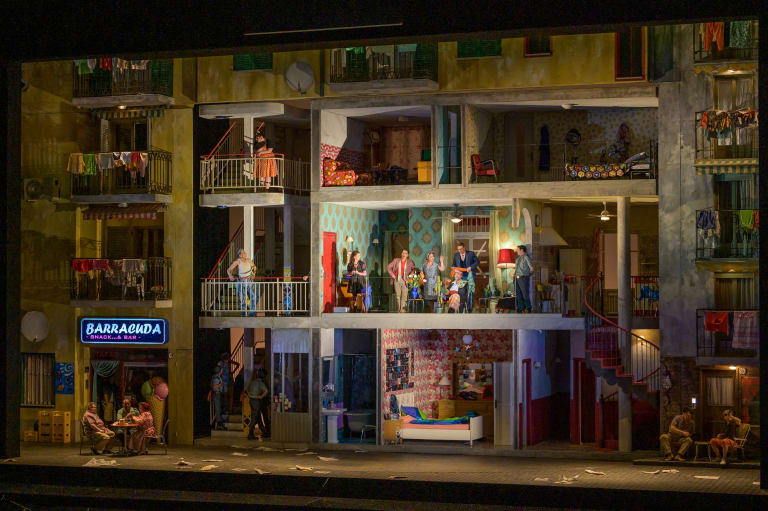 7/18 :
Le Barbier de Séville (saison 19/20) - Lisette Oropesa (Rosina), Ilya Kutyukhin (Figaro), Marion Lebègue (Berta), Carlo Lepore (Bartolo), Krzysztof Bączyk (Basilio) et Xabier Anduaga (Il Conte d'Almaviva)
© Charles Duprat / OnP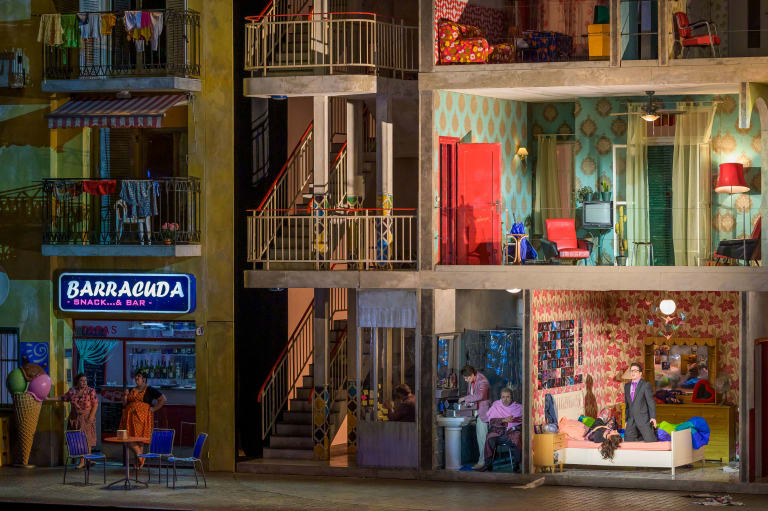 8/18 :
Le Barbier de Séville (saison 19/20) - Ilya Kutyukhin (Figaro), Carlo Lepore (Bartolo), Lisette Oropesa (Rosina) et Xabier Anduaga (Il Conte d'Almaviva)
© Charles Duprat / OnP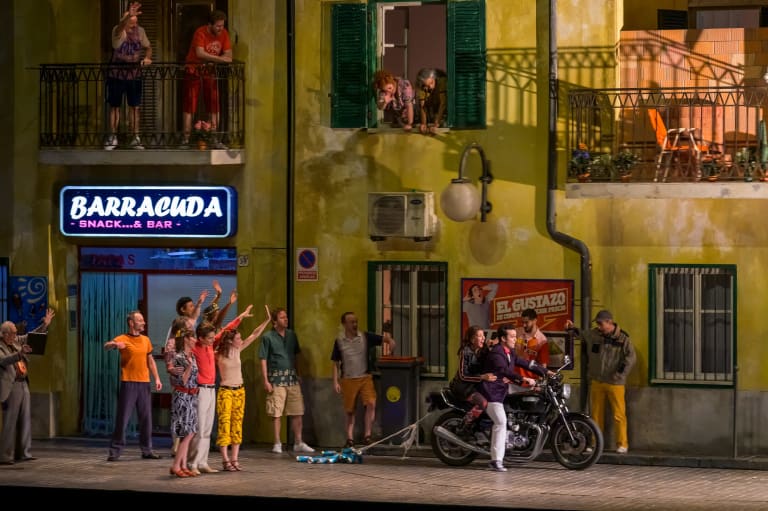 9/18 :
Le Barbier de Séville (saison 19/20) - Ilya Kutyukhin (Figaro), Lisette Oropesa (Rosina) et Xabier Anduaga (Il Conte d'Almaviva)
© Charles Duprat / OnP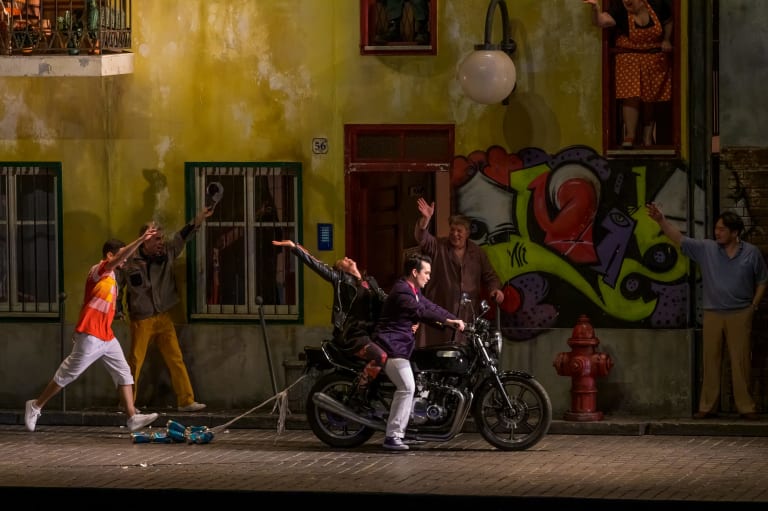 10/18 :
Le Barbier de Séville (saison 19/20) - Lisette Oropesa (Rosina) et Xabier Anduaga (Il Conte d'Almaviva)
© Charles Duprat / OnP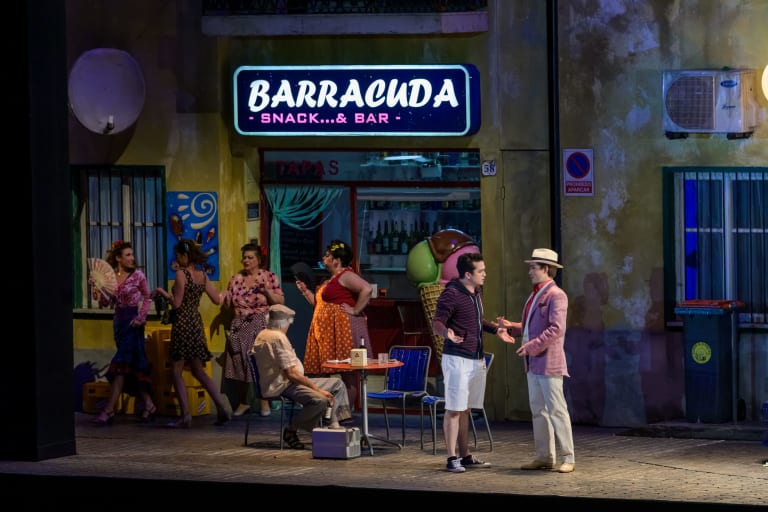 11/18 :
Le Barbier de Séville (saison 19/20) - Xabier Anduaga (Il Conte d'Almaviva) et Ilya Kutyukhin (Figaro)
© Charles Duprat / OnP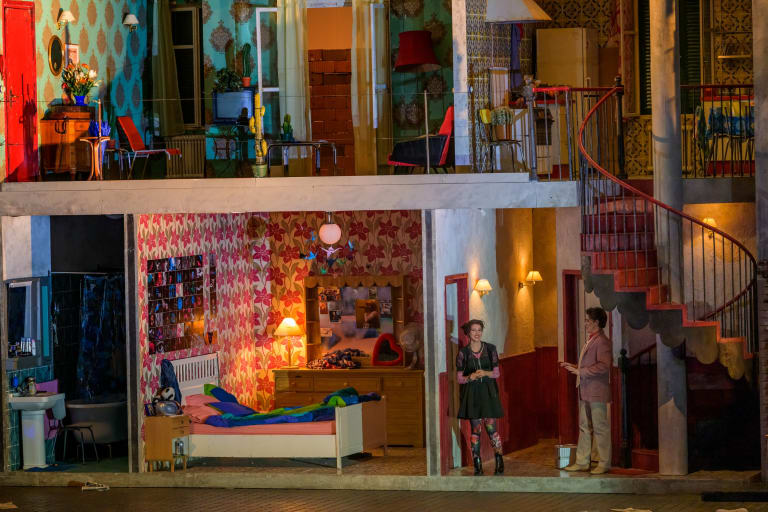 12/18 :
Le Barbier de Séville (saison 19/20) - Lisette Oropesa (Rosina) et Ilya Kutyukhin (Figaro)
© Charles Duprat / OnP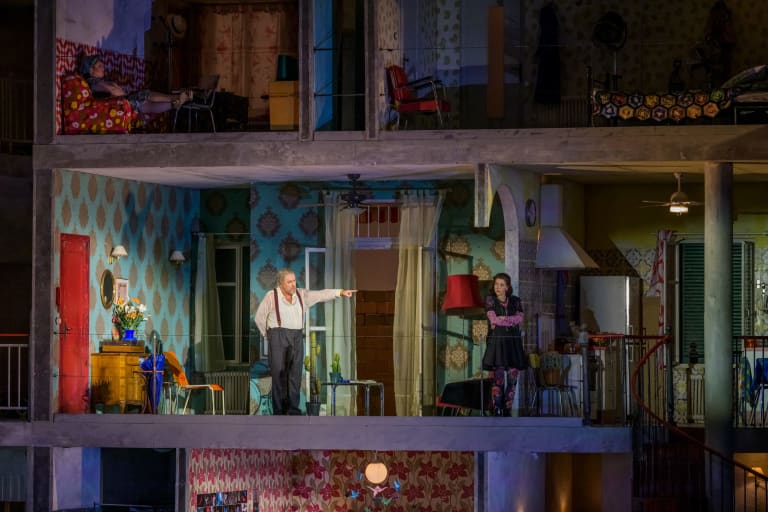 13/18 :
Le Barbier de Séville (saison 19/20) - Marion Lebègue (Berta), Carlo Lepore (Bartolo) et Lisette Oropesa (Rosina)
© Charles Duprat / OnP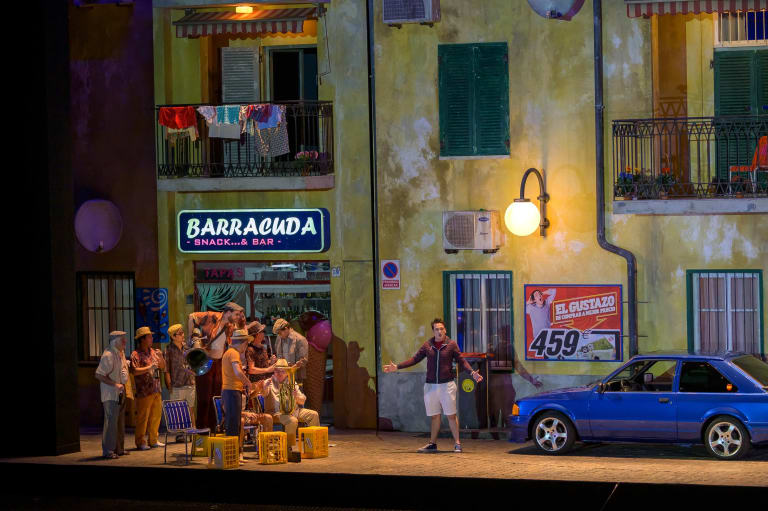 14/18 :
Le Barbier de Séville (saison 19/20) - Xabier Anduaga (Il Conte d'Almaviva)
© Charles Duprat / OnP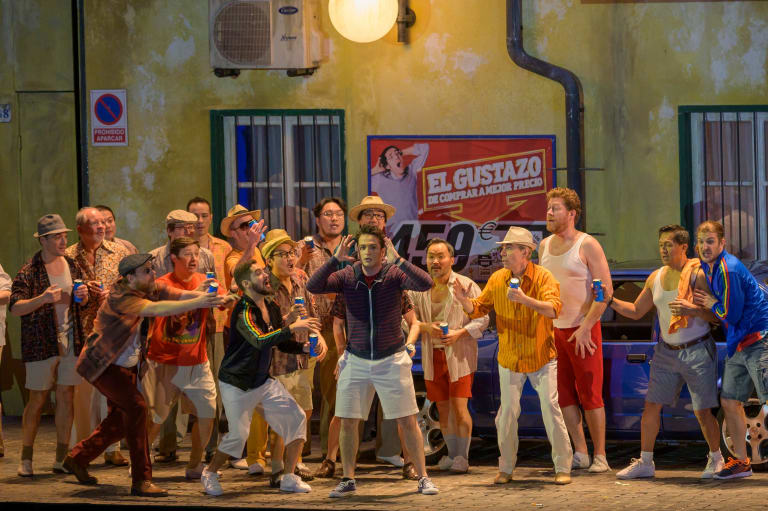 15/18 :
Le Barbier de Séville (saison 19/20) - Xabier Anduaga (Il Conte d'Almaviva)
© Charles Duprat / OnP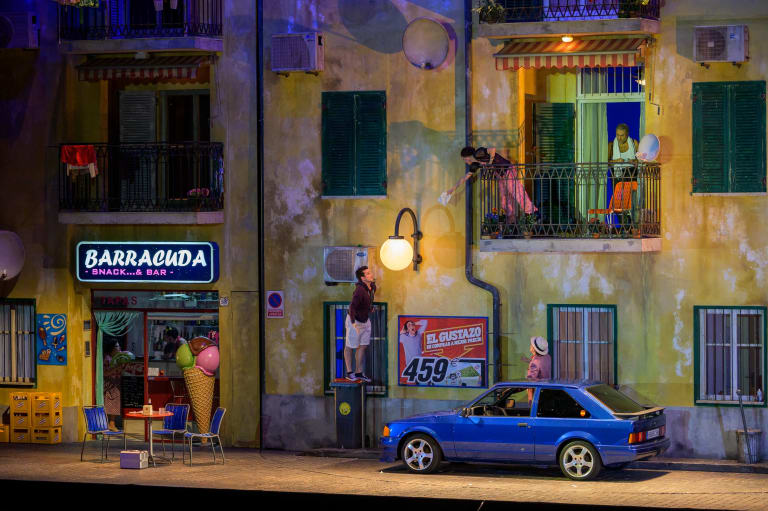 16/18 :
Le Barbier de Séville (saison 19/20) - Xabier Anduaga (Il Conte d'Almaviva), Lisette Oropesa (Rosina), Ilya Kutyukhin (Figaro) et Carlo Lepore (Bartolo)
© Charles Duprat / OnP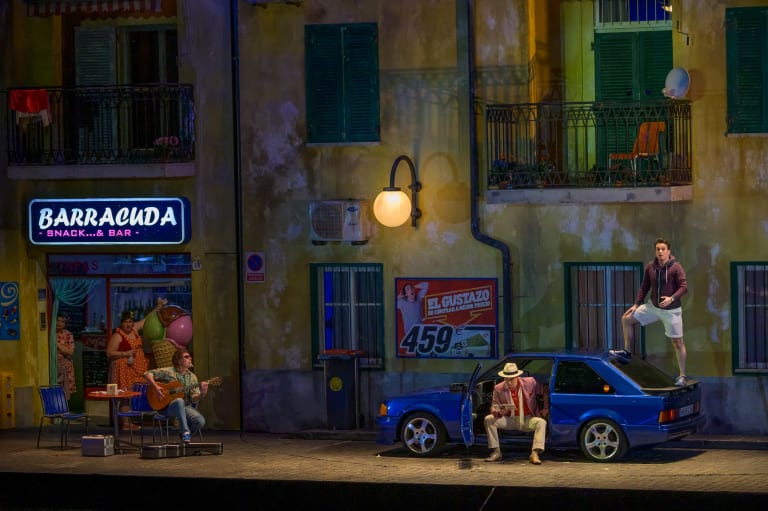 17/18 :
Le Barbier de Séville (saison 19/20) - Ilya Kutyukhin (Figaro) et Xabier Anduaga (Il Conte d'Almaviva)
© Charles Duprat / OnP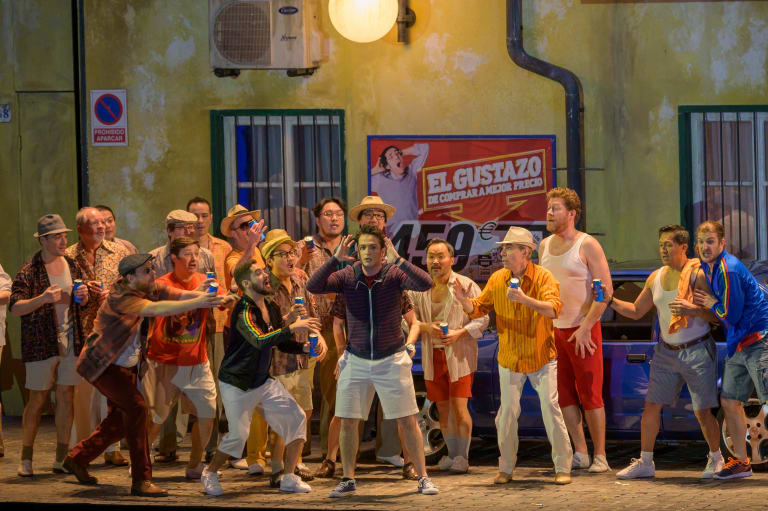 18/18 :
Xabier Anduaga (au centre) dans « Le Barbier de Séville, Opéra Bastille, 2020
© Charles Duprat / OnP
Videos clips
Il Barbiere di Siviglia by G. Rossini - Trailer
Audio clips
Le Barbier de Séville (saison 19/20)- Acte I (Lisette Oropesa)
Le Barbier de Séville (saison 19/20)- Acte II (Xabier Anduaga)
Le Barbier de Séville (saison 19/20)- Acte I (Krzysztof Bączyk)
Le Barbier de Séville (saison 19/20) - Ouverture
Backstage
Video

A new Count at Bastille

Podcast

Podcast Il Barbiere di Siviglia

Article

Figaro's Flirtation