In Calixto Bieito's provocative production at the Opéra Bastille, Clémentine Margaine and Roberto Alagna continue to fine tune the characters of Carmen and Don José every evening. Although they know these roles inside out, they admit they can still surprise them. Before one of the performances, they give us their complimentary visions of Bizet's lovers.
---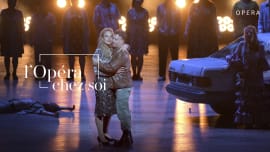 Carmen by Georges Bizet
Calixto Bieito offers the opera a new universe in a production that drives the characters into the darkest corners of their psyches...