Opera
Platée
Jean-Philippe Rameau
Palais Garnier - from 07 September to 08 October 2015
About
In few words:
"Let my song transform a mournful image into joy."

- Platée, Act II, scene 5
What is Platée? The first ambiguity concerns its genre: it is sometimes considered a one-of-a-kind bouffon ballet, and sometimes given the more neutral designation of a comédie-ballet. The ambiguity continues with the opera's title role – a "Nymph" reigning over "a watery empire" or "a ludicrous Naiad", a role sung by a counter-tenor – a vocal range often associated with fresh, young heroes in leading roles. 
In work, composed for the marriage of the Dauphin Louis, son of Louis XV, to the Infanta Maria Teresa of Spain–, reputedly a woman of little beauty, –Rameau is clearly enjoying himself. Was he mocking the French court, which saw itself as a new Olympus, or perhaps making fun of tragédie lyrique, in which his musical audacity divided audiences into "Lully traditionalists" and "Rameau Modernists"? Then again, perhaps he was simply mocking himself: so unconcerned was he by his own glory, according to his first biographer, Guy de Chabanon, that it "sometimes even seemed to bother him".
The composer was, nevertheless, quick to respond to the lethal salvos of his most fervent detractors. Was it not a stroke of genius on his part to demonstrate with the character of "La Folie", that none but himself, an artist and theorist, could have "achieved such a masterpiece of harmony"? This classic production from the Paris Opera repertoire by Marc Minkowski and Laurent Pelly returns to the stage with an entirely new cast.
Platée

Opera in a prologue and three acts (1745)

After Jacques Autreau
Whether you're a member of Arop or not, the friends of the Opera can reserve seats for you on all performance dates, including those not yet open for sale and those announced as sold out.
Gallery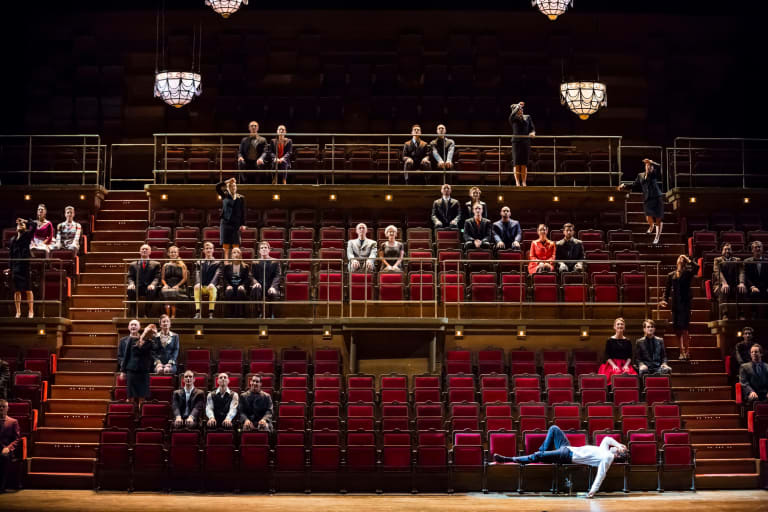 1/9 :
© Agathe Poupeney / OnP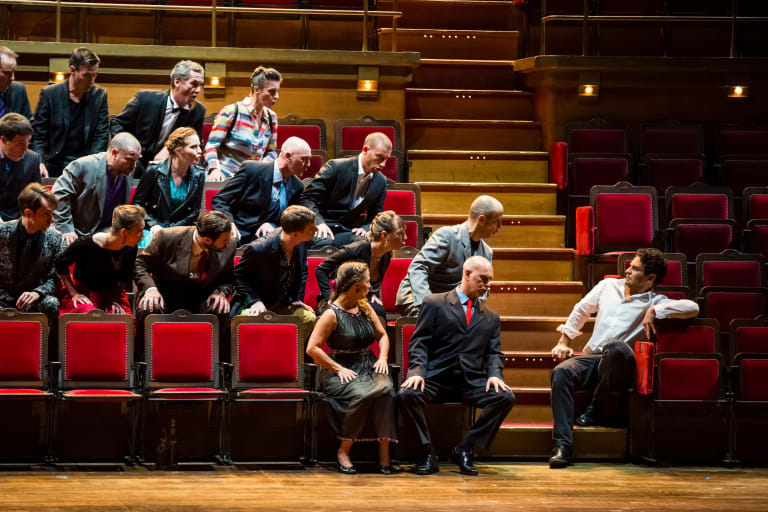 2/9 :
© Agathe Poupeney / OnP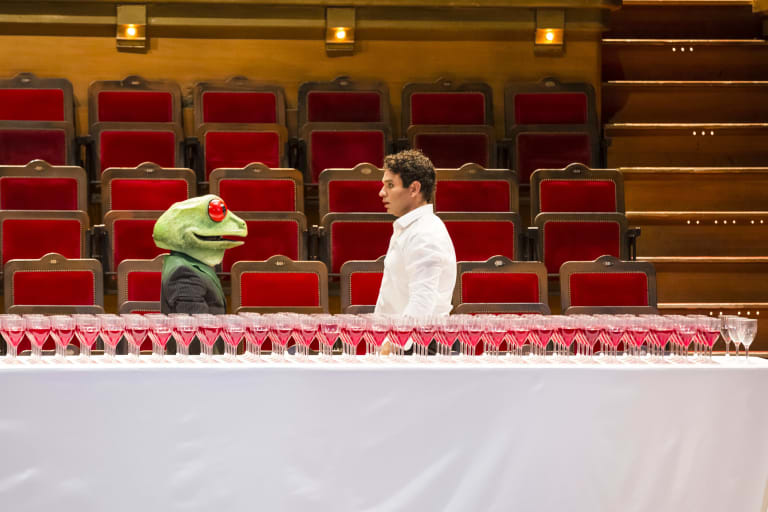 3/9 :
© Agathe Poupeney / OnP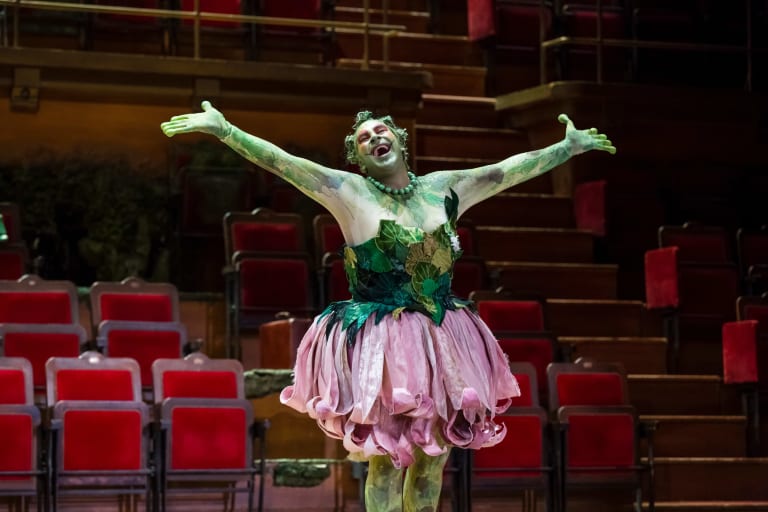 4/9 :
© Agathe Poupeney / OnP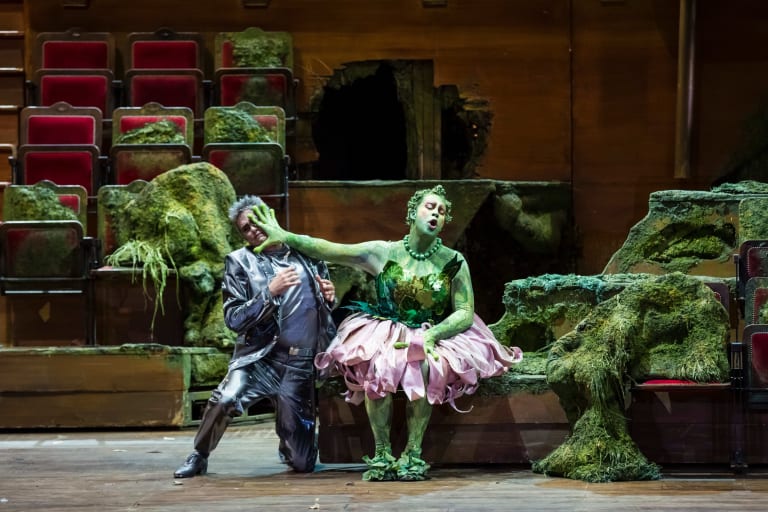 5/9 :
© Agathe Poupeney / OnP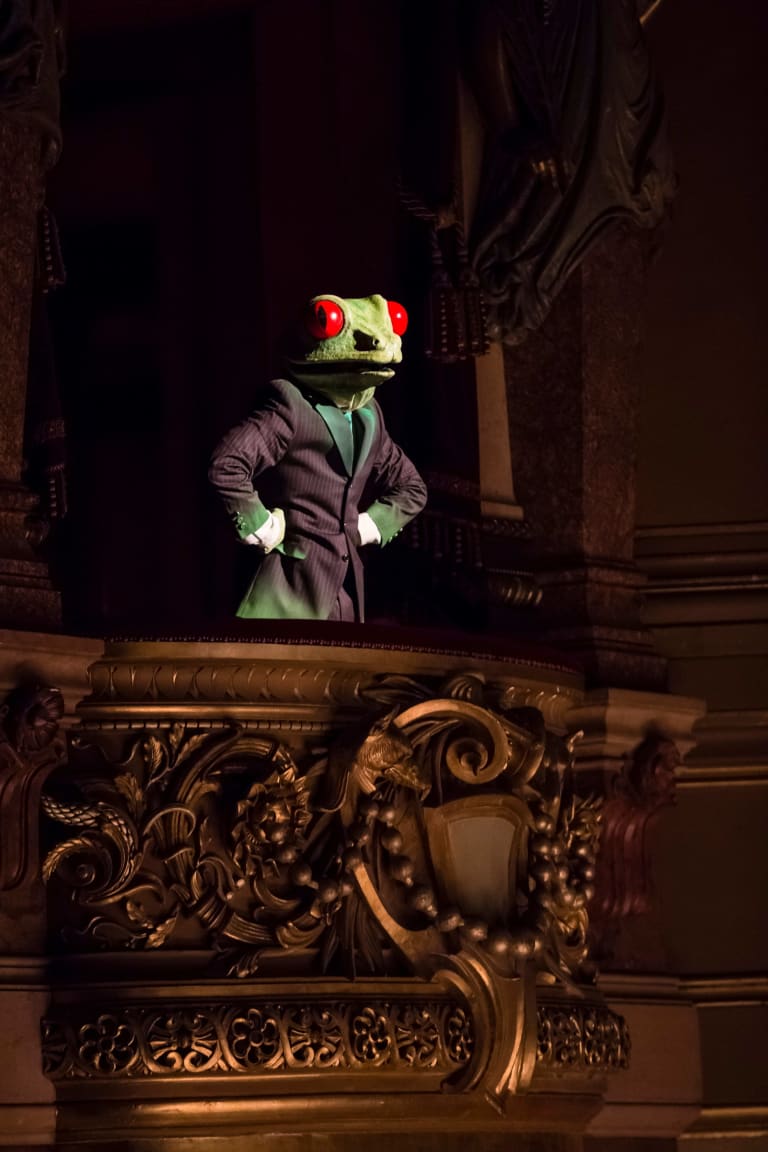 6/9 :
© Agathe Poupeney / OnP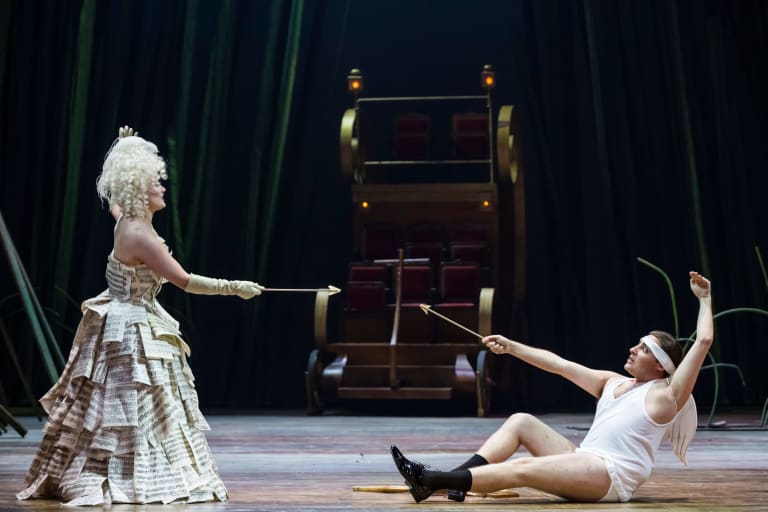 7/9 :
© Agathe Poupeney / OnP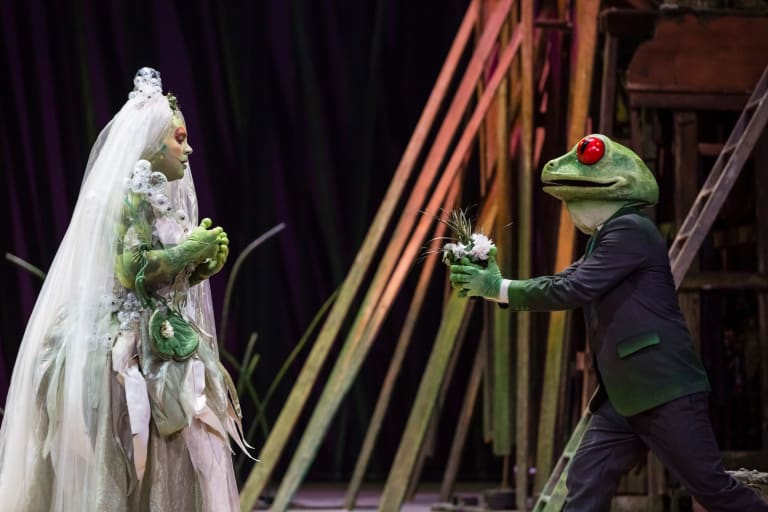 8/9 :
© Agathe Poupeney / OnP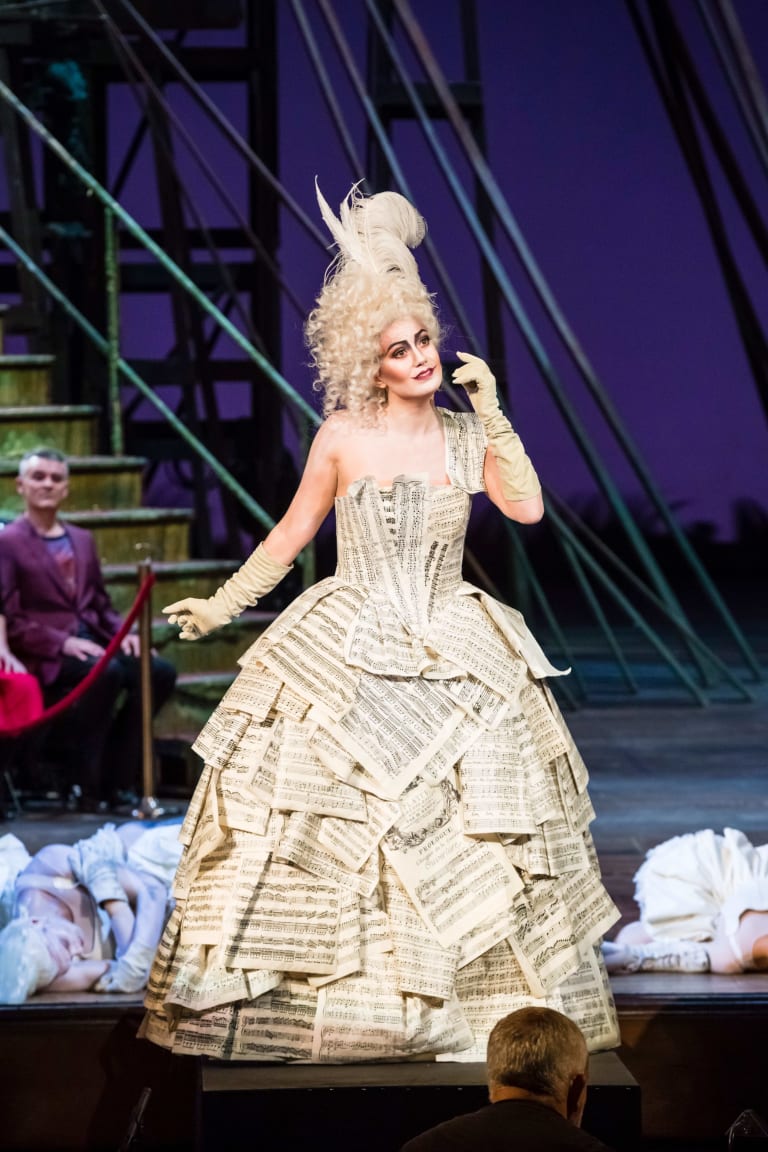 9/9 :
© Agathe Poupeney / OnP
Audio clips
Platée - Jean-Philippe Rameau
— By In partnership with France Musique
Backstage
Article

Profession : Entertainer
© Polo Garat, Odessa Photographies
Article
Profession : Entertainer
A portrait of Pelly
11'
Standing apart from the controversies that periodically stir the world of opera, Laurent Pelly's productions are fully integrated into the repertory of the Opéra de Paris and define one facet of his identity over the past fifteen years. This exceptionally prolific French stage director regularly frequents the greatest opera houses of the world. Averse to methods and concepts, he gives priority to the pleasure of giving new life to otherwise forgotten works.

Laurent Pelly is the kind of stage director who does not trouble himself with any notion of a hierarchy between repertories. He has staged all the major works of Offenbach, makes no secret of his affection for Donizetti, likes flirting with baroque music and has worked harder than any of his colleagues for the rehabilitation of Massenet. In the public theatre circuit, he is one of the few who dare to defend a repertory that is usually viewed as light comedy, that of Labiche, Feydeau, Marivaux, Goldoni, which he connects to the great tradition of popular theatre, that of Shakespeare and Hugo. For it is here that his artistic adventure begins, through contact with these texts whose public support has been unwavering, even when they seemed out of fashion and neglected by directors, and which he took up in 1980 with his company - the Pelican (!) - founded at the age of eighteen. The team that he assembled here quickly brought together accomplices who have worked with him ever since, notably the playwright Agatha Mélinand and the stage designer Chantal Thomas.
It is this affection for popular theatre of a man of both writing and the stage that has subsequently won over opera audiences. On all the Parisian and regional stages, and now those around the world, plus the DVDs that preserve the memory of almost all of his opera productions, Laurent Pelly offers an accessible and laughing face to lyric art. Always with the same lightness, his staging brings classic works up to date, but without fanfare, nonchalantly, with an intent that is playful rather than controversial. He is surprised that his version of L'Elisir d'amore (The Elixir of Love) is seen by some as a transposition loaded with references to Italy in the fifties, whereas he was basically seeking to subjectively bring to life the universe of his own rural childhood. He trusts the music on which he works without any preconceptions or theories, and in his productions tries to convey what it evokes in him, intimately, personally, thus hoping to open its doors to an uninitiated audience. He works by ear, whether for a recording or for a rehearsal. Rather like Patrice Chéreau, to name another theatre director who has worked in opera, and who also was obsessed by ways to "tell stories" through music.
Even though the productions of Laurent Pelly struggle with today's world and the human being in its elementary complexity, they seek neither political provocation nor metaphysical meditation. He makes no secret that The Threepenny Opera and The Seven Deadly Sins attract him more for Kurt Weill's jazzy humour than for Bertolt Brecht's writing, and his interpretation of Pelléas et Mélisande puts the emphasis on human drama, expressed by Debussy's supremely natural prosody, rather than the metaphysical hidden-worlds that fascinated Maeterlinck. His most fundamental instincts alienate him from Wagner: he prefers lighter voices, extolling their greater scenic versatility, epitomised by his fruitful collaboration with Natalie Dessay, the heroine and instigator of a world-famous Fille du régiment. His work with choruses, not to mention the care he takes in himself designing the costumes for his productions, everything points in the same direction: celebrating the stage as a place of life and movement, of play in all the many senses of the word. Under his direction, the posture and demeanour of the singers, so often static, stilted by the conventions of the genre and the physical constraints of vocal delivery, seem to be freed of inhibitions, evoking an explosion, a climax of a jubilant disarticulation.
This practice of directing actors, sometimes difficult in the format of opera, is only possible thanks to the trust of conductors with whom he works. In 1997, his collaboration with Marc Minkowski started with their work on Orpheus in the Underworld, the first of a long series of Offenbach operas they approached in tandem. It was also Minkowski who invited him to take an interest in Rameau's "comic ballet", Plataea, which in 1999 resulted in one of the longest running productions at the Opéra de Paris.
It is not surprising to find the director at ease in such fairy-tale worlds, even and especially when they are somewhat disturbing, for he takes a consummate pleasure in bringing the great fables of the repertory to life: Cindarella by Massenet, L'Enfant et les sortilèges (the Child and the Spells) by Ravel, or in the theatre L'Oiseau vert (the Green Bird) by Gozzi and A Midsummer Night's dream by Shakespeare are inevitably the fundamental touchstones for someone who likes to construct large scenes of visual richness and extravagant choreography and for whom the supernatural is a way of reminding the adult spectator - who might tend to take his stature of enlightened enthusiast a little too seriously, especially in opera – of the muddled pleasures of childhood imagination. The term that occurs most often in reviews of his productions, whether or not their overall verdict is positive, is the noble word "discovery".
This is undoubtedly what motivates a director who is as forthcoming and as strongly attached to stage work to constantly come back to pit himself with the same determination against the heavy and slow mechanics of opera: it is here where the finest machinery is to be found. It is here where a hundred people, each clad in different costume, can together make up a gigantic living picture within lavish decors, which moreover the director enjoys setting in motion on a revolving stage to show off every angle. The visual ideas developed within the framework of the theatre, a medium more conducive to experimentation, find a place of expansion and fulfillment on the monumental stages such as the Bastille - thus the threadlike architectures of Mille francs de récompense (Thousand francs reward) by Hugo is subsequently dilated inside the gigantic backdrop of Bellini's Il Puritani (the Puritans): the scenographic idea lends itself to the game and comes to life on stage. Conversely, the style of big images devised at the opera in turn leaves its imprint on the more intimate creations for the theatre. Such is the case in Macbeth in which the actors seem lost in the oversized architecture and furniture. Like all creators who are excessively fertile, Laurent Pelly and his collaborators adapt and develop the subject matter of each production in the following one, in effect building links between forms and genres that seemed doomed to exist in their own world and for their own audience, without ever meeting.
Despite his constant presence on major opera stages, Laurent Pelly was at the helm of the National Theater of Toulouse, alongside Agathe Mélinand, from 2008 to 2017. It is not enough as the saying goes, to "keep a foot" in the theatre. He needs to maintain a direct relationship with the public, one that is as authentic as possible. He uses this connection, paying constant attention to it, so as to continue the adventure that started within him thirty five years ago. Do "professional opera directors" exist? Despite his obvious profession, Laurent Pelly does not intend to become one: he prefers to envisage, non-exclusively, his work in the lyric medium as a natural extension of his activity as a man of the theatre, in an approach of imperturbable regularity and versatility. Whether he devotes himself to the world of drama or that of opera, he tries to push their known boundaries with the same curiosity, undertaking the least-staged works of Hugo, Goldoni, Rameau, Massenet, Chabrier and Bellini.
These efforts demonstrate that the entertainer who loves to address the general public does not see "the spectacular", in its superficial virtuosity, as an end in itself. His obsession with romanticism is rooted in an awareness of the twin nature of the grotesque and the sublime as formulated by his master Victor Hugo - himself inspired by Shakespeare in this respect -, in the ability of a Donizetti or a Massenet to instantly transform comedy into melodrama and vice versa. The early attraction of the director for the theatre of Strindberg is eloquent: behind the light comedy material of a love triangle or a marital crisis hides a dark side, fed by loneliness and death. Copi and Ionesco, who are among his favourite authors, claimed to have simply used the magnifying glass of surrealism to reveal that which was already present in Feydeau's farces. Comedy is no less cruel than tragedy; on the contrary, it is all the more cruel because we laugh. The story of the ugly marsh nymph Plataea who deludes herself that she is pretty, and who becomes the victim of a humiliating baroque prank, uncompromisingly reminds us of this, and moreover the stage director of this "amusement" does not diminish the malice of satire, quite the opposite. La Vie Parisienne - to name just one other highly acclaimed work that nonetheless offers its audience a quite unflattering reflection of itself -, the improbable ball with the bourgeoisie dressed in present-day suits, clearly shows that behind the perfectly oiled theatrical mechanics and the invitation to sing along with the popular song chorus, the mirror held up to our society is cracked.
Like the brightly-coloured street entertainers, who in Strauss' Ariadne auf Naxos (staged at the Paris Opera in 2003) have no doubt that they deserve to perform on the same stage as the pretentious and conceited opera singers, Laurent Pelly throws himself into opera scenes with no regard to labels and protocols. Neither is he seeking to be revolutionary. He constructs his theatre from the music, elaborating his concept with the singers by suggesting images, spaces, and even directing them in the costumes he insists they wear so as to constrain and liberate them. It is the only philosophy that he lays claim to, and it is an appealing one. As for the result, he accepts, always, one sole judge: the audience.
---
Aleksi Barrière is a playwright, director and translator. Co-founder, with the conductor Clément Mao Takacs, of the company La Chambre aux échos (the Echo Chamber), which is dedicated to musical theatre located between repertory and contemporary creation, he is the instigator of many educational and editorial artistic projects.
Article
The great debuts
A fresh look at season 15/16
06'
---
And Folly took over the Palais Garnier…
And Romeo Castellucci confronted himself with Moses und Aron…
And Barbara Hannigan set fire to La Voix humaine…
And Faust left the Earth for Mars…
And Rosina escaped Bartolo's claws…
And Rigoletto stopped laughing…
And Lear was created in its original version at the Palais Garnier…
03:10'
Video
A grain of Folly
A portrait of Julie Fuchs
As a child Julie Fuchs wanted to be a dancer. But life decided otherwise and she is now one of the most promising singers of her generation. A portrait of the soprano who wears La Folie's spectacular dress in Platée.
Partners

Media and technical partners