Opera
Samson et Dalila
Camille Saint-Saëns
Opéra Bastille - from 04 October to 05 November 2016
About
In few words:
"Strip the invulnerable shield from his heart and discover the secret of his strength."

 

Samson et Dalila, Acte II, scène 2

Lightning streaks through the skies as Dalila declares her love to Samson in one of the finest arias of romantic opera. "My heart awakens to your voice like a flower to the kiss of dawn." An enchanting yet treacherous beauty… When the thunder at last rumbles, Dalila betrays Samson and offers him up to his enemies: "Come up, for this time he has shown me all his heart", she whispers to them in the night (The Old Testament, Book of Judges). Based on a violent and erotic biblical story, Saint-Saëns's opera – composed in 1877, much to Liszt's insistence – would not be performed at the Palais Garnier until fifteen years later. This first Parisian performance in 1892 included the hitherto unperformed "Dance Of The Priestesses". Nevertheless, it became one of the most performed French operas in the world, together with Faust and Carmen. Conducted by Philippe Jordan, this new production brings back a repertoire masterpiece that has not been performed at the Paris Opera for twenty-five years. Ever sensational as a femme fatale, Anita Rachvelishvili plays the murderous Priestess in a production staged by Damiano Michieletto.
CHARACTERS
Dalila: A Philistine seeking revenge on Samson
Samson: A brave Hebrew, famous for his strength, leader of his people
The High Priest of dagon: High Priest of the Philistines
Abimelech: Satrap of Gaza, the administrative governor
An old Hebrew
A Philistine messenger
Two Philistines
Samson et Dalila

Opera in three acts and four scenes (1877)

In French
Whether you're a member of Arop or not, the friends of the Opera can reserve seats for you on all performance dates, including those not yet open for sale and those announced as sold out.
Gallery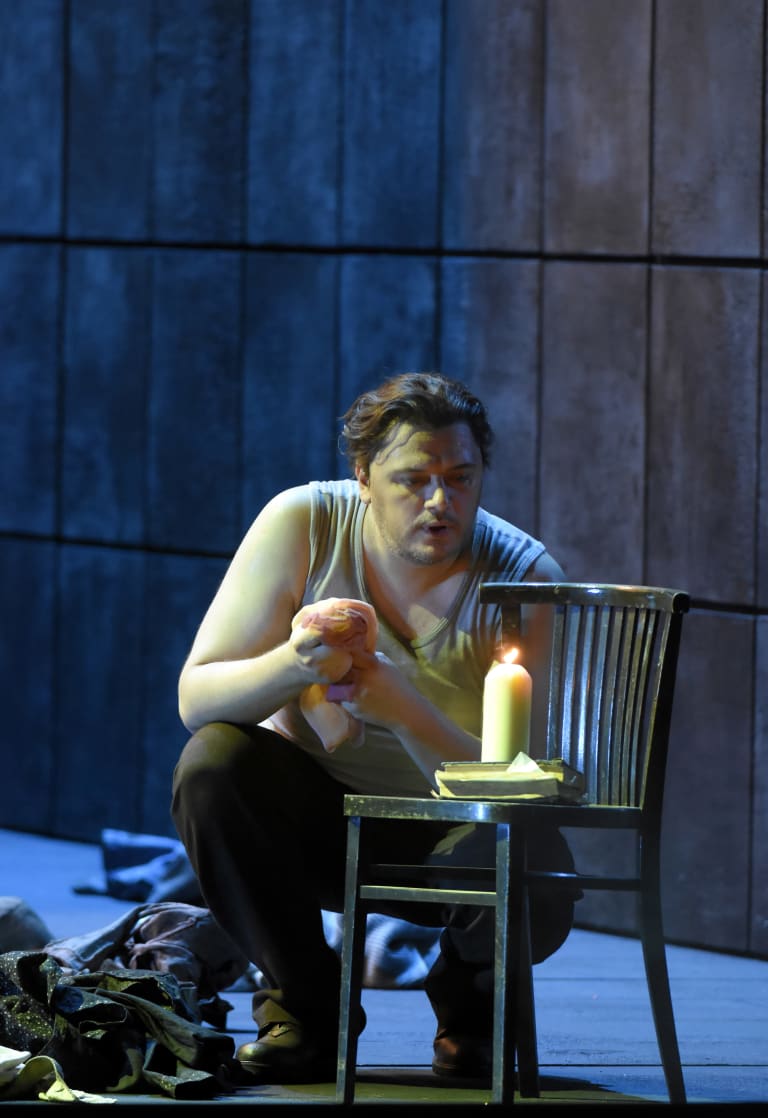 1/11 :
© Vincent Pontet / OnP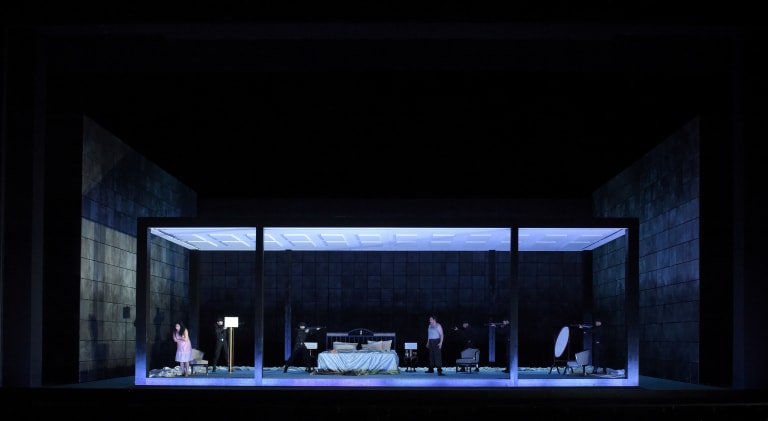 2/11 :
© Vincent Pontet / OnP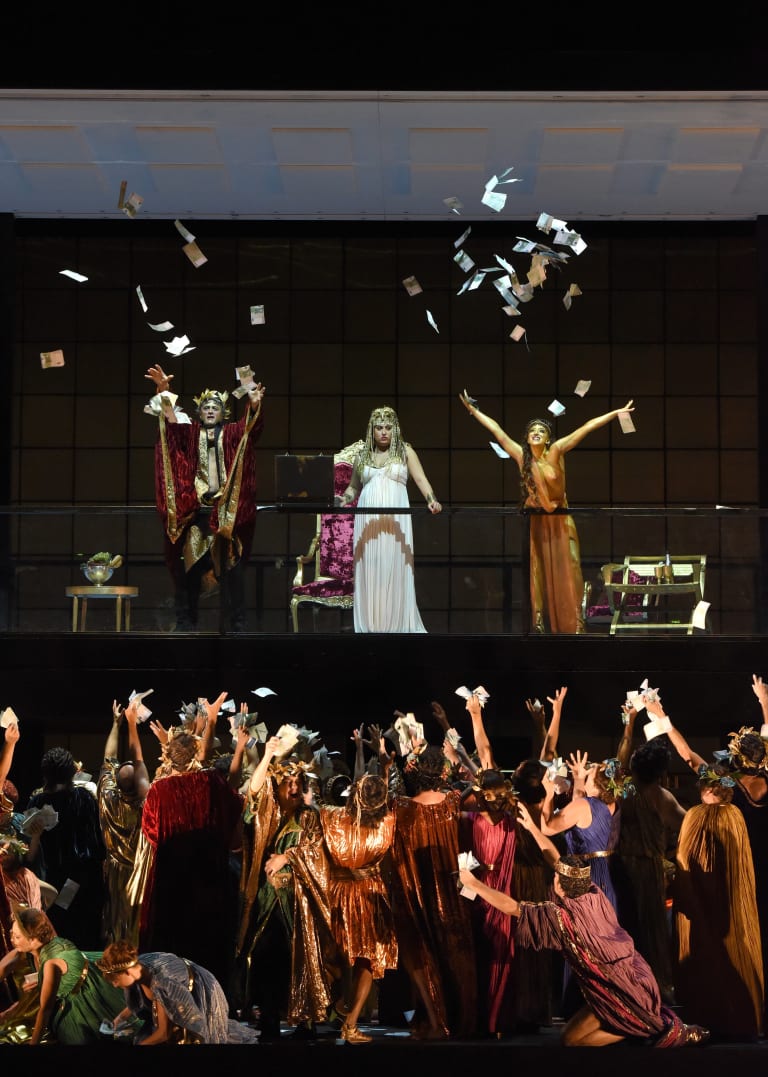 3/11 :
© Vincent Pontet / OnP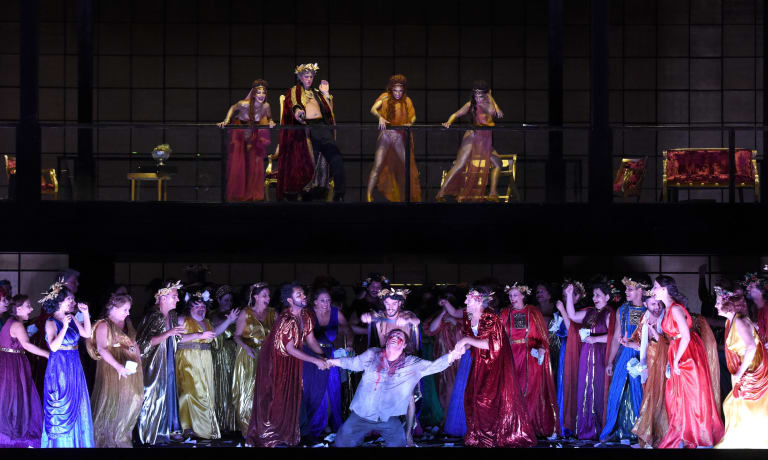 4/11 :
© Vincent Pontet / OnP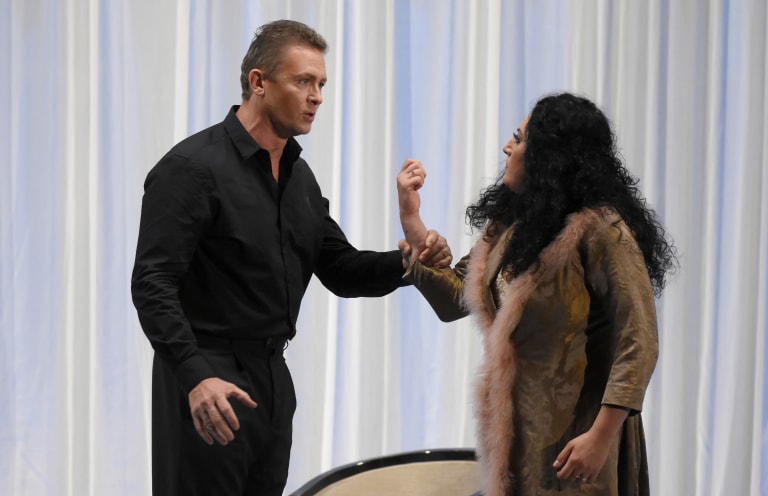 5/11 :
© Vincent Pontet / OnP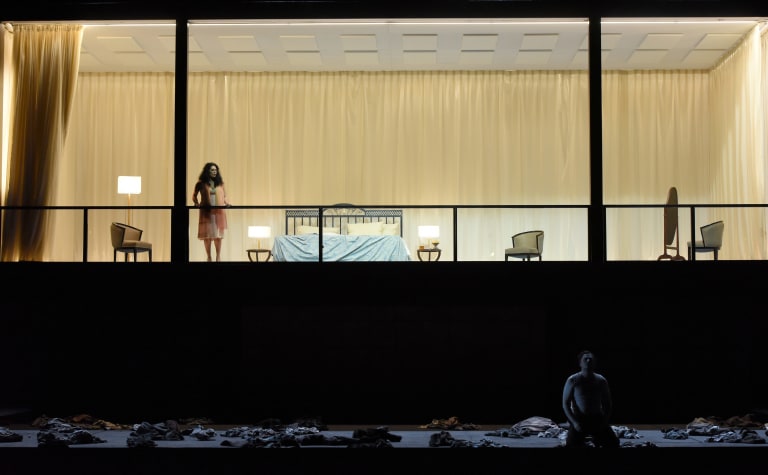 6/11 :
© Vincent Pontet / OnP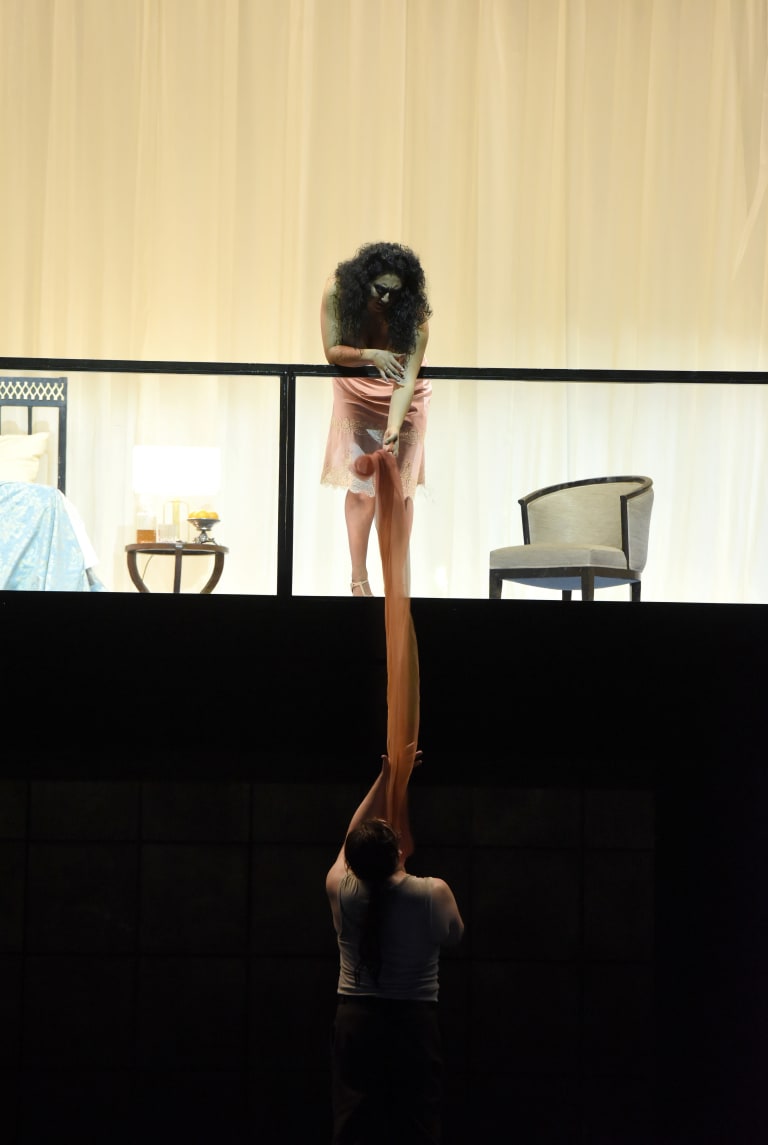 7/11 :
© Vincent Pontet / OnP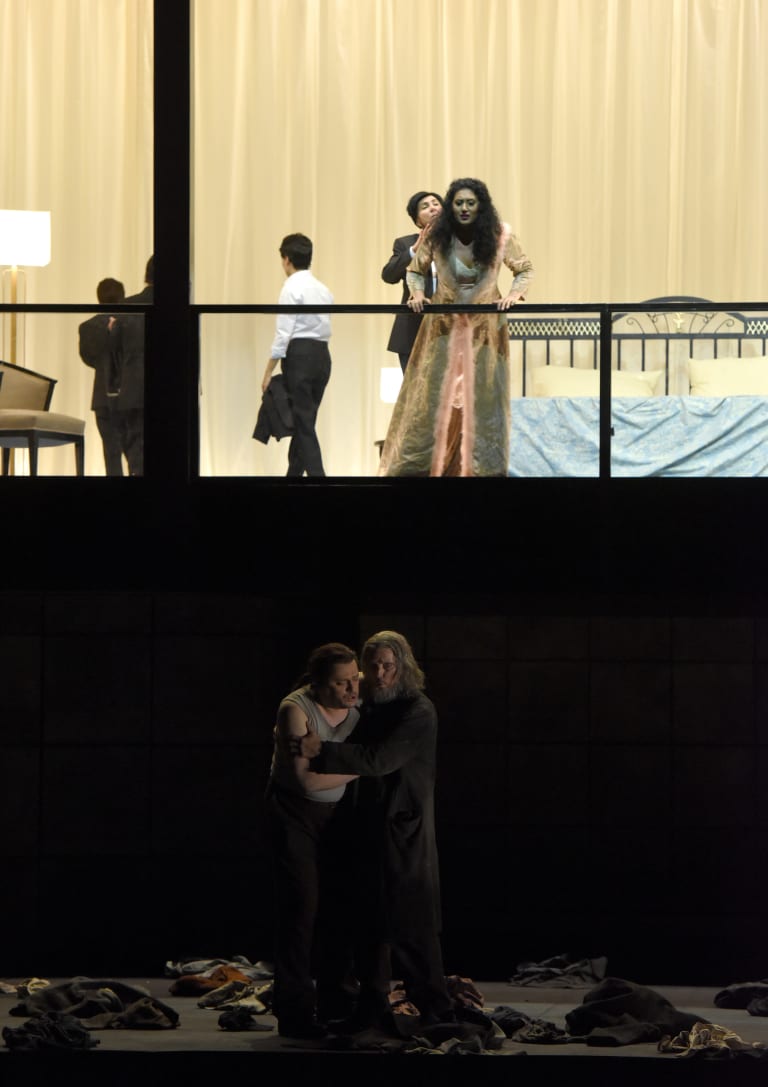 8/11 :
© Vincent Pontet / OnP
9/11 :
© Vincent Pontet / OnP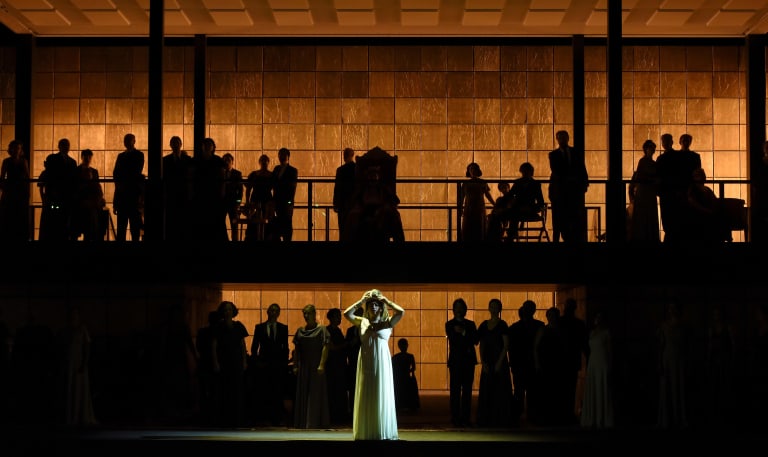 10/11 :
© Vincent Pontet / OnP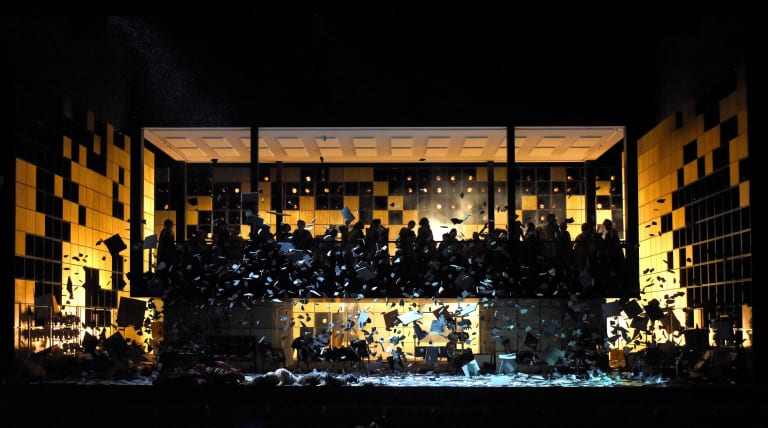 11/11 :
© Vincent Pontet / OnP
Videos clips
1/8 :
Anita Rachvelishvili & Aleksandrs Antonenko : Duo entre Samson et Dalila
2/8 :
Samson et Dalila - Extrait
3/8 :
Samson et Dalila - Trailer
4/8 :
Damiano Michieletto à propos de Samson et Dalila - Par le Cercle Berlioz
5/8 :
Entretien avec Anita Rachvelishvili - Par le Cercle Berlioz
6/8 :
Anita Rachvelishvili interprète « Mon cœur s'ouvre à ta voix » - Par le Cercle Berlioz
7/8 :
Aleksandrs Antonenko et Damiano Michieletto à propos de Samson et Dalila - Par le Cercle Berlioz
8/8 :
L'élaboration des costumes de Samson et Dalila - Par le Cercle Berlioz
Audio clips
Samson et Dalila - Camille Saint-Saëns
— By In partnership with France Musique
Backstage
Podcast

Podcast Samson et Dalila

Article

Schönberg, Verdi, Wagner and Berlioz: the commitment to cycles
© Bernard Faucon / Agence VU
Podcast
Podcast Samson et Dalila
"Dance! Sing! 7 minutes at the Paris Opera" - by France Musique
07'
"Dance! Sing! 7 minutes at the Paris Opera" offers original incursions into the season thanks to broadcasts produced by France Musique and the Paris Opera. For each opera or ballet production, Judith Chaine (opera) and Stéphane Grant (dance), present the works and artists you are going to discover when you attend performances in our theatres.     
---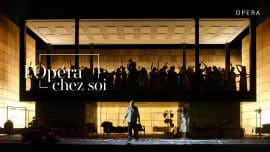 Samson and Dalila
Conducted by Philippe Jordan, this new production brings back a repertoire masterpiece...
Article
Too human
About Samson and Dalila
03'
The inspiration for Samson and Dalila is rooted in the Bible, nevertheless Saint-Saëns distances himself from the biblical story and takes certain liberties to approach it from a profoundly human angle. It is this humanity that Damiano Michieletto is determined to highlight in his production. Photographer Éléna Bauer was able to capture the atmosphere of the production as it was being created. The director comments.
In Saint-Saëns' opera, the audience never actually witnesses the prodigious physical strength of Samson, nor do they see the famous scene where the Philistines cut his hair. The composer focuses less on the most familiar aspects of the legend to concentrate on the interstices: specifically, Samson's inner conflict, torn as he is between his love for a woman and his role as the spiritual leader of an entire people.
Is Dalila guilty of betraying Samson? I try not to make a moral judgement which would risk undermining my interpretation of the work. Dalila is a complex character. She is not driven by cupidity: she refuses the gold which the High Priest offers in exchange for her complicity. She evokes the past: Samson is the only man to have rejected her – on three occasions – and he continues to resist her by refusing to reveal the source of his strength to her...
The love duet between Samson and Dalila is truly moving. Samson is prepared to go back on his word and forget who he is. In my production, instead of revealing his secret, he ends up cutting a lock of his own hair, deliberately renouncing his power and his status as leader. When Dalila understands this, something changes in her. She becomes even more ambiguous.
The last protagonist in the drama – no doubt the most important – is, of course, the community. I chose not to pigeonhole the Israelites, preferring to define them by their condition: slaves. They are an oppressed people. I have chosen to deal with the Israelites and the Philistines in a resolutely contemporary setting to ensure that the legend is more connected to our reality and our emotions. All the same, during the Bacchanal, as if in a leap back in time, the Philistines dress up in peplum costumes. In so doing the crowd embodies a corrupt society—a society which extols strength and wisdom, even though it is built upon violence and humiliation, just like in the arenas of ancient times where gladiators were killed and their blood spilt to entertain the public.
---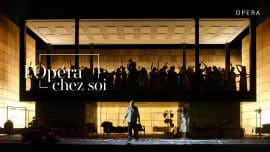 Samson and Dalila
Conducted by Philippe Jordan, this new production brings back a repertoire masterpiece...
Article
Schönberg, Verdi, Wagner and Berlioz: the commitment to cycles
A fresh look at season 15/16
05'
During the summer break, we offer our readers a retrospective glaze on Stéphane Lissner's first season at the Paris Opera. The rhythm of season 15/16 was marked by recurring "rendez-vous" with composers whose work, essential or enigmatic, appeals to invention and discovery. Between revivals of timeless productions and creations, these diverse companionships set the tone for an eclectic operatic season, revealing the inexhaustible quality of the Paris Opera Orchestra and Chorus.

---
"Dare!"
Indeed, inaugurating season 15/16 with a symphonic concert of works by Arnold Schönberg took audacity, furthermore in uncharted territory. The Paris Opera Orchestra invested the Philharmonie de Paris for the first time with the
Variations for orchestra
,
op.31
, a major modern piece, inaugurating a cycle dedicated to the Austrian composer. Philippe Jordan carried out the
audacious project of making Schönberg's work better known
 in its diversity through a series of concerts and recitals which was followed by
Pierrot Lunaire
and the
String Quartet, op.10
–
a reflection of his shift from late romanticism to atonality
– and the
Gürre Lieder
. The climax of this commitment was undoubtedly the mobilization of all the vital forces of the Paris Opera in the service of
Moses und Aron
, Schönberg's unfinished philosophical opera, reputed for its reluctance to the stage. "There is something deeply theatrical and human in this work that must be recognized" insists
Philippe Jordan in an interview
. The task had been handed to the most plastic of today's stage directors, Romeo Castellucci. The result was a striking journey through contradictory signs, trails of tainting speech and haunting images, succeeding in making Schönberg our contemporary. To complete the cycle, the composer's early style of feverous romanticism found a perfect embodiment with the Paris Opera Ballet dancers in
Verklärte Nacht choreographed by Anne Teresa de Keersmaeker
. The choreographer will renew her collaboration with the Paris Opera by stage directing
Così fan tutte,
 which will inaugurate a Da Ponte trilogy.    
"Vibrate!"
"Desire!"
Through cycles, one is amazed at the variety of artistic worlds that can spring from the work of one composer. The cycle dedicated to Giuseppe Verdi displayed with flying colors the repertoire's vitality. This season, two internationally acclaimed stage directors made their Paris Opera debuts taking over operas by Verdi. Spanish stage director Alex Ollé, from la Fura dels Baus, addressed the issue of aggravating social tensions during war time in
a First World War set Trovatore.
German stage director Claus Guth, for his part, created a melancholic cabaret
in a cart wood box from the material of Rigoletto's fantasies and regrets.
Verdi's "popular trilogy" was completed with a revival of Benoît Jacquot's production of La Traviata; the French director paying tribute to
the sulfurous 19th century heroine
 with the elegance for which he's known. The Verdi cycle above all gives time and space to appreciate opera singing. One was able to hear and see the greatest singers in the world perform on the Paris Opera stages: Anna Netrebko, Marcelo Àlvarez, Sonya Yoncheva, and Bryan Hymel… To end the season, like a cherry on the cake, Aida displayed one of the most brilliant vocal casts of the year: with Sondra Radvanovsky in the title-role alongside Alexandrs Antonenko and the revelation
Anita Rachvelishvili
. The Georgian mezzo-soprano will be back next season in
Samson et Dalila
 and
Carmen
, the role that earned her international fame; so that we almost wish the end of summer were tomorrow!    
Ce spectacle fera l'objet d'une captation audiovisuelle

Une co-production Opéra national de Paris et Telmondis avec le soutien du CNC et la participation d'Arte Concert, réalisée par François-René Martin.
Diffusion en direct au cinéma le 13 octobre, diffusion sur Arte Concert à partir du 14 octobre.
Diffusion sur France Musique le 23 octobre.