In the Middle Ages, people believed that a hunchback's hump was caused by demons trapped inside the body, trying to push their way out. Rigoletto certainly is plagued by demons but in this production they manifest themselves in a different form. Claus Guth, an implacably rigorous director who strips every work he stages back to its essentials, has interiorised the hero's deformity, portraying it as a social "a chip on the shoulder" rather than a hump as a means of conveying this powerful drama in all its psychological pertinence. Photographer Éléna Bauer has captured the seething energy of a show in the construction process.
Since entire story is viewed from the perspective of the curse afflicting the principal character, Claus Guth has created a production in which the spectator sees the drama through the eyes of an ageing and broken-spirited Rigoletto reliving the tragic events that led to his daughter's death and his own destruction.
His vision is built around the father-daughter relationship. Seized with panic at the idea of losing Gilda, Rigoletti continues to treat her as a little girl, as if trying to stop her from growing up. Gilda's response is to conceal her growing desire for a stranger who turns out to be the Duke. However, this promise of escape is an illusion: like her father, the Duke projects his own fantasies onto her and she exchanges one prison for another.
This imprisonment is clearly audible in the music: Gilda's melodic lines are dependent on those of Rigoletto and the Duke. It is only in the third act that she begins to sing the broad, freely soaring phrases conveying her own personality. By then it is too late: when she finally gains her emancipation, it is only to sacrifice herself in order to save the Duke.
Rigoletto marks an aesthetic turning point in Verdi's career: the composer here constantly subjects musical form to the demands of theatrical verisimilitude. At the end of his life, after Falstaff, Verdi was honoured in Rome as "the greatest musician of his time". His response was bitingly dismissive: "Forget the great musician, I am a man of the theatre."
Read more about the dramaturgy of Rigoletto in the programme.
---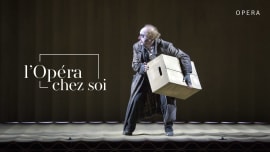 Rigoletto by Giuseppe Verdi
Conducted by Nicola Luisotti, this new production of Rigoletto marks director Claus Guth's first collaboration with the Paris Opera.