Claus Guth made his Paris Opera debut in 2016 with Verdi's Rigoletto. Since then, he has been invited to create new productions of Wagner's Lohengrin, Puccini's La Bohème, Handel's Jephta and the world premiere of Michael Jarrell's Bérénice. The elegance of his productions and the acuity with which he examines each musical score have made him one of the most important European opera directors working today. Portrait of a giant of the world of opera.

The work of Claus Guth testifies to his love of opera as a total art form. When one considers that he has devoted almost his entire career to opera, to bringing what he sees as a mosaic of expressions to life on stage, that love is clearly a passion. Claus Guth was born in Frankfurt in 1964. As a child, he carried out his first experiments in direction armed with a Super 8 camera and his parents' garden for a theatre. His fascination for cinema, clearly perceptible in all his work, prompted him to give life to images of his own. He studied Philosophy, German Literature and Theatre at the prestigious Ludwig-Maximilian University in Munich and in 1989 he entered the August Everding Theaterakademie, also in Munich, to study theatre and opera direction. During the nineties, he directed a number of plays like Leonce und Lena by Büchner but soon turned to opera, particularly the contemporary repertoire. After some of his productions were acclaimed at the Munich Biennale, the doors of Europe's most prestigious opera houses were opened to him and he undertook a wide variety of works by composers ranging from Monteverdi to Martinù and including Purcell, Mozart, Verdi Wagner, Strauss and Britten. Claus Guth does however set aside a part of his hectic schedule, now fully booked until 2020, for contemporary creation, believing strongly that opera is a living genre and a rich terrain for experimentation.
The Art of Counterpoint
For Claus Guth, the score is the basis of any dramaturgical reflection and what you see on stage constantly interacts with what you hear, caressing the music, rubbing against it and questioning it in turn. He directed his first opera in France in 2009 at Lorraine National Opera: a co-production with the Theater an der Wien of Handel's Messiah, an oratorio reputedly arid in terms of its scenic potential. In this production particularly, scenic invention flows directly from the director's critical appreciation of the music, forming a counterpoint to the musical text and enriching it with a new layer of meaning. For example, the Alleluia Chorus, that glorious celebration of "hope and faith in the world", to quote Hannah Arendt, of which birth is a symbol, is sung around a coffin. At the centre of this production is the character of a failed businessman who, stripped of his virility by his adulterous wife, commits suicide. The characters are banally attired in suits but find themselves in a series of extreme situations in which intimate truths and outward appearances collide with each other, situations ranging from the funeral parlour, the office and the bedroom, successively brought to life by means of a revolving stage. A constant factor in Claus Guth's work is his determination not to illustrate but to offer new insights into the works he directs, distilling in them his own signs and symbols without subjugating either the rhythms or the timbres. Here, the drama he weaves on stage lends pertinence and immediacy to Handel's lyricism and makes palpable the urgency initially present in the work. This incarnation of the Messiah illuminates its fundamental themes: guilt, hope and our relationship with death, thus rising to the challenge of turning this oratorio into a theatrical exploration of the contemporary malaise in a world in the grip of family, spiritual and economic crises.   

A constant factor in Claus Guth's work is his determination not to illustrate but to offer new insights into the works he directs, distilling in them his own signs and symbols without subjugating either the rhythms or the timbres.
Telling opera's hidden stories
In a co-production with the Zurich Opernhaus and the Teatro Liceu in Barcelona in 2011, Claus Guth stripped Parsifal of its mysticism just as he stripped the Messiah of its Christianity, transposing it to Germany during the First World War. The decor takes us into different rooms in a run-down manor house-cum-sanatorium serving as army hospital in which medieval knights have given way to wounded soldiers. Set in a world in which the old order is collapsing, Wagner's opera is presented as the transformation of one of its young wounded soldiers into a charismatic leader. This reading of the work highlights the powerful exaltation of Wagner's music and its potential dangers, its visceral toxicity. A daring proposition and somewhat sensitive, this production recalls Europe's darkest hours and the emergence of Fascism. However, Claus Guth is not a director who seeks to shock or who indulges in vain controversy. If strongly personal re-readings of texts are characteristic of his work, then ostentation certainly is not. Known for revealing the hidden stories within operas, Claus Guth brings out their subversive undercurrents, touching but never suffocating the spectator. Always elegantly staged, with a harmonious palette of colours, Claus Guth's productions combine cerebral and sensational elements with a quality of execution that has made his work universally attractive. However, the finely crafted surfaces of the sets merely "skin and film" the seething violence below the surface and do nothing to mitigate the implacable destiny of the characters: every element is directed towards a single objective: telling the story. Claus Guth aims to free our vision and our auditory perception from the performance traditions of great operas to help us discover them anew, from a fresh angle.

A Laboratory of human emotions
Claus Guth likes big projects and has staged all of Wagner's works! In the same vein, he was commissioned to direct Mozart's Da Ponte Trilogy at the Salzburg Festival and from 2007 to 2009, he directed Le Nozze di Figaro, Don Giovanni and Così fan tutte one after the other, articulating his productions of the opera buffa and two drammi giocosi around the themes of desire and death – Eros and Thanatos. As a director, Claus Guth is particularly attracted to the dark or hidden facets of comedy. Humour in his work is disturbing rather than merely entertaining, as exemplified by his monochromatic Marriage of Figaro, in which the scenography espouses the mechanics of the opera's sentiments, thus exposing the characters' contradictions. It is impossible to discuss the work of Claus Guth without mentioning his faithful scenographer. Claus Guth and Christian Schmidt have worked together since the beginning of Claus Guth's career and their longstanding collaboration, rather than tending towards aesthetic uniformity from one production to the next, has led to the invention of solutions tailor-made for each work. In many ways the Mozart Trilogy constitutes the summit of this synergy. The sets of the three operas are so many laboratories in which human emotions are dissected with merciless objectivity. In Don Giovanni, set in a pine forest at night, Christian Schmidt's lighting offers us an infinite array of different perspectives within which the amorous intrigues are woven and interwoven. The director provides a new reading of this opera by transforming the murder of Donna Anna's father into a duel provoked by an outraged Commendatore determined to avenge his daughter's honour and who, even if he does die in accordance with the libretto, deals a fatal blow to his opponent, who throughout the opera becomes ever-more wedded to destruction and death. All Don Giovanni's desires are now intensified by the imminence of his own demise. The same can be said of the female characters: they give themselves to their seducer and, although undeniably they do offer resistance, that resistance is not devoid of ambiguity; they resist all the better to surrender, so much so that one wonders if the predator is not sometimes the prey. A far cry from the clear-cut, binary world of the rake and his innocent victims, this Don Giovanni is sulphurous and incisive. Così fan tutte takes up the symbols and dramaturgical principles developed over the previous two years and reworks them into an ultimate war of passions: the bourgeois interior of The Marriage of Figaro is gradually invaded by the orgiastic and disturbing forest of Don Giovanni. This trilogy reveals an inspired and demanding director with a personalised conception of each work but one who is nevertheless close to his performers, directing a hand picked cast with extreme precision. In 2009, for example, Erwin Schrott, pushed to his limits by the director's rigorous demands, created an historic Leporello, portraying him as a drug-addicted loser, incapable of breaking free from his symbiotic relationship with Don Giovanni, a no-hoper riddled with tics who relieves the pain of his master's wound with a syringe of morphine or heroine.
As a director, Claus Guth is particularly attracted to the dark or hidden facets of comedy. Humour in his work is disturbing rather than merely entertaining.
The monstrosity of inner compulsions and the lustre of outward appearances
Painstaking character construction is one of Claus Guth's favoured methods of shedding light on a work's psychological undercurrents. It is precisely this, perhaps, that has allowed him to avoid the trap, into which many of his colleagues have fallen, of courting popularity by avoiding controversy and therefore also losing that spark of originality. Claus Guth is not afraid to explore the imperfections of his characters: productions like Richard Strauss's Die Frau ohne Schatten, a Freudian kaleidoscope of the mental projections of the main character, the Empress, performed at La Scala Milan in 2012 and revived at Covent Garden the following year, testify to a passion for the theatrical possibilities offered by the unconscious mind. From the work of Claus Guth there emanates a fascination for the tensions between the monstrosity of inner compulsions and the lustre of outward appearances. Motives and wills, scrutinised by the sharp eyes of the director, are stripped bare and the characters dissected. Dramatic intrigues based on the train-crash of human existence that form the plots of most operas acquire new and disturbing truthfulness. As is often the case with modern productions of lasting impact – and Claus Guth has directed more than a few – one feels that the protagonists of the drama have learnt little or nothing from their experience. As spectators, it is up to us to become more responsible through productions that mercilessly hold the mirror up to nature. Claus Guth's Rigoletto promises to be without hope of redemption but will doubtless give the work an added and unsuspected dimension.   

---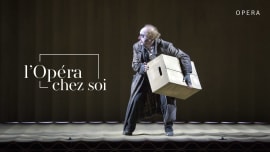 Rigoletto by Giuseppe Verdi
Conducted by Nicola Luisotti, this new production of Rigoletto marks director Claus Guth's first collaboration with the Paris Opera.
---