Opera
La Damnation de Faust
Hector Berlioz
Opéra Bastille - from 08 to 29 December 2015
About
In few words:
"Who are you, you whose burning look penetrates like the flash of a dagger and who, flame-like, burnsand devours the soul?"

- La Damnation de Faust, Part II, scene 5

"This marvellous book fascinated me from the very beginning. I could not put it down. I read it incessantly, during meals, in the theatre, in the street, everywhere." And so it was, following the composer's discovery of Faust Part One in 1828 that Goethe joined Virgil and Shakespeare to form Berlioz's trinity. Without taking the time to catch his breath, he set the verse passages of Gérard de Nerval's translation to music and published them under the title Huit scènes de Faust. Eighteen years later, during his travels "in Austria, Hungary, Bohemia and Silesia" he decided to revise and develop the material into La Damnation de Faust, whereupon the same feverish urge took hold of him.
"Once underway, I wrote the missing verses as the musical ideas came to me. I composed the score when and where I could – in the carriage, on the train, on steam boats". As if swept away by "the longing of too vast a heart, and a soul thirsting for elusive happiness", Berlioz became one with his creation. The voice that invokes "immense, impenetrable and proud nature" is entirely his own, its extraordinary breadth transcending traditional forms to become a symphonic and operatic dream. Bringing out the dramatic force of this légende dramatique is a constant challenge that stage director Alvis Hermanis has willingly accepted. Philippe Jordan conducts the first installment of a Berlioz cycle which is to continue over several seasons. It also marks the return of Jonas Kaufmann and Bryn Terfel to the Paris Opera.
La Damnation de Faust

Légende dramatique in four parts (1846)

(1803-1869) After Johann Wolfgang von Goethe Translated by Gérard de Nerval In French
Whether you're a member of Arop or not, the friends of the Opera can reserve seats for you on all performance dates, including those not yet open for sale and those announced as sold out.
Gallery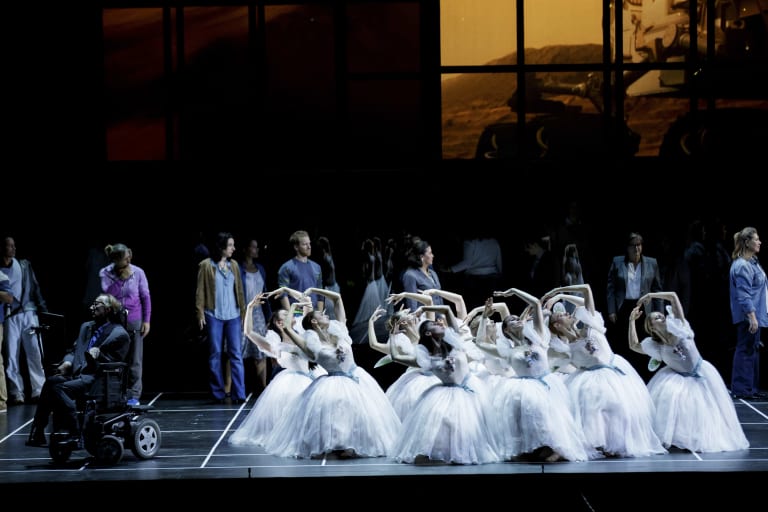 1/9 :
© Felipe Sanguinetti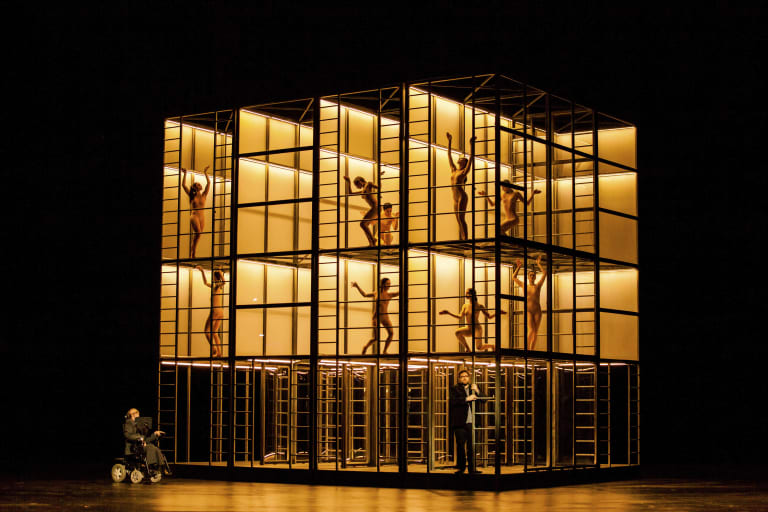 2/9 :
© Felipe Sanguinetti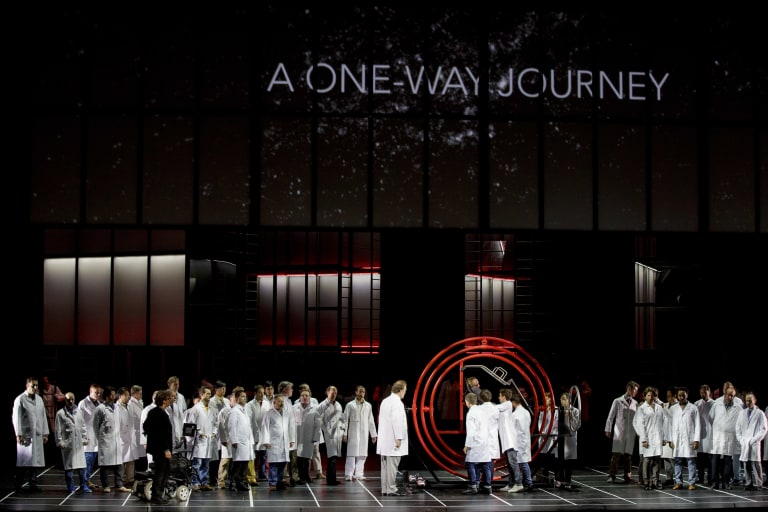 3/9 :
© Felipe Sanguinetti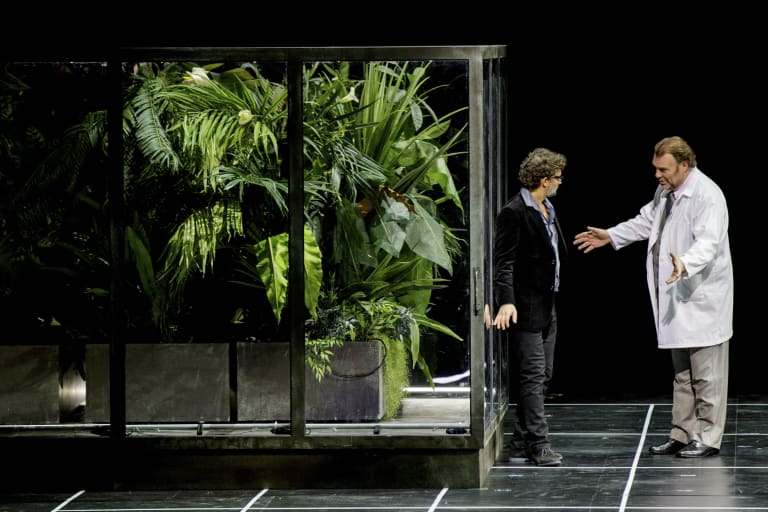 4/9 :
© Felipe Sanguinetti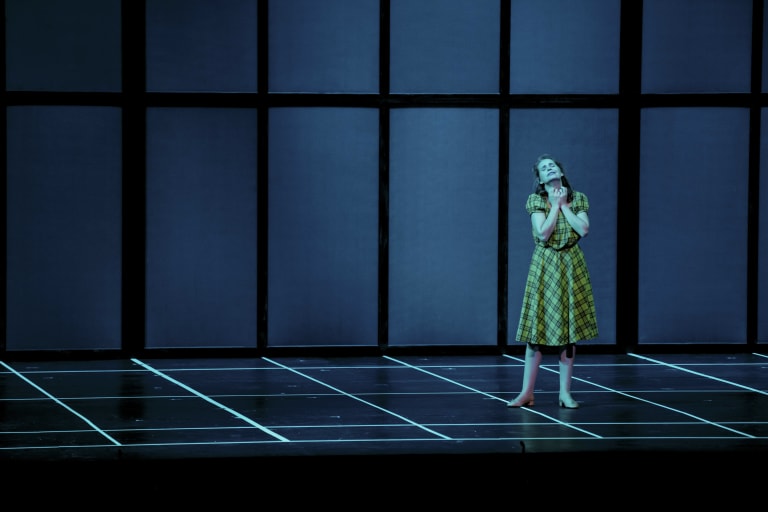 5/9 :
© Felipe Sanguinetti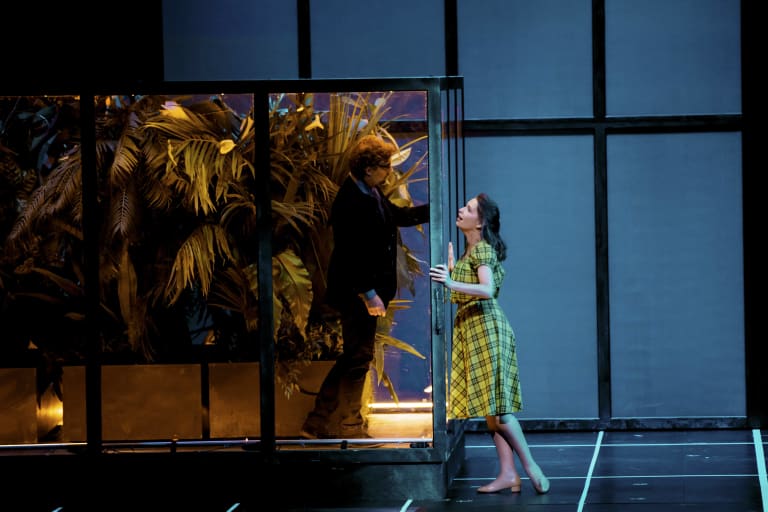 6/9 :
© Felipe Sanguinetti
7/9 :
© Felipe Sanguinetti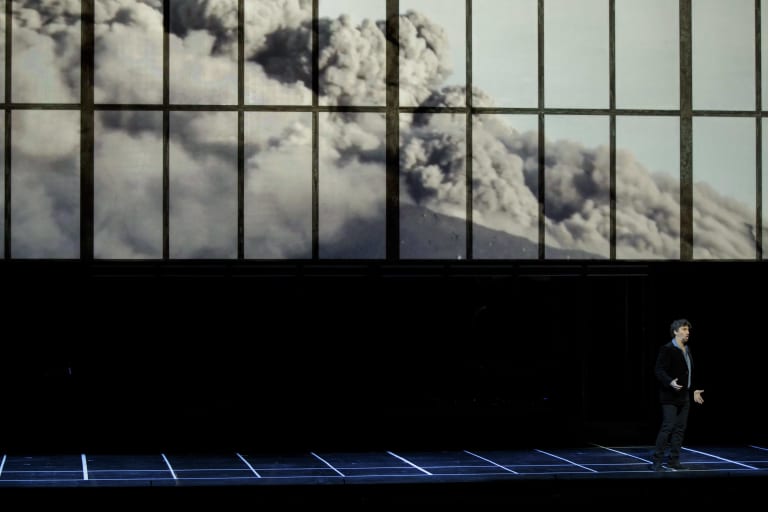 8/9 :
© Felipe Sanguinetti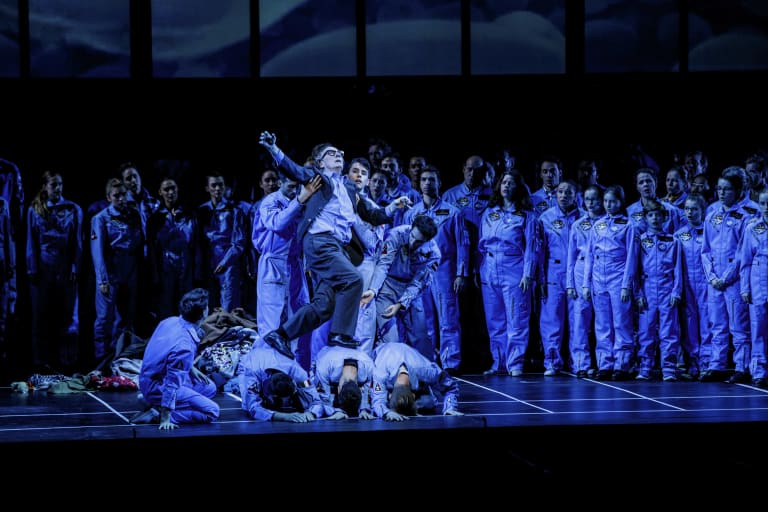 9/9 :
© Felipe Sanguinetti
Videos clips
1/4 :
« La Damnation de Faust » - Trailer
2/4 :
« La Damnation de Faust » vue par Sophie Koch pour le Cercle Berlioz
3/4 :
« La Damnation de Faust » vue par Alvis Hermanis pour le Cercle Berlioz
4/4 :
Jonas Kaufmann à propos de La Damnation de Faust
Audio clips
La Damnation de Faust - Hector Berlioz
Backstage
Podcast

Podcast La Damnation de Faust

Article

A visionary composer

Article

Portfolio | Who is the Faust of the 21st century?
Podcast
Podcast La Damnation de Faust
"Dance! Sing! 7 minutes at the Paris Opera" - by France Musique
07'
"Dance! Sing! 7 minutes at the Paris Opera" offers original incursions into the season thanks to broadcasts produced by France Musique and the Paris Opera. For each opera or ballet production, Judith Chaine (opera) and Stéphane Grant (dance), present the works and artists you are going to discover when you attend performances in our theatres.  
Article
A visionary composer
Philippe Jordan speaks about La Damnation de Faust
06'
A work as abstract as it is visionary, a symphony as much as an oratorio, La Damnation de Faust raises some universally philosophical questions out of the deepest recesses of romantic legend. Berlioz himself, a composer grappling with his work and haunted by the question of creation, provided La Damnation de Faust with a score as fascinating as it is demanding.
---
A visionary score
Even before Wagner, Berlioz had the vision of an invisible theatre. With La Damnation de Faust, he contemplated a form of art that strived to distance itself ever further from story-telling, instead placing a powerful – and highly abstract – faith in humanity ahead of the narration. The composer puts Man at the centre of his art and not the story. Of course, Marguerite and Faust are there, but beyond that lies the human desire to control nature, to experience divinity. This creative side of man naturally corresponds to Berlioz who, just as in the Symphonie fantastique, identifies with the work's central figure. Each part of La Damnation de Faust is a different illustration of this examination of creation: nature, science, but also pleasure, perfect love and divinity – which Faust praises in the invocation to nature. In other words, Berlioz chooses to portray Man in four different ways which he condenses into the character of Faust. Between Earth, Heaven and Hell, Man passes from the most primal of needs to the most incandescent of spiritual quests. The subject in itself is not dramatic, which is why Berlioz sought a different form and why he subtitled his work A dramatic legend in four parts. This is a vocal symphony but also a drama—the imaginary vision of a subject too human to be truly narrated.
A genius of orchestration
Berlioz is to orchestration what Mozart was to melody, Beethoven to form and Bach to counterpoint. A symphony is something of a visionary work. It is abstract music. Berlioz launched into the genre with gusto, but not without questioning its link with the text – most notably through the invention of the symphonic poem (La Damnation de Faust cultivates some very strong connections with them: Lelio, and even more so Romeo and Juliet). In Berlioz's exploration of orchestral sonorities there lies a desire to play with extremes. The composer is equally at home portraying the simplicity of nature at the beginning of "La Damnation" as the martial character of the Hungarian march or the hellish Pandemonium at the work's climax– with the four bassoons joined by the ophicleide and the racing violins marking that headlong rush into the abyss – and in the same work demonstrating a fluidity and sensitivity in Marguerite's aria that are reminiscent of his Nuits d'été cycle. The sul ponticello he uses to accompany Mephistopheles or the treatment of the Menuet des follets for three piccolos – truly modern for the times and which must have unsettled listeners – shows to what extent Berlioz was able to find complexity hidden in extraordinary simplicity.
Like Beethoven, Berlioz's vocal compositions had an instrumental character that made them relatively difficult to sing. The chorus is treated in a rather complex way whilst corresponding well to the treatment of orchestral voices. Berlioz gives unprecedented precision to the nuances – in this regard he was even more "punctilious" than Wagner: he could go as far as using pppp in the pianissimi which was totally new at the time. In fact, Berlioz's orchestral composition explores the extremes to set the universe reverberating. As such, the legend of Faust was a natural choice. This genius of orchestration went on to influence Liszt and Wagner, indeed, Liszt's Faust Symphony could not have existed without La Damnation de Faust.
Scenes from Faust
The Faust legend has often been revisited by musicians and, from one interpretation to another, a comparison of the different visions of Goethe's work offers interesting perspectives. Schumann's Scenes from Goethe's Faust, for example, are a sort of German reflection of La Damnation de Faust: during the same period, we find a similar type of orchestration, misunderstood by musicians and public alike. Schumann, like Berlioz, chose different scenes in the work, hence the explicit title: Scenes from Goethe's Faust. While the two works may seem similar it is clear that two different cultures are at play: The French composer has a highly dramatic vision of things, whereas with Schumann, it is the humanist aspect that stands out—and that is much closer to the second part of Goethe's Faust. For Schumann, redemption is more important than in the French vision, which by nature has more of a Latin and Catholic sensibility. For Schumann, Mephistopheles is a very dark, sombre character, whereas Berlioz and Boito both set aside some comic scenes for the flamboyant character. Schumann refuses to make us laugh. In the 20th century, Busoni manages to bring together all of these aspects in his own Doktor Faust. With Gounod, on the other hand, the central subject is Marguerite. In this case it is less about questioning human existence than recounting a story. Conversely, with Berlioz, when Faust invokes nature at the end of the work, it is the result of an exploration of the greater universe, as opposed to a focus on creation that his first words implied. It is no longer a simple, immediately accessible nature, but a much larger, more profound spiritual quest in which the character of Marguerite is finally forgotten.
Just as the invocation of this "immense nature" changes as the character develops, La Damnation de Faust leads the listener forward in a subtle and unremitting crescendo, towards an ever-greater unity. The end result brings sense to the abstraction of a work composed of disparate scenes which through this inherent complexity acquires a quality and a depth which in my view makes it one of Berlioz's most interesting.
---
Philippe Jordan is Musical Director of the Paris Opera.

Article
Portfolio | Who is the Faust of the 21st century?
La Damnation de Faust in rehearsal
05'
Despite the extensive role played in our societies by science and knowledge, we still have an unquenchable thirst for myths that can elucidate our present. Through its very structure, the story of Faust – probably the myth par excellence of the 19th century, along with Don Juan – seems to provide dazzling proof of this persistent longing: Faust is damned; science dies with him, but the myth lives on.
When Alvis Hermanis was given the tricky task of staging a new version of La Damnation de Faust, with Philippe Jordan conducting, he sought a contemporary figure into which he could transpose this myth and give it shape. He found it in Stephen Hawking: a brilliant scientist through whose eyes he reinterprets Berlioz's disjointed, dramatic legend. Photographer Éléna Bauer has captured the seething energy of a show in the construction process.  
---
Stephen Hawking, now 73, is considered by his millions of admirers throughout the world as one of the greatest living scientists, if not the greatest: the legitimate heir to Albert Einstein. Like him, he pursues the dream of discovering The Unified Field Theory, or The Theory of Everything: the Holy Grail of modern physics that would make it possible to describe all the forces governing our universe, from microscopic interactions to the movements of stars and galaxies, in a single formula.
The same hunger for knowledge burns in Faust and Hawking alike. On several occasions, Hawking has declared himself an atheist, who considers Paradise merely a story told to comfort children afraid of the dark. And yet, in talking about the Theory of Everything, he produces a formula as Faustian as it is ambiguous: "If we find the answer to that, it would be the ultimate triumph of human reason – for then we would know the mind of God."
---
Hawking's limitless libido sciendi is all the more speaking because it contrasts painfully with his diseased body: towards the end of his degree, he was diagnosed with amyotrophic lateral sclerosis, a rare and incurable neurodegenerative disorder that has developed inexorably throughout his life, leaving him entirely paralysed. He has to use a wheelchair to move around, and a computer that detects his facial muscle movements in order to communicate.
Hermanis is fascinated by the dazzling intelligence and paradoxes of this powerful mind. He has perceived a tragic contradiction between the now total paralysis of Hawking's body and the nonetheless infinite possibilities of his intellect, and has asked the dancer Dominique Mercy of the Tanztheater Wuppertal to play him on stage. With him, he has conceived an astonishing scene for the finale (the Chorus of Celestial Spirits), which pays tribute to the possibilities of the human intelligence and imagination.
---
Bryn Terfel plays a profoundly cynical Mephistopheles: a personification of science without a conscience, who sees human beings as guinea pigs and morality as a mere detail in the grand march of technological progress. He orchestrates Faust's metaphysical journey, which here becomes an interstellar exodus.
---
In the face of approaching ecological disaster, overpopulation and the depletion of our natural resources, Professor Hawking is one of those who think that, in order to survive, the human race should leave Earth and set off into space to colonise other planets. Hermanis relates to this anticipation scenario – this headlong flight in response to the collective suicide currently being enacted by the human race itself.  
---
The stage director was inspired by the project Mars One, which aims to send a hundred or so carefully selected participants to the Red Planet by 2025. He sees this project as the most contemporary manifestation of a wild dream that has driven humans to want to leave their earthly existence ever since Antiquity. He read and re-read the testimonies of the men and women ready to accept this one-way ticket, exploring their motivations: what makes individuals want to abandon everything that makes up their lives, and agree to such a pact?
---
Choreography plays a leading role in La Damnation de Faust, which contains several ballet scenes and symphonic passages ideal for dance. In this production, the choreographer Alla Sigalova gives it a role that goes considerably beyond the limits of these danced sections. The group of dancers becomes one of the principal themes of the show, embodying both Faust's state of mind and the human community preparing to leave Earth.
---
To conceive this Damnation de Faust, Alvis Hermanis collaborated with video director Katrīna Neiburga – a first-class artist who represented Lithuania at the Venice Biennial last year. As well as using video sequences she herself has produced, the Paris Opera has collaborated with NASA, the European Space Agency and the CNES (French National Space Centre), together with the production companies of several films that have made their mark over the last few years, such as Microcosmos and Le Peuple des Océans – films that have magnificently celebrated the miracle of our planet. With this precious material, Neiburga has devised a kind of video architecture: a weird and fantastical journey that takes us far beyond our world.
---
Simon Hatab  is a dramatist at the Paris Opera.
Article
The great debuts
A fresh look at season 15/16
06'
---
And Folly took over the Palais Garnier…
And Romeo Castellucci confronted himself with Moses und Aron…
And Barbara Hannigan set fire to La Voix humaine…
And Faust left the Earth for Mars…
And Rosina escaped Bartolo's claws…
And Rigoletto stopped laughing…
And Lear was created in its original version at the Palais Garnier…
02:45'
Video
Jonas Kaufmann
About La Damnation de Faust
For his return to the Paris Opera, Jonas Kaufmann gives an impassioned performance in the title role of La Damnation de Faust. Before going on stage, he gives us his views on the dramatic legend of Berlioz.
This production will be recorded for television.
A coproduction by the Paris Opera, Telmondis and Mezzo with support from the CNC and directed by Louise Narboni.
Broadcast live in cinemas on 17 December and as of 19 December on Culture Box.
Broadcast on France 3 and France Musique at a later date.