La Traviata
Opera Giuseppe Verdi
Opéra Bastille - from 29 September to 29 December 2018
Language : Italian
Surtitle : French / English
Opening night : 29 September 2018
About
In few words:
In Benoît Jacquot's production, Manet's Olympia dominates the stage of the Opéra Bastille. In 1863, the painting caused a scandal: the prostitute awaits her client, her expression proud, her demeanour assured. Is this Violetta? Like Olympia, Verdi's most celebrated heroine surrenders to the spectator just as she surrenders to love, going so far as to die on stage, a woman's ultimate sacrifice for her lover. Or might it be the spectator who strips her bare and intrudes upon her privacy, in the image of this milieu of social voyeurism? Whatever the case, these two women regard us with defiance and subjugate those who cannot help but look at them.
Opening

First part

35 mn

Intermission

30 mn

Second part

55 mn

Intermission

30 mn

Third part

35 mn

End
La Traviata

Opera in three acts (1853)

After Alexandre Dumas Fils, La Dame aux camélias


Libretto :

Francesco Maria Piave

29 sept.>17 oct.

21 > 26 oct.

déc.
Whether you're a member of Arop or not, the friends of the Opera can reserve seats for you on all performance dates, including those not yet open for sale and those announced as sold out.
Gallery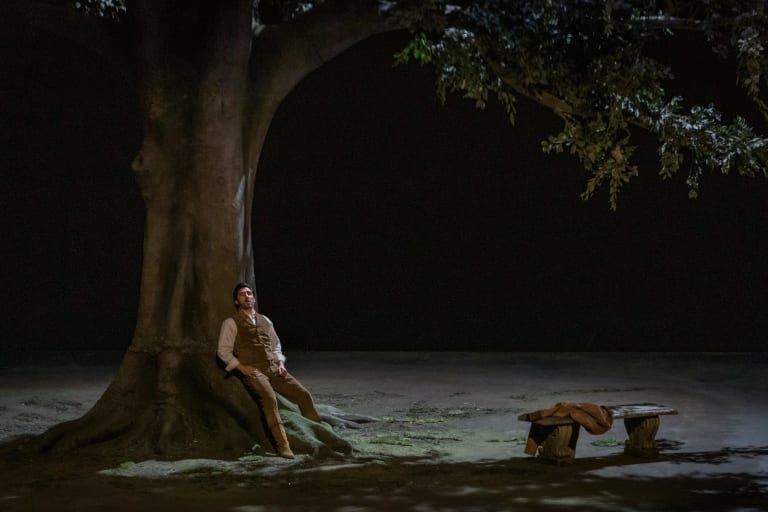 1/32 :
La Traviata (saison 18/19) - Charles Castronovo
© Sébastien Mathé / OnP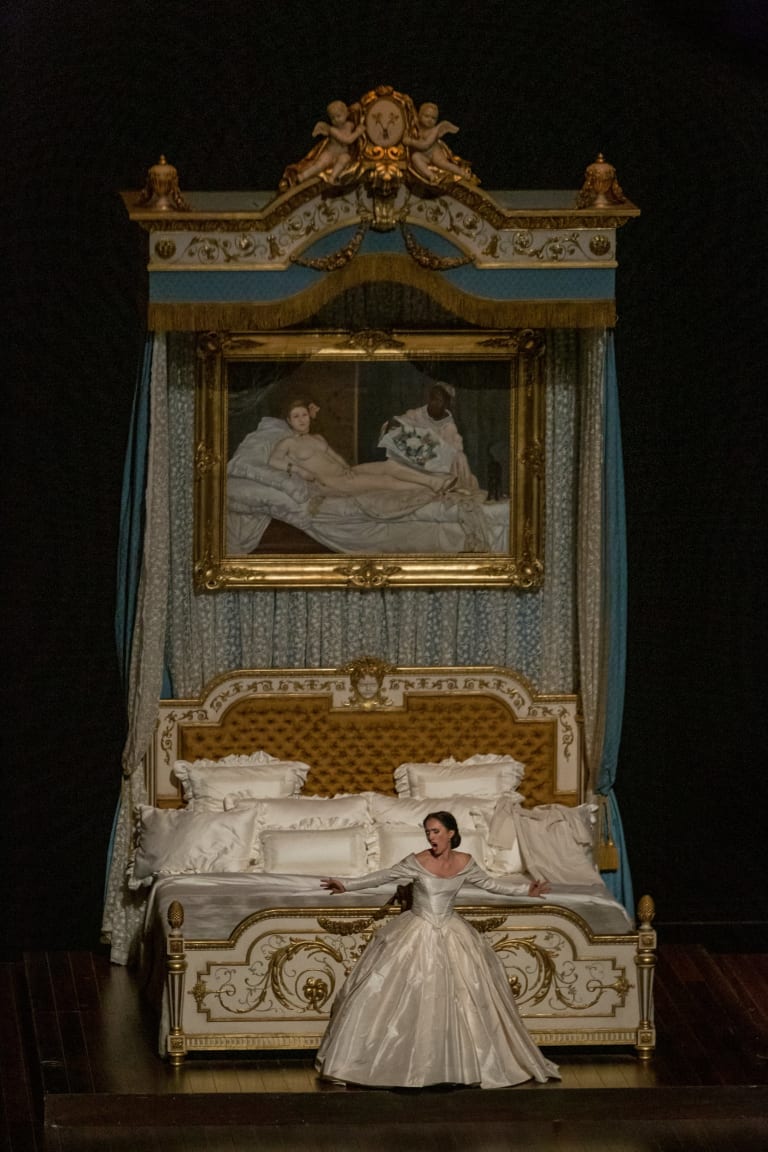 2/32 :
La Traviata (saison 18/19) - Ermonela Jaho
© Sébastien Mathé / OnP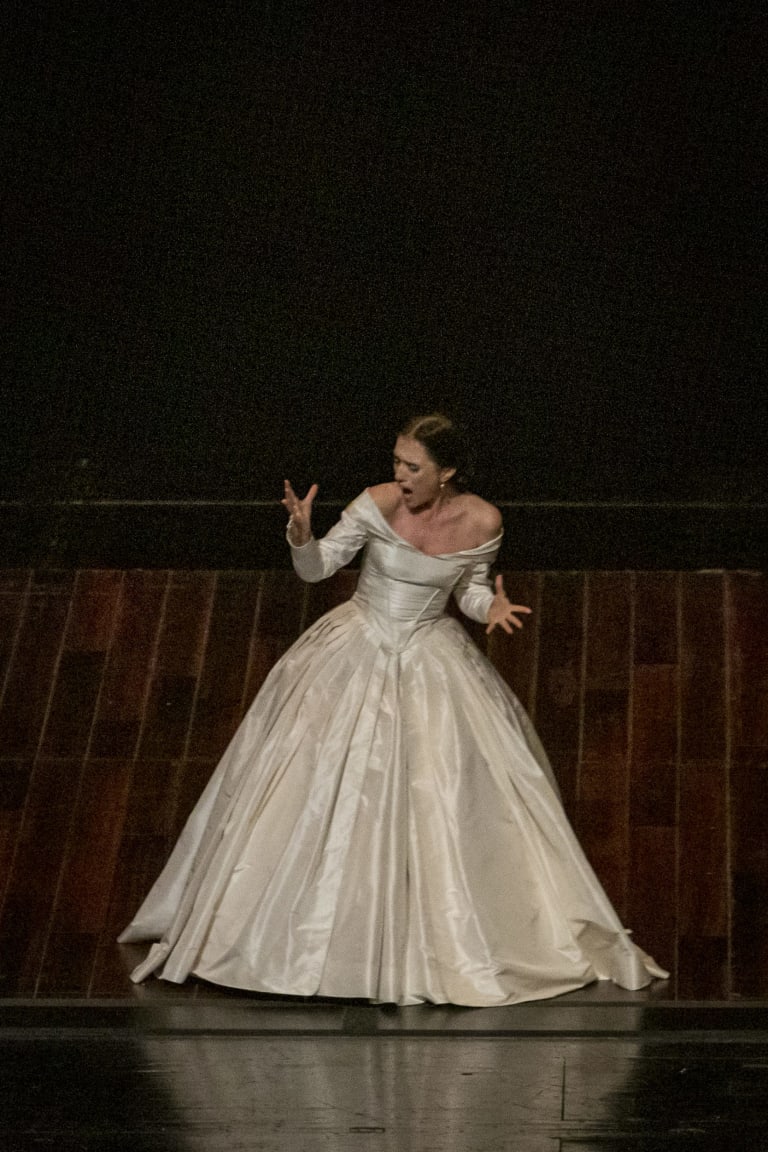 3/32 :
La Traviata (saison 18/19) - Ermonela Jaho
© Sébastien Mathé / OnP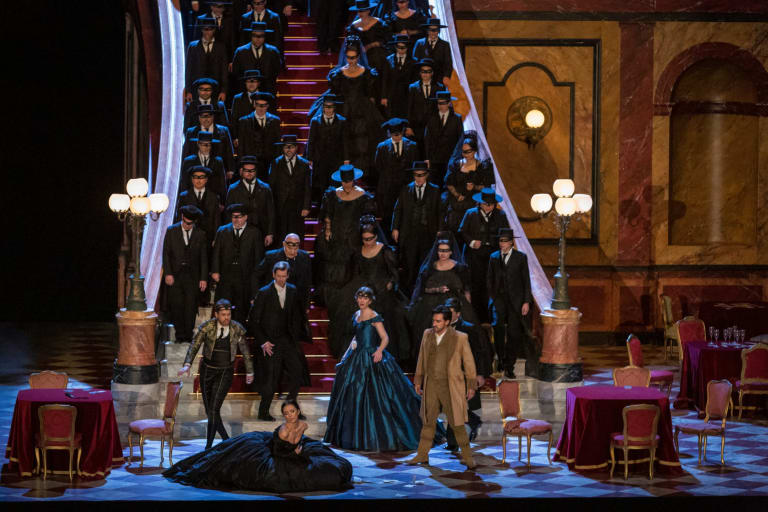 4/32 :
La Traviata (saison 18/19) - Ermonela Jaho, Luc Bertin-Hugault, Virginie Verrez, Charles Castronovo
© Sébastien Mathé / OnP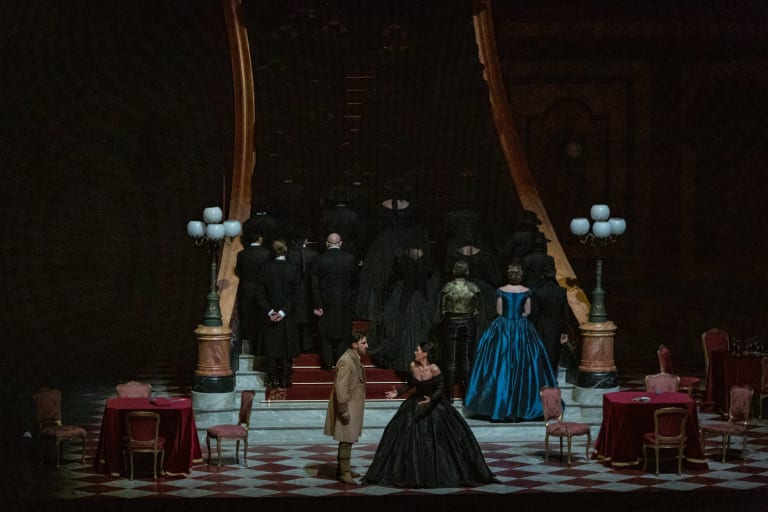 5/32 :
La Traviata (saison 18/19) - Charles Castronovo, Ermonela Jaho
© Sébastien Mathé / OnP
6/32 :
La Traviata (saison 18/19) - Charles Castronovo, Ludovic Tézier
© Sébastien Mathé / OnP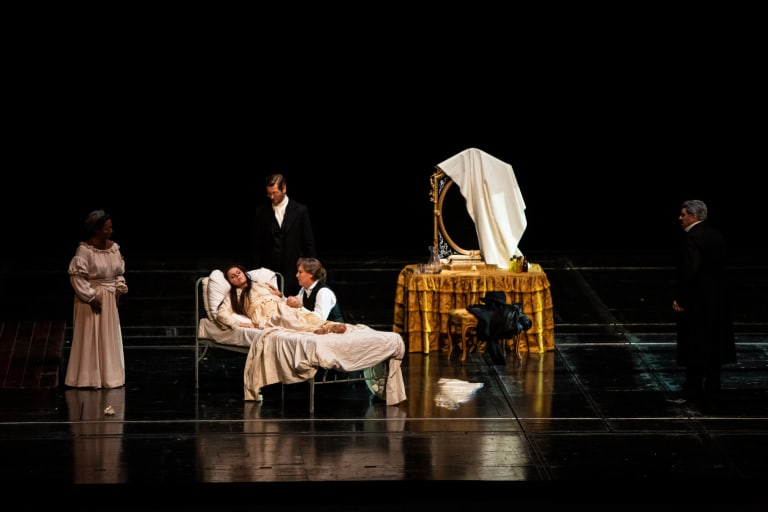 7/32 :
La Traviata (saison 18/19) - Cornelia Oncioiu (Annina), Aleksandra Kurzak (Violetta), Luc Bertin-Hugault (Dottore Grenvil), Roberto Alagna (Alfredo Germont), George Gagnidze (Giorgio Germont)
© Emilie Brouchon / OnP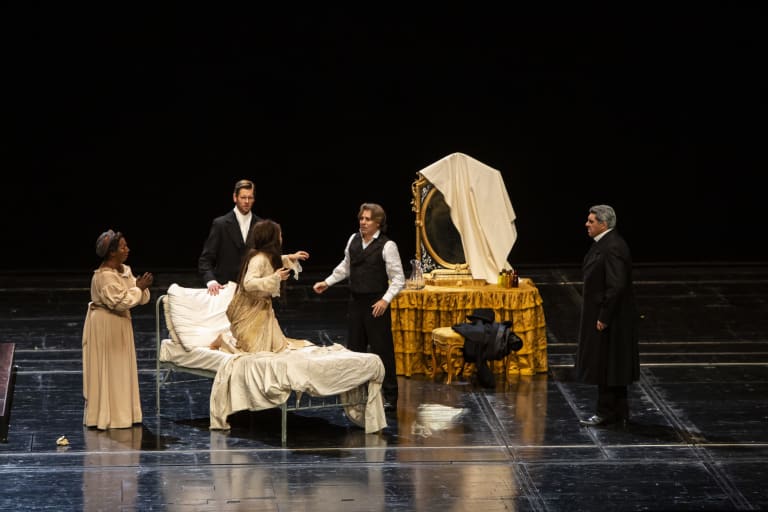 8/32 :
La Traviata (saison 18/19) - Cornelia Oncioiu (Annina), Aleksandra Kurzak (Violetta), Luc Bertin-Hugault (Dottore Grenvil), Roberto Alagna (Alfredo Germont), George Gagnidze (Giorgio Germont)
© Emilie Brouchon / OnP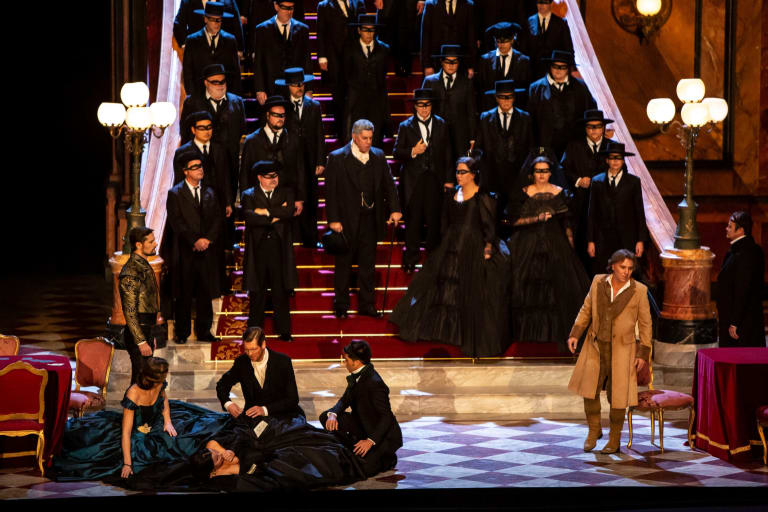 9/32 :
La Traviata (saison 18/19) - Virginie Verrez (Flora Bervoix), Aleksandra Kurzak (Violetta), Luc Bertin-Hugault (Dottore Grenvil), George Gagnidze (Giorgio Germont), Roberto Alagna (Alfredo Germont)
© Emilie Brouchon / OnP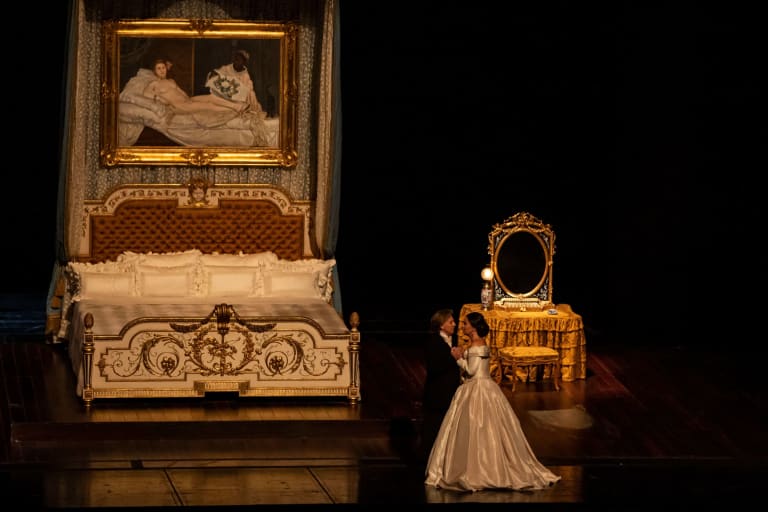 10/32 :
La Traviata (saison 18/19) - Roberto Alagna (Alfredo Germont), Aleksandra Kurzak (Violetta)
© Emilie Brouchon / OnP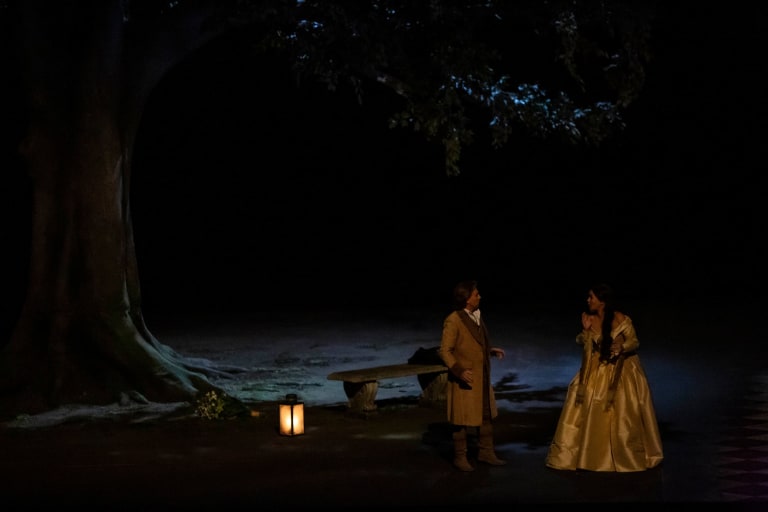 11/32 :
La Traviata (saison 18/19) - Roberto Alagna (Alfredo Germont), Aleksandra Kurzak (Violetta)
© Emilie Brouchon / OnP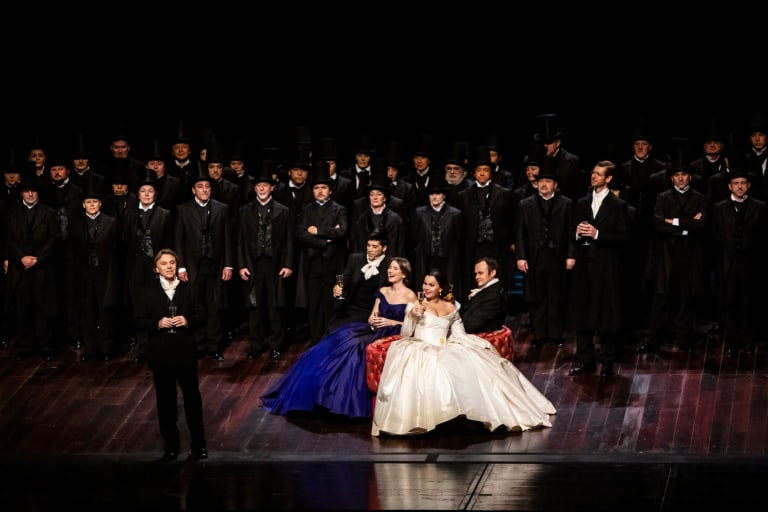 12/32 :
La Traviata (saison 18/19) - Roberto Alagna (Alfredo Germont), Virginie Verrez (Flora Bervoix), Aleksandra Kurzak (Violetta), Luc Bertin-Hugault (Dottore Grenvil)
© Emilie Brouchon / OnP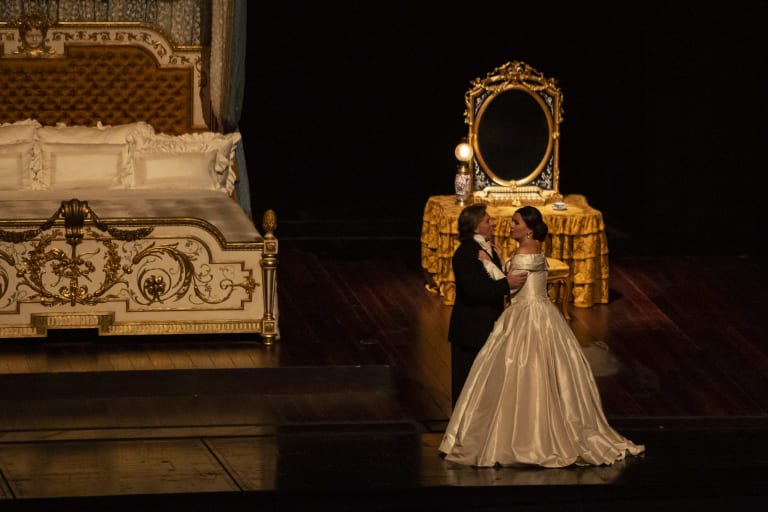 13/32 :
La Traviata (saison 18/19) - Roberto Alagna (Alfredo Germont), Aleksandra Kurzak (Violetta)
© Emilie Brouchon / OnP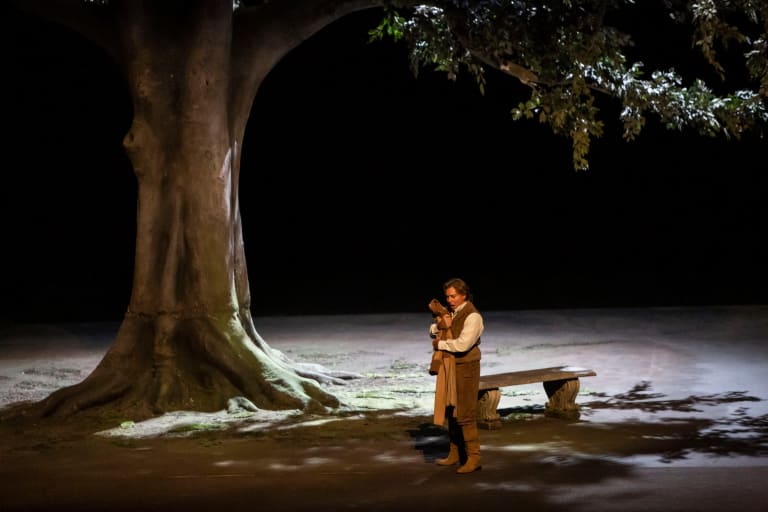 14/32 :
La Traviata (saison 18/19) - Roberto Alagna (Alfredo Germont)
© Emilie Brouchon / OnP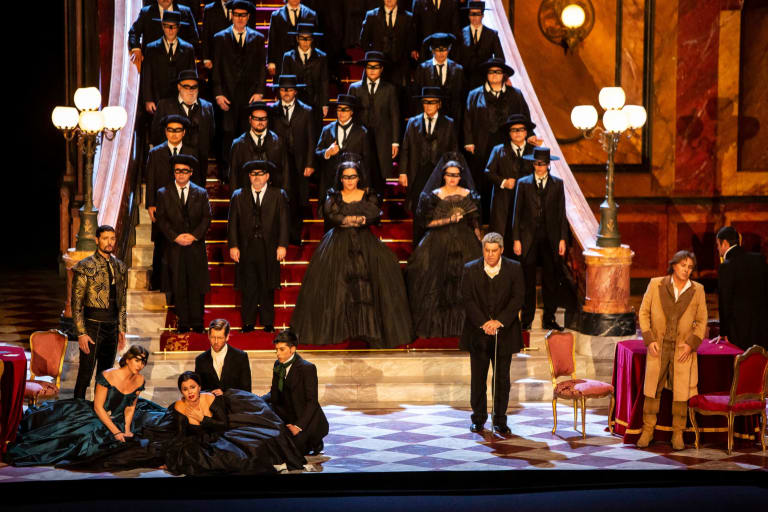 15/32 :
La Traviata (saison 18/19) - Virginie Verrez (Flora Bervoix), Aleksandra Kurzak (Violetta), Luc Bertin-Hugault (Dottore Grenvil), George Gagnidze (Giorgio Germont), Roberto Alagna (Alfredo Germont)
© Emilie Brouchon / OnP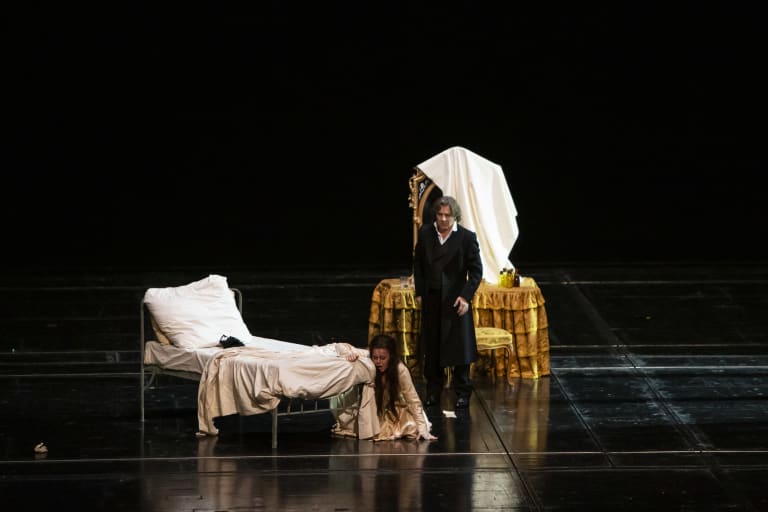 16/32 :
La Traviata (saison 18/19) - Aleksandra Kurzak (Violetta), Roberto Alagna (Alfredo Germont)
© Emilie Brouchon / OnP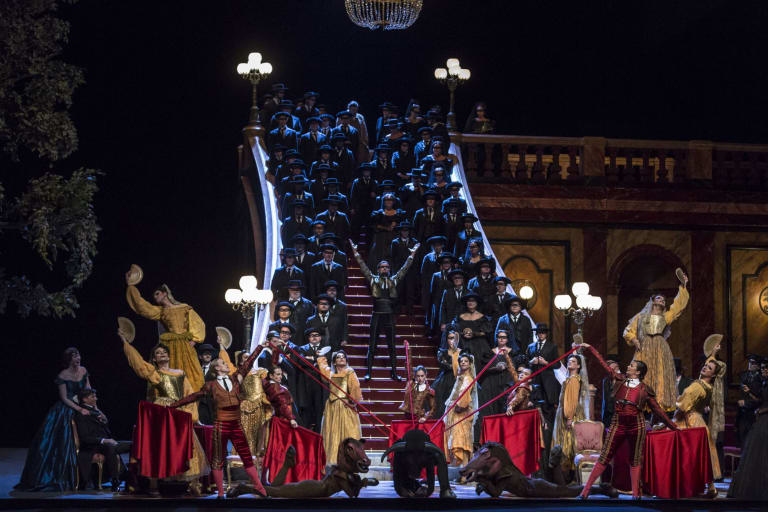 17/32 :
La Traviata (Saison 18/19)
© Sébastien Mathé / OnP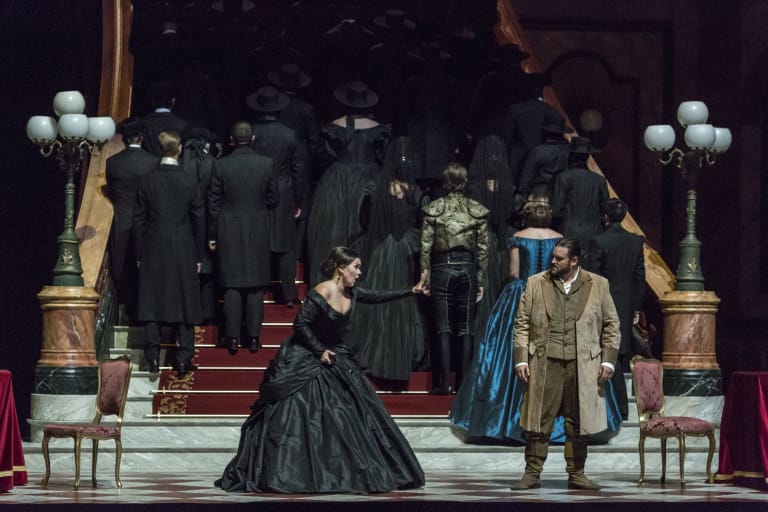 18/32 :
La Traviata (Saison 18/19) - Aleksandra Kurzak (Violetta), Jean‑François Borras (Alfredo)
© Sébastien Mathé / OnP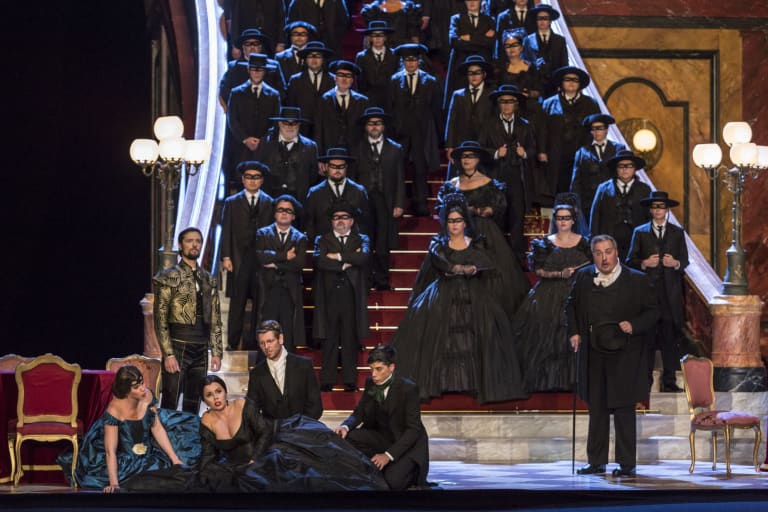 19/32 :
La Traviata (Saison 18/19) -Virginie Verrez (Flora Bervoix), Aleksandra Kurzak (Violetta), George Gagnidze (Giorgio Germont)
© Sébastien Mathé / OnP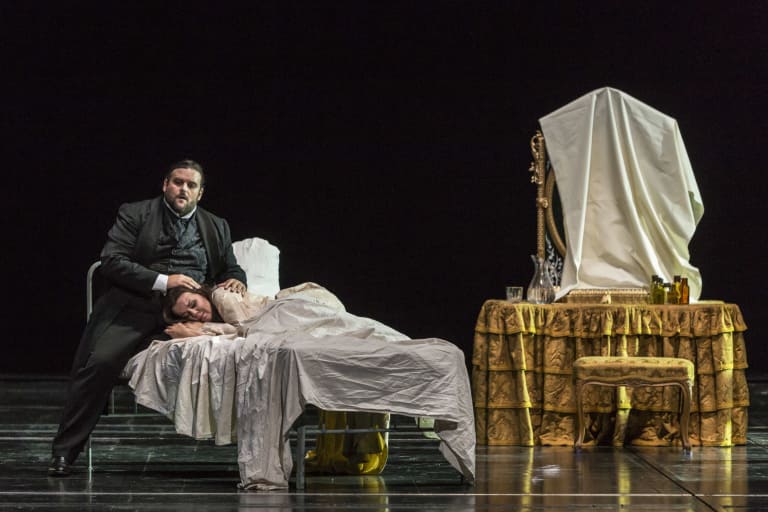 20/32 :
La Traviata (Saison 18/19) - Jean‑François Borras (Alfredo), Aleksandra Kurzak (Violetta)
© Sébastien Mathé / OnP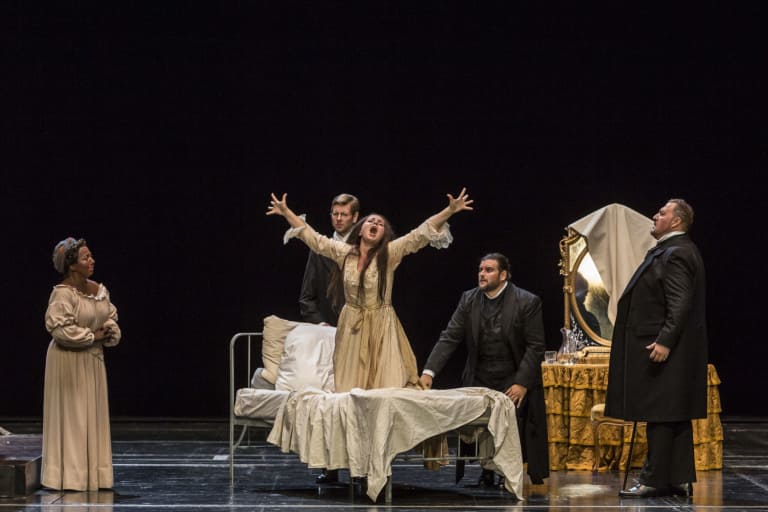 21/32 :
La Traviata (Saison 18/19) - Cornelia Oncioiu (Annina), Luc Bertin-Hugault (Dottore Grenvil), Aleksandra Kurzak (Violetta), Jean‑François Borras (Alfredo), George Gagnidze (Giorgio Germont)
© Sébastien Mathé / OnP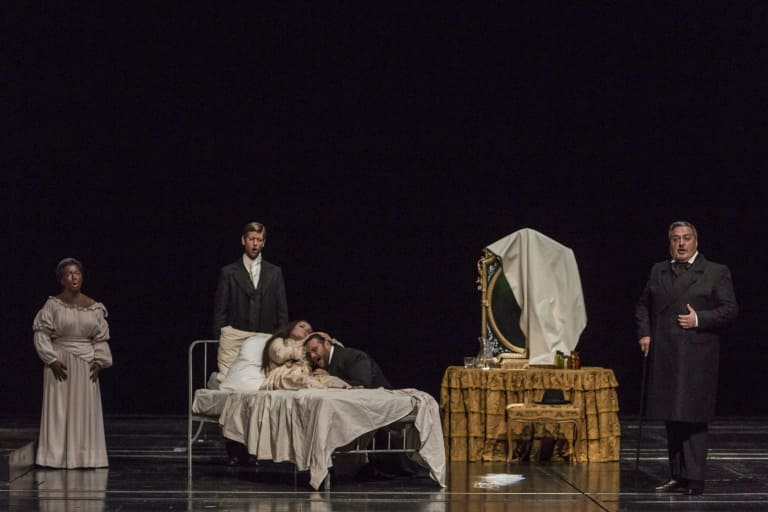 22/32 :
La Traviata (Saison 18/19) - Cornelia Oncioiu (Annina), Luc Bertin-Hugault (Dottore Grenvil), Aleksandra Kurzak (Violetta), Jean‑François Borras (Alfredo), George Gagnidze (Giorgio Germont)
© Sébastien Mathé / OnP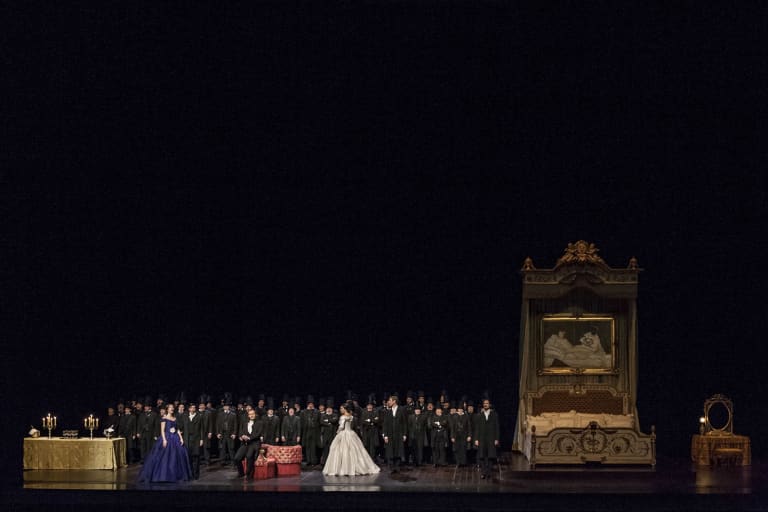 23/32 :
La Traviata (Saison 18/19)
© Sébastien Mathé / OnP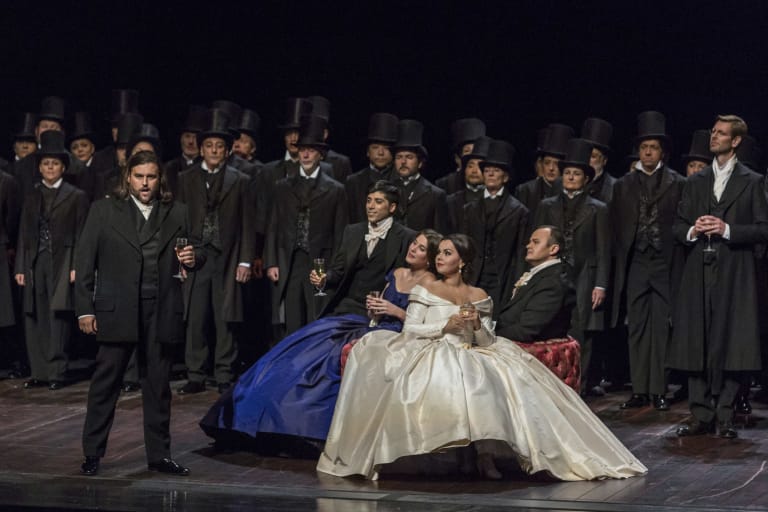 24/32 :
La Traviata (Saison 18/19) - Jean‑François Borras (Alfredo Germont), Virginie Verrez (Flora Bervoix), Aleksandra Kurzak (Violetta)
© Sébastien Mathé / OnP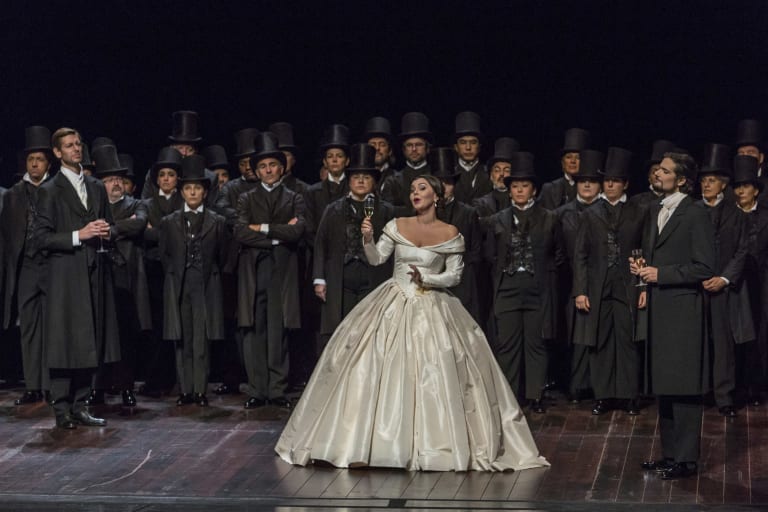 25/32 :
La Traviata (Saison 18/19) - Aleksandra Kurzak (Violetta)
© Sébastien Mathé / OnP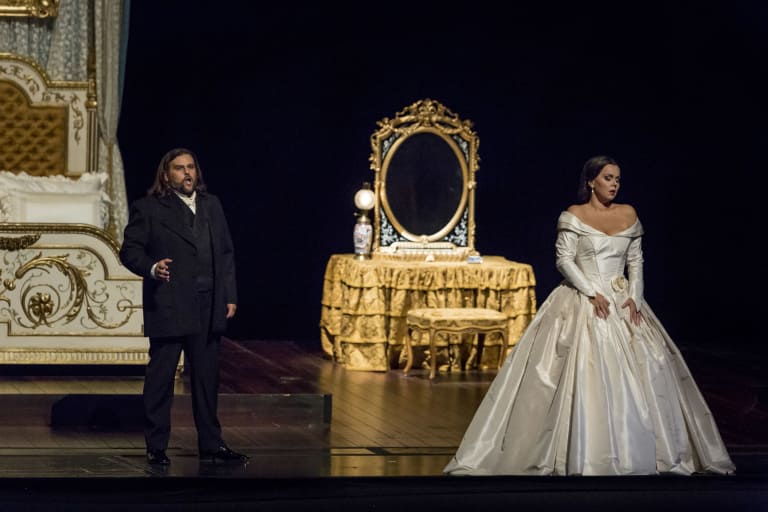 26/32 :
La Traviata (Saison 18/19) - Jean‑François Borras (Alfredo), Aleksandra Kurzak (Violetta)
© Sébastien Mathé / OnP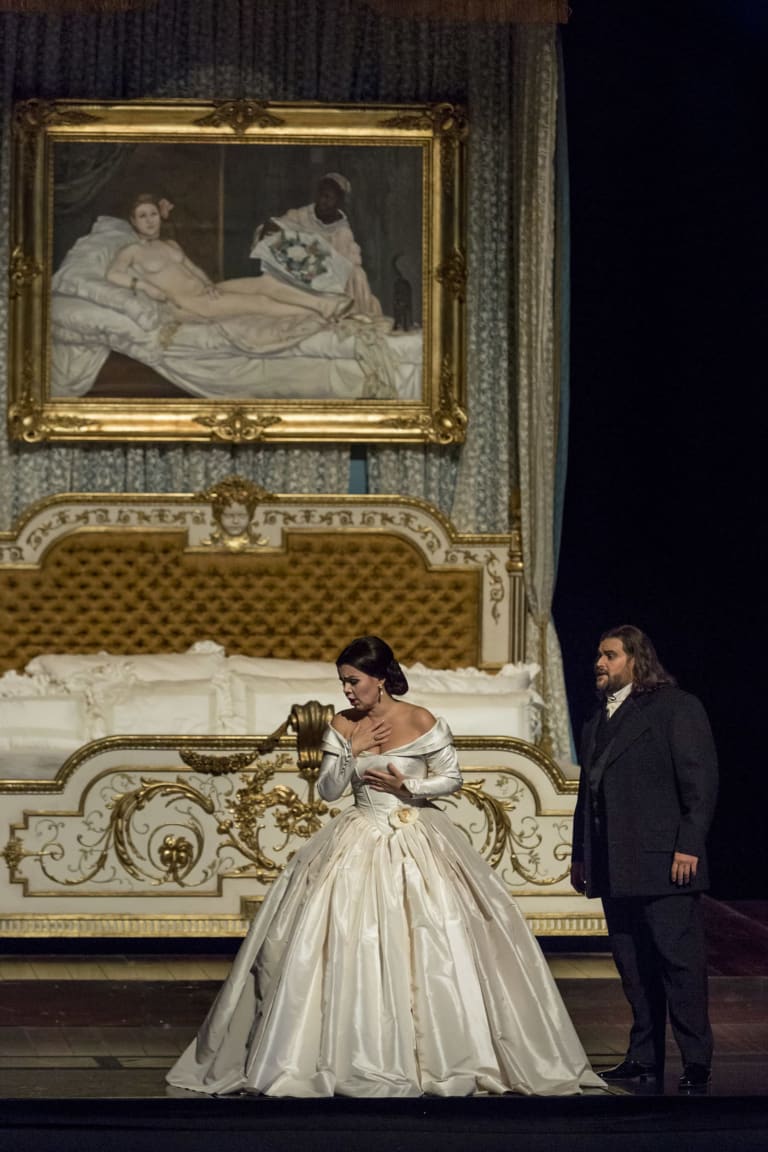 27/32 :
La Traviata (Saison 18/19) - Aleksandra Kurzak (Violetta), Jean‑François Borras (Alfredo)
© Sébastien Mathé / OnP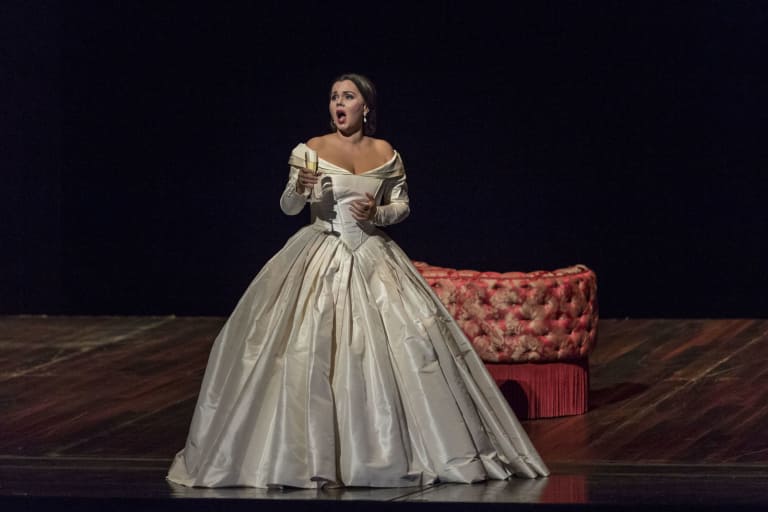 28/32 :
La Traviata (Saison 18/19) - Aleksandra Kurzak (Violetta)
© Sébastien Mathé / OnP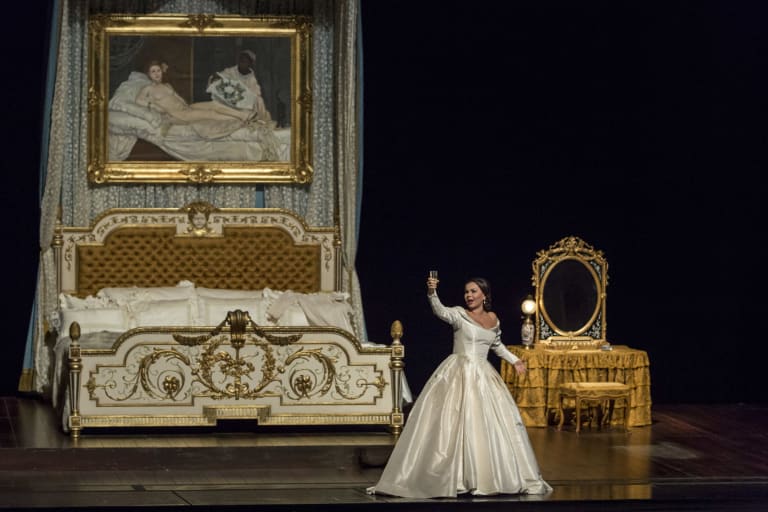 29/32 :
La Traviata (Saison 18/19) - Aleksandra Kurzak (Violetta)
© Sébastien Mathé / OnP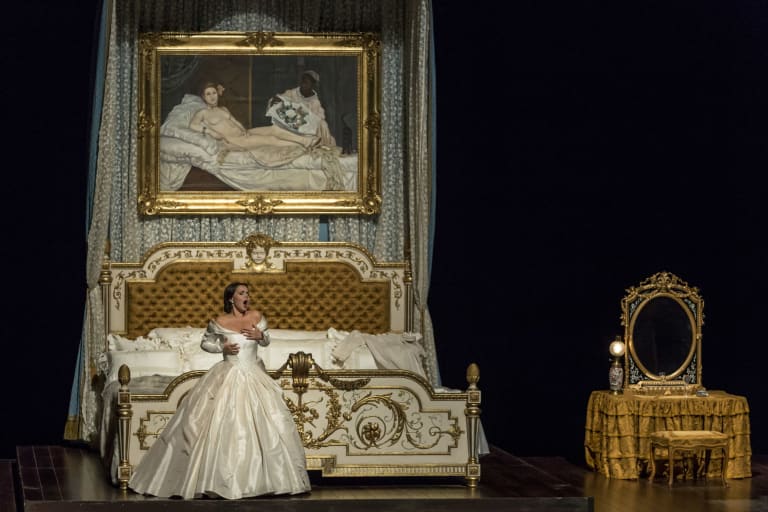 30/32 :
La Traviata (Saison 18/19) - Aleksandra Kurzak (Violetta)
© Sébastien Mathé / OnP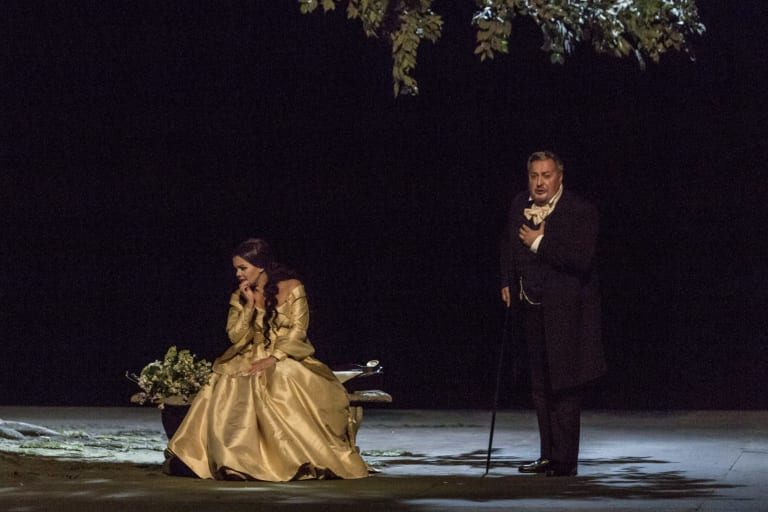 31/32 :
La Traviata (Saison 18/19) - Aleksandra Kurzak (Violetta), George Gagnidze (Giorgio Germont)
© Sébastien Mathé / OnP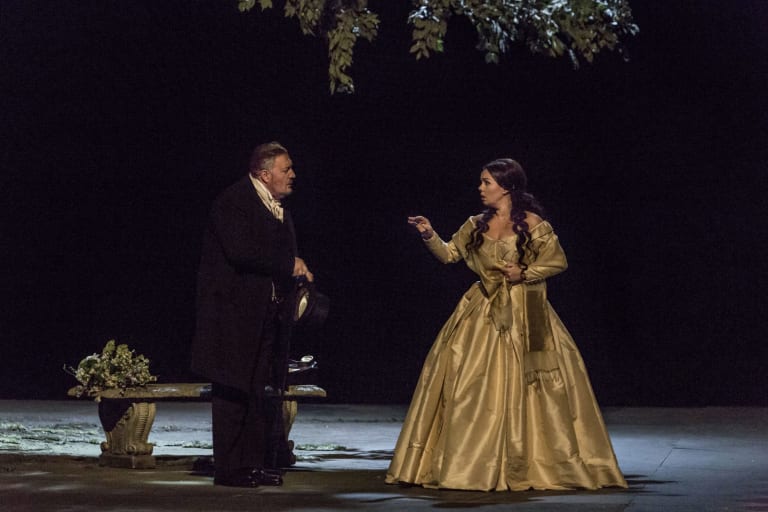 32/32 :
La Traviata (Saison 18/19) - George Gagnidze (Giorgio Germont), Aleksandra Kurzak (Violetta)
© Sébastien Mathé / OnP
1/6 :
La Traviata by Giuseppe Verdi - "Libiamo ne' lieti calici" (Ermonela Jaho & Charles Castronovo)
2/6 :
La Traviata by Giuseppe Verdi (Ermonela Jaho)
3/6 :
La Traviata by Giuseppe Verdi (Charles Castronovo)
4/6 :
La Traviata by Giuseppe Verdi (Ermonela Jaho)
5/6 :
La Traviata - "Noi siamo zingarelle" (Chœur des bohémiennes)
6/6 :
La Traviata - Trailer
Audio clips
La Traviata (Saison 18/19)- Acte I - Ludovic Tézier
La Traviata (Saison 18/19)- Acte I - Jaho, Castronovo, Tézier, Gay, Oncioiu
La Traviata (Saison 18/19)- Acte I - Ermonela Jaho, Charles Castronovo
La Traviata (Saison 18/19)- Acte I - Ermonela Jaho, Charles Castronovo
Media coverage
Séduisante reprise de La Traviata de Verdi dans la mise en scène marquante de Benoît Jacquot

Camille Girard, Scènes magazine, avril 2018