Ballet
Robbins /​ Balanchine /​ Cherkaoui, Jalet
Palais Garnier - from 02 to 27 May 2017
About
In few words:
Over and above the six pieces he composed for the ballet, Ravel's entire body of work is an inexhaustible source of choreographic inspiration, no doubt thanks to the spatial potential inherent in his genius for orchestration. Written in the aftermath of the First World War, La Valse is meant to represent the "fantastic, inevitable, swirling" demise of the Viennese waltz and the world it represented. In keeping with that idea, George Balanchine's 1951 choreography blends apparent joy with a touch of romantic torment. In 1975, in a very different spirit, Jerome Robbins adapted the Piano Concerto in G, composed by Ravel on his return from a tour of the United States during which he had discovered jazz. Framed by two movements reminiscent of musical comedy, a duo of incredible grace exalts the classical vocabulary. Finally, Sidi Larbi Cherkaoui and Damien Jalet conclude the programme with a fascinating Boléro which takes us through a maelstrom of movements electrified by the scenography of artist Marina Abramović and costumes by Riccardo Tisci.
Tuesday 02 May 2017 at 19:30

Tuesday 02 May 2017 at 19:30
Wednesday 03 May 2017 at 19:30
Saturday 06 May 2017 at 19:30
Wednesday 10 May 2017 at 19:30
Thursday 11 May 2017 at 19:30
Sunday 14 May 2017 at 14:30
Tuesday 16 May 2017 at 20:30
Wednesday 17 May 2017 at 19:30
Thursday 18 May 2017 at 19:30
Friday 19 May 2017 at 19:30
Saturday 20 May 2017 at 14:30
Saturday 20 May 2017 at 20:00
Tuesday 23 May 2017 at 19:30
Wednesday 24 May 2017 at 19:30
Thursday 25 May 2017 at 19:30
Friday 26 May 2017 at 19:30
Saturday 27 May 2017 at 19:30

Latest update 24 May 2017, cast is likely to change.
Whether you're a member of Arop or not, the friends of the Opera can reserve seats for you on all performance dates, including those not yet open for sale and those announced as sold out.
Gallery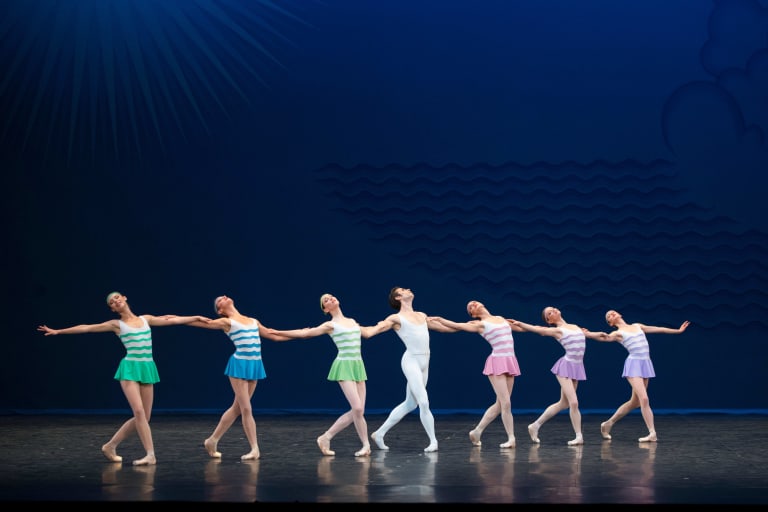 1/11 :
© Laurent Philippe / OnP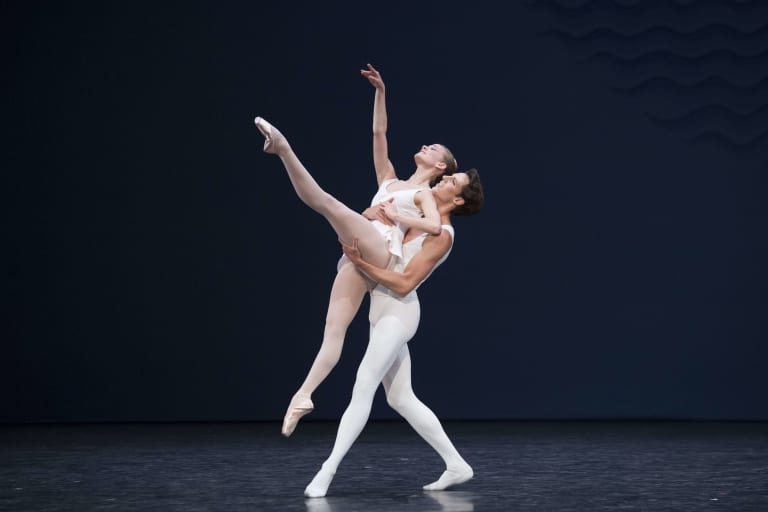 2/11 :
© Laurent Philippe / OnP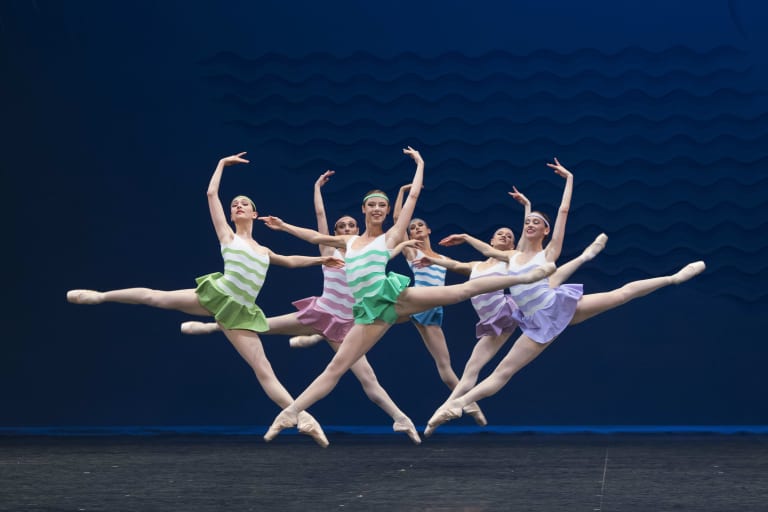 3/11 :
© Laurent Philippe / OnP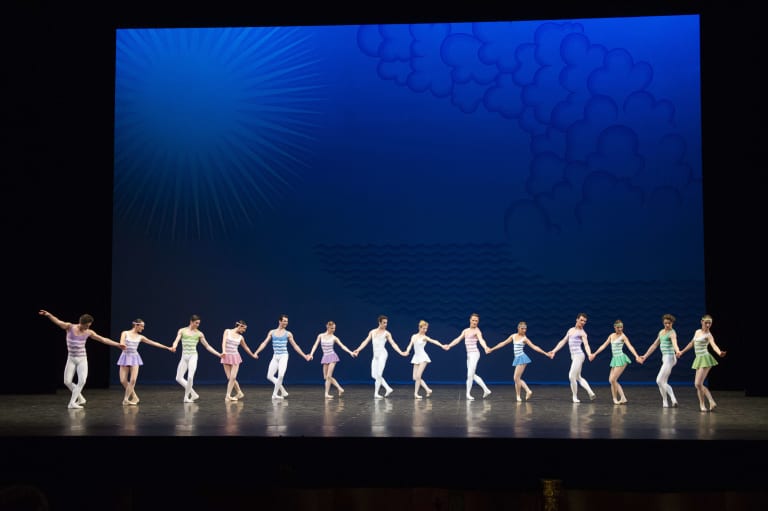 4/11 :
© Laurent Philippe / OnP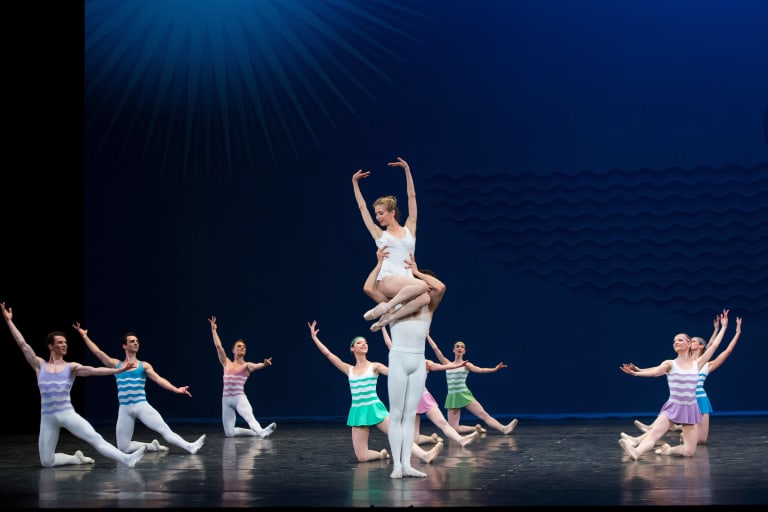 5/11 :
© Laurent Philippe / OnP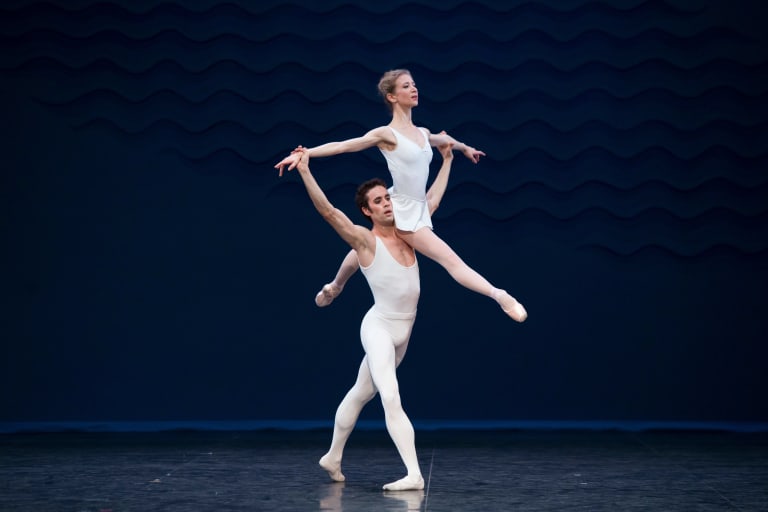 6/11 :
© Laurent Philippe / OnP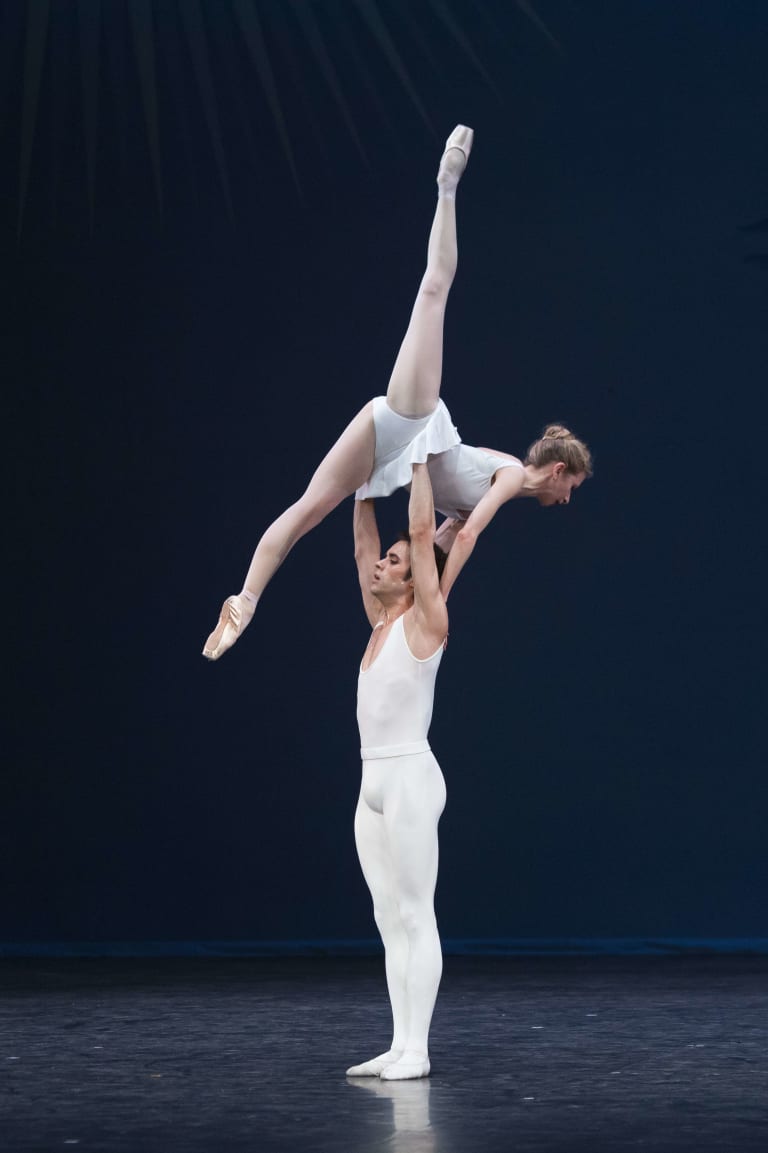 7/11 :
© Laurent Philippe / OnP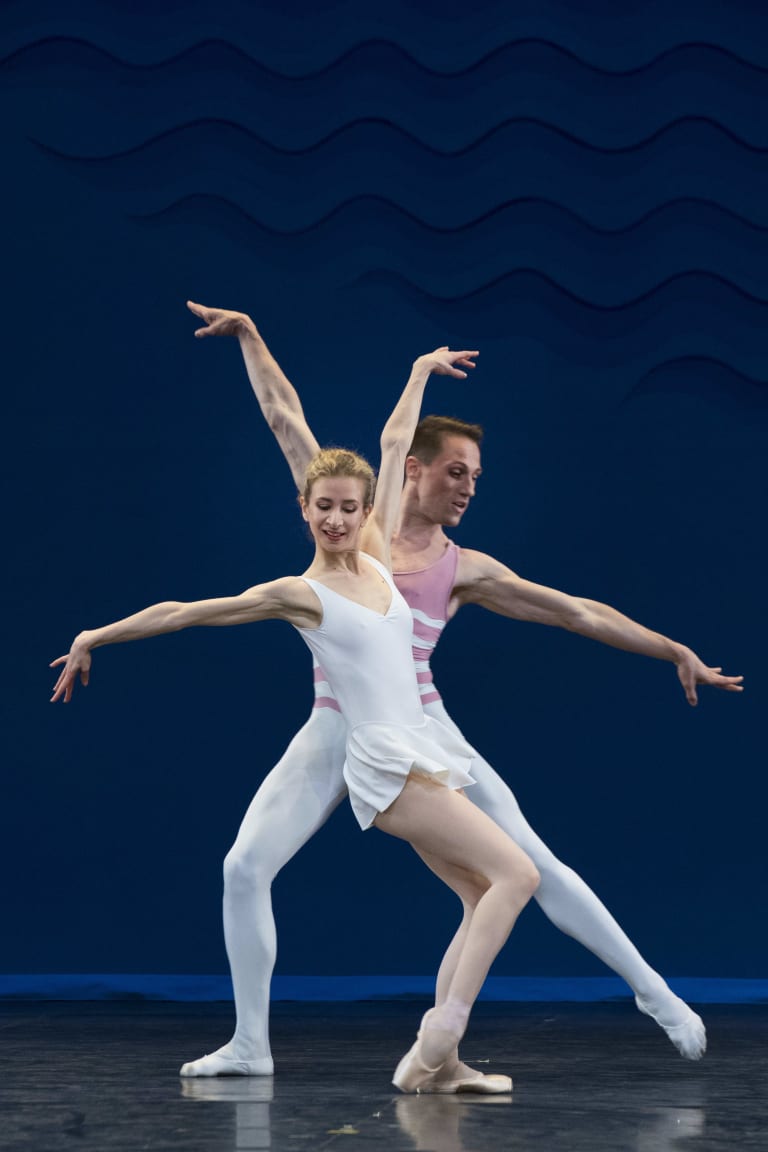 8/11 :
© Laurent Philippe / OnP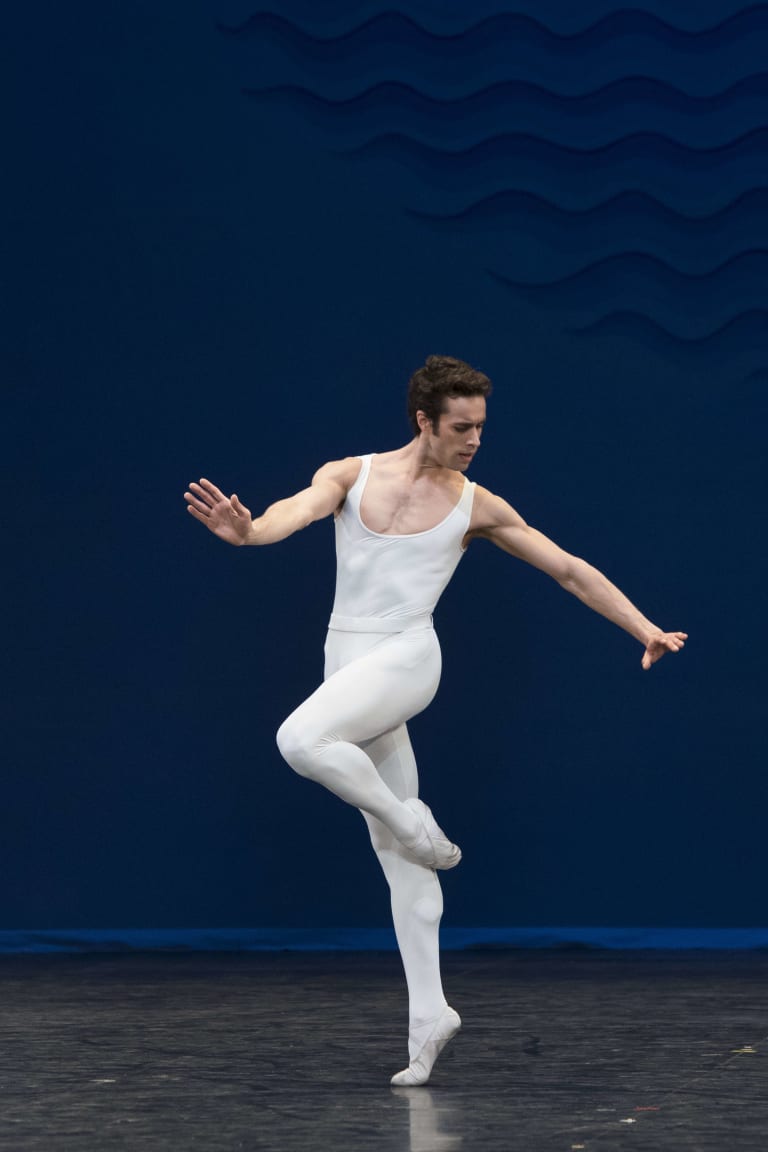 9/11 :
© Laurent Philippe / OnP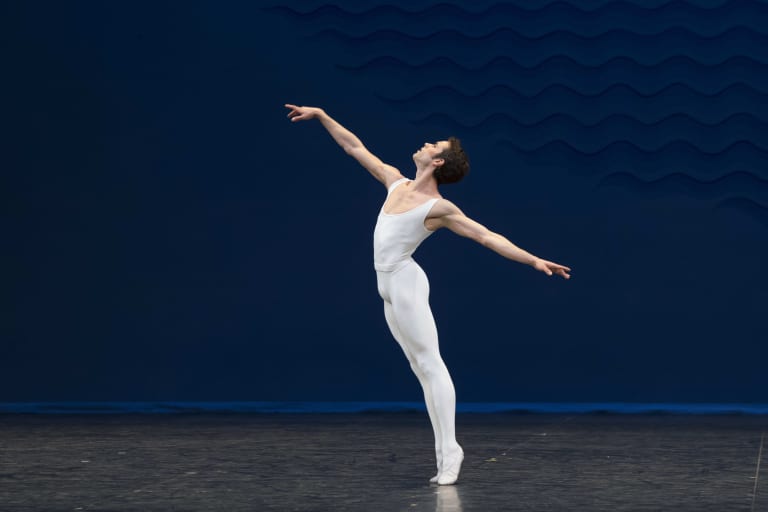 10/11 :
© Laurent Philippe / OnP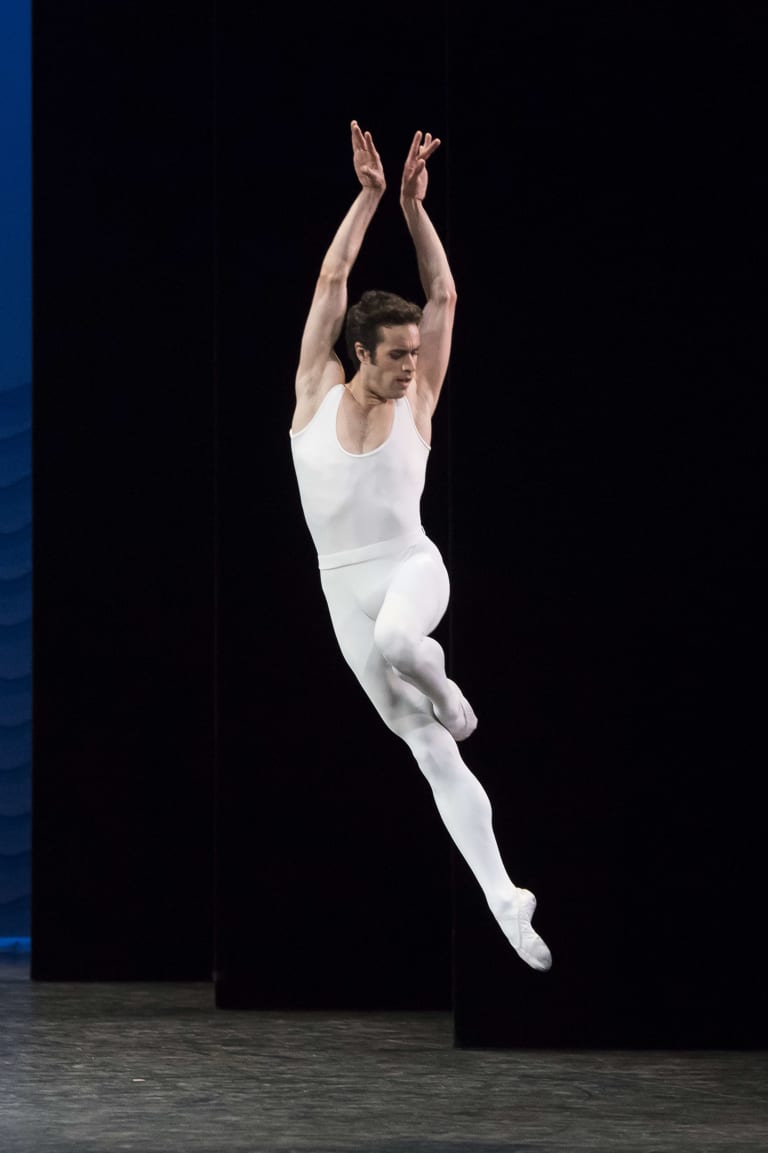 11/11 :
© Laurent Philippe / OnP
Videos clips
1/2 :
En Sol de Jerome Robbins - Extrait (Marie-Agnès Gillot)
2/2 :
Boléro de Sidi Larbi Cherkaoui et Damien Jalet - Extrait
Audio clips
Robbins / Balanchine / Cherkaoui, Jalet
Backstage
Podcast

Podcast Robbins / Balanchine / Cherkaoui, Jalet

Article

Fluidity and Abandon

Article

Jerome Robbins' jazzy accents

Article

Ravel – From movement makes music
Podcast
Podcast Robbins / Balanchine / Cherkaoui, Jalet
"Dance! Sing! 7 minutes at the Paris Opera" - by France Musique
07'
"Dance! Sing! 7 minutes at the Paris Opera" offers original incursions into the season thanks to broadcasts produced by France Musique and the Paris Opera. For each opera or ballet production, Judith Chaine (opera) and Stéphane Grant (dance), present the works and artists you are going to discover when you attend performances in our theatres.  
Article
Fluidity and Abandon
Bolero by Sidi Larbi Cherkaoui and Damien Jalet seen by Vincent Chaillet, Premier Dancer
05'
Until May 27th, Premier dancer Vincent Chaillet returns to Sidi Larbi Cherkaoui and Damien Jalet's Boléro, at the Palais Garnier.. As much a physical exploit as a sensorial voyage, this ballet has been a unique experience in Chaillet's career and one that has left his mark on him.
---
You were cast in Sidi Larbi Cherkaoui and Damien Jalet's Boléro for its premier in 2013; what are your memories of that encounter?
I was indeed lucky enough to take part in the Boléro adventure when it was first performed in 2013 and to work with two choreographers whose work I had followed closely and already admired. It also gave me the opportunity to meet the artist Marina Abramović who was responsible for the scenography, and the designer Riccardo Tisci who created the costumes. The entire team was present for the first few rehearsals. The choreographers arrived with some of the material, choreographic phrases already written, and then the articulation of the piece was established in the studio with the dancers.
Boléro remains above all a disturbing experience. There is nothing comfortable about this choreography, but rather a permanent sense of risk. Something compelling takes place, obliging us to adapt and readapt constantly. This piece is essentially marked by a duality, requiring both calm, indispensable for overcoming fatigue, and a state of constant alertness to what is going on around you.
For this revival, the original casting has changed and some dancers are discovering the piece for the first time. It is interesting to hand the work on to others. It has allowed me to go further in my search for excellence; I'm no longer learning and enjoy a certain fluidity in my search for new material. In fact, the choreographers have been much less present than for the first production, giving us complete autonomy for a total of two weeks (except for our rehearsal coach Béatrice Martel). We were left on our own much more, which obliged us to take the piece in hand and analyse things, take decisions. We had much more responsibility compared to the initial process of learning the choreography.
You mention energy and fluidity. Sidi Larbi Cherkaoui speaks of balance, which is also very important in this ballet: "A dance that sinks into the floor", "a body in permanent suspension". How have you tackled this new choreographic language within your career as a dancer?
I have never gone so far in my relationship with the floor and in my approach to performance. The object of the choreography is to go towards continuous movement, without a break. As the piece unfolds, it gets progressively more and more physical. You have to remain in a state of constant mobility, aware of what you are doing whilst giving a lot of energy. That construction generates a certain fatigue. Each movement, each fall engenders another, we are in a state of permanent imbalance, in a crescendo both musical and choreographic forming a continuous spiral.

This choreography has its origins in the whirling dervish. The scenography echoes this constantly turning spiral. How is that conveyed on stage in your interpretation?
The first rehearsals on stage were a real shock. Marina Abramović's scenography is very unsettling. The stage is very dark; our positions evolve in accordance with videos projected onto the surface of the stage; a mirror leans in the opposite direction from the slope of the stage; dry ice contributes to the general fog in which we are plunged; all our usual visual markers are altered. You have to let yourself work with just your sensations, forget your reflection in the mirror and focus only on what you can feel. All the dancers have identical costumes, so we don't necessarily recognise each other. The choreography is divided into eighteen sequences, each theme corresponding to a change in the image being projected and its place on the floor. The dancers have thus to adapt to each new sequence whilst creating an impression of continual flux. This Boléro leads us towards a state of abandon, you have to accept the outcome. The idea of outdoing yourself, of a physical exploit is at the heart of the choreography, which probably also echoes the work of Marina Abramović and the states of trance that she manages to reach when she performs. I remember her at the premiere encouraging us to pursue our "imaginary double" in order to liberate ourselves more fully and achieve total abandonment.

You mentioned the musical and choreographic crescendo. You were also cast in Maurice Béjart's Boléro on the same score by Ravel. What was your experience of the two pieces?
The pieces are very different. With Béjart, we are more in something constructed around a single entity. With Cherkaoui and Jalet, on the other hand, there is a sense of the group. Something immutable, almost like a ritual takes place on stage. With Béjart, the musical crescendo is echoed by the development of the group around the table, whereas with Cherkaoui and Jalet the progression is more in terms of energy and physical exertion. The eleven dancers are all on stage from the beginning and move unceasingly from start to finish. In Béjart there is very little physical contact between the dancers, with the attention focussed entirely on the table, whereas Cherkaoui and Jalet's Boléro imposes a certain proximity between the dancers' bodies: as the piece unfolds, the dancers get closer until they form a single body locked in a final embrace. We are in osmosis with each other.    
Article
Jerome Robbins' jazzy accents
Dissection of a step: Episode #3
02'
With In G Major, the ballet running at the Palais Garnier from May 2 until May 27, Jerome Robbins has fun mimicking the Broadway style in response to the jazz-infused overtones of Maurice Ravel's music. The result creates an exquisitely old-fashioned atmosphere reminiscent of a carefree stroll during a summer holiday. Invited to restage the ballet at the Paris Opera—a work that has been in the Opera's repertoire since 1975—ballet teacher Ghislaine Thesmar shares her mastery of the ballet's tempos and rhythms with the Étoile dancer Léonore Baulac.

---
Step sequence (diaporama)
Watch the step in video
Article
Ravel – From movement makes music
An interview with conductor Maxime Pascal
05'
For the Robbins/Balanchine/Cherkaoui, Jalet ballet evening, Maxime Pascal conducts the Paris Opera Orchestra in a repertoire comprised entirely of music by Ravel. A close collaborator of the Ballets Russes for whom he wrote Daphnis et Chloé, and for whom La Valse was initially intended, Maurice Ravel has remained a major source of inspiration for choreographers around the world since the beginning of the 20th century. We asked Pascal, the musical director of the ensemble Le Balcon, to discuss the interplay between the French composer and dance and the particularities that apply to the ballet orchestra.

---
Can you present the pieces by Maurice Ravel that make up this evening of dance?
Les Valses Nobles et Sentimentales
were inspired by the Austrian waltzes of Johann Strauss and Franz Schubert. They
foreshadow
La Valse
which was written much later, and unlike those preceding it, was composed specifically for a ballet libretto. It is an astonishing piece, abstract by form and without specifically defined outlines. It transports us into an Austrian ballroom where a thick fog gradually dissipates to reveal dancers, all prisoners of a musical crescendo, who succumb to exhaustion. You could compare this piece to a march towards death, rather like Stravinsky's
Rite of Spring
or
Boléro
. The latter is the product of a unique musical process. It is one great, non-narrative progression, and, as such, can be interpreted in numerous ways: increasing desire or pain, or the arrival of death… Opposite these three scores, the
Concerto in G Major
is the exception, because at the outset, nothing connects it to dance.
In what way are these scores choreographic—aside the obvious fact that most have dance as a subject?
From the String Quartet to his final productions, Ravel's art evokes the movement of sounds and their wave-like progression through space. More particularly, his music evokes the notion of a loop-like motion inherent to the mechanical movement of production line which in his day, were becoming the industrial norm in the United States. This repetition of gestures leads to the idea of a whirlwind, often present in his works. But for Ravel, this musical maelstrom is inspired more than anything else by dance. Among his many sources of inspiration—Russian and Spanish composers, American music, science, the discovery of acoustics—the primary influence remains dance, even when he is not composing a ballet. With him everything—or almost everything—is choreographic by nature.

Has your understanding of Ravel's music evolved thanks to these choreographic interpretations?
Enormously! Generally speaking, it's the conductor who chooses the phrasing and tempo at which the opera or symphony orchestra plays. And yet at the orchestra's first rehearsal with the dancers, those parameters have already been set by the choreographer or the Ballet Master. It is they who are the real conductors. I try to feel what they themselves felt when they first came into contact with the music and how they made it theirs. Although I may well have a very specific and personal view as to how to interpret a given composer, I try to pass on the choreographer's vision to the orchestra. It is always very interesting to have a score interpreted by other artists as it allows us to review our own interpretation.

Isn't it frustrating for a conductor not to have total control over the orchestra?
What counts above all is the dancers' movements I have to be on their wavelength. In my view, the most important is not gratuitous synchronisation between the dancers and the musicians but rather, that everyone converges towards a common narration in the same tempo. When everyone can coexist in this great communal movement, expressiveness is born. The control of the orchestra is linked to the choreography. Of course, I allow myself to maintain control or rescind it. But I always bear in mind the need to stick to the story unfolding on stage. Even so, it is the conductor's responsibility to communicate to the dancers the energy and strength they need that comes from the music.

Does this alliance between the stage and the orchestra pit differ for ballet and opera?
It is often said that the singers follow the conductor and vice versa. But it's not true. The conductor must ensure that the orchestra plays what the singers feel. They need to breathe together. The same applies to the dancers. The magic only works when you manage to breathe and leap with them. This requires a common artistic awareness which we reach by watching and discussing, thus allowing us to grasp what each participant needs.
So, are you really getting to know the Opera's dancers with whom you've already worked?
I worked with the Orchestra and Ballet on two occasions during the 2015/2016 season, for the season's opening Gala and for the Millepied /Robbins/Balanchine evening. I also accompanied the Ballet on their recent tour to Japan, without the Orchestra this time. It's a fairly new experience for me to work with dancers. Thanks to them, I'm learning a great deal. As I said before, these collaborative efforts have enabled me to perceive the time and space of the music differently, to watch it take form and acquire a visual dimension. And that is particularly exciting. 
Partners
Sponsor of Robbins/Balanchine / Cherkaoui, Jalet