Opera - Ballet
Iolanta /​The Nutcracker
Piotr Ilyitch Tchaikovsky
Palais Garnier - from 09 March to 01 April 2016
About
In few words:
"Before physical and mortal eyes can open to the light, the immortal soul must penetrate the very sense of sight."

- Iolanta, scene 5

The mysterious, unwavering chant of the English horn, punctuated by notes from the bassoon and the clarinet, follows its chromatic descent over twenty bars as if plunging into an unknown world. A world where Iolanta has lived in seclusion since her birth. She is unwittingly blind, since no one has the right to reveal the fact to her. This simple tale of collective denial at the court of Provence as narrated by the Danish writer Henrik Hertz in his play King René's Daughter, was discovered by Tchaikovsky in 1883. However, moved beyond words by the presence of the young actress Elena Konstantinova Leshkovskaya in the title role, it would be another five years before the composer decided to transform it into an opera. Should we believe him when he claims that "the dukes, knights and noble damsels of the Middle Ages had captivated his imagination, but not his heart"? Would the fate of the heroine, like a rite of passage from darkness to light, from lies to truth, not rekindle his own wounds which ended up carrying him to his grave less than a year after the double premiere of Iolanta and The Nutcracker at Saint Petersburg's Mariinsky Theatre on December 18th 1892? 
Directed for the stage by Dmitri Tcherniakov, this exceptional programme combines all the talents of the Paris Opera and offers an opera and a ballet in a single evening: Tchaikovsky originally intended Iolanta and The Nutcracker to be staged together. However, since their debut performance at Saint Petersburg's Mariinsky Theatre in 1892, they have been presented separately. The composer found inspiration for his opera in Danish playwright Henrik Hertz's work recounting the romantic story of Iolanta, the blind daughter of King René. Protected by her father in his Provençal château, the princess ultimately regains her sight before marrying the gallant knight Vaudémont.
The Nutcracker is based on a tale by Hoffmann adapted by Alexandre Dumas. Like a two-sided mirror reflecting the dreams of a composer who took refuge in the realms of the imaginary, the Paris Opera is reviving the original diptych. Alain Altinoglu conducts and Dmitri Tcherniakov stages this production that symbolises the link between opera and ballet.
Whether you're a member of Arop or not, the friends of the Opera can reserve seats for you on all performance dates, including those not yet open for sale and those announced as sold out.
Gallery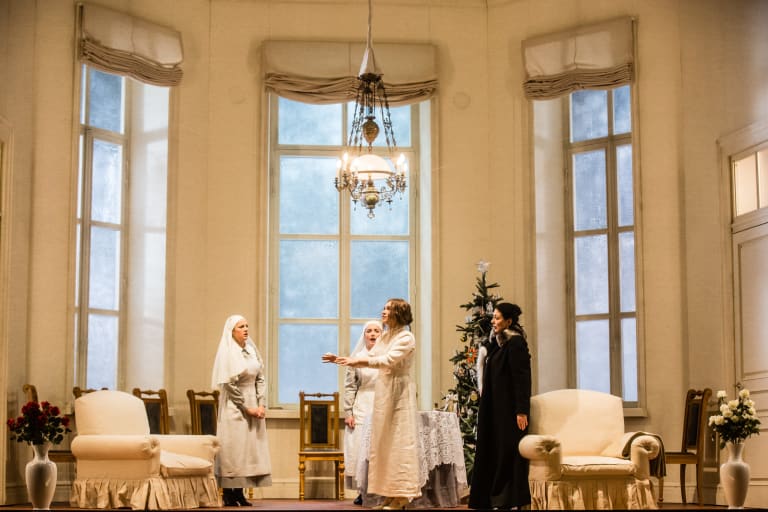 1/13 :
© Agathe Poupeney / OnP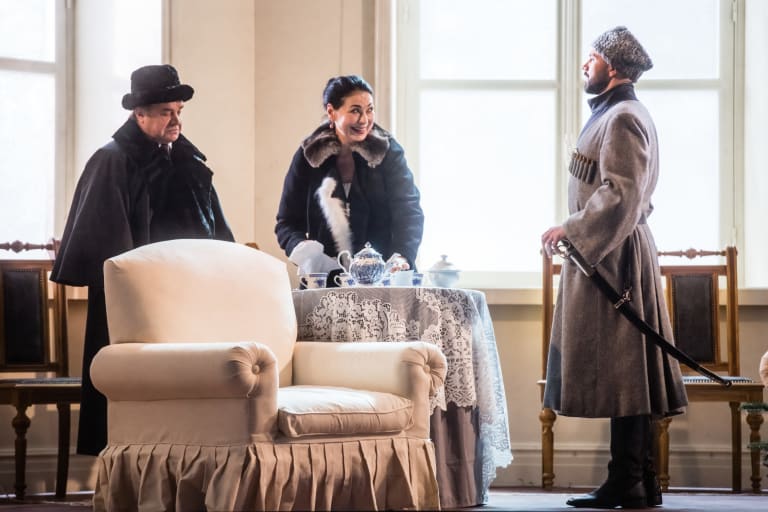 2/13 :
© Agathe Poupeney / OnP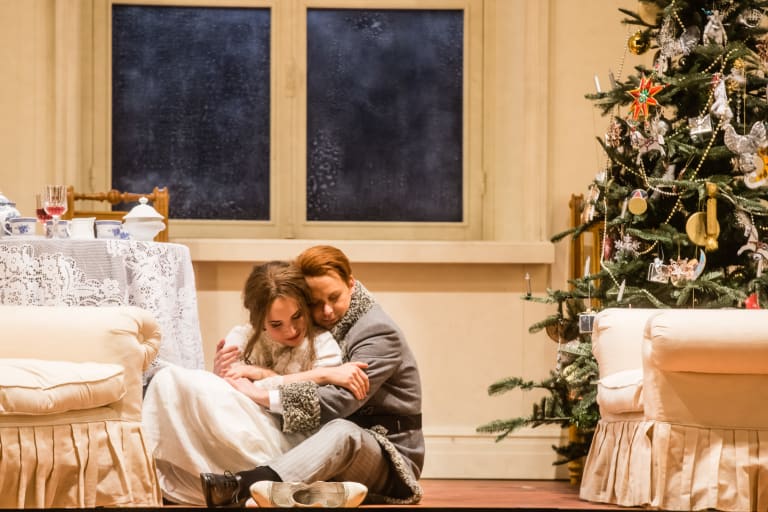 3/13 :
© Agathe Poupeney / OnP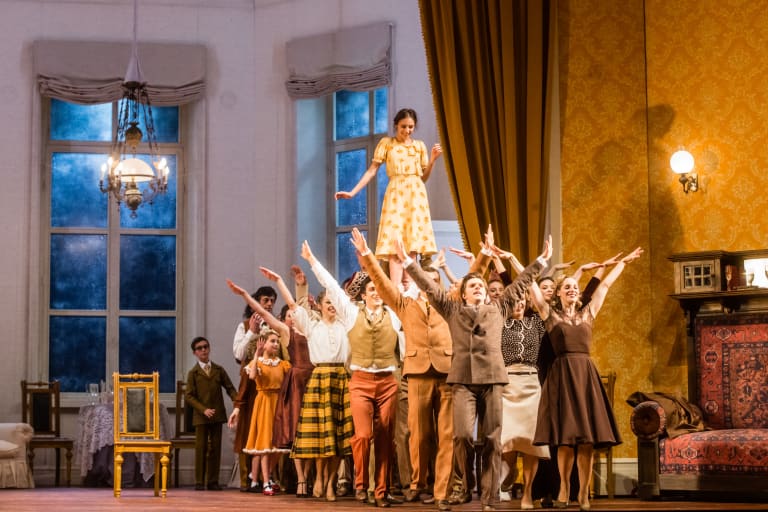 4/13 :
© Agathe Poupeney / OnP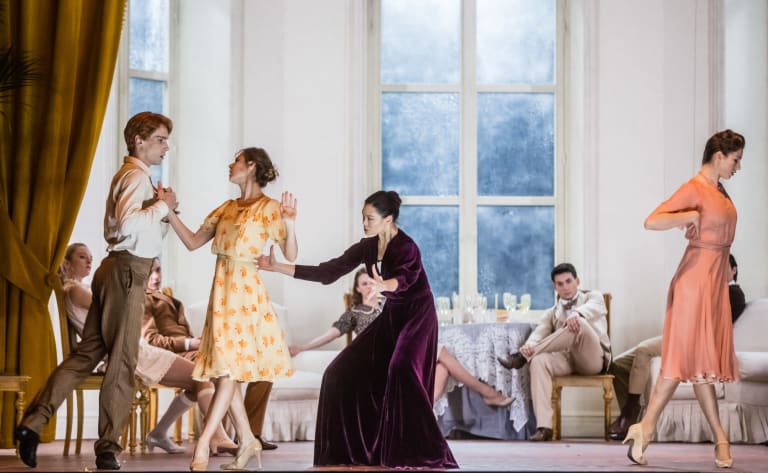 5/13 :
© Agathe Poupeney / OnP
6/13 :
© Agathe Poupeney / OnP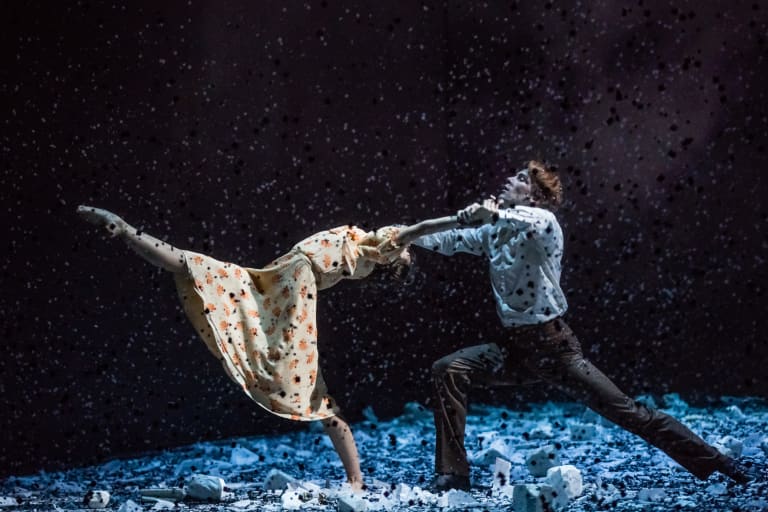 7/13 :
© Agathe Poupeney / OnP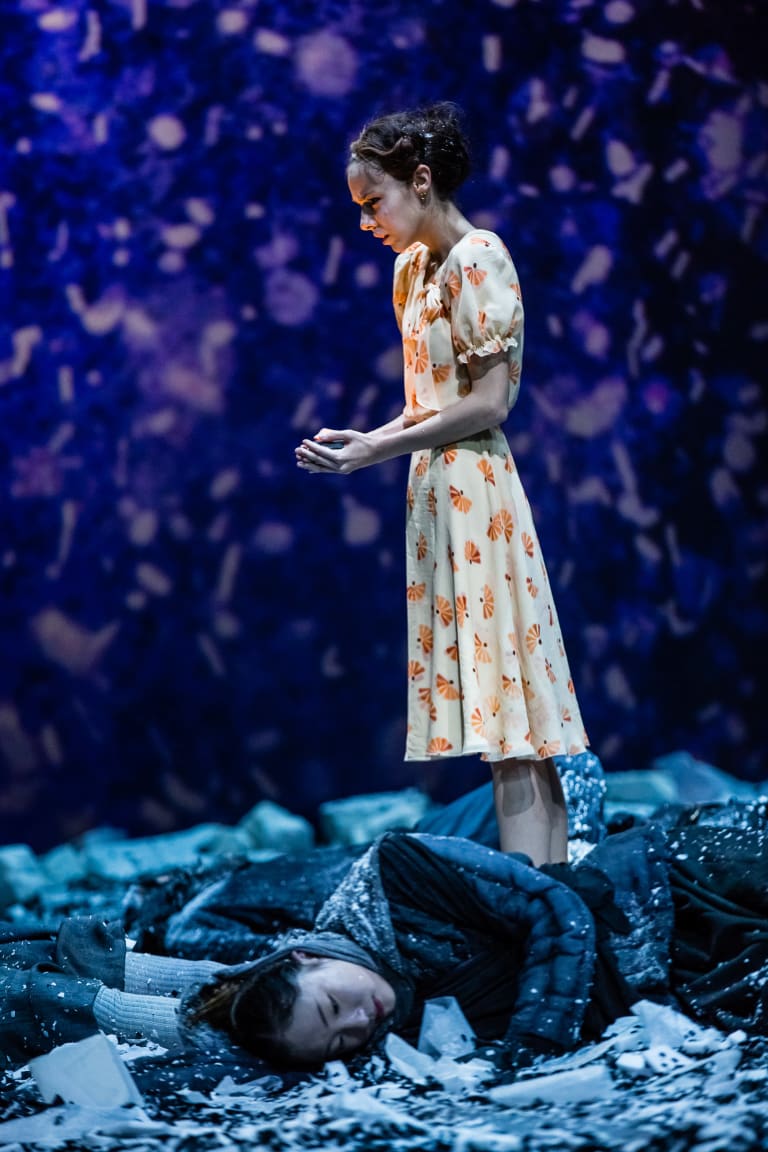 8/13 :
© Agathe Poupeney / OnP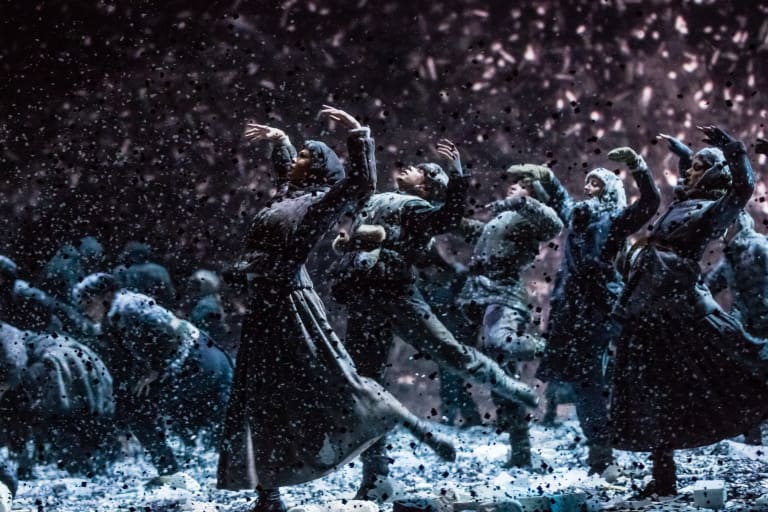 9/13 :
© Agathe Poupeney / OnP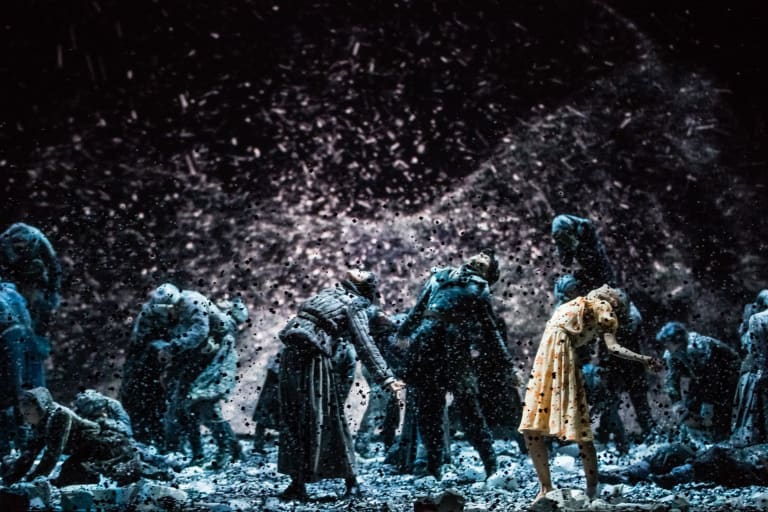 10/13 :
© Agathe Poupeney / OnP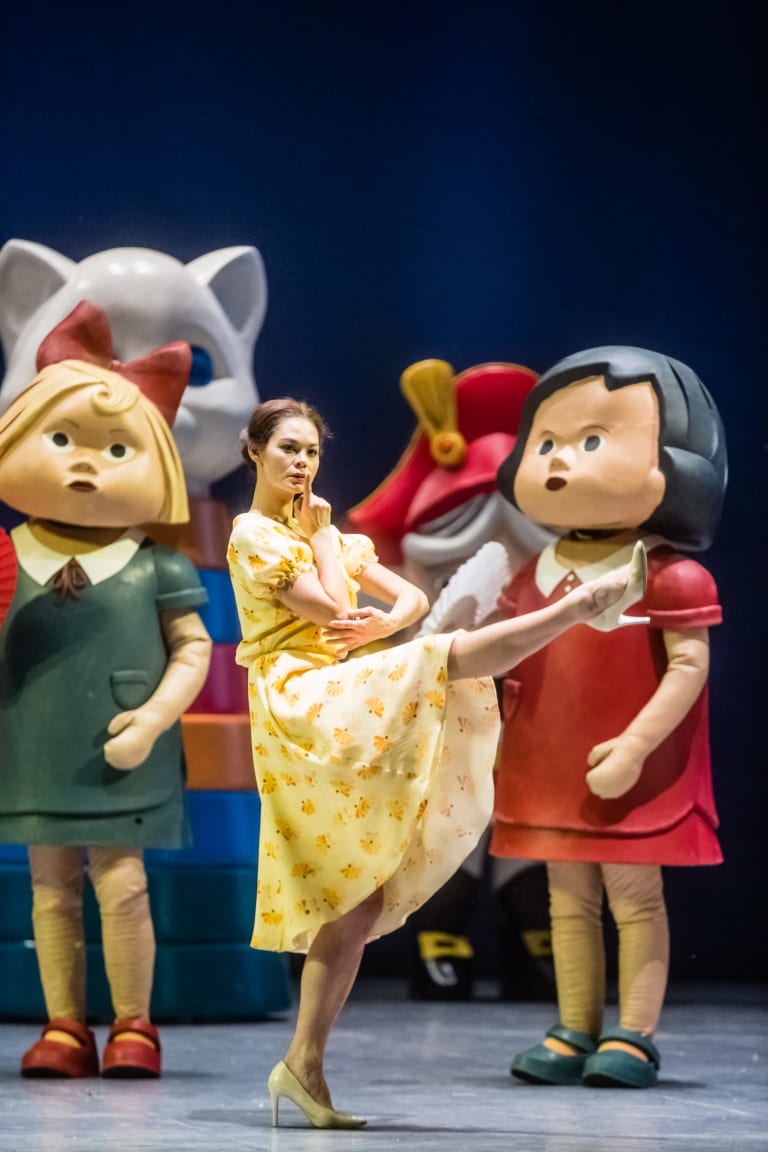 11/13 :
© Agathe Poupeney / OnP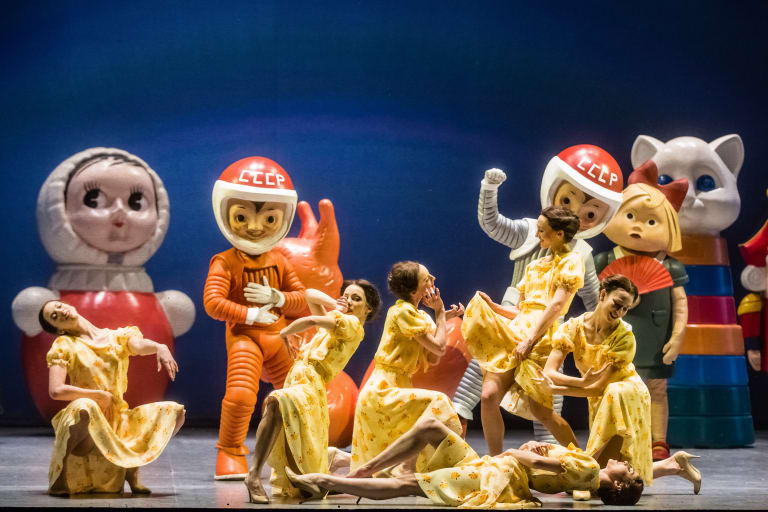 12/13 :
© Agathe Poupeney / OnP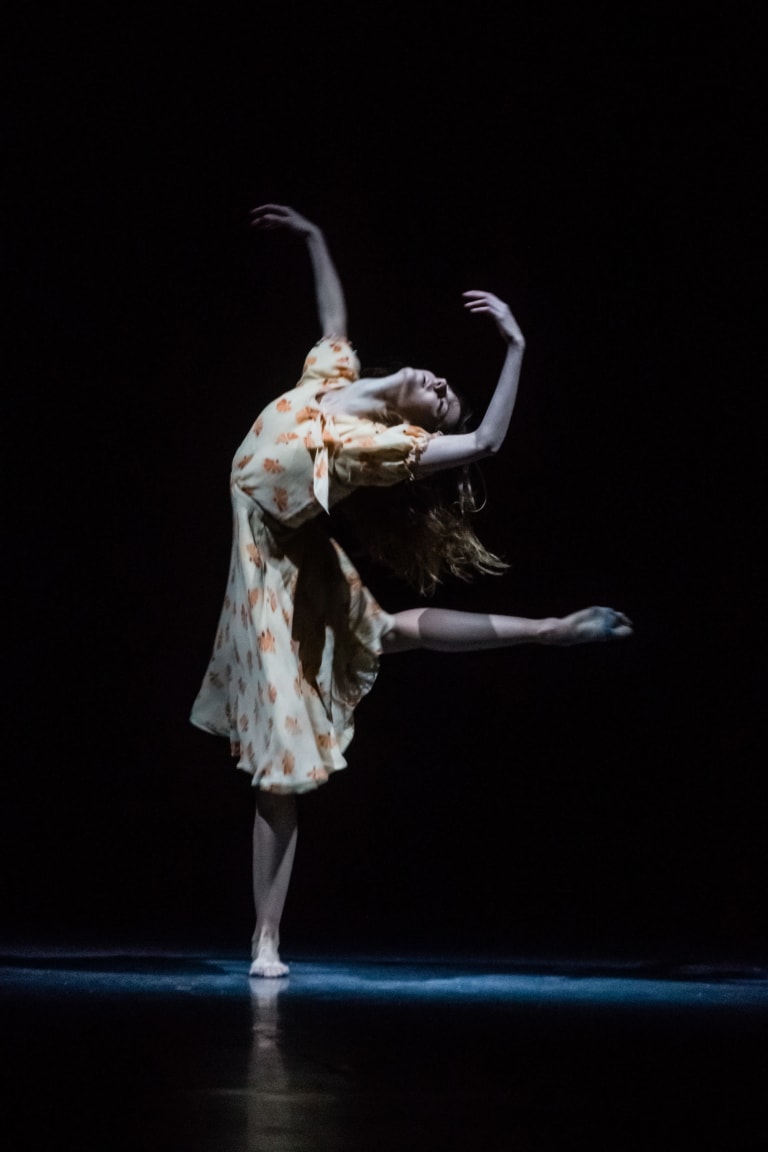 13/13 :
© Agathe Poupeney / OnP
Videos clips
« Iolanta / Casse-Noisette » - Teaser
Audio clips
Iolanta / Casse-Noisette - Piotr Ilytch Tchaikovski
Backstage
Podcast

Podcast Iolanta / The Nutcracker

Article

Portfolio | A marriage between opera and ballet

Article

« Iolanta takes a growing place in my heart »
Podcast
Podcast Iolanta / The Nutcracker
"Dance! Sing! 7 minutes at the Paris Opera" - by France Musique
07'
"Dance! Sing! 7 minutes at the Paris Opera" offers original incursions into the season thanks to broadcasts produced by France Musique and the Paris Opera. For each opera or ballet production, Judith Chaine (opera) and Stéphane Grant (dance), present the works and artists you are going to discover when you attend performances in our theatres.      
Article
Live-chat
Marion Barbeau et Marine Ganio répondent à vos questions
15'
Le live-chat a commencé, n'hésitez pas à réagir et à poser vos questions aux artistes !  

Flavion : Bonjour les artistes ;-)
Marie : Vous souvenez-vous de votre première rencontre avec Casse-Noisette ?
Marion Barbeau : J'ai dû le voir quand j'étais petite. Mais mon premier vrai souvenir, c'est en tant que danseuse du Corps de Ballet, ce devait être au cours de ma troisième année, lorsque j'ai participé à toutes les danses du Corps de Ballet dans la version de Noureev, qui ne sont pas évidentes. On dit souvent que la version de Rudolf Noureev est féérique, mais elle est assez sombre malgré tout.
Marine Garnio : Pour ma part, mon premier contact avec Casse-Noisette, c'était à Marseille, lorsque j'étais petite, avec la version de Roland Petit. J'en ai conservé très peu de souvenirs. Puis, par la suite, comme Marion, ici, dans le Corps de Ballet. Je n'ai pas eu la chance de tellement participer au ballet parce que j'étais encore trop jeune. J'ai un peu dansé la Valse des fleurs.

---
Victor : Comment avez-vous réagi en apprenant que vous danseriez le rôle principal de cette nouvelle version de Casse-Noisette mise en scène par Dmitri Tcherniakov ?
Marion Barbeau : On nous avait prévenu que ça n'aurait rien à voir avec le Casse-Noisette qu'on connaissait déjà. J'ai été surprise qu'on me choisisse parce que c'est une très grosse production avec beaucoup de chorégraphes. C'était une super nouvelle !
Marine Ganio : Quand Dmitri Tcherniakov nous a parlé de ce projet, je me suis tout de suite dit que ce rôle était très enrichissant, et que c'était cela qui m'intéressait dans mon évolution personnelle. Je me suis dit que celle qui aurait la chance de faire ce rôle, ce serait super pour elle. Puis il y a eu la première répétition, avec Edouard Lock, et on m'a fait confiance. Ce n'était pas du tout prévu.

---
Ninagimarium : Bonjour, j'ai pu découvrir Marion Barbeau dans le documentaire Relève et je l'ai toujours trouvée sublime avec Léonore Baulac.
Michèle : Dmitri Tcherniakov a annoncé que sa version de Casse-Noisette n'aurait rien à voir avec les versions que nous connaissons. Pouvez-vous nous en dire plus ?
Maria : Can you tell how Tcherniakov working with choreographers? How are they depended on the idea of the director? Sorry, I do not speaking French.
OperaBT : Casse-Noisette n'est pas plutôt un ballet de Noël que de Pâques ?
Marine Ganio : Je suis persuadée qu'il ne faut pas venir à la soirée dans la perspective de voir Casse-Noisette. C'est très différent. De plus, toute l'histoire découle de Iolanta. Il y a ce lien très fort entre les deux œuvres. Ce n'est pas l'histoire de Casse-Noisette que l'on connaît avec le réveillon de Noël.
Marion Barbeau : L'héroïne ne traverse pas les mêmes expériences, même si cela la fait grandir également, comme dans le Casse-Noisette que l'on connaît. Ce serait le point commun qu'on pourrait trouver.

---
FreakMcLyric : Cette peur de grandir qu'évoque Marion pour Marie, qui est probablement le reflet de l'inquiétude que ressent Iolanta à l'idée de retrouver la vue, est-elle le fil conducteur de la production de Tcherniakov ?
Marion Barbeau : L'histoire imaginée par Tcherniakov est violente. Plus réelle aussi. Elle va plus loin dans le sens où l'héroïne expérimente des choses plus concrètes dans la vie, des choses pas forcément agréables.
Marine Ganio : Elle traverse des peurs : l'angoisse du vide, de l'immensité, l'angoisse de grandir, de voir le monde extérieur. Des peurs réelles que nous autres, spectateurs, pouvons comprendre.

Marion Barbeau : Cette partie angoissante contraste avec tout le début, ici chorégraphié par Arthur Pita, où elle vit dans un cocon, quelque chose de très chaleureux, elle est très entourée, protégée de l'extérieur pour qu'elle ne soit pas traumatisée par la vie.

---
S_G : Je souhaitais aussi vous dire que je trouve Marion Barbeau magnifique dans ce rôle. J'ai pu la découvrir a travers ce ballet en tant que figurant. des photos que j'ai vu, Marine Ganio a l'air sublime aussi :)
Thibault : Votre travail de danseuse est-il également un travail d'actrice ?
Marion Barbeau : C'est sûr que c'est la première fois où ça nous demande autant de réflexion sur la manière de jouer, mais sans le danser, sans pantomime. Cela passe par un regard ou des gestes qu'on pourrait faire dans la vie. C'est très moderne. Ce n'est pas surjoué, c'est ressenti. Emotionnellement, c'est très fort. Dans le travaill, on ne se rend pas forcément compte. Au fur et à mesure que le projet se construit et prend forme, quand on rentre dedans, c'est très émouvant. Pas forcément parce qu'on se pose des milliers de questions sur sa vie. On n'a pas le temps. Mais cela crée des choses dans le corps. Rien que la scène des flocons est incroyablement forte dans cette version.
---
Raphaël : Ce Casse-Noisette a été chorégraphié par trois chorégraphes. Comment ont-ils travaillé ensemble ?
Marion Barbeau : On n'a jamais travaillé avec les trois chorégraphes ensemble. Ils font des parties distinctes. Il y a des transitions, mais ce n'est pas ce qu'on fait en premier. Il y a un travail en amont avant de bâtir la chorégraphie, pour comprendre comment le chorégraphe travaille, apprendre à le connaître et qu'il apprenne à nous connaître. Ce sont trois univers très différents. Arthur Pita, c'est beaucoup de parties jouées. Juste des petites danses qui sont inspirées des années 1950. Mais c'est surtout beaucoup de jeu. Il est très fort pour ça, c'est très clair, c'est très vrai. Il a beaucoup d'humour, on le ressent dans sa partie. C'est à la limite de l'absurde. Edouard Lock travaille de manière très particulière dans le sens où il recourt à de tout petits mouvements très précis. On travaille beaucoup avec la vidéo. On regarde et on apprend. Une fois appris, on peut travailler, et en fonction de ça, il change beaucoup. C'est très intéressant. Il ne veut pas construire tout de suite. Il veut surtout voir comment cela peut rendre sur les danseurs et, à la toute fin seulement, on comprend ce que ça va être. Enfin, Sidi Larbi Cherkaoui avait déjà beaucoup bâti sa chorégraphie. Il était avec ses assistants, il nous l'a montrée. Puis il s'adapte en fonction de nous. Mais il a déjà beaucoup travaillé en amont. On apprend à comprendre les gestes qui lui sont propres.
Marine Ganio : On cherche toujours, ça nous fait toujours plaisir de faire partie d'une création. Le fait de rencontrer un chorégraphe, de partager avec lui. On a la chance d'en avoir trois d'un coup, on profite trois fois plus. Malheureusement pour eux, ils doivent partager leur temps. Ils ont l'habitude d'avoir les danseurs toute la journée pour eux. Là, il faut s'adapter, accepter que ça n'avance pas aussi vite. Je pense que ça les trouble un peu et on peut le comprendre. Ces trois personnes sont d'une gentillesse et d'une humanité incroyables... Je trouve que ce sont de belles rencontres. C'est génial. Arthur Pita, c'est de l'acting pur, de petits détails, des regards. Par la suite, on va pouvoir se servir et piocher dans les informations qu'il nous a données pour d'autres choses. Edouard, je lui dois beaucoup. Rien que pour ça, je suis contente d'être en studio avec lui. Travailler avec lui demande beaucoup de précision. Il a une attente très précise. Du coup, cela nous demande beaucoup d'investissement, de patience, de confiance en lui et en son regard. Sidi Larbi Cherkaoui, c'est un travail fascinant de pas de deux. Il a une manière incroyable d'expliquer la relation du corps de la fille avec celui du garçon, leurs interactions. Il n'y a que des conséquences, chaque pas en amène un autre et s'il n'est pas fait de telle manière, ça ne marchera pas. Il a des assistants incroyables, qui nous aident beaucoup . Les expériences de studio avec ces chorégraphes vont nous servir. Elles nous enrichissent déjà.

---
Carla : Est-ce une difficulté pour vous que de devoir assimiler pour une même pièce trois styles chorégraphiques différents ?
Marion Barbeau : Oui et non. Si on restait de midi à 19 h avec le même chorégraphe, on aurait le temps de le comprendre, de s'adapter physiquement à son travail. En même temps, trois chorégraphes différents, cela permet de compléter le personnage. Evidemment, comme ce sont trois univers différents, on ne peut pas se servir d'un chorégraphe pour l'autre. Mais psychologiquement, ça apporte beaucoup, ça complète la construction du personnage. Il y a forcément des problèmes techniques. Le travail de l'un va se faire pieds nus et celui d'un autre en chaussettes. Edouard préfère les chaussures à talons. Il faut gérer les transitions parce que le personnage de Marie reste en scène pendant tout le ballet. Ce sont des questions techniques mais qui, pour nous, ont beaucoup d'importance.
---
Nora : Avez-vous aimé travailler avec Dmitri Tcherniakov ?
Marine Ganio : Lors de la première présentation du projet qu'on a eue avec Dmitri, le livret était passionnant, mais surtout, ce qui m'a impressionnée, c'est de voir avec quelle intensité il nous le racontait. Il y mettait tout son coeur, toute son âme. Il jouait le livret, il était dedans, il vivait les choses. C'est incroyable de voir comme il est plongé dedans. Je pense que c'est primordial parce que du coup, on a envie de le suivre. On le voit tellement passionné qu'on a envie de le suivre.
Marion Barbeau : On n'a pas vu tout de suite la cohérence de l'ensemble. A chaque fois que Tcherniakov est avec nous, il met l'accent sur la façon de jouer. A chaque fois qu'il nous montre, pour n'importe quel rôle, c'est très clair. Il se met dans la peau des personnages et c'est fascinant de le voir. Il a des idées très précises, c'est très musical. Il connaît toutes les musiques par coeur. Il faut vraiment lui faire confiance, c'est un génie. Il a tout en tête, c'est très précis. Il laisse faire les chorégraphes, mais il a son idée. Il faut la respecter. On peut lui faire confiance les yeux fermés.
---
Carlos : Quel a été votre plus grand défi dans ce travail ?
Marine Ganio : Ce que j'aime jouer, c'est le côté sombre, tragique. C'est ce genre d'histoire qui m'émeut. Ce sont les drames qui me font vivre passionnément, les grands ballets dramatiques où l'on pleure à la fin. J'aime pleurer dans la salle, et j'aimerais un jour faire pleurer les gens qui viennent me voir.
Marion Barbeau : En tant qu'artiste, on a envie de pleurer, de tomber amoureuse en scène. Et merci ! Parce qu'on est vraiment servis avec cette production. La mise en scène et les chorégraphies font qu'on n'a pas besoin d'en rajouter. Tout est là pour qu'on soit émus.

Marine Ganio : Il faut faire confiance au livret et aux chorégraphes.

---
Cécile : Lorsque vous composez un personnage, y mettez-vous beaucoup de vous-même ?
Marine Ganio : Dans le cas de Casse-Noisette, avec cette question du passage à l'âge adulte, je ne sais pas vraiment... Je suis mariée. Je vis avec quelqu'un. La crainte de le perdre, cette conscience de la vieillesse à deux, et peut-être de se retrouver seule. Oui, bien sûr, on se reconnaît dans ces préoccupations. C'est plus dans ces craintes de la vie qui se déroule, de tout ce qui nous entoure, des gens qui nous entourent, de la confiance qu'on peut accorder ou non. Parfois, on fait confiance à des personnes très proches, et on ne sait pas si on peut vraiment compter dessus. C'est davantage cet aspect du spectacle qui me touche que la transition d'enfant à adulte. Je ne l'ai pas sentie dans ma vie. Cela me parle moins que toutes ces peurs que Marie va traverser.
Marion Barbeau : Le fait qu'elle tombe amoureuse, qu'elle soit fascinée, pendant une soirée, tous ces regards, oui, cela m'est arrivé plus d'une fois, même si j'essayais d'être un peu plus discrète... (Rires) Oui, en effet, le passage à l'âge adulte, lorsque l'on se rend compte qu'on n'a plus besoin de nos parents, qu'on peut gérer une situation seule... Cela me touche. Ma famille m'a protégée. C'est exactement le cas de Marie : beaucoup d'amour et de protection par rapport au monde qui l'entoure. Le fait d'avoir travaillé à l'Opéra jeune et d'avoir des responsabilités... Oui, bien sûr, il y a des points communs avec cette histoire...

---
Kenza : Au sein du Ballet de l'Opéra, vous abordez aussi bien le classique que le contemporain. Qu'est-ce que ce mélange vous apporte ?
Marion Barbeau : Forcément, le fait d'avoir une base classique, c'est un excellent bagage. En revanche, pour cette production, par exemple pour les chorégraphies de Sidi Larbi Cherkaoui, il y a certaines choses qu'il faut oublier parce qu'en classique, on a envie de monter, pas forcément de tout prendre dans le sol, parce que musculairement, c'est un tout autre travail. Cela nous sert, mais il y a certaines choses qui sont complètement différentes du classique. En revanche, ça peut être très intéressant de repenser à ce travail quand on redanse du classique. Ce ne sont pas deux styles détachés.
Marine Ganio : Je ne pense pas qu'il y ait un mur entre classique et contemporain. Toute technique peut aider l'autre. Une fois, Sidi Larbi Cherkaoui parlait d'un transfert du poids du corps et je me suis dit que cela semblait tellement logique, normal et pourtant, j'avais tendance à l'oublier alors que je pouvais m'en servir dans le classique. Je pense qu'on peut se servir de toutes les techniques pour s'améliorer.

---
Nadia : Vous êtes devenue l'héroïne d'un film de la 3e scène où vous étiez transformée en héroïne de dessin animé par le dessinateur Glen Keane. Pouvez-vous revenir sur cette expérience ?
Marion Barbeau : C'était vraiment un cadeau, cette expérience. Rencontrer Glen Keane, c'était un cadeau parce que c'est un génie. C'est quelqu'un d'une bonté infinie. Cela s'est passé sur deux jours, il avait des idées, mais assez ouvertes. C'était en trois parties, en trois diagonales. Le début, c'est une jeune fille, mais qu'on pourrait comparer à une biche, qui a beaucoup d'espoir, qui s'élève dans la vie. On peut aussi la comparer à Marie dans Casse-Noisette, d'une certaine façon. En images, un ouragan la bouscule, elle se met à terre mais elle arrive à trouver la force d'en revenir et elle en sort grandie. Glen avait en tête quelques mouvements, mais il ne connaissait pas vraiment la danse. On a essayé de se mettre d'accord sur une chorégraphie. Et en même temps que je dansais, il dessinait. Avec une vitesse impressionnante. Parfois je faisais des pauses et prenait la pose pour qu'il me dessine. C'était une expérience sublime. C'est très émouvant aussi de se voir en dessin animé. J'aimerais bien ressembler à cette fille. C'est un rêve de petite fille. Surtout que là, c'est Disney.
---
OISEAUROCK : cette animation, tout, c'est incroyable, troublant par rapport à la danse, merci
Ce live-chat est maintenant terminé. Sonya Yoncheva, qui devait y participer, n'a malheureusement pas pu nous rejoindre.
Merci à tous d'avoir posé vos questions et suivi cette rencontre.
Article
Portfolio | A marriage between opera and ballet
Iolanta/The Nutcracker in rehearsal
04'
From  9th to May 24st at the Palais Garnier, Iolanta/The Nutcracker brings together opera singers and dancers from the Paris Opera Ballet for a performance which goes beyond through the usual boundaries between genres. Director Dmitri Tcherniakov explains how this extraordinary project came into being. Photographs by Agathe Poupeney and Éléna Bauer in 2016.    

From its very conception, everything coalesced in a rather unusual way. At first, it was the idea of the opera which came to me. A Russian title Since I'm rather obsessive, I've had a crazy goal to direct in my lifetime all the Russian operas that have been a part of me since childhood. Especially those which are underrated or unknown to European audiences. I've always maintained that this personal quest was very important to me.    

I was looking for an opera that could form a double bill with Iolanta, given that the latter couldn't fill an evening on its own. Of course, in the back of my mind, I knew historically that Iolanta and the ballet The Nutcracker had been jointly commissioned by the Imperial Theatre in Saint Petersburg for their 1892 season. Who knows why but the idea of reviving the double bill at first seemed impossible: It was surely no coincidence that, over the last 25 years, there had been practically no attempts to stage the two works together.
After numerous attempts with works ranging from Rimsky-Korsakov to Schönberg, I finally had to acknowledge that it was impossible to find a better partner for Iolanta than The Nutcracker: Especially when it became clear that these two works by Tchaikovsky belong to the same world and are part of the same musical substance. When consulting the composer's notebooks in the museum archives of the city of Klin, we noticed that the musical inspirations for Iolanta and Nutcracker cohabit on the same pages, like parts of a single entity. These were his last works for musical theatre and he composed them a year before his death: it's the Tchaikovsky of the Sixth Symphony, and Iolanta and The Nutcracker form another tragic symphony which is spread between opera and ballet. These two very different stories are linked by music.
This project is also the result of my desire to combine the opera and ballet genres. These two very different arts have coexisted for centuries under the same roof even if ultimately, there has been very little interaction between them. Combining them under a single theme to serve a common objective seemed like a tremendous idea to me. That's why I made sure not to separate Iolanta from The Nutcracker with an interval: The production has a unified storyline in which the ballet picks up the relay by developing on what has already been said and heard in the opera. But it develops on another, more general level by pushing back the limits and going beyond the boundaries of the theme itself.
I think that for most people, the music of The Nutcracker is something more than mere "utilitarian" music intended to accompany the dances according to Marius Petipa's precise timing. The music is greater than the subject it serves.
I hear something bigger and more far-reaching than what the stage presents to me, as if drama and dance were incapable of reaching such a summit, for lack of the necessary tools. In our production, we chose not to follow the traditional subject of the ballet inspired by the tales of Hoffmann and Dumas. The idea of inventing a new scenic setting for The Nutcracker is a consequence of the need to seek a process that captures everything we hear in the music: pain, loss, fear, plenitude, unbridled elation, fragility, heartbreak, suffocation, compassion… 
Dmitri Tcherniakov
Traduction du russe Macha Zonina
Article
« Iolanta takes a growing place in my heart »
Sonya Yoncheva answers your questions !
07'
Sonya Yoncheva portrays the title-role of Iolanta in Dmitri Tcherniakov's production of Iolanta/The Nut-Cracker currently showing at the Palais Garnier. The soprano, who was unable to participate in the live-chat on the 3rd of March with Marion Barbeau and Marine Ganio, all the same wished to answer the public's questions.

Marie: Did you know the story of Iolanta growing up?
Sonya Yoncheva (S.Y.): Not at all. I had never heard this story in my life. I completely discovered it with the opera and I was absolutely fascinated. I quickly realized it wasn't a fairy tale or a utopia, but that there was a lot of depth to explore, sentiment, modesty, unspoken and forbidden things, societal issues… I was absolutely taken by the story. 
André: It is often said that Iolanta is Tchaikovsky's only opera with a happy end, that everything in the story converges towards the positive. Do you agree?
S.Y.: Yes I agree. Iolanta's life is so dark, the opera opens showing all the doubts which torment the young girl, and a father who sequesters her in that house, who doesn't want to show her to the world… At the beginning of the story, Iolanta suffers very much, her feelings are blossoming and her life is passing by without her knowing anything about the world. I find the initial situation so tragic that it deserves to be channeled in a happy end! 
Timothée: Stage director Dmitri Tcherniakov has announced that Iolanta and The Nut-Cracker would be two parts of one and the same show. Are the singers and the dancers united on stage?
S.Y.: Yes, completely. In one part of the performance we are all on stage. I don't wish to say more, one really must see the show because it so well done, so well-orchestrated. I think that the transition from Iolanta to the The Nut-Cracker is a stroke of genius.
Hélène: Dear Sonya, what do you think of Dmitri Tcherniakov's production? Do you like it? Do you feel in tune with his interpretation of Iolanta?
S.Y.: Completely. When we started rehearsing I decided to trust him 200%. When he told me about his vision for Iolanta I thought he had a very keen reading of the story and an accurate understanding of what was hidden between the lines: all the doubts, the family and social tensions. Indeed I love this production. I have congratulated Dmitri a thousand times already, I think that he is a man from the future; he sees things that we, in the opera world, aren't yet able to see.
Sarah: How did the rehearsals go? How would you describe Dmitri Tcherniakov's cast direction?
S.Y.: Intense. I walked out of each rehearsal, as we say in Bulgarian, "like a squeezed lemon"! Without energy left but at the same time charged with so much emotion. I went back home filled with thoughts, I couldn't sleep. During certain rehearsals we would all be crying, it was like a therapy. His work sessions are extremely interesting. I wish for young people interested in becoming a stage director or a performer to witness a rehearsal with Tcherniakov.     

James: In Iolanta, the eponymous character is blind, and doesn't know it because her father hid it from her. Did you experience difficulty portraying a blind woman?
S.Y.: Yes, it was very difficult at the start because the challenge doesn't only revolve around the fact that she can't see. Of course, one has to find a particular angle of the eyes to create a lost gaze but what is most difficult is finding the body language of a blind person. I observed visually-impaired people. Even in familiar environments their bodies aren't exactly like everyone else's. Something inside them always stays alert, like fire underneath the ice, which gives a special quality to their physical presence. I spent some time looking for that, I convince myself today that I have found the solution, at least my solution. The difficulty was also for my partners, and even more so once I had found my adequate body language. My colleagues were rather unsettled by my glance and the surprising aspect of my facial expressions. It was a little bit hard for them at the start because their characters have to coexist with a character incredibly alive and dead at the same time, with whom little interaction is possible. With Iolanta, one is still alone; and of course Iolanta remains alone in a certain sense even when accompanied. That is precisely the tragedy of her blindness, the fact that is coupled with solitude and ignorance. What we wanted to convey was the disruption of this loneliness through the shock of love and light. It is all so delicate that it prompted us to work in opposition with the traditional operatic style. I would say it was almost cinematographic. Everything had to be very precise and based on genuine internal feelings. Dmitri's own way of working was like a filmmaker's.    

Tristan: How do you approach this major work by Tchaikovsky when your principal engagements at the moment are Violetta in La Traviata and Mimi in La Bohème? In your view, do these roles share elements in common?
S.Y.: Yes and no, in my view the only thing these characters have in common is that they are women that live through me and my body. One can say several women live inside of me! Every time that I portray them, I try to be myself. That's how I can bring freshness to dust off these classic characters. I'm not a fan of traditional operatic performances; subsequently that's why we found with Dmitri so many similarities in our opinions while working on this creation. 
Clément: In the course of your career, which character has moved you the most?
S.Y.: Violetta in La Traviata. But I have to say that as days go by Iolanta is gaining a big place in my heart. Because, you know, it all depends on the dramaturgy. If Iolanta is so moving to me, it's also thanks to Dmitri's interpretation. I was completely hooked by his take on the character. Iolanta is extremely moving because of her faith in love and her courage. Her eagerness to discover the world is poignant. This young girl is sequestrated in a gilded cage, l can honestly say. Her father tries to compensate her handicap by creating a perfect environment around her, surrounding her with loving people. But her entourage doesn't really love her because they're here to serve her and they're paid by her father to do so. Through Vaudémont she discovers true love, and it gives her the strength to discover the real world even though the unknown terrifies her. I would do the same if I was in her place. I think only love has the power to change our lives. It can open our eyes, bring us to life, it can also kill us. Feelings are powerful weapons, playing with them is dangerous and thrilling at the same time. Exploring the boundless range of emotions provoked by love is what interests me most in my work.    

Interviewed by Milena Mc Closkey
This production will be recorded for television.

A coproduction by the Paris Opera, Bel Air Média and Arte with support from the CNC and directed by Andy Sommer.
Broadcast live in cinemas on 17 March and on Culture Box as of 25 March at 7 pm.
Broadcast on France 3 at a later date.
Broadcast on France Musique on 26 March.