Ballet
Peck/​Balanchine
Creation
Opéra Bastille - from 02 to 15 July 2016
About
In few words:
"I try to think about choreographing the way an architect builds a structure."

- Justin Peck

The tribute to Arnold Schönberg will close with two additions to the repertoire: George Balanchine's Brahms-Schönberg Quartet and a new work commissioned by the Paris Opera from the rising star of neo-classical dance from across the Atlantic: the young American choreographer Justin Peck.

George Balanchine believed that chamber music was generally not that well-suited to dance. However, Arnold Schönberg's orchestration of Johannes Brahms' Piano Quartet N° 1, op. 25 inspired him to create his first abstract ballet for the New York State Theater in 1966. This symphonic version enabled the choreographer to express his musicality and the complete palette of his creative genius. Following the four movements of the score, George Balanchine proposes four different styles and atmospheres with and elegant Allegro, a romantic Intermezzo and a lyrical Andante. The Gypsy theme of the final movement offers a dazzling final display of his talent.
Even though intended for something entirely different, Francis Poulenc's Concerto in D Minor for two pianos and orchestra, composed in 1932, also seems to have been written for dance. Justin Peck proves the point.
Entre Chien et Loup

Entre Chien et Loup

Concerto for two pianos and orchestra in D minor

Music

Quatuor pour piano et cordes en sol mineur, op. 25

Saturday 02 July 2016 at 19:30

Saturday 02 July 2016 at 19:30
Sunday 03 July 2016 at 19:30
Tuesday 05 July 2016 at 19:30
Wednesday 06 July 2016 at 20:30
Friday 08 July 2016 at 19:30
Monday 11 July 2016 at 19:30
Thursday 14 July 2016 at 14:30
Friday 15 July 2016 at 19:30

Latest update 05 July 2016, cast is likely to change.
Whether you're a member of Arop or not, the friends of the Opera can reserve seats for you on all performance dates, including those not yet open for sale and those announced as sold out.
Gallery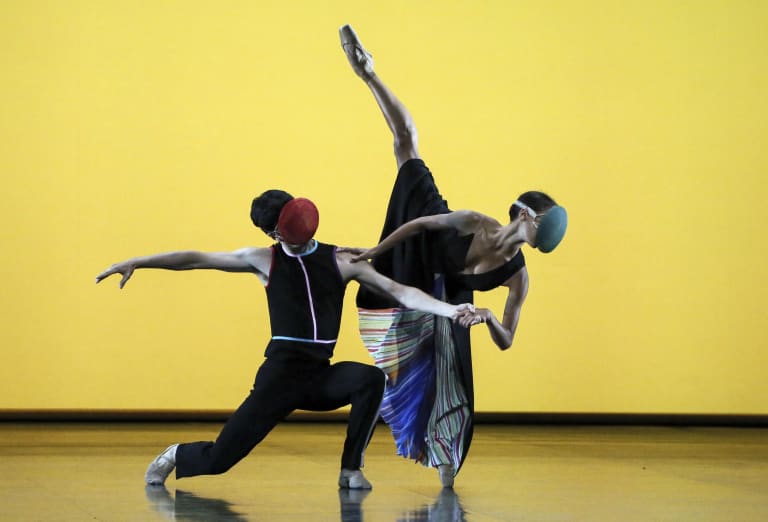 1/5 :
© Francette Levieux / OnP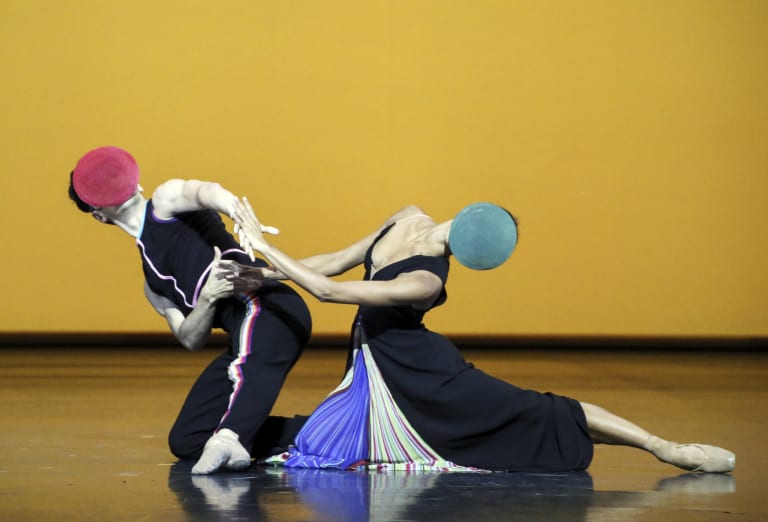 2/5 :
© Francette Levieux / OnP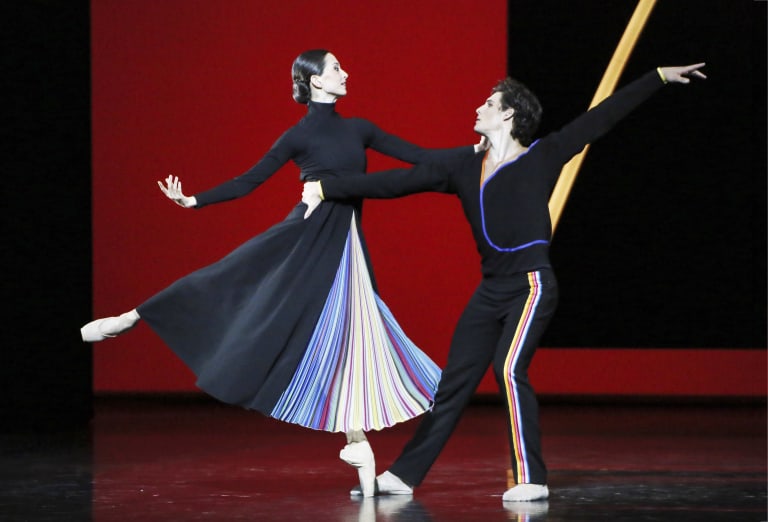 3/5 :
© Francette Levieux / OnP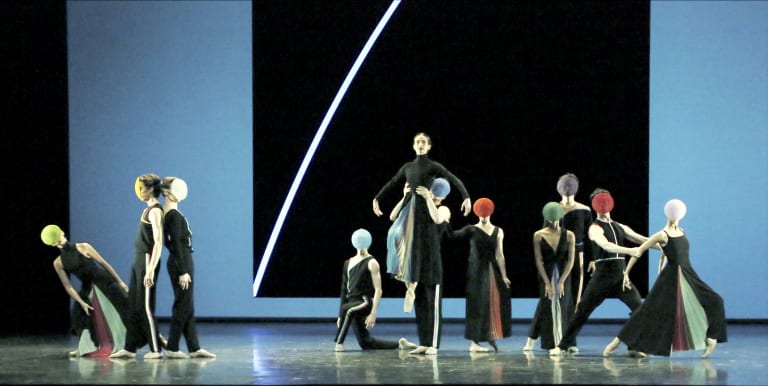 4/5 :
© Francette Levieux / OnP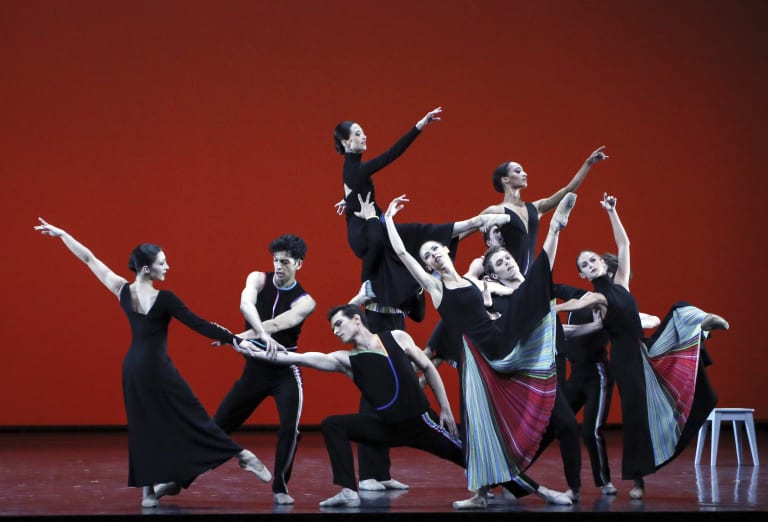 5/5 :
© Francette Levieux / OnP
Videos clips
« Justin Peck / George Balanchine » - Trailer
Audio clips
Justin Peck / George Balanchine
Backstage
Podcast

Podcast Peck / Balanchine

Article

Arts and performance

Article

Luxury and Voluptuousness
Podcast
Podcast Peck / Balanchine
"Dance! Sing! 7 minutes at the Paris Opera" by France Musique
07'
" Dance! Sing! 7 minutes at the Paris Opera" offers original incursions into the season thanks to broadcasts produced by France Musique and the Paris Opera. For each opera or ballet production, Judith Chaine (opera) and Stéphane Grant (dance), present the works and artists you are going to discover when you attend performances in our theatres.    
© Francette Levieux / OnP
Article
Original talent
A portrait of Justin Peck
09'
Resident choreographer at the New York City Ballet, Justin Peck was soloist dancer before creating his first pieces. No doubt that the style of Balanchine, founder of the American company, deeply influenced the young choreographer. As a matter of fact, Justin Peck does not hide this influence. However, he brings a personal impetus and breathes new life into Balanchinian neoclassicism, reflecting the spirit of a generation and an artistic community. A fruitful encounter with the Paris Opera Ballet dancers.   

For those who saw the world premier of "Year of the Rabbit" in New York in October 2012, it was obvious that an original talent had just revealed itself to the eyes of a large audience. It was the first ballet that Justin Peck, a young dancer of the New York City Ballet, created for his company at the Lincoln Center. The ballet's brimming vitality and dynamism were rare even for the New York City Ballet, and it contained an abundance of innovative ideas. The dancers were stretched out on the floor or tossed into the air and along the stage like bowling balls; they formed groups in perpetual movement, assembled in the shape of floating waves or ephemeral architectural structures that transformed themselves from one moment to the next.
Since this first brilliant success, Justin Peck's creativity has run unbridled, and the young man has become one of the most sought-after choreographers of the United States. He has created ballets for companies such as the San Francisco Ballet, Miami City Ballet, LA Dance Project and the New York City Ballet, where he has been appointed to the post of resident choreographer. He just completed his 28
th
choreography there, which is also his first story ballet, "The most incredible thing". The process of creation of his ballet "Paz de la Jolla" is the subject of a documentary entitled "Ballet 422". The American press hails Justin Peck as one of the most promising choreographers of the new millennium. Even though he continuously creates new ballets, the 28-old Peck regularly appears on stage as a soloist of the New York City Ballet, including in his own works.    
Following his appointment to the post of Director of the Paris Opera Ballet, Benjamin Millepied invited his former colleague to leap over the Atlantic and choreograph his first ballet for a non-American company. In March 2016, Peck already presented "In Creases" at the Paris Opera, a work which was premiered in Saratoga Springs in 2012. This seventeen-minute ballet was a meticulously constructed concentrate of energy which the Parisian dancers executed with contagious exuberance. The press and public were captured and wondered what Peck would create at the end of the season for a company whose style considerably differs from that of his home company.
The New York City Ballet's heritage remains profoundly marked by its founder-choreographer, George Balanchine. Peck remembers that seeing the New York City Ballet dance Balanchine every evening when he studied at the School of American Ballet triggered his desire to create choreographies. He particularly admires Balanchine's sense of structure and says that if Balanchine had not existed, he would probably not have become a choreographer.
If Balanchine had not existed?
The idea seems inconceivable, given the extent to which Balanchine has changed the face of the choreographic world. The "revolution" of Balanchine, who privileged clear and fluid lines, who did not want the sets and costumes to distract the eye from the dancers' bodies and movements, who preferred "non-narrative" ballets and according to whom "dancing is music made visible", has affected the entire universe of ballet. Balanchine, in turn, was strongly influenced by Marius Petipa, to whose elegance he juxtaposed his brio, an air of coolness, and a sometimes particularly forceful and demonstrative dance style.
It would be a vain endeavour to list those who have been marked, inspired, influenced by him. Balanchine is an unavoidable phenomenon: his choreographies are danced by almost all major ballet companies. A very large number of dancers learn to appropriate his vocabulary in order to interpret his ballets, and those among them who become choreographers confront this model, by rejecting it, imitating it, quoting it or absorbing elements of it. This also applies to choreographers who have chosen a completely different path: thus, John Neumeier evokes Balanchinian movements in several of his ballets, such as "Midsummer Night's Dream" and "Orpheus". Hortensio in John Cranko's "The Taming of the Shrew" and Frédéri in Roland Petit's "L'Arlésienne" revolve their arms like the lyre-playing Apollo in Balanchine's "Apollo", but the ridiculous vanity of Cranko's lyre player and the fury of Petit's desperate peasant contrast with the serenity of Balanchine's god. The three choreographers, pioneers of a genre of story ballet which Americans associate with Europe, do not share Balanchine's aesthetic or philosophy, but the frequent allusions to the works of the founder of the New York City Ballet attest his important place in the history of dance. Balanchine also paved the way for the innovations of William Forsythe and Wayne MacGregor, and he has marked a new Russian prodigy working in New York, as Artist in Residence at the American Ballet Theatre: Alexei Ratmansky.
The spirit of the Russian pioneer of american ballet still reigns at the New York City Ballet, where his works are constantly performed and carefully transmitted from dancer to dancer. The choreographers who are or were part of the company are directly influenced by him: in addition to Benjamin Millepied, one could mention the current director of the New York City Ballet, Peter Martins, and Christopher Wheeldon, former resident choreographer of the company who currently occupies the function of "Artistic Associate" at the Royal Ballet in London. William Forsythe, who has himself been compared to Balanchine, proclaimed that Balanchine's legitimate heirs were Alexei Ratmansky and Justin Peck.                                                                                                                                                                                                                                                                                                                                                                                                                                                                                                  
Balanchine said: "There are no new steps, but only new combinations." Like Balanchine, Justin Peck uses an essentially classical movement vocabulary, and he loves pure lines and point shoes. However, he has the gift to renew this vocabulary and to use it in his manner to express something personal. In Peck's ballets, the eye is rarely too distracted by imposing sets, costumes, accessories or projections that hide the movements. Peck focuses on formations of the corps de ballet which he arranges with a mathematic accuracy that derives from his musical sensitivity, a trait that can often be found in Balanchine. Like the latter, who found first-rate collaborators in composers such as Igor Stravinsky, Peck, who studied the piano during his training at the School of American Ballet, is not afraid of complex scores or commissioned music, and he frequently cooperates with composers such as Sufjan Stevens and Bryce Dessner.
Justin Peck's ballets carry his individual stamp, but they also express the spirit of his generation and of his artistic environment in New York. Peck has absorbed multiple inspirations – he names Alexei Ratmansky as another important influence – and he loves to experiment; his collaborators include for instance street artists and folk/ indie rock composers. His ballet "The most incredible thing", a free adaptation of a fairytale by Hans Christian Andersen, alludes to several important figures in the history of dance in the broad sense of the word, from Loie Fuller to Oskar Schlemmer, and his choreography quotes Balanchine's most emblematic pose from "Apollo", the master's first "narrative" ballet. But the world has changed since Balanchine's era, and one could interpret the breathtaking rhythm of certain movement sequences and the mechanical precision of Peck's choreographies as a reflection of the world's acceleration and the growing importance of technology – Peck has also created an iPad App allowing users to explore their own choreographic talent.
Justin Peck tends to loosen the strict division of the dancer's roles into male and female, solo and group parts. He tries unusual partnerships and combinations – two women, two men sketching a pas de deux, fifteen men facing one strong woman, men who are carried by their colleagues… Furthermore, he likes to play with his ensembles: his performers dance lying on the floor, morph into living projectiles, robots or statues of Indian gods with multiple arms. One of Peck's characteristics are his human fugues in which each dancer imitates or varies the movement of his or her predecessor.
In the new mixed bill at the Paris Opera, Peck's creation will be presented alongside a ballet by George Balanchine which enters the repertoire of the company, "Brahms-Schönberg Quartet". The challenge of a "tête-à-tête" with the master is significant, but it is almost certain that thanks to the numerous ideas in his brain and to his electrifying energy, he will once again dazzle his audience.
---
Iris Julia Bührle's area of work at the University of Oxford focuses on Shakespeare and dance. She regularly publishes articles on dance and she recently participated in the BBC documentary entitled « The king who invented ballet : Louis XIV and the noble art of dance ». Her doctoral thesis, published in 2014, centers on the adaptation of literary works into choreographic pieces. She is also the author of a book about British dancer Robert Tewsley.

Article
Arts and performance
A fresh look at season 15/16
05'
During the summer break, we offer our readers a retrospective glaze on Stéphane Lissner's first season at the Paris Opera. Criss-crossings between scenography designed by plastic artists, electronic music and haute couture costumes… Art in all its forms was put forward and honored during this Ballet season.

---
"Creation feeds off exchange, in a flow of permanent inspirations, of shared breaths" underlined Benjamin Millepied, whose programming added a new chapter to the Paris Opera Ballet's history of artistic collaborations. In line with those between Carolyn Carlson and Olivier Debré, Christian Lacroix and George Balanchine or yet again Olivier Messiaen and Roland Petit, many were, during season 15/16 the dialogs between great names of the choreographic art and plastic arts, contemporary music or fashion.
Stage designers
For Alea Sands, his third creation for the Paris Opera Ballet, Wayne McGregor entrusted a major contemporary artist with his scenography. Allowing himself a few ventures away from museums and galleries, London-based Haroon Mirza came to sculpt his favorite material, light, in the Palais Garnier's precious casket, electrified by his association with the choreographer and Pierre Boulez's music . Laureate in 2011 of the "Lion d'Or" award of the Venice Biennale, the British artist offered a subtle and complex scenography, adding visual and sound elements such as light beams. 

Never denied, the plastic qualities of light and its capacity to redesign our environment are also at the heart of the United Visual Artist's research, leading figure in today's spatial installation. If the collective is well-known for creating scenography for the famous trip-hop band Massive Attack, it's the neoclassicism of Benjamin Millepied which they decided to take on, last September, on the occasion of the creation of the ballet Clear, Loud, Bright, Forward. An inaugural event which demanded an equally strong counterpart for the season's final bow. Challenge faced with the creation of Entre chien et loup, by resident choreographer of the New York City Ballet Justin Peck, and his association with one of the greats of 20th century plastic art, John Baldessari. On Bastille's stage, the young American's elegant gesture was drawn up by the rhythm of the great conceptual artist's paintings, rich in colors and pop culture references.

Musicians
As faithful as contemporary choreographers are to classic music, they remain curious for contemporary music and essential contributors to its broadcast. This is evidenced by the long and fertile collaboration between composer Thom Willems and choreographer William Forsythe.
To their three pieces programmed this season was added Blake Works 1,
a creation for which the former Director of the Frankfurt Ballet called upon an electronic music festivals regular guest:
James Blake
.
Multi-instrumentalist and composer of a music considered by many to be a soundtrack of our times, Blake's dialogue with Forsythe achieved to spread the echo of his electronic ballads from radios to the temple of French academism. Very fashionable at the moment, the hypnotic loops of electronic music are widely tributary to so-called minimalist music, as practiced since the 70s by Steve Reich of Philip Glass, among others. It is precisely the repetitive aesthetic of the latter that Nico Muhly's creations remind us of, third voice of the ballet
Clear, Loud, Bright, Forward
. Perfectly accomplished musician, author of music for ensembles, percussions, voice, and chorus as well as an opera, he delivered at the Palais Garnier a score perfectly in balance with the choreographic and scenographic intentions of his partners.
Fashion designers
Article
Luxury and Voluptuousness
When Balanchine inspires Karl Lagerfeld
03'
For the introduction to the repertoire of George Balanchine's Brahms-Schönberg Quartet, Benjamin Millepied entrusted the conception of the new sets and costumes to Karl Lagerfeld. This great designer created sumptuous, "ultra-couture" costumes, graphic and yet also chic and elegant. A few weeks before the opening night, the soft dressmaking and tailoring workshops were in full swing adding the final touches. A report in pictures.

When designing the hundred costumes required by the various casts as well as the sets for this new production, Karl Lagerfeld drew inspiration from the music of Brahms and the artistic movement of the Vienna Secession. In particular, details from a painting by Koloman Moser and Josef Hoffmann inspired the black and white suede waistcoats of the men and the hats and headdresses made by the millinery workshop. For the female dancers, the designer created black and white corsets in velvet and satin and romantic, frothy tutus in white, pink or orange tulle depending on the different tableaux.

---
The meetings between Karl Lagerfeld and the costume workshops were short and efficient, permitting the expert eye and sound judgement of the couturier to identify potential difficulties and specify the necessary adjustments. The workshops were then at liberty to adapt the costumes to the curves of each dancer whilst taking into account the expectations and intentions of the designer as well as the demands imposed by the choreography.
To illustrate the tragic dimension of the score, Karl Lagerfeld imagined a set featuring an ancient palace that one can just make out through the mist, like an illusion, and large grey drapes that hang down to the floor, a set that echoes the choreographer's intention to evoke the declining grandeur of the Austro-Hungarian Empire.
In the wake of Yves Saint-Laurent for Roland Petit's
Notre-Dame de Paris
, Christian Lacroix for Balanchine's
Le Palais de cristal
and Blanca Li's
Sheherazada
, Karl Lagerfeld has thus joined the ranks of the great couturiers invited to collaborate with the Paris Opera Ballet. This season, an air of 'fashion week' seems to animate the costume workshops who have collaborated with Iris Van Herpen (
Clear, Loud, Bright, Forward
by Benjamin Millepied), Gareth Pugh (
Alea Sands
by Wayne McGregor), Alessandro Sartori (
La Nuit s'achève
by Benjamin Millepied), Mary Katrantzou (
Entre chien et loup
by Justin Peck) to name but a few. Each of these collaborations is an invitation to penetrate the various worlds of very different creators: to understand, apprehend, "digest" and reconstitute their ideas and intentions thanks to techniques and skills that are recognised and acclaimed the world over.    
05:02'
Video
Behind the mask
In the studio with Justin Peck
Justin Peck's ballet In Creases entered the repertoire of the Paris Opera Ballet last March. Today, he is about to present his first creation for the company at the Opéra Bastille called Entre Chien et Loup. With Francis Poulenc's music and John Baldessari's set designs, the choreographer creates a piece where softness and beauty mingle with anxiety and mystery. Soloist dancer and resident choreographer with the New York City Ballet, Justin Peck is on the bill with George Balanchine and shines a new light on the neoclassic language.
Last rehearsal before the first performance.
Partners
With the support of The American Friends of the Paris Opera & Ballet / Florence Gould Artists Fund