Jean-Jacques Sempéré is head makeup artist at the Opera Bastille
Gold makeup involves a rather complex technique : it is important to avoid too yellow a finish and you need to create the metallic look of a statue. To achieve the right effect, the foundation is reworked and enriched with gold powder mixed with glitter. Once the entire body has been covered, we sprinkle it with glitter to get an even more sparkling effect. I use a large brush, which allows me to keep working the greasepaint throughout the makeup process. Being heavy, the metal particles tend to sink to the bottom of the preparation and the liquid, needed in order to combine the ingredients, stays on the surface so you have to stir it constantly to ensure a smooth homogenous blend. When I began working on this kind of makeup in the late nineties, I used a sponge but it absorbed all the liquid so I ended up with a sort of paste that was very difficult to apply…
La Bayadère is a production in which makeup is very important. There are the Shades, whose chest, back and arms are made up; the Indians who are entirely made up in brown… Finally, in dance, we quite often have to make up the entire body. On the other hand, when the makeup is more complicated, when there are designs to produce, we use a body stocking.

The thing about the makeup for the Golden Idol is the sheer surface area to be covered: the entire body and face has to be painted. When you make up a dancer, s/he is virtually naked and clean-shaven: we cover the face, the ears, feet, neck … even his/her ballet shoes! Wwe place a gold stocking over the hair onto which the headdress is fixed. It takes about an hour, sometimes more. It might seem a long time but it goes really quickly: the dancer is very focused, s/he has to prepare, warm up, dress…
I use about one 175ml bottle for each performance, sometimes more, and a large container in which I've prepared my mixture of powder and glitter beforehand. In the theatre, the products we use cover the skin so thoroughly that we don't really consider someone's complexion, unlike fashion and beauty where we use makeup that is close to someone's natural skin colour. In the theatre, makeup is chosen according to the stage lighting and the effect we're trying to create. For this role, the idea is to transform the dancer into a golden statue. When he is finally made up, dressed and ready to go on stage, he is genuinely transformed. It's gratifying for us, but also for the dancer who, now in costume, feels sublimated: every muscle in his body is perfectly delineated. The audience really appreciate this character and give him a rousing ovation. Of course, his dancing is spectacular, but his costume and makeup play an essential role in his success.   

Jean-Jacques Sempéré, head makeup artist, was interviewed by Inès Piovesan.
---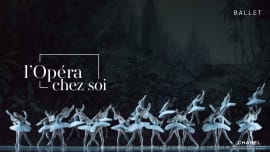 La Bayadère by Rudolf Noureev
The final work of a life utterly devoted to dance, La Bayadère by Rudolf Nureyev has become one of the jewels of the Paris Opera Ballet's repertoire.