Since its creation at the Opéra-Comique in 1875, Bizet's Carmen has made frequent appearances at the Paris Opera along with its share of star-studded casts and daring stagings. To mark the work's return to the Opéra Bastille, in Calixto Bieito's production, a retrospective in images of the Opera's multiple visions of Carmen.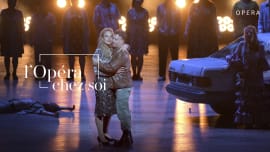 Carmen by Georges Bizet
Calixto Bieito offers the opera a new universe in a production that drives the characters into the darkest corners of their psyches...