To mark the centenary of the death of Camille Saint-Saëns, the Bibliothèque nationale de France, in partnership with the Paris Opera, is presenting an exhibition devoted to the great composer, performer, pianist and organist and running until 3 October 2021. This exhibition at the Bibliothèque-musée in the Palais Garnier, retraces the career and work of Camille Saint-Saëns through a rich collection of manuscripts, souvenirs, archives, photographs and models. To accompany the exhibition, curator Marie-Gabrielle Soret is offering a series of six podcasts to help us to better understand this unique artist.
---
Saint-Saëns: a free spirit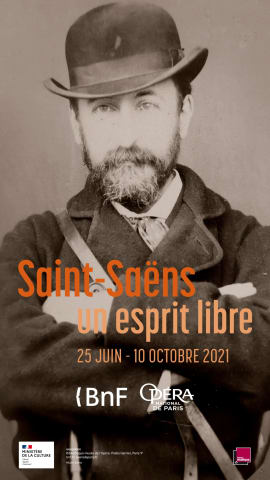 From June 25 to October 3, 2021 at the Palais Garnier

A free spirit! You might find this expression surprising, and yet it aptly describes the musician who gained international renown as both a pianist and organist, and who was also a composer having revelled in excelling across all genres, played across all continents and held in high esteem by the greatest musicians of his day...