Opéra Bastille - from 26 April to 15 May 2017
About
In few words:
"Our kind don't get a chance in this world or the next. If we go to heaven, they'll put us to work on the thunder!"  

Georg Büchner, Woyzeck
Alban Berg discovered Büchner's Woyzeck in 1914. Highly impressed, he began work adapting the play with a view to writing an opera. The work had its premiere in Berlin in 1925 after a legendary number of rehearsals –137– and quickly earned its reputation as a masterpiece of 20th century music. Separated and fragmented, the scenes combine in a series of tableaux to tell the story of Wozzeck, an ordinary soldier whose only solace is the love of his companion Marie. However, the latter's fidelity is not unfailing and Wozzeck is haunted by torment. His officers and comrades in arms do little to improve the situation. The omnipresent tension in this profoundly romantic work unifies the fifteen scenes with their complex tonalities alternating between Verist notes and the force of ritualised actions. The interplay of musical citations and the balance between tonality and atonality underline a disquietingly authentic portrait of humanity where drama attains the status of myth. The work entered the Paris Opera's repertoire relatively late in 1963. Christoph Marthaler's production provides an atmosphere of contemporaneity strongly accentuated by the choice of a single set, where the men's despair is submerged in Berg's dearly sought-after sobriety.
Wozzeck

Opera in three acts (1925)

After Georg Büchner, Woyzeck
Whether you're a member of Arop or not, the friends of the Opera can reserve seats for you on all performance dates, including those not yet open for sale and those announced as sold out.
Gallery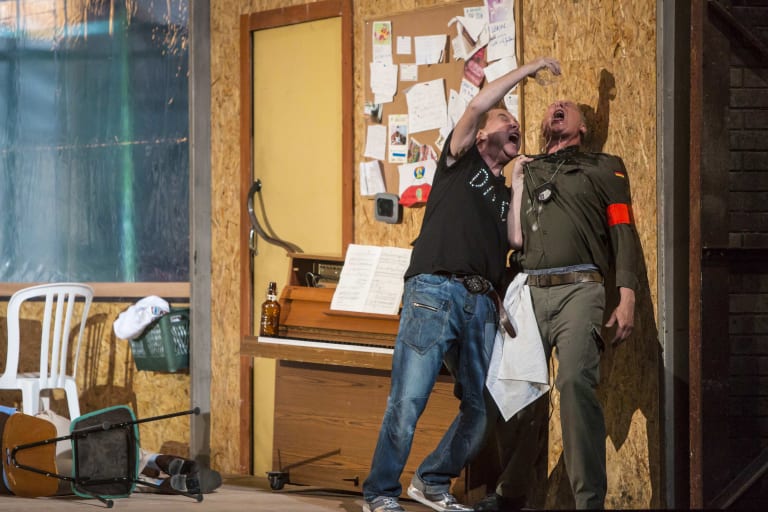 1/12 :
© Emilie Brouchon/OnP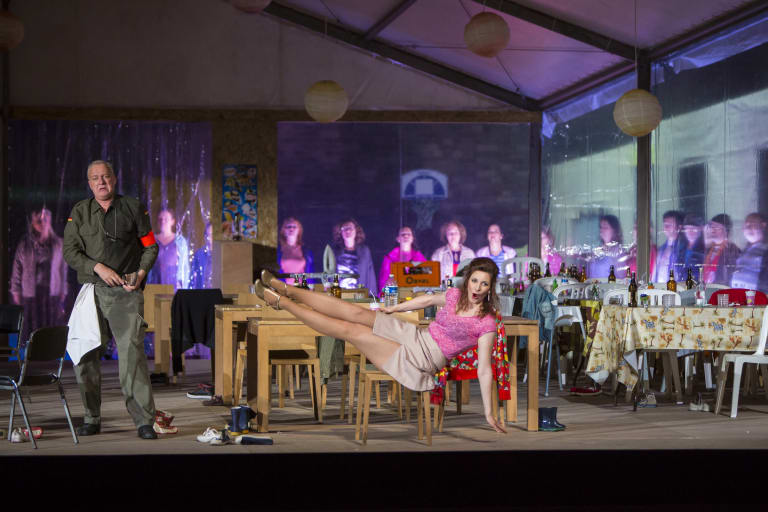 2/12 :
© Emilie Brouchon/OnP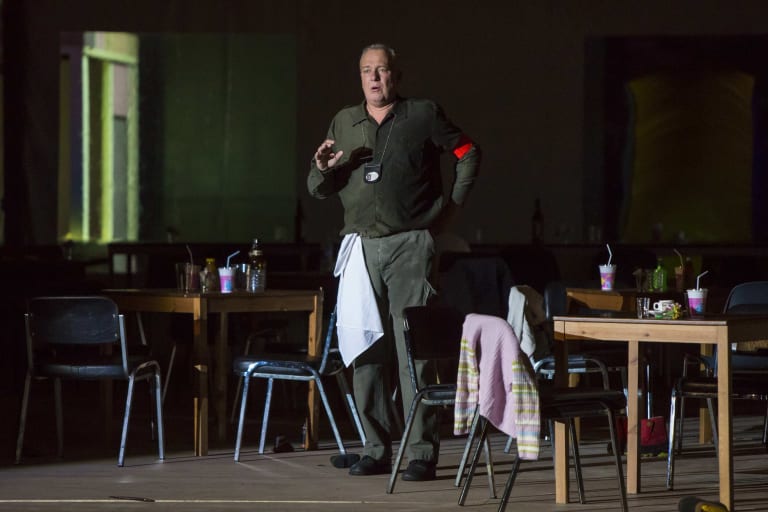 3/12 :
© Emilie Brouchon/OnP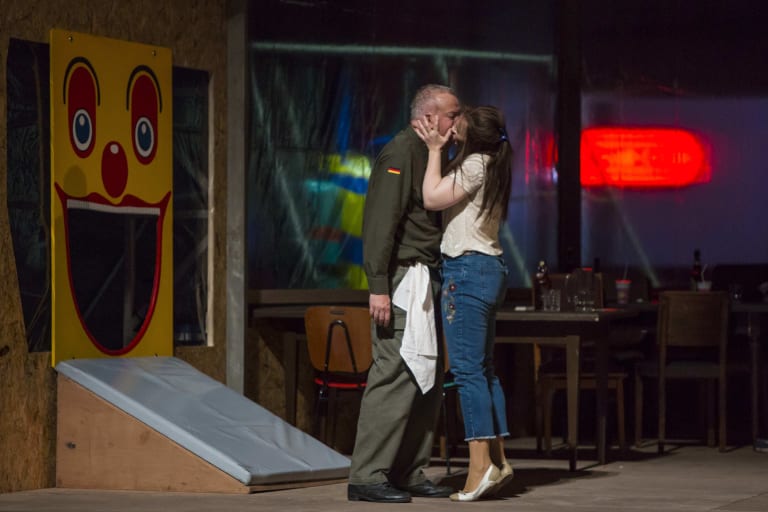 4/12 :
© Emilie Brouchon/OnP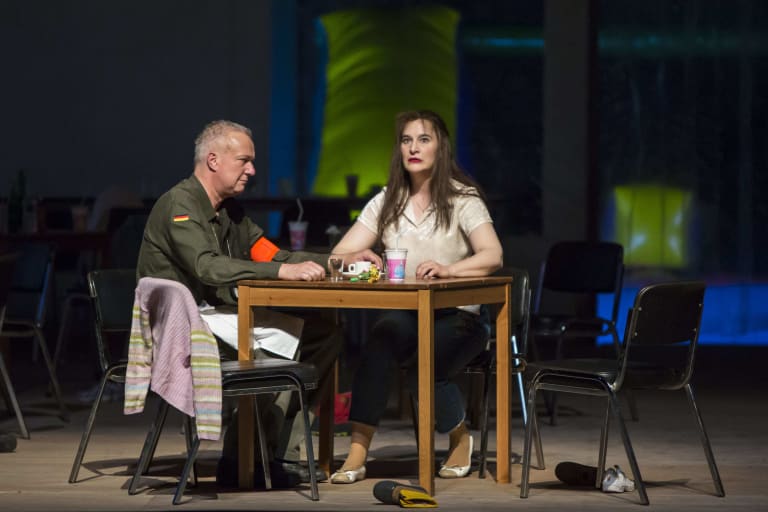 5/12 :
© Emilie Brouchon/OnP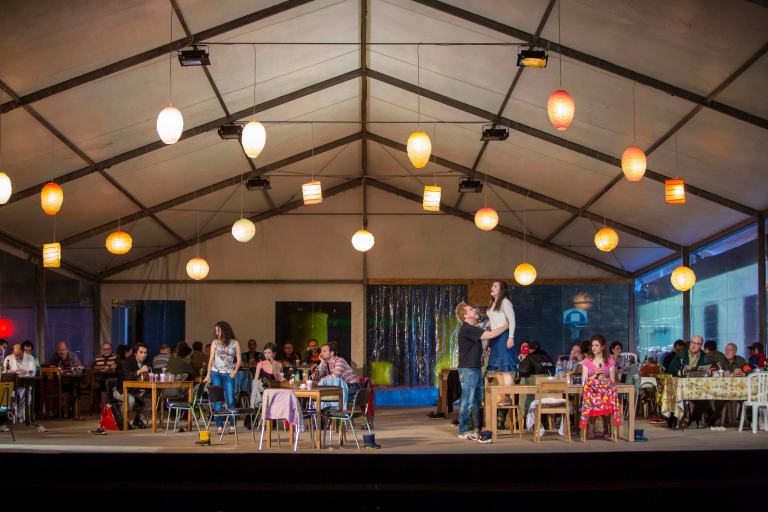 6/12 :
© Emilie Brouchon/OnP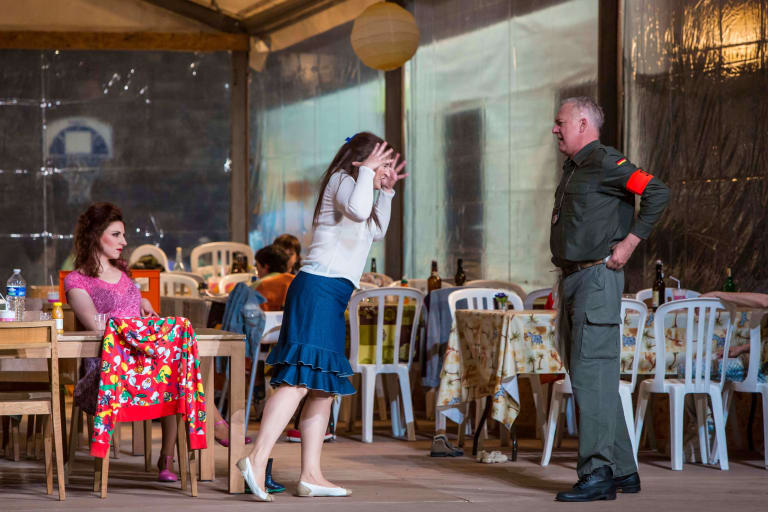 7/12 :
© Emilie Brouchon/OnP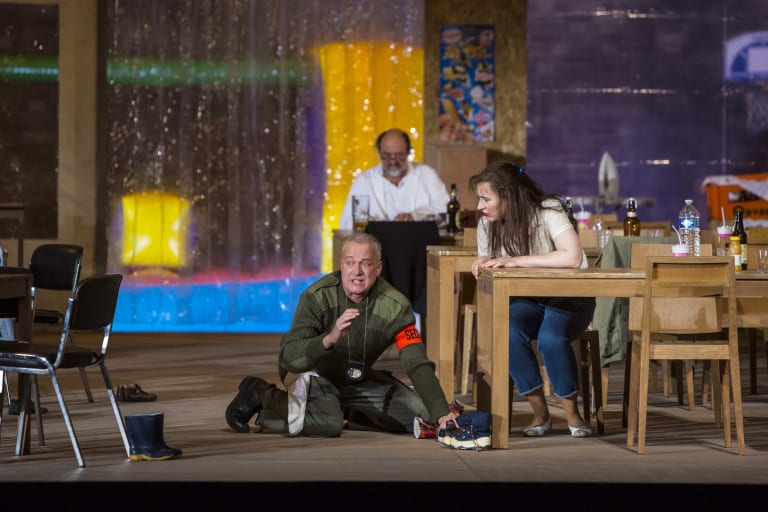 8/12 :
© Emilie Brouchon/OnP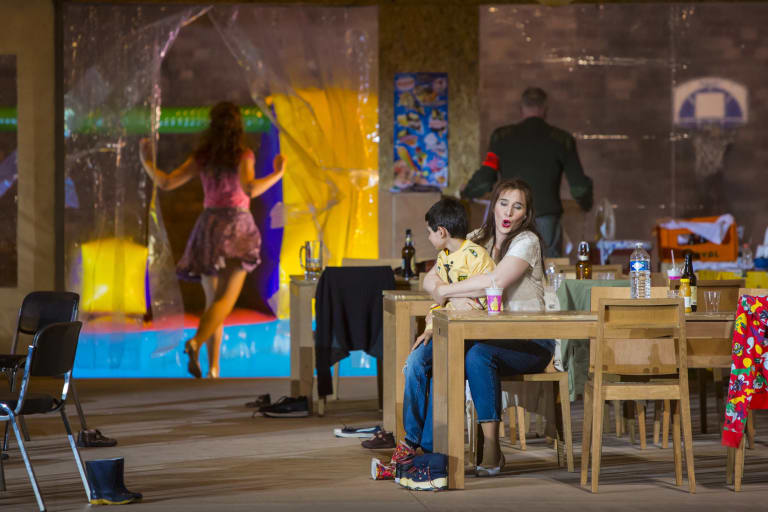 9/12 :
© Emilie Brouchon/OnP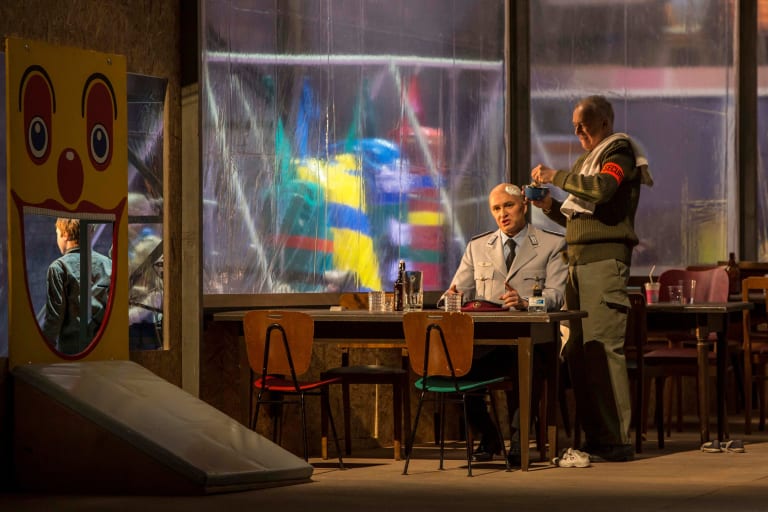 10/12 :
© Emilie Brouchon/OnP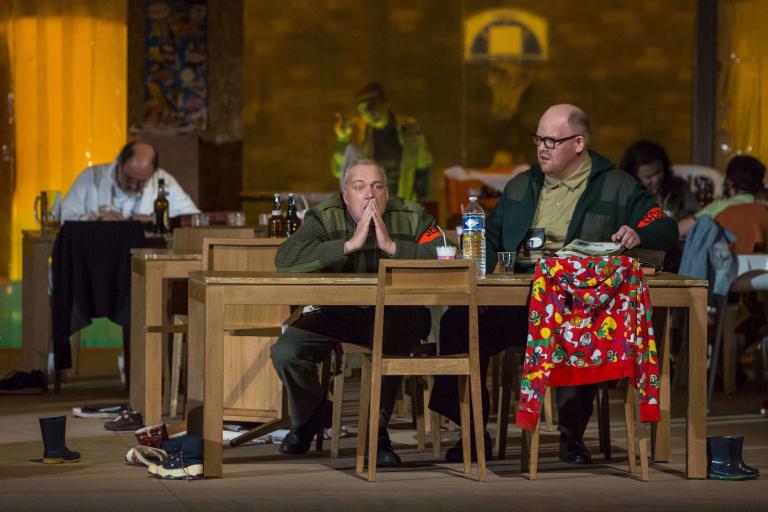 11/12 :
© Emilie Brouchon/OnP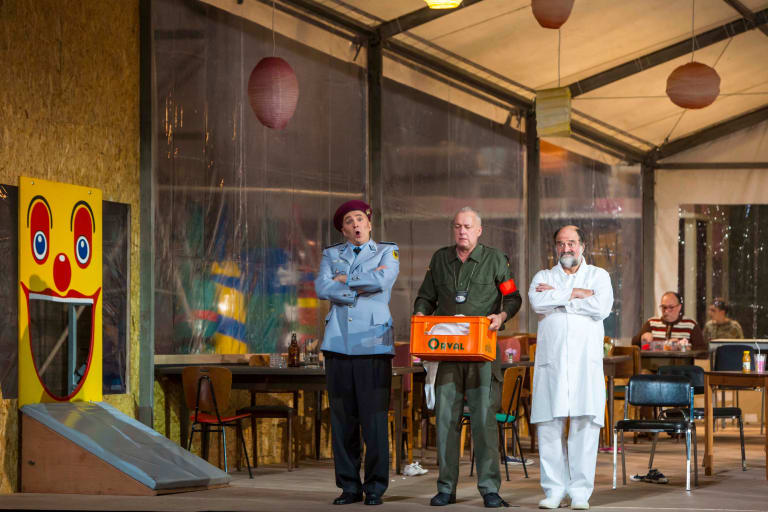 12/12 :
© Emilie Brouchon/OnP
Videos clips
1/3 :
[Hop'éra !] - Dessine-moi Wozzeck
2/3 :
Wozzeck - Le casting
Backstage
Podcast

Berg, Boulez, Barrault, 1963

Podcast

En Quête on Wozzeck

Article

Wozzeck – Berg's Atonal Explosion

Article

Wozzeck the rough diamond
Podcast
Berg, Boulez, Barrault, 1963
First Production of Wozzeck at the Paris Opera
In 1963, nearly forty years after the world premiere, Georges Auric, Administrator of the Paris Opera at the time, brought Alban Berg's Wozzeck into the repertoire. The work, already performed in 1952 at the Théâtre des Champs-Élysées by the Vienna Opera company, had never been heard at the Paris Opera. At the end of an exceptional season, that of 1963/1964, Georges Auric evokes the first Paris Opera production of Wozzeck, directed by Jean-Louis Barrault and conducted by Pierre Boulez.
03:49'
Video
Mikhail Timoshenko
Performing in Wozzeck and Rigoletto
If you have never heard Mikhail Timoshenko at the Opera, you can discover him in Jean-Stéphane Bron's film L'Opéra, currently showing in cinemas. The director filmed the young baritone's arrival in Paris and his debuts at the Academy. He has just finished singing in Les Fêtes d'Hébé at the Amphitheatre and is soon to perform in Wozzeck (Erster Handwerksbursch) and Rigoletto (Il Conte di Ceprano). We followed him through the corridors of the Opéra Bastille, between two rehearsal studios, asking him this question: "What is life like at the Academy? "
---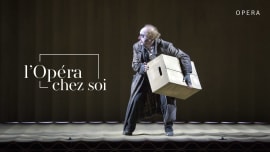 Rigoletto by Giuseppe Verdi
Conducted by Nicola Luisotti, this new production of Rigoletto marks director Claus Guth's first collaboration with the Paris Opera.
Podcast
En Quête on Wozzeck
En Quête #03
Wozzeck is running at the Opéra Bastille from April 24 to May 15, 2017. Poet and radio creator David Christoffel wonders about the relationship between music and language in Berg's opera. A casual conversation with the philosopher Julien Labia who directs the collection Music and Philosophy at Editions Delatour. He has published numerous articles and translated The Aesthetics of Music by Carl Dahlhaus (Vrin, 2015) and Alessandro Bertinetto's Thought of Sounds (Delatour, 2017).    
000:58'
Video
Draw me Wozzeck
with Hop'éra!
Act I
As the soldier Wozzeck shaves his Captain, the latter makes fun of him and reproaches him for having a child out of wedlock with Marie. Wozzeck admits that he is too poor to be gifted with a sense of morality.
Wozzeck is gripped by dark hallucinations. His friend Andres tries in vain to calm him. Marie sings a lullaby to her son. When Wozzeck arrives, he still seems to be under the influence of his troublesome visions.
The soldier serves as a guinea pig for the Doctor's experiments and seems to be drifting increasingly towards madness.
Act II
Wozzeck seems possessed by the idea that Marie may have been unfaithful to him.
During a ball, the Drum-Major dances with Marie as a hapless Wozzeck looks on. Haunted by the sight, the soldier is unable to sleep. The Drum-Major arrives back at the barracks drunk. He boasts about his conquest and provokes Wozzeck.
Act III
Marie reads the story of Mary Magdalene in the Bible and begs for God's mercy.
Wozzeck believes he sees a red moon rising and the vision makes him think of blood: He kills Marie. After having taken flight, he returns to the scene of the crime to look for the weapon that could betray him. Haunted by his hallucinations, he walks into the lake and drowns. The Captain and the Doctor hear his groans but choose to walk away.
The children shout to Marie's son that his mother is dead. Impervious, the little boy continues to play.
Article
Wozzeck – Berg's Atonal Explosion
Interview with Michael Schønwandt
06'
Since his first visit to the Palais Garnier in 1985 for Alceste, Michael Schønwandt has been regularly invited to conduct the Paris Opera Orchestra, with whom, as he himself admits, he has "a very strong bond". After Janáček, Strauss and, in 2011, Berg's Lulu, the current musical director of the National Opera–Orchestra of Montpellier is back at the Opéra Bastille for a revival of Christoph Marthaler's now classic production of Wozzeck: an opportunity for him to tell us about this fascinating and essential work, one that he considers to be, not merely "a concert in fancy dress" but "true and profound theatre".

---
Wozzeck is a work that leaves no one indifferent. Do you remember the first time you heard it?
Michael Schønwandt: I started going to the opera in Copenhagen at the age of six. Very quickly, my parents realised that something was going on between the little boy that I was then and music. At eight, I had a season ticket that allowed me to see performances three times a week; and naturally, two years later, I knew the major part of the repertoire by heart. When I discovered Wozzeck, at the age of twelve or thirteen, I didn't understand everything, of course, but I was immediately fascinated by its musical substance, - as concentrated as an atomic bomb. It was a sound world hitherto unknown to me. Looking back, to a large extent, I impute the shock I felt to the adult problems that were exposed by the drama.

It is always tempting to qualify Wozzeck as revolutionary. Berg, however, maintained that his work did not represent a rupture with musical history but rather a certain continuity.
M.S.: Berg was profoundly rooted in Austrian Mitteleuropa culture, and Wozzeck is indeed part of an artistic continuum, as is Salome. Strauss who, in that score, pushed the frontiers of tonality to their limits, could have chosen the path of atonality. Instead he backtracked, as is demonstrated in Der Rosenkavalier and the mythological subjects he then set to music. With Wozzeck, Berg goes farther by being frankly atonal and using dodecaphony, without however losing sight of classical culture. He thus uses conventional musical forms – fugue, passacaglia etc. and tonalities rich in significance for our civilisation, like the funereal D minor that sounds at the end of the opera. The score also contains several references to the first movement of Beethoven's Pastoral Symphony and the on-stage orchestra in Act II cites the chamber orchestra that plays on stage at the end of the first act of Mozart's Don Giovanni.

How does one explain the lasting popularity of a work that is profoundly of its own time and often considered to be the last opera of the 20th century?
M.S.: Whilst Strauss immersed himself in a fantasy world, Berg turned to a profoundly realistic form of theatre, with simple, human characters. "Poor people, like us" says Wozzeck… One can't help being touched by the tangled relationships depicted by the libretto. It is a profoundly expressionist work that marks Berg's farewell to the culture and values of the 19th century, to which, nevertheless, he remained attached. For its first performance in 1925, the conductor Erich Kleiber was allowed a hundred and twenty-five rehearsals, whereas we are preparing this production in three weeks! What I mean by that is that the work is now part of the repertoire. Perhaps that's why it might be seen as the last opera of the 20th century. It is the last to have entered the pantheon of the great opera houses, with the possible exception of the operas of Britten and Le Grand Macabre by Ligeti, the musical forms of which are in any case close to those of Wozzeck. The latter would not exist without the heritage of Berg.

Has your knowledge of the contemporary repertoire allowed you to understand and conduct Wozzeck differently?
M.S.: I don't know if I conduct the work differently today… But, in effect, one does perhaps understand Berg otherwise having worked on the music that came after him. Although a knowledge of more recent musical forms is in no way a prerequisite to apprehending Wozzeck. The score is in itself extremely modern and could have been written in our own time. Berg was, and still is, extremely influential, like Stravinsky who inspired whole generations. Conducting Wozzeck surely gains from being approached from both perspectives: keeping in mind the works that followed and from the viewpoint of the tradition that influenced Berg. It's an extremely virtuoso score, as much for the orchestra as for the chorus and the soloists.

What about the vocal writing in Wozzeck?
M.S.: Berg alternates three types of vocal writing, which allow him to realise his dramaturgical aims. Thus there are spoken passages with fixed rhythms, sung passages and sprechgesang, which he borrowed from Schönberg's Pierrot Lunaire. This is something between singing and speaking in which the right tone is particularly difficult to find. It is strongly linked to the text, to which it confers a particular importance. This is essential for a libretto like this one. In my eyes, Wozzeck is one of the greatest theatrical texts ever written.

How do the music and the text fit together?
M.S.: The orchestra pit and the stage maintain a very tight relationship that is sometimes conflictual. The orchestra may anticipate the action on stage or introduce it with a phrase or a dramaturgical counterpoint that contradicts what is being expressed by the singers. In Wozzeck, by the way, the orchestra is three-fold: there is the one in the pit, one off stage and another on stage. Berg enjoys superposing different kinds of music, which then become dramatic elements. The genius of this work resides in its skilful musical construction combined with a highly developed sense of theatre.

A theatrical sense that Christoph Marthaler's production conveys particularly well … Are you familiar with the production?
M.S.: No, I have never seen it. On the other hand, I know Christoph Marthaler very well and have invited him and his company several times to Copenhagen. I really appreciate his work. I find him extremely visionary, very musical and funny too. He often introduces unexpected situations and a spark of craziness all his own … But then, I suppose we are all a little bit crazy, aren't we? (He laughs.)

Article
Wozzeck the rough diamond
Alban Berg's great masterpiece
08'
Bridging the gap between Cavalleria rusticana, Rosenkavalier and Sancta Susanna, Alban Berg's Wozzeck is certainly one of the beacons of the entire operatic repertoire. As the Paris Opera revives Christoph Marthaler's universally acclaimed production, we return to this rough diamond both dramatic and musical.
---
"Every man is an abyss, one feels dizzy when one looks within." These words from Woyzeck by Georg Büchner (1813-1837) could equally well describe the feeling that takes hold of us when we examine Alban Berg's spellbinding work. A three-act opera composed over a ten-year period and first performed in Berlin in 1925, Wozzeck was inspired by Büchner's unfinished play Woyzeck which was based on a true story: in 1821 in Leipzig, a former soldier, Johann Christian Woyzeck, assassinated his mistress, Johanna Christiane Woost, the widow of a surgeon. The psychiatrist's testimony, which declared Woyzeck to be of sound mind, led to his being condemned to death by decapitation. From the fragments left by the revolutionary writer and doctor upon his death from typhus at the age of twenty-four, Berg produced a narrative comprising fifteen scenes divided into three acts. The result was a masterpiece lasting nearly an hour and a half that, drawing on tradition and the modernist experiments of the preceding years, offers a stunning synthesis of musical language.
Of Büchner's Woyzeck the plot, cold and cruel, remains: the soldier Woyzeck, a "poor bastard", victim of his captain's taunts and of the experiments of an unscrupulous doctor, has as his only fortune his love for Marie and the child he has had with her. However, Marie's infidelity is brought to light; a blood-coloured moon foreshadows Woyzeck's desperate act as he plunges into madness and his death. Berg discovered the play in 1914 and reworked the text, carrying out, to use his terms, "a judicious sifting of Büchner's twenty-three often fragmentary and only very loosely linked scenes" in order to give the work the dramatic coherence that it lacked. After 137 rehearsals, the premier of the opera was received to unprecedented acclaim, and has continued to enjoy the same success ever since. Some critics even proclaimed it to be the "last opera of the 20th century", Lulu having never been completed. If such a work is still admired by audiences today, it is because it constitutes a veritable tour de force, combining as it does an uncompromising modernity with a profoundly dark plot, whilst belonging to a tradition of dramatic universality that carries a timeless emotional charge.

Wozzeck is first and foremost the child of late Romanticism - the forerunner of Expressionism: inevitably, in this raw and tragic story of jealousy involving characters from the working classes, one recognises the preoccupations that characterised Verismo, like those expressed in Cavelleria rusticana by Mascagni in the previous century. One cannot fail to see the connection between the theme of disappointed love leading to madness and the themes of the grand romantic operas, particularly Carmen, which was first performed in 1875. With regard to Berg's tutelary figures, the permanent abolition of the distinction between aria and recitative as well as the use of Leitmotif clearly belongs to the Wagnerian tradition. Besides certain motifs associated with the characters, the quasi-obsessive use of the note B from the end of Act II onwards conveys Wozzeck's mental state and announces the murder that is to be committed. The sense of orchestral dramaturgy, which creates at certain moments a film music quality in advance of its time, was inherited from Gustav Mahler, a figure that Berg had met several times and adulated. An opera, then, in the tradition of Sturm und drang. The operative word here, however, is exacerbation: pain screams out, the instruments howl madly and Sprechgesang replaces bel canto.
However, Wozzeck is also first and foremost a work of its time, as protean as it is kaleidoscopic. From Richard Strauss, whose Salome he saw eight times between 1905 and 1906, Berg retained the modernist approach, notably in the elimination of the orchestral overture: after only a few chords, the audience is directly plunged into Wozzeck's daily life as he shaves his captain's beard amid the latter's pseudo-philosophical taunts. Equally essential is the figure of the moon, which changes colour to prefigure, as in Salome, the dramatic upheavals that ensue. The post-romantic aesthetic of Rosenkavalier is to be heard in the strident use of folk dances in the tavern scene; those familiar with Rosenkavalier will recognise the allusion to the waltz "Ohne mich" that Ochs intones in the second act. Berg permits himself a number of other incursions into the field of folk music: Andres's hunting song (Act I, scene ii), the lullaby that Marie sings to her child (Act I, scene iii), the military band music accompanying the appearances of the Trumpet Major and the songs of the drunkards and the men in the tavern (Act II, Scene iv). Like Strauss, Berg gave new aesthetic value to this music whilst preserving certain easily identifiable elements like the use of the accordion or an out of tune "honky-tonk" piano.
From the Expressionist movement, which developed from around 1910 onwards in various art forms, we find a taste for the unexpected and a thin-skinned sensitivity, the direct expression of the violence of social relationships and an interest in psychiatric problems; elements that resonate with
Sancta Susanna
by Hindemith, written only a few years before
Wozzeck…
As for the dehumanisation of the military system, it is an expression of Berg's own experience: he had had a brief taste of life in an army barracks in 1915 before being posted to the war office. On this subject, he was to write: "There is a part of myself in the character of Wozzeck, in as much as during the war years I was totally dependent on people that I hated: [I was] captive, ill and resigned, humiliated in fact." As well as the profoundly disappointing experience of the young soldier who had enlisted with enthusiasm in 1915, we find an incredibly accomplished and thoroughly impressionistic evocation of the atmosphere that pervaded the mess room in the men's chorus hummed off-stage in Act II scene V.
There is a part of myself in the character of Wozzeck. Alban Berg
Finally, from his friend and teacher, Arnold Schönberg, Berg took the Sprechgesang technique of Pierrot Lunaire and, more importantly, his atonal musical language: dissonance dominates the entire work. The hallucinations Wozzeck suffers from are reminiscent of those of the protagonist of Ewartung, composed in 1909 and first performed in 1924. The chamber orchestra present on stage to accompany the rupture between Wozzeck and Marie (Act II) is a direct homage to the master, the instrumental make-up being precisely that of Schönberg's Chamber Symphony opus 9.
The atonal writing gives Berg total harmonic freedom and the listener struggles to identify familiar landmarks. But in spite of this musical profusion, the work is extremely structured, and in terms of conventional forms of instrumental music: dance suites and pieces of character in Act I; symphonic movements in Act II; theme and variations in Act III… all restrictive compositional procedures that Berg was to explain in the introductory lectures that he gave from 1929 onwards, but which needed to remain almost undetectable so as not to distract the spectator from the drama and its expression. A stimulating constraint according to Boulez who, in his Jalons pour une décennie wrote: "The genius of Berg is the flexibility, at every instant, of his approach to discipline, turning it into a superior tool, preserving the unexpectedness of encounters and circumstances without risking incoherence or dislocation."
In every aspect,
Wozzeck
is part of an artistic tradition of composition that goes back to Bach. The highly rich scoring, which requires at various times, amongst other things, three on-stage ensembles, is that of the romantic orchestra, and includes harp, bass clarinet, contrabassoon and celesta. Throughout the music, it is Berg's interest in different combinations of timbres that predominates, and any search for exhilarating monumentality will be in vain. Berg's success resides in his perfect assimilation of tradition for the sake of a completely personal and innovative style. From the abrupt opening to the elliptical ending constructed on a
perpetuum mobile
, this veritable masterpiece affords the listener no respite and leaves nobody indifferent.