Opera
La Cenerentola
Gioacchino Rossini
Palais Garnier - from 10 June to 13 July 2017
About
In few words:
"The world is one large theatre And we are all actors; We can change characters In an instant."  

Alidoro, Acte I, scène 7

"Before the carnival is over, all Rome will love my Cinderella…" Thus spoke Rossini in 1817, in the aftermath of the disastrous opening night, firmly convinced that his pumpkin would be transformed into a sumptuous carriage. The future was to prove him right. However, in moving from Perrault's tale to the opera, the humble servant who dreams of going to the ball has lost all her magical attributes: here there is no fairy godmother to transform mice into horses, rats into coachmen and lizards into footmen with a wave of her wand. And it is not a fur slipper but a bracelet that the beauty leaves behind for her prince, quite deliberately, challenging him to find her again. The Enlightenment had lit its fires throughout Europe and La Cenerentola focused on the burning issues of the day, confronting social divisions to reveal the crinoline beneath the rags. Guillaume Gallienne, member of the Comédie-Française, stages his first opera.
Whether you're a member of Arop or not, the friends of the Opera can reserve seats for you on all performance dates, including those not yet open for sale and those announced as sold out.
Gallery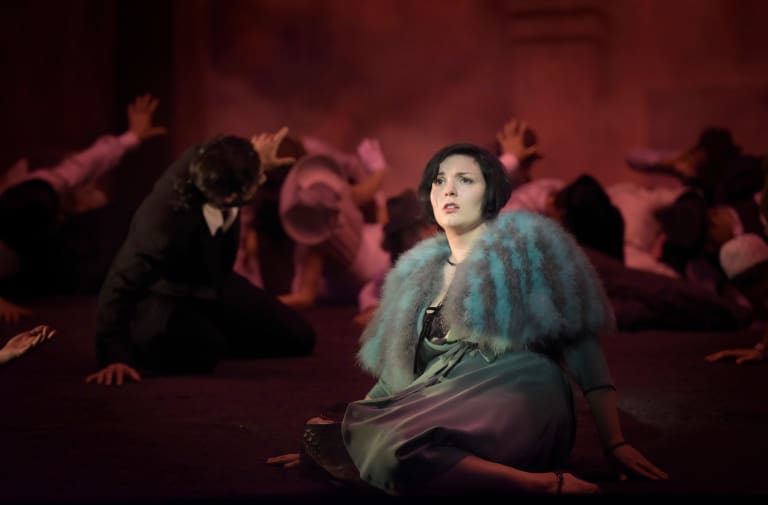 1/7 :
© Vincent Pontet / OnP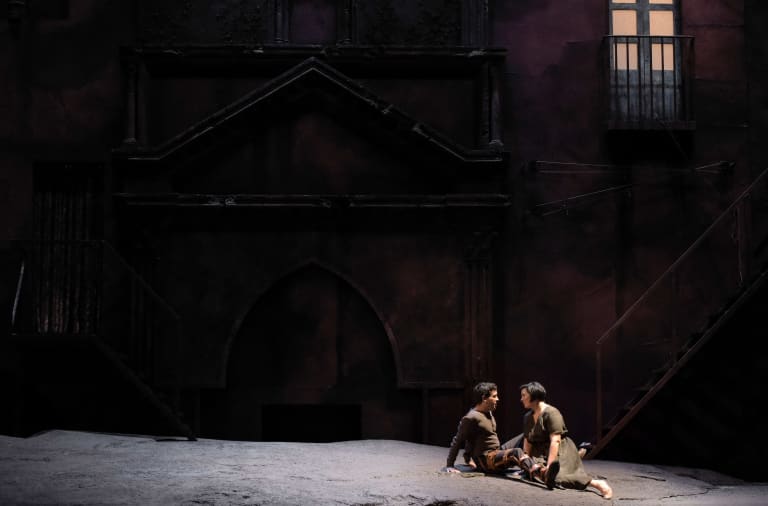 2/7 :
© Vincent Pontet / OnP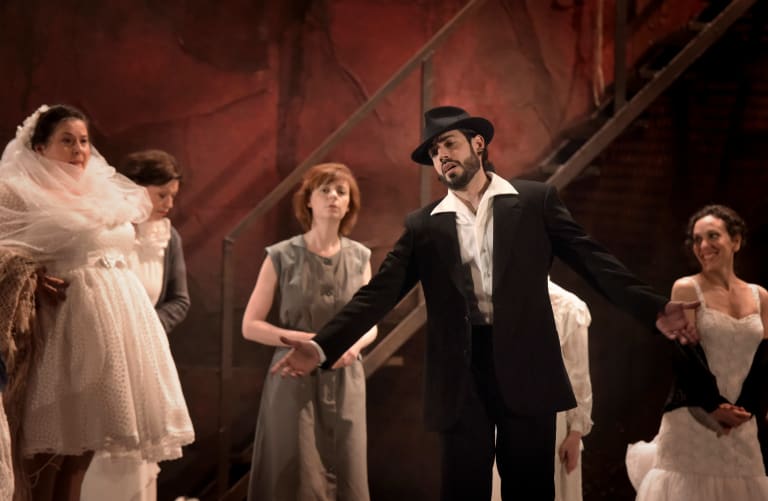 3/7 :
© Vincent Pontet / OnP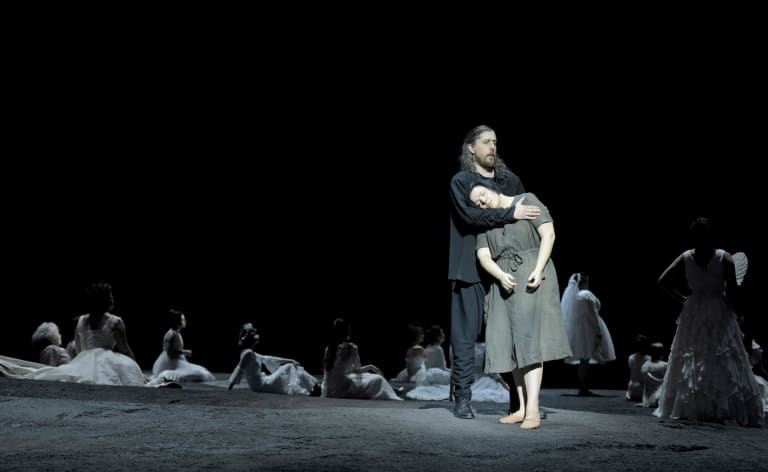 4/7 :
© Vincent Pontet / OnP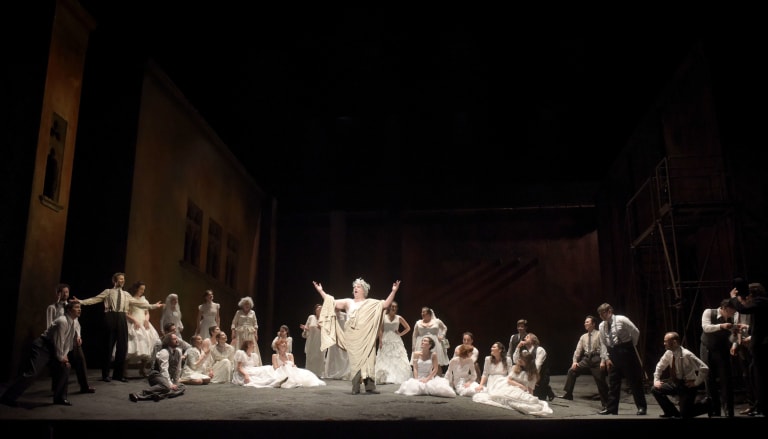 5/7 :
© Vincent Pontet / OnP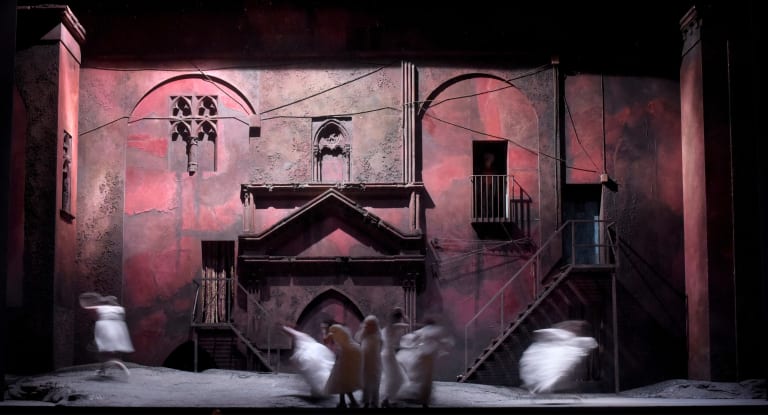 6/7 :
© Vincent Pontet / OnP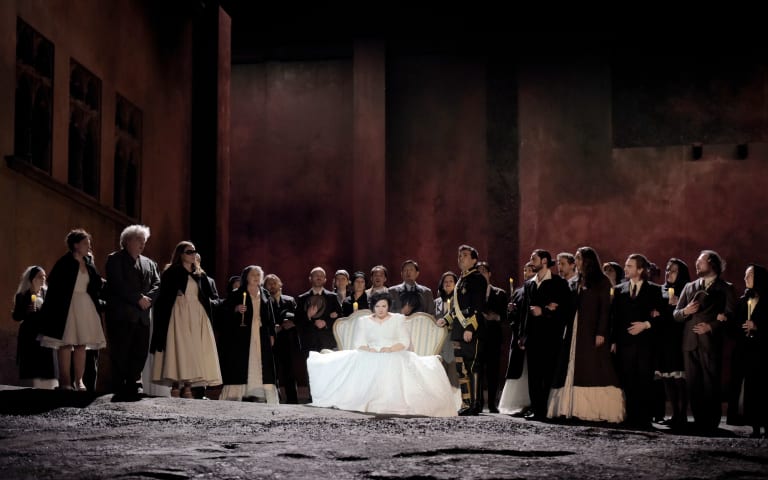 7/7 :
© Vincent Pontet / OnP
Audio clips
La Cenerentola - Gioachino Rossini
Backstage
Podcast

En Quête de La Cenerentola

Podcast

Podcast La Cenerentola

Video

The volcano's daughter

Article

On the ashes of innocence

Video

An eruption in the making

Article

Guillaume Gallienne directs La Cenerentola
Podcast
En Quête de La Cenerentola
En Quête #04
From June 10 to July 13, "La Cenerentola » is playing at the Palais Garnier in a production by Guillaume Gallienne in which a volcano occupies a central place. David Christoffel, poet and radio creator, sets off in the footsteps of Cinderella with vulcanologist Jacques-Marie Bardintzeff.
Podcast
Podcast La Cenerentola
"Dance! Sing! 7 minutes at the Paris Opera" - by France Musique
07'
"Dance! Sing! 7 minutes at the Paris Opera" offers original incursions into the season thanks to broadcasts produced by France Musique and the Paris Opera. For each opera or ballet production, Judith Chaine (opera) and Stéphane Grant (dance), present the works and artists you are going to discover when you attend performances in our theatres.    
03:26'
Video
The volcano's daughter
La Cenerentola by Guillaume Gallienne
Backstage with La Cenerentola in company with the stage director.
Article
On the ashes of innocence
Visit of the sets of La Cenerentola seen by Guillaume Gallienne
02'
Guillaume Gallienne directs Rossini's Cenerentola, exalting goodness, and opens the doors of the set. Visit in images and sounds.
---
A big house of fire rises. It is dressed in a Pompeian fresco red, a beautiful rosso pompeiano shaded by browns and ochres that could well be the shades of the yellow of Naples from the lava of Vesuvius. Eric Ruf's set - the administrator of the Comédie Française has become a scenographer - erects this majestic house, a Neapolitan palace with a flamboyant mineral façade on a rugged bed of black lava and ashes.
La Cenerentola belongs to a consumed world, this volcanic Cinderella of Guillaume Gallienne celebrates the end of innocence, in a universe that has collapsed. This lost innocence is at the wedding with goodness. Cinderella is a young girl who loves and forgives, virtues that are missing in our time and that the director from the French department exalts.
This Cinderella of Italy, this Angelina of Rossini, hangs on our days its ideal benevolence. Light as the airy harp that plays her music, she has escaped in Guillaume Gallienne's Italian comedy, with its despicable and touching monsters, its boasts between frivolity and gravity, its joyful and cheerful creatures.
Here is a ball with a joyful story, a love story full of fantasy, which makes you want to believe in fairy tales and fairies. So much the worse if there is no good fairy, no slipper, no pumpkin, but a philosopher and a bracelet, we still find the evil sisters, the very young naive girl who goes from abused childhood to triumphant happiness, the decomposed family with its neuroses. It is no longer a tale, but its essential moral vibrates, goodness prevails over cruelty.
---
---
---
---
---
---
---
02:52'
Video
An eruption in the making
La Cenerentola by Eric Ruf
Backstage with La Cenerentola in company with the scenographer.
Article
Guillaume Gallienne directs La Cenerentola
In rehearsal
02'
When Stéphane Lissner asked Guillaume Gallienne to direct Rossini's La Cenerentola, his initial reaction was to ask why he had chosen him. The director of the Paris Opera replied: "Because it's about the family, it's funny and it's cruel."
Actor, director and member of the Academie Française, Guillaume Gallienne directs his first opera with this production of La Cenerentola. The photographer Éléna Bauer has captured the atmosphere of the production as it takes shape. Commentary by Guillaume Gallienne.   

---
"Shortly after accepting the commission from the Paris Opera, Marie Lambert, my assistant, and I discussed Italian cinema. We evoked Riso Amaro, Anna Magnani, Ettore Scola and Brutti, sporchi e cattivi, Respiro and Valeria Golino …"
"Beaten and deprived of her name, Angelina can literally only smoulder in silence. In her stark misery, however, there is a fire threatening to blaze up. When I went to hear Teresa Iervolino in the role of Angelina in Palermo, she pleased me enormously: I said to myself that she could be that volcano."
"How can the Prince and Angelina recognise each other? How can it be obvious that this is love at first sight? Angelina is emotionally handicapped because she has been starved of affection. And what of him? Where does his fragility come from? And what is his relationship with Dandini? Why does Alidoro call Angelina his daughter?"
"I've seen numerous versions of La Cenerentola. Very opera buffa productions. They didn't really interest me. I had the impression that there was something else in the music. When I direct the singers, I tend to streamline enormously. When a performer says: ' I have the impression of not acting', I say to him, 'That means you've struck the right tone."
Ce spectacle fera l'objet d'une captation audiovisuelle

Une co-production Opéra national de Paris et Cinétévé avec le soutien du CNC et la participation de France 3, réalisée par Louise Narboni.
Diffusion en direct au cinéma le 20 juin puis sur Culturebox.fr
Diffusion sur France 3 ultérieurement.