Opera
Rigoletto
Giuseppe Verdi
Opéra Bastille - from 11 April to 30 May 2016
About
In few words:
"Gentlemen, give an old man back his daughter. To give her back will cost you nothing, my daughter is all I have in this world. Have pity, gentlemen, have pity."

- Rigoletto, Act II

"Oh! Victor Hugo's Le Roi s'amuse is the greatest subject, and perhaps the greatest drama of modern times. It's a work worthy of Shakespeare!" A few months before he wrote those words to Francesco Maria Piave urging him to "turn Venice upside down and persuade the Censor to authorise the subject" – no easy matter given that moral values would be easily offended – Verdi was working on an adaptation of King Lear. No doubt, he was already imbued with the play by his revered master, Shakespeare, when he read Victor Hugo's drama. On discovering in the works of the French writer to whom he would owe Ernani, the greatest triumph of his "difficult years", a parallel with the triangle formed by the King, his daughter and the jester, it was "like a thunderbolt, an inspiration".

Between the frivolous, licentious Duke, and Gilda, a victim of the ignorance which holds her captive, stands the double-faceted character of the hunchback, both buffoon and curse-obsessed father. Monstrous and heartrending, grotesque and sublime, the title role reaches its apogee in the aria "Cortigiani, vil razza dannata", whose descending movement, from the explosion of rage to the moment of entreaty, confirms the composer's ability to adapt a form inherited from bel canto to theatrical realism. Under the baton of Nicola Luisotti, this new production of Rigoletto marks director Claus Guth's first collaboration with the Paris Opera.
Whether you're a member of Arop or not, the friends of the Opera can reserve seats for you on all performance dates, including those not yet open for sale and those announced as sold out.
Gallery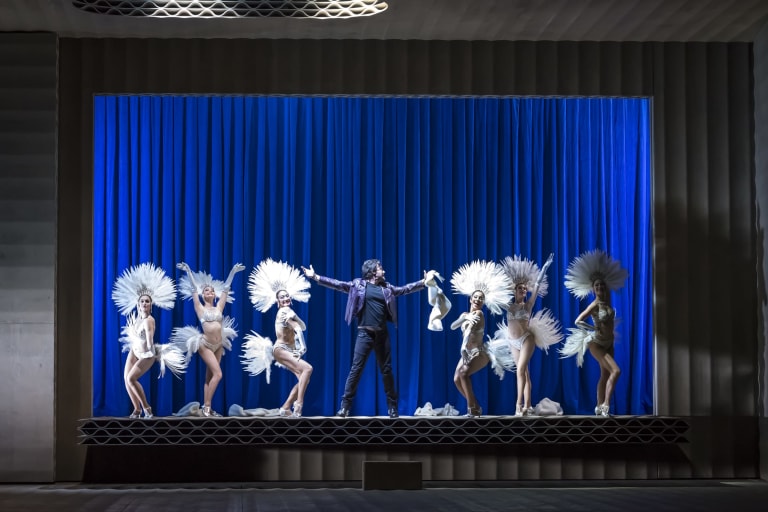 1/14 :
© Charles Duprat / OnP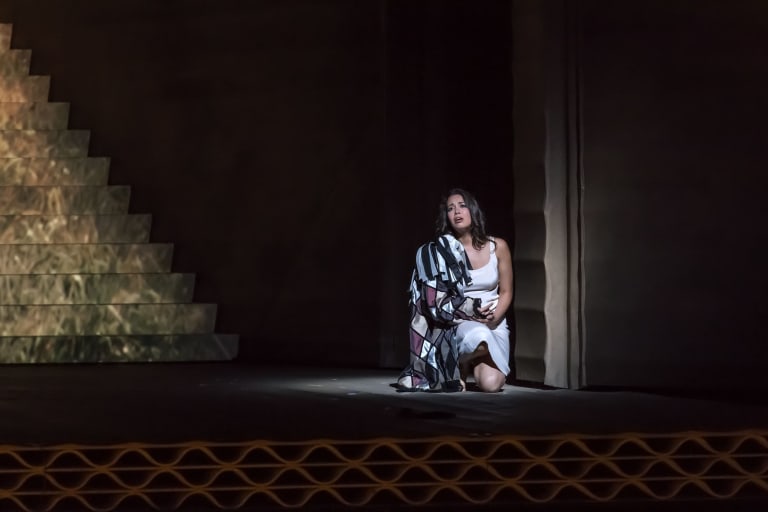 2/14 :
© Charles Duprat / OnP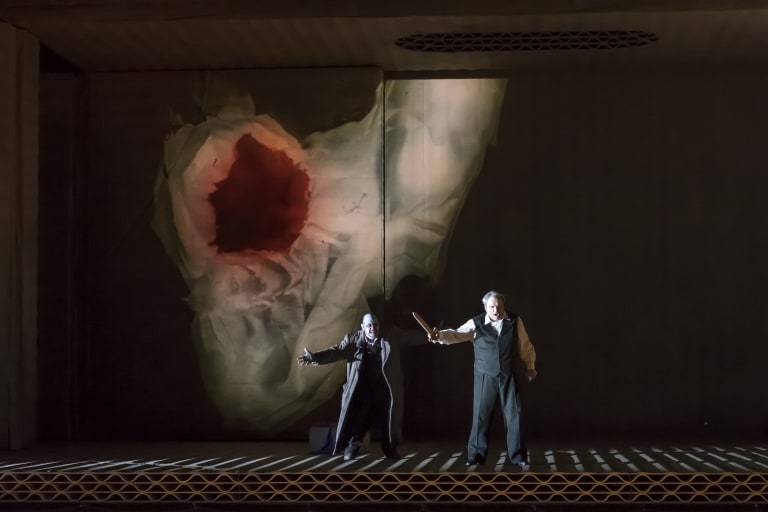 3/14 :
© Charles Duprat / OnP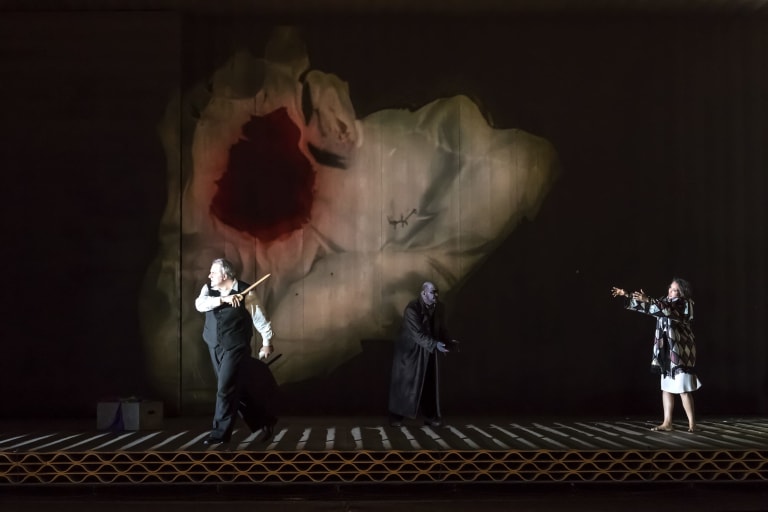 4/14 :
© Charles Duprat / OnP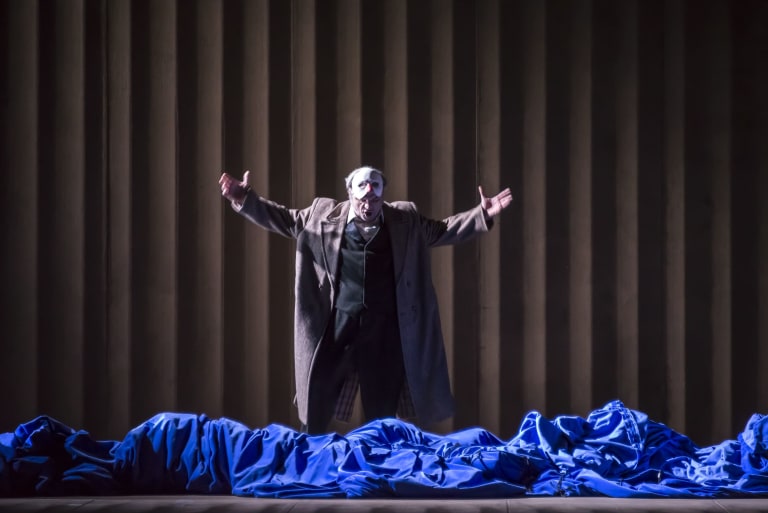 5/14 :
© Charles Duprat / OnP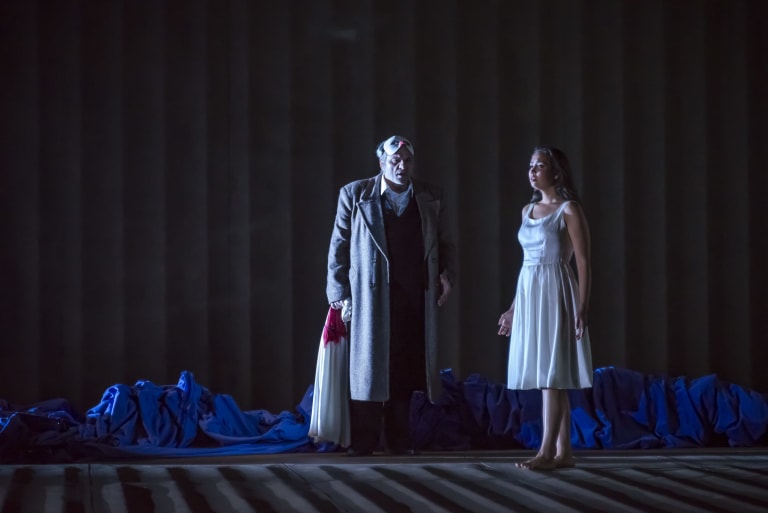 6/14 :
© Charles Duprat / OnP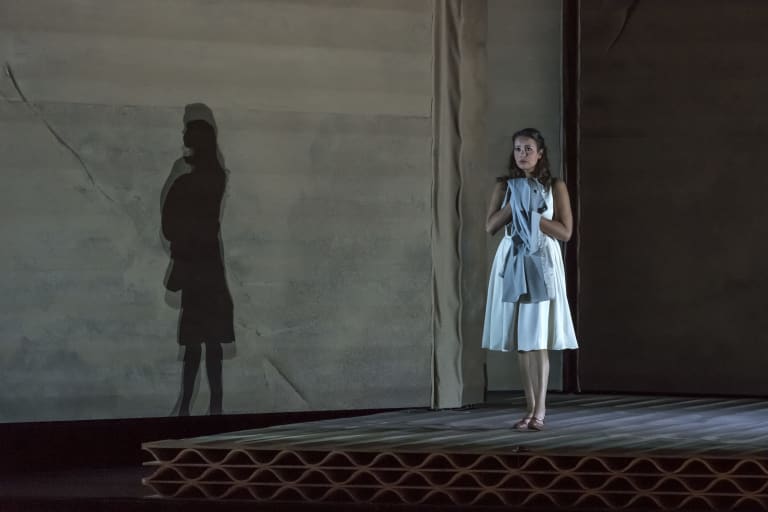 7/14 :
© Charles Duprat / OnP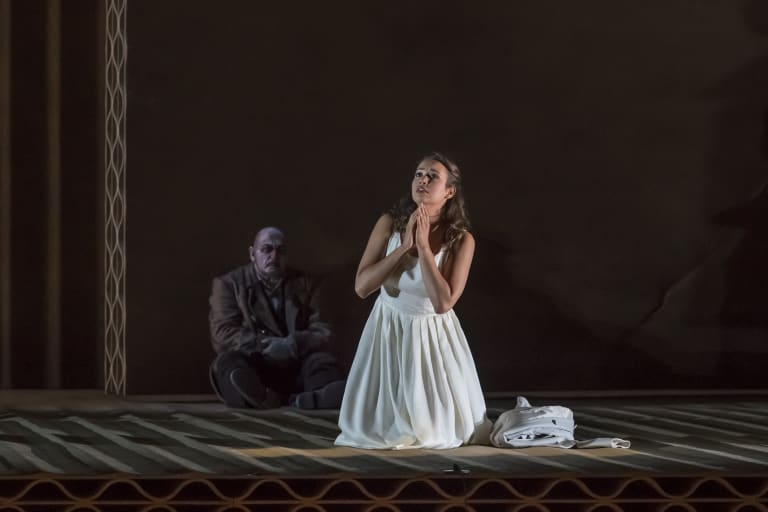 8/14 :
© Charles Duprat / OnP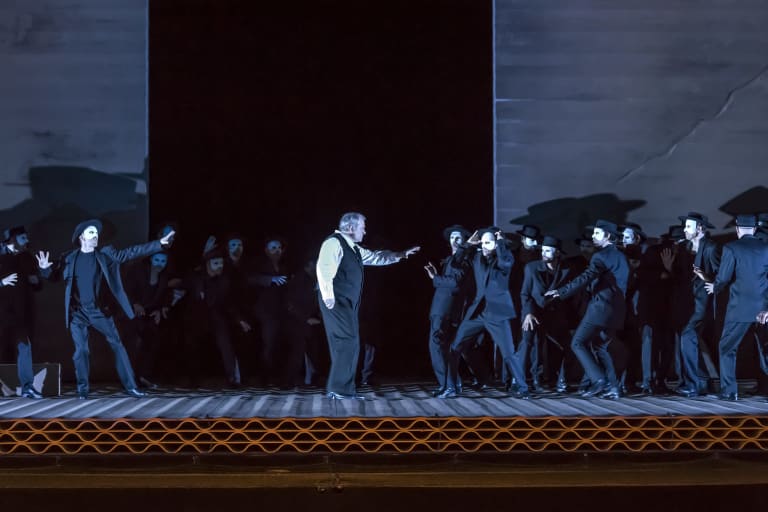 9/14 :
© Charles Duprat / OnP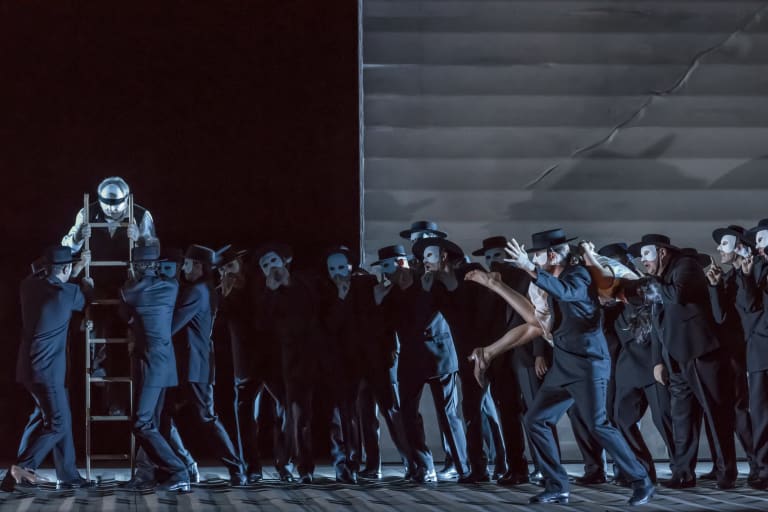 10/14 :
© Charles Duprat / OnP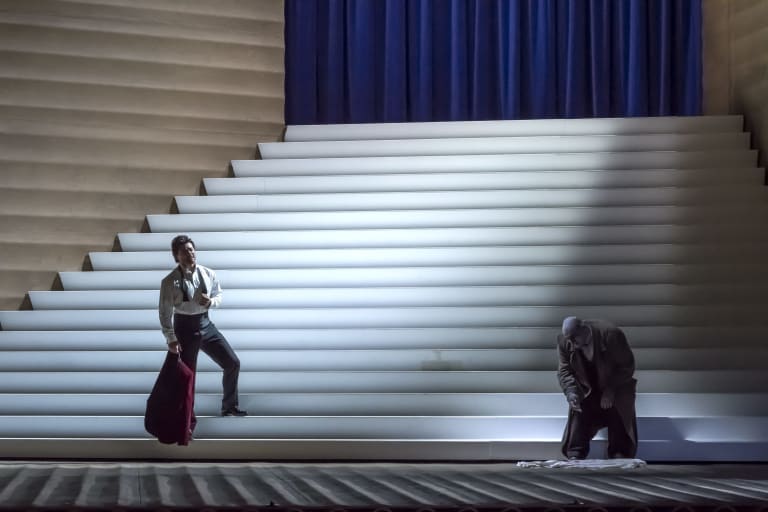 11/14 :
© Charles Duprat / OnP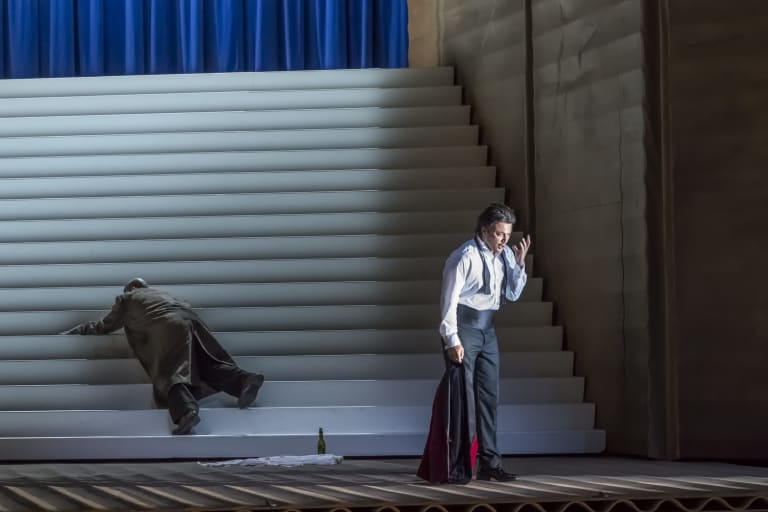 12/14 :
© Charles Duprat / OnP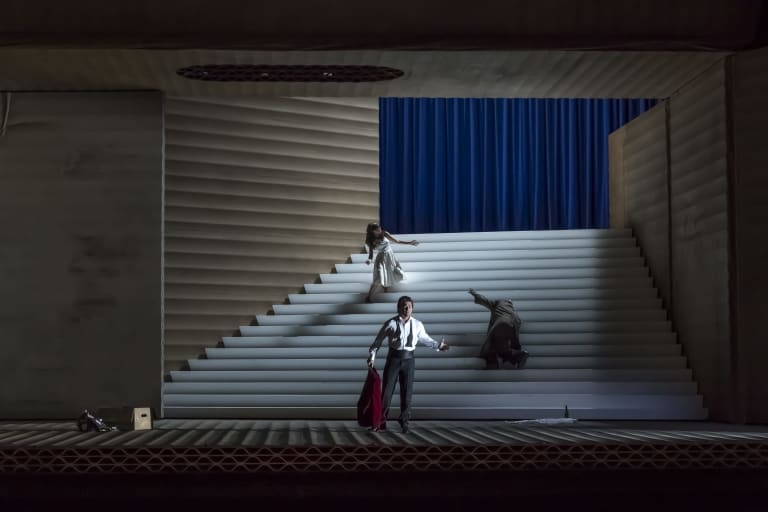 13/14 :
© Charles Duprat / OnP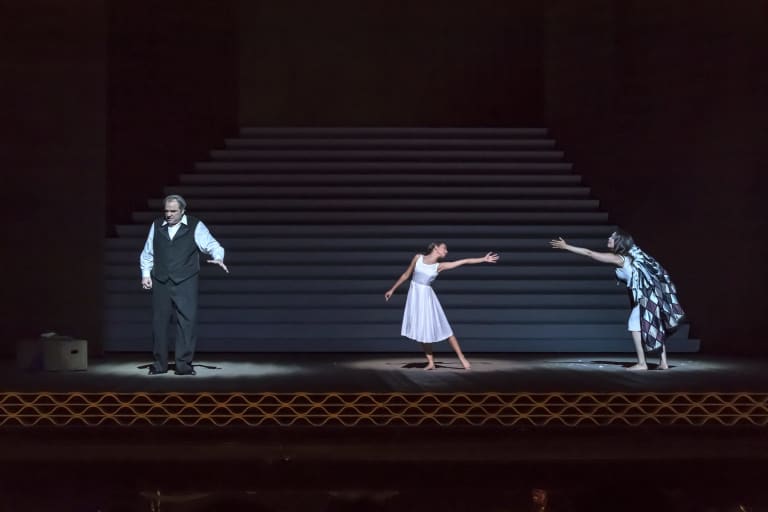 14/14 :
© Charles Duprat / OnP
Videos clips
1/3 :
Rigoletto vu par l'Académie de l'Opéra national de Paris
2/3 :
« Rigoletto » - Trailer
3/3 :
Olga Peretyatko à propos de Rigoletto
Audio clips
Rigoletto - Giuseppe Verdi
Backstage
Video

Rigoletto's daughter

Article

A deformed and tragic jester

Article

Humanity and its masks

Article

Le Roi s'amuse in Court

Article

Rigoletto's cardboard box
05:01'
Video
Rigoletto
as seen by the Academy
The new production of Rigoletto directed by Claus Guth is an opportunity to discover the Academy of the Paris Opera, whose ambition is to foster a new generation of artists, and promote those young artists' work within the Orchestra.
03:13'
Video
Rigoletto's daughter
Portrait of Olga Peretyatko
Olga Peretyatko makes her Opéra Bastille debut in Claus Guth's new production of Rigoletto. As rehearsals intensify, the soprano evokes her favorite role, Gilda and the creative work with the director.
© Albert Harlingue / Roger-Viollet
Article
A deformed and tragic jester
Rigoletto in his time
08'
Rigoletto, the central character in Verdi's opera, was originally based on Triboulet, the hero of Victor Hugo's Le Roi s'amuse (1832): the author drew his inspiration from Nicolas Ferrial alias Triboulet, the court jester during the reigns of Louis XII and François I. « Imprisoned in an ill-made body », this hero sparked off criticism from those who considered it unrealistic to attribute such elevated feelings to one so physically deformed. Erika Wicky here considers the conception of this character within the scientific context of the time.    

For ugliness and deformity were just as sought after in a fool as intelligence in a monkey, beautiful plumage in a peacock or jargon in a popinjay or parrot. Paul Lacroix, Dissertation on the fools of the French kings,
Victor Hugo's Triboulet is a highly-contrasted figure. A court jester who could have been lifted straight out of a Shakespeare play, he seems to correspond exactly to the motley-coloured striped costume with which he is traditionally decked out. The attribution of sublime paternal love and a tragic destiny to a grotesque buffoon, despite being essential to the alchemy of the author's romantic design, was greeted with both jeers and applause in equal measure. The most irascible critics were unanimous in judging such dissonance as unrealistic and were scathing in their condemnation of such gross coarseness in a tragic hero. Le National, for example, on 25th November 1832, remarked that although art had once been confined to "regions pure and ethereal" where it lived on "fresh air and honey", it now drew "its models from low brows and bulging eyes, from bulbous noses, hunched backs and bloated stomachs."
It is precisely in these contrasts that Rigoletto's success lies. Transposed to Mantua, translated into Italian and considerably shortened by the librettist Maria Piave before being set to music, Victor Hugo's original story seduced audiences for its subtle nuances, accentuated by Verdi's orchestration. As E. Vaïsse wrote on March 25th 1860 in the Revue de Toulouse, "The situations, the contrasts in Le Roi s'amuse emerge even more strongly through Verdi's sophisticated music." Moreover, the variety of sentiments expressed by the character of Rigoletto was a way of highlighting the talent of the baritone chosen for the role. "It requires a great actor to play Rigoletto", so as to "bring out all the subtlety" of the character, wrote one critic on November 13th 1859, on the front page of the magazine L'Orchestre.
Whether enthusiastic or scathing, 19th century critics of the work perceived a paradox in the tragic character of the fool. Besides the permeable relationship between tears and laughter, this paradox resided in the juxtaposition of ugliness and cruelty with lofty sentiments in a single character. If the fool's ugliness seemed irreconcilable with his paternal feelings, it is not merely because it appeared unlikely that he could ever have had a love affair, but also by virtue of a strong association between beauty and morality, between physical characteristics and the nature of the soul. His non-idealised body, strongly underlined by his infirmity, seemed instantly to preclude all the refinements of civilised behaviour.
Today everyone accepts that greatness of the soul bears no relation to the shape of one's legs, but we owe this idea, relatively recent in an historical context, to the progress of modern science. At the time of the Renaissance, when Victor Hugo set his play, blindness, red hair, black skin, - the slightest difference in fact - could give rise to the most violent discrimination or even persecution. The 19th century, during which Le Roi s'amuse and Rigoletto first appeared, was still animated by such prejudices, albeit to a lesser extent. Physiognomy, a pseudo-science developed by Johann Kaspar Lavater, enjoyed a considerable following and a number of works on the subject were translated into French as early as the end of the 18th century and appeared in several editions. Prompted by a conviction, based on a confused relationship of cause and effect, that facial features and bodily characteristics could reveal the temperament and capacities of a person, amateurs of physiognomy indulged in the facial analysis of diverse subjects, including historic personages, whose portraits they observed. Numerous also were the contemporaries of Hugo and Verdi, who, following in the wake of the German physician Joseph Gall, examined people's skulls to interpret their bumps.
Although hardly exemplifying the most glorious passages in the history of medicine, these theories, which aimed to give greater significance to representations of the human form, had considerable influence on artistic creation of the time. Widespread and firmly anchored in popular belief, they also affected the way in which works were received. One should consider Rigoletto's (and Triboulet's) deformity not merely as a tragic device but as one of the historical elements shedding light on Verdi's work.
This is how Paul Lacroix, in a text entitled Les Deux Fous published in 1838, described the fool: "Triboulet had an enormous head, with prodigious ears, a broadly split mouth, a big nose, large prominent eyes beneath a low and narrow forehead. The sight of his flat, hollow chest, his hump back, his short legs and torso and his long pendulous arms amused the ladies as if he were a monkey or a parrot." Even without referring to the works of Lavater, it comes as no surprise that, according to the beliefs of the time, such a physique augured nothing good. Although Victor Hugo subverts his physiological model with explanations that today we would qualify as "psychological", in a tirade considerably shortened by the librettist, the jester explains that his hatred of the courtiers is a result of his deformity:


Imprisoned in an ill-made body and ill at ease,
All filled with disgust at my deformity,
Jealous of all strength and all beauty
Ultimately, Rigoletto's character is determined by his body.


n both Hugo's play and Piave's libretto, the fact that the fool is a hunchback is one of his most strongly emphasised characteristics. The figure of the hunchback, so dear to Victor Hugo (Notre Dame de Paris appeared a few months before the opening of Le Roi s'amuse), is of particular interest in medical history. Not everybody shared the opinion formulated by the 16th century Italian physician Giambattista Della Porta, in a work entitled Human Physiognomy: "For my part, I consider all those who are mutilated or imperfect as wicked, and principally hunchbacks who are the worst of all." Indeed, physicians and thinkers who took an interest such matters, like the insatiable observer La Bruyère, agreed that hunchbacks showed greater quickness of mind than the others. This intellectual vivacity was explained by the shape of the back which allowed the development of a larger brain, excellence of wit compensating for physical infirmity.
In the course of the 19th century, physiological explanations were tempered by behavioural justifications: "The manner in which [hunchbacks] are constantly taunted keeps them on the defensive and renders them hostile. […] Their entire lives are a malicious web of spitefulness" (Isidore Bourdon, De la physiognomonie et la phrenology (1842). During the 19th century, although the hunchback's "natural tendency towards wit and malice" was never called into question, it was, however, the object of a number of explanations aiming to determine its causes. Nourished by such commonplaces, the 19th century public's fascination for physical deformities and their moral corollaries, was not without heightening the strange and tragic impact of Rigoletto.

---
With a doctorate in History of Art, (University of Montreal), Érika Wicky currently holds a research post at the University of Liège and is associate researcher at the University of Rennes 2. She specialises in 19th century history, particularly in writings on Art and Photography. In 2015, she published Les paradoxes du détail: voir, savoir, représenter à l'ère de la photographie (Presses universitaires de Rennes, « Æsthetica »).     

---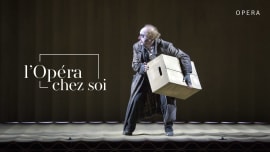 Rigoletto by Giuseppe Verdi
Conducted by Nicola Luisotti, this new production of Rigoletto marks director Claus Guth's first collaboration with the Paris Opera.
Article
Humanity and its masks
A portrait of Claus Guth
10'
Claus Guth made his Paris Opera debut in 2016 with Verdi's Rigoletto. Since then, he has been invited to create new productions of Wagner's Lohengrin, Puccini's La Bohème, Handel's Jephta and the world premiere of Michael Jarrell's Bérénice. The elegance of his productions and the acuity with which he examines each musical score have made him one of the most important European opera directors working today. Portrait of a giant of the world of opera.

The work of Claus Guth testifies to his love of opera as a total art form. When one considers that he has devoted almost his entire career to opera, to bringing what he sees as a mosaic of expressions to life on stage, that love is clearly a passion. Claus Guth was born in Frankfurt in 1964. As a child, he carried out his first experiments in direction armed with a Super 8 camera and his parents' garden for a theatre. His fascination for cinema, clearly perceptible in all his work, prompted him to give life to images of his own. He studied Philosophy, German Literature and Theatre at the prestigious Ludwig-Maximilian University in Munich and in 1989 he entered the August Everding Theaterakademie, also in Munich, to study theatre and opera direction. During the nineties, he directed a number of plays like Leonce und Lena by Büchner but soon turned to opera, particularly the contemporary repertoire. After some of his productions were acclaimed at the Munich Biennale, the doors of Europe's most prestigious opera houses were opened to him and he undertook a wide variety of works by composers ranging from Monteverdi to Martinù and including Purcell, Mozart, Verdi Wagner, Strauss and Britten. Claus Guth does however set aside a part of his hectic schedule, now fully booked until 2020, for contemporary creation, believing strongly that opera is a living genre and a rich terrain for experimentation.
The Art of Counterpoint
For Claus Guth, the score is the basis of any dramaturgical reflection and what you see on stage constantly interacts with what you hear, caressing the music, rubbing against it and questioning it in turn. He directed his first opera in France in 2009 at Lorraine National Opera: a co-production with the Theater an der Wien of Handel's Messiah, an oratorio reputedly arid in terms of its scenic potential. In this production particularly, scenic invention flows directly from the director's critical appreciation of the music, forming a counterpoint to the musical text and enriching it with a new layer of meaning. For example, the Alleluia Chorus, that glorious celebration of "hope and faith in the world", to quote Hannah Arendt, of which birth is a symbol, is sung around a coffin. At the centre of this production is the character of a failed businessman who, stripped of his virility by his adulterous wife, commits suicide. The characters are banally attired in suits but find themselves in a series of extreme situations in which intimate truths and outward appearances collide with each other, situations ranging from the funeral parlour, the office and the bedroom, successively brought to life by means of a revolving stage. A constant factor in Claus Guth's work is his determination not to illustrate but to offer new insights into the works he directs, distilling in them his own signs and symbols without subjugating either the rhythms or the timbres. Here, the drama he weaves on stage lends pertinence and immediacy to Handel's lyricism and makes palpable the urgency initially present in the work. This incarnation of the Messiah illuminates its fundamental themes: guilt, hope and our relationship with death, thus rising to the challenge of turning this oratorio into a theatrical exploration of the contemporary malaise in a world in the grip of family, spiritual and economic crises.   

A constant factor in Claus Guth's work is his determination not to illustrate but to offer new insights into the works he directs, distilling in them his own signs and symbols without subjugating either the rhythms or the timbres.
Telling opera's hidden stories
In a co-production with the Zurich Opernhaus and the Teatro Liceu in Barcelona in 2011, Claus Guth stripped Parsifal of its mysticism just as he stripped the Messiah of its Christianity, transposing it to Germany during the First World War. The decor takes us into different rooms in a run-down manor house-cum-sanatorium serving as army hospital in which medieval knights have given way to wounded soldiers. Set in a world in which the old order is collapsing, Wagner's opera is presented as the transformation of one of its young wounded soldiers into a charismatic leader. This reading of the work highlights the powerful exaltation of Wagner's music and its potential dangers, its visceral toxicity. A daring proposition and somewhat sensitive, this production recalls Europe's darkest hours and the emergence of Fascism. However, Claus Guth is not a director who seeks to shock or who indulges in vain controversy. If strongly personal re-readings of texts are characteristic of his work, then ostentation certainly is not. Known for revealing the hidden stories within operas, Claus Guth brings out their subversive undercurrents, touching but never suffocating the spectator. Always elegantly staged, with a harmonious palette of colours, Claus Guth's productions combine cerebral and sensational elements with a quality of execution that has made his work universally attractive. However, the finely crafted surfaces of the sets merely "skin and film" the seething violence below the surface and do nothing to mitigate the implacable destiny of the characters: every element is directed towards a single objective: telling the story. Claus Guth aims to free our vision and our auditory perception from the performance traditions of great operas to help us discover them anew, from a fresh angle.

A Laboratory of human emotions
Claus Guth likes big projects and has staged all of Wagner's works! In the same vein, he was commissioned to direct Mozart's Da Ponte Trilogy at the Salzburg Festival and from 2007 to 2009, he directed Le Nozze di Figaro, Don Giovanni and Così fan tutte one after the other, articulating his productions of the opera buffa and two drammi giocosi around the themes of desire and death – Eros and Thanatos. As a director, Claus Guth is particularly attracted to the dark or hidden facets of comedy. Humour in his work is disturbing rather than merely entertaining, as exemplified by his monochromatic Marriage of Figaro, in which the scenography espouses the mechanics of the opera's sentiments, thus exposing the characters' contradictions. It is impossible to discuss the work of Claus Guth without mentioning his faithful scenographer. Claus Guth and Christian Schmidt have worked together since the beginning of Claus Guth's career and their longstanding collaboration, rather than tending towards aesthetic uniformity from one production to the next, has led to the invention of solutions tailor-made for each work. In many ways the Mozart Trilogy constitutes the summit of this synergy. The sets of the three operas are so many laboratories in which human emotions are dissected with merciless objectivity. In Don Giovanni, set in a pine forest at night, Christian Schmidt's lighting offers us an infinite array of different perspectives within which the amorous intrigues are woven and interwoven. The director provides a new reading of this opera by transforming the murder of Donna Anna's father into a duel provoked by an outraged Commendatore determined to avenge his daughter's honour and who, even if he does die in accordance with the libretto, deals a fatal blow to his opponent, who throughout the opera becomes ever-more wedded to destruction and death. All Don Giovanni's desires are now intensified by the imminence of his own demise. The same can be said of the female characters: they give themselves to their seducer and, although undeniably they do offer resistance, that resistance is not devoid of ambiguity; they resist all the better to surrender, so much so that one wonders if the predator is not sometimes the prey. A far cry from the clear-cut, binary world of the rake and his innocent victims, this Don Giovanni is sulphurous and incisive. Così fan tutte takes up the symbols and dramaturgical principles developed over the previous two years and reworks them into an ultimate war of passions: the bourgeois interior of The Marriage of Figaro is gradually invaded by the orgiastic and disturbing forest of Don Giovanni. This trilogy reveals an inspired and demanding director with a personalised conception of each work but one who is nevertheless close to his performers, directing a hand picked cast with extreme precision. In 2009, for example, Erwin Schrott, pushed to his limits by the director's rigorous demands, created an historic Leporello, portraying him as a drug-addicted loser, incapable of breaking free from his symbiotic relationship with Don Giovanni, a no-hoper riddled with tics who relieves the pain of his master's wound with a syringe of morphine or heroine.
As a director, Claus Guth is particularly attracted to the dark or hidden facets of comedy. Humour in his work is disturbing rather than merely entertaining.
The monstrosity of inner compulsions and the lustre of outward appearances
Painstaking character construction is one of Claus Guth's favoured methods of shedding light on a work's psychological undercurrents. It is precisely this, perhaps, that has allowed him to avoid the trap, into which many of his colleagues have fallen, of courting popularity by avoiding controversy and therefore also losing that spark of originality. Claus Guth is not afraid to explore the imperfections of his characters: productions like Richard Strauss's Die Frau ohne Schatten, a Freudian kaleidoscope of the mental projections of the main character, the Empress, performed at La Scala Milan in 2012 and revived at Covent Garden the following year, testify to a passion for the theatrical possibilities offered by the unconscious mind. From the work of Claus Guth there emanates a fascination for the tensions between the monstrosity of inner compulsions and the lustre of outward appearances. Motives and wills, scrutinised by the sharp eyes of the director, are stripped bare and the characters dissected. Dramatic intrigues based on the train-crash of human existence that form the plots of most operas acquire new and disturbing truthfulness. As is often the case with modern productions of lasting impact – and Claus Guth has directed more than a few – one feels that the protagonists of the drama have learnt little or nothing from their experience. As spectators, it is up to us to become more responsible through productions that mercilessly hold the mirror up to nature. Claus Guth's Rigoletto promises to be without hope of redemption but will doubtless give the work an added and unsuspected dimension.   

---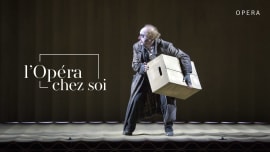 Rigoletto by Giuseppe Verdi
Conducted by Nicola Luisotti, this new production of Rigoletto marks director Claus Guth's first collaboration with the Paris Opera.
---
© Maisons de Victor Hugo / Roger-Viollet
Article
Le Roi s'amuse in Court
Censorship and Society
05'
Just like Victor Hugo's play, on which its libretto is based, Verdi's Rigoletto was censored when it first appeared. Whereas Hugo decided to abandon the fight with the authorities following the publication of his celebrated text in defence of freedom of speech, Verdi agreed to transpose the action of his opera and modify the plot to ensure that his masterpiece would be performed.    

"The performance of this drama at the theatre gave rise to an unprecedented ministerial response. The morning after the premiere, the author received from Mr Jouslin de Lassalle, stage manager of the Théâtre-Français, the following missive, of which he carefully preserved the original:
"It is half past ten, and I have just this instant received the order to suspend all further performances of Le Roi s'amuse. Mr Taylor communicated this order to me on behalf of the minister.
November 23rd.
The author's first reaction was one of disbelief. The act was so arbitrary as to be incredible."
Preface by Victor Hugo to Le Roi s'amuse
---
Victor Hugo began proceedings against the Théâtre-Française to protest against the banning of his play. People were scandalised as much by the presentation of Triboulet as a tragic hero, as by the writer's political onslaught against the monarchy. The entire work was judged to be profoundly immoral.
Questions concerning the regulation of the theatres were dealt with by the Ministry for Commerce and Public Works, directed at this time by the Count of Argout. In 1832, the Charter of 1830 was in place and in Article 7 it stipulated that "Censorship shall never be re-established". If the article, which was highly imprecise in its terms, concerned essentially the freedom of the press, a freedom dearly bought, the freedom of the theatres, although not specified, was implicitly included. On this basis, the writer's intention was to bring a political case and prove the illegality of the censorship that had struck down his work. Victor Hugo began by explaining his campaign for "his freedom as a poet and a citizen" in the Preface to the first edition of Le Roi s'amuse, which appeared on December 3rd 1832; On the day of the hearing, December 19th 1832, the lawyer Odilon Barrot pleaded on behalf of the writer and then the writer himself read a speech before a large crowd:
"…Today I am banned from the theatre, tomorrow I shall be banned from the country; today I am gagged, tomorrow I shall be deported; today literature is besieged, tomorrow it will be the state."
With some astuteness, the publisher Renduel gave Victor's Hugo's speech to buyers of the book and then added it to the text from the third edition onwards. The speech was to remain famous as a defence of freedom of expression.
On January 2nd 1833, the ministerial Tribunal declared itself incompetent to pass judgement. Victor Hugo did not appeal and refused the pension allotted to him by Louis XVIII.
After 1830, a period of republican unrest, many theatrical productions took an ironic and mocking stance with regard to society and conveyed a profound sentiment of revolt against all forms of authority. The prevailing spirit of raillery extended to everything and everybody. The duo of humorous bandits, Robert Macaire and his partner Bertrand, characters from L'Auberge des Adrets, first performed in 1823 and revived in 1832, by virtue of their immense success, belong to this seditious vein. At this period, theatre was the main form of entertainment for the general populace and the July Monarchy was wary of the dangers of subversive theatre. As early as 1831, Louis-Philippe had attempted to re-introduce censorship but had failed. In 1835, however, in the wake of Guiseppe Fieschi's assassination attempt, which killed eighteen people but left the king and the princes unscathed, censorship was re-established.
Later, Victor Hugo added to the first page of the manuscript of his play:
" Act I written amid the gunfire of the insurrection", that is, at the moment when the barricade of the Saint-Merri cloister was torn down by government forces during the events of 5th and 6th June 1832.
Moving from theatre to opera, it is important to note that Giuseppe Verdi himself, a passionate admirer of Victor Hugo's play, was also the victim of censorship by the Austro-Hungarian Empire which occupied part of Italy, notably Venice, when he tried to adapt the play in its original form. He was obliged to transpose the work and thus produced a masterpiece that still delights audiences today.
---
Marie-Laurence Marco is responsible for the library and documentation of the Maison de Victor Hugo. An historian specialising in 19th century history, she is preparing a theses on Les paysages sonores dans l'oeuvre poétique de Victor Hugo (Soundscapes in Victor Hugo's poetical works).
---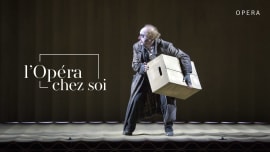 Rigoletto by Giuseppe Verdi
Conducted by Nicola Luisotti, this new production of Rigoletto marks director Claus Guth's first collaboration with the Paris Opera.
Article
Rigoletto's cardboard box
A performance, a recollection
04'
In his production of Rigoletto, currently running at the Opéra Bastille, Claus Guth sets the opera's action inside an immense cardboard box which evolves along with the plot… An opportunity for us to discover a department that is little known to the general public but essential to the Paris Opera: the design office. As part of the Technical Department, it is indispensable to the realisation of productions at Bastille and Garnier. Department head Frédéric Crozat, deputy head Benoît Dheilly, and artist and "project designer" Jean-Yves Dary talk to us about their work and the creation of that impressive box.    
---
Frédéric Crozat, Benoît Dheilly and Jean-Yves Dary :
When the scenographer's model arrives at the design office, our mission is to respect it scrupulously so that it can become a physical reality: we then evaluate what is feasible or not and draw up the set plans, taking into account the mechanical constraints and general safety considerations specific to each of the two theatres.
First, we need to ensure that the sets as conceived can actually work on stage. Two people whom we call the "implanters" verify the feasibility of the set, tableau by tableau, with the aid of models that show how the elements of the set will move on stage as the story progresses. This work will condition the construction of the set elements. For Rigoletto's box we asked ourselves all sorts of questions: at the end of the performance, how is it packed away? During a performance is it fixed or is it mobile? How many artists will be standing on it? If all sets are unique in their genre, those for Rigoletto posed several problems: there were numerous mechanical elements that had to be set in place since the cardboard box does not stop changing, opening, growing and shrinking throughout the entire opera… 
During the second stage, the artists and project designers in the design office create the building plans for the sets for each of the workshops. Beyond the highly technical aspect of our job, the aesthetic quality of our work is essential: a set is, above all, "the art of deception". It is always a highly precise approach. The funny thing with Rigoletto was that the model we were given was already made out of cardboard. So, we used it to measure the corrugations in the material to recreate them as realistically as possible. Then it was a question of finding the right material: here, as often, it was polystyrene covered in fiberglass. Finally, the paint workshop set about finding the right colour tones to best recreate the appearance of cardboard. In this way, we were able to make swatches which we showed to the set designer prior to them being chosen.
We never judge a director's aesthetic choice: our freedom only extends to the choice of techniques that we use. However, it is interesting to know the spirit of a production; here, the scenographer explained to us that the cardboard box was meant to translate the hero's psychological confinement: the spectator lives the drama through the eyes of a broken Rigoletto reliving the tragedy that caused the death of his daughter Gilda.
Each set is unique, and to see the end result of our work, from the model as it was initially designed through to the real life set, is particularly gratifying, all the more so given that it all occurs over a very short period of time. Each season, we're left with wonderful memories and Rigoletto was a beautiful adventure.
Interviewed by Juliette Puaux
---
This production will be recorded for television.

A coproduction by the Paris Opera and Fra production with support from the CNC and directed by François Roussillon.
Broadcast in cinemas on 26 April, on Culture Box as of 28 April and on France 2 at a later date.
Broadcast live on France Musique on 28 May.