Opera
Le Château de Barbe-Bleue /​ La Voix humaine
Béla Bartók / Francis Poulenc
Palais Garnier - from 17 March to 11 April 2018
Language : Hungarian / French
Surtitle : French / English
About
In few words:
I like being afraid... with you - La Belle, la belle et la Bête, Jean Cocteau, 1946
Running through Bartók's disenchanted tale, whose haunting music was initially condemned as unplayable, and the expression of despair in Poulenc's monologue, the director Krzysztof Warlikowski perceives a shared dramatic thread, a shared feminine consciousness and a shared sense of imprisonment and suffocation: for the woman who penetrates the confines of Bluebeard's castle and Elle, the woman who clings to a telephone conversation with a man as the only thing worth living for, are condemned to share the same fate. And this man she speaks to, does he really exist? Unless the director has interpreted Cocteau's words to the letter and the telephone has become a "terrifying weapon that leaves no trace, makes no noise"…
Bluebeard's castle

Opera in one act (1918)

La Voix humaine

Tragédie lyrique in one act
Media coverage
C'est l'opéra au plus haut niveau de fusion entre musique et théâtre.

Le Figaro, Christian Merlin

Dans le Poulenc, Barbara Hannigan, une fois de plus impressionnante de présence et d'intensité dramatique, incarne avec la violence voulue cette femme blessée que Warlikowski fait meurtrière.

Les Echos, Philippe Venturini

[…] Une réussite de haut vol

L'Obs

[…] il faut aller explorer ce passionnant diptyque.

Télérama, Sophie Bourdais

Deux sombres univers, mais un magnifique diptyque sur la passion amoureuse qui vous dévore et vous annihile

Culturebox, Lorenzo Ciavarini Azzi
Whether you're a member of Arop or not, the friends of the Opera can reserve seats for you on all performance dates, including those not yet open for sale and those announced as sold out.
Gallery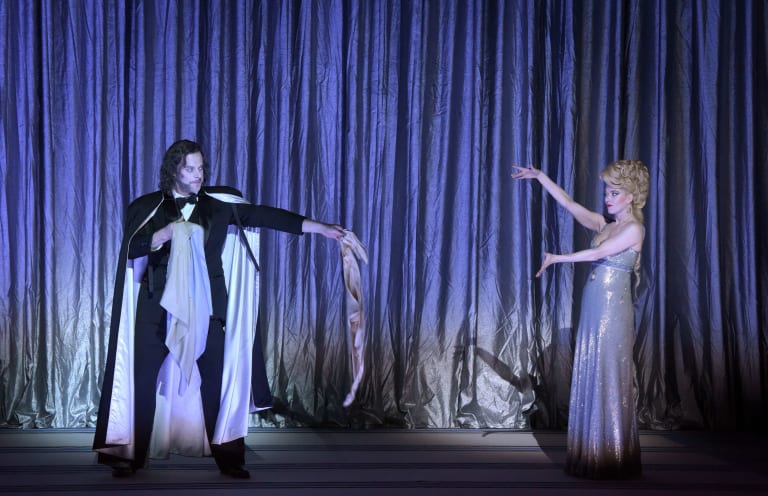 1/27 :
Le Château de Barbe-Bleue
© Vincent Pontet / OnP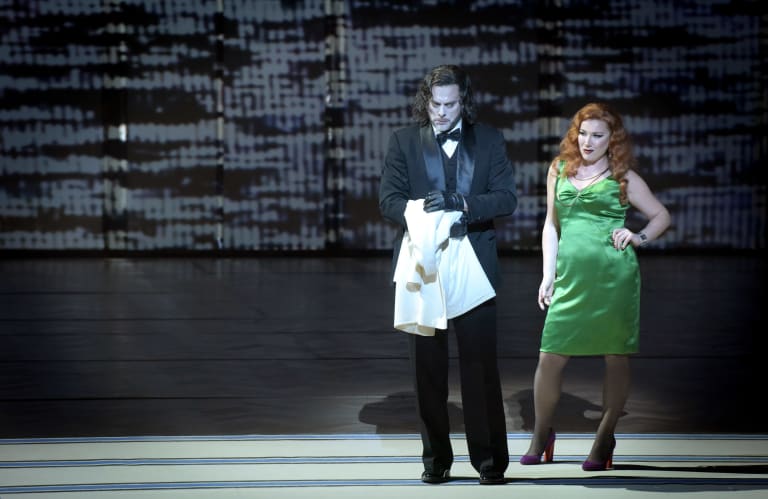 2/27 :
Le Château de Barbe-Bleue
© Vincent Pontet / OnP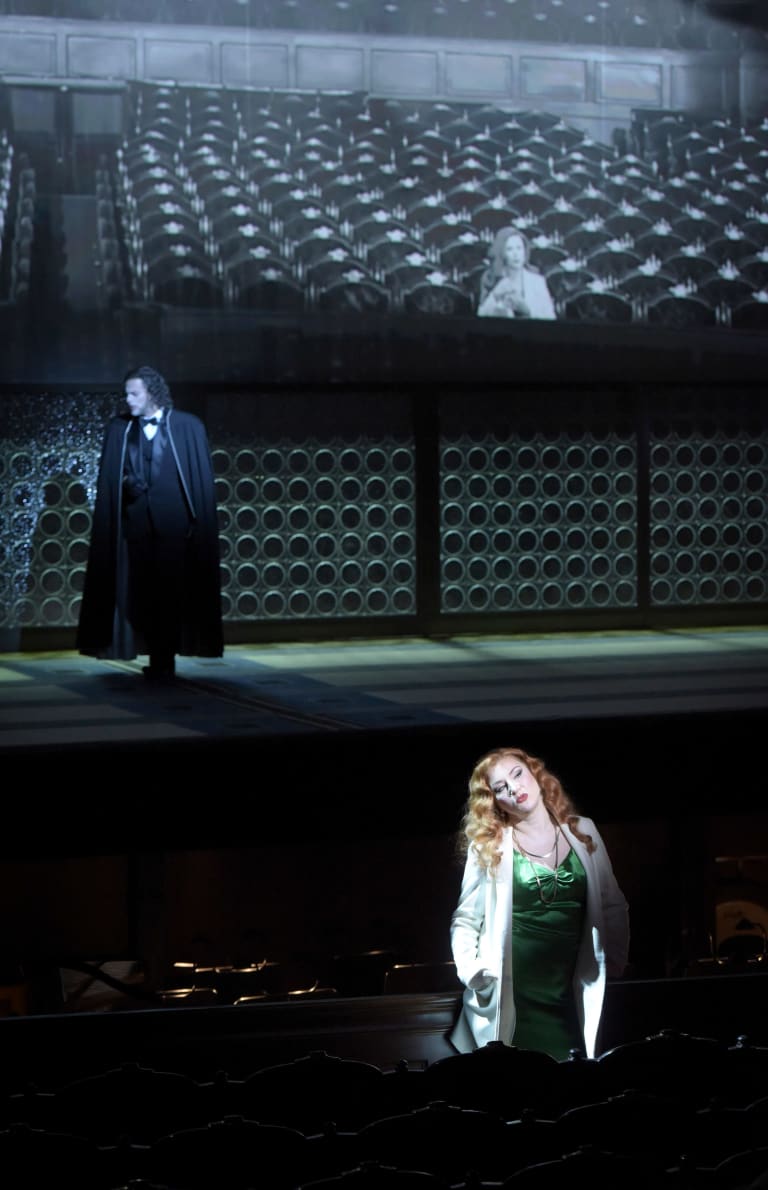 3/27 :
Le Château de Barbe-Bleue
© Vincent Pontet / OnP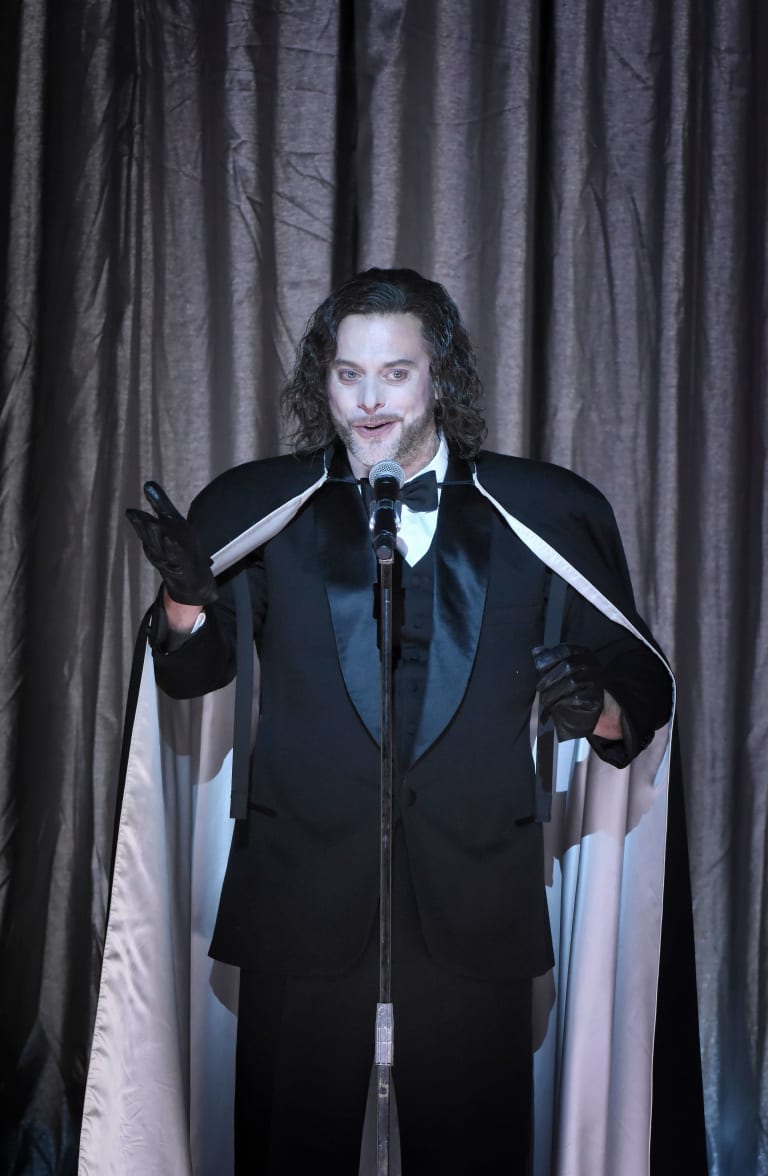 4/27 :
Le Château de Barbe-Bleue
© Vincent Pontet / OnP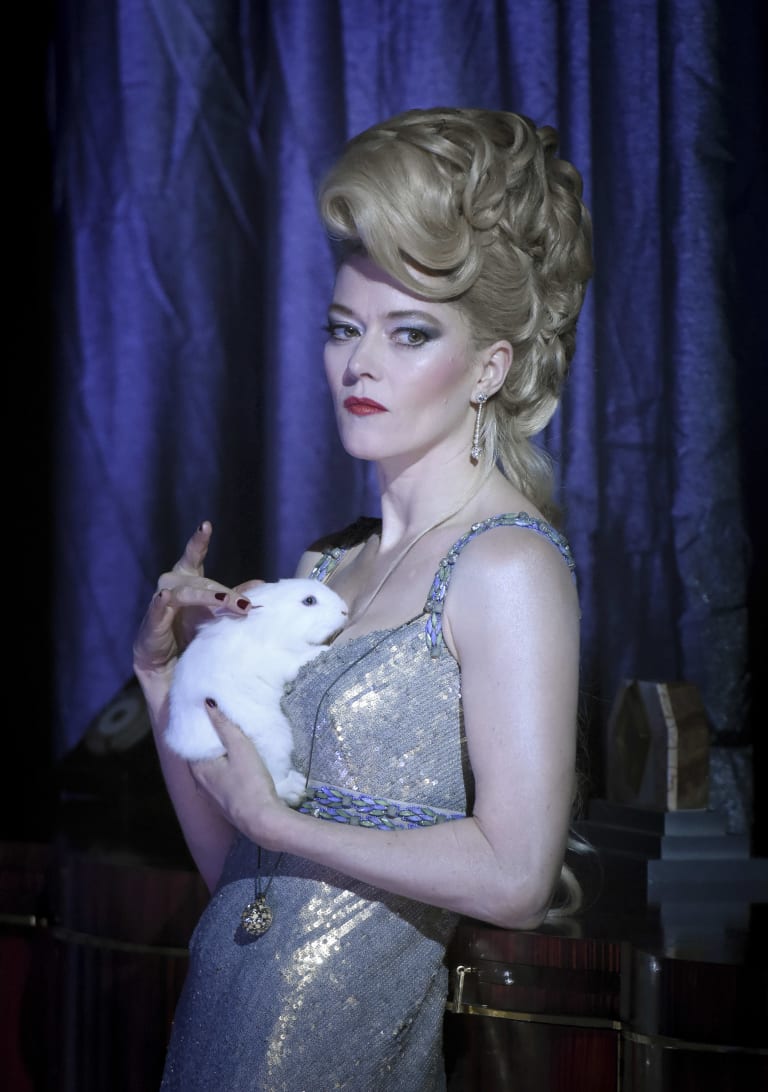 5/27 :
Le Château de Barbe-Bleue
© Vincent Pontet / OnP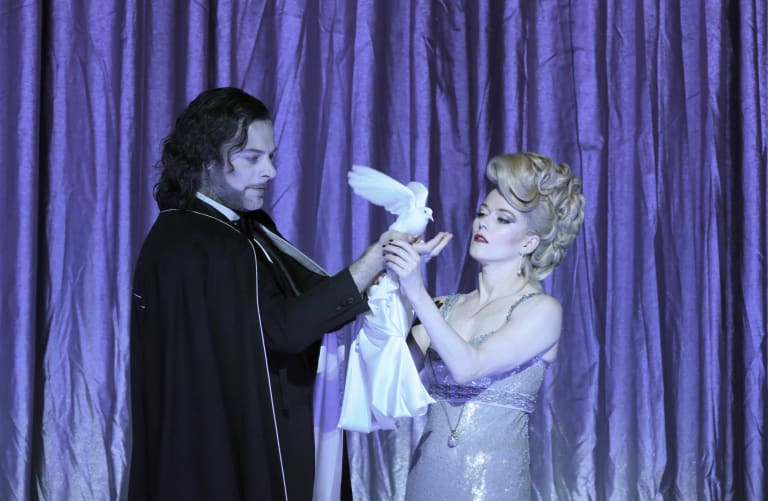 6/27 :
Le Château de Barbe-Bleue
© Vincent Pontet / OnP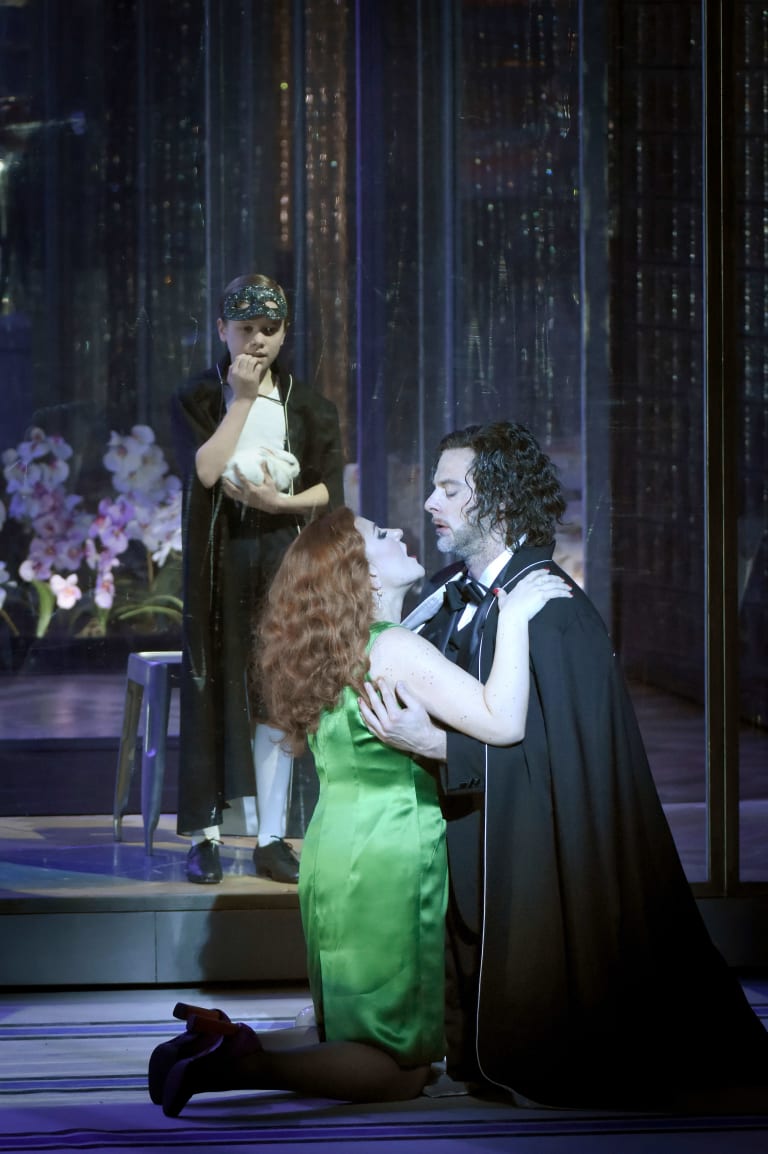 7/27 :
Le Château de Barbe-Bleue
© Vincent Pontet / OnP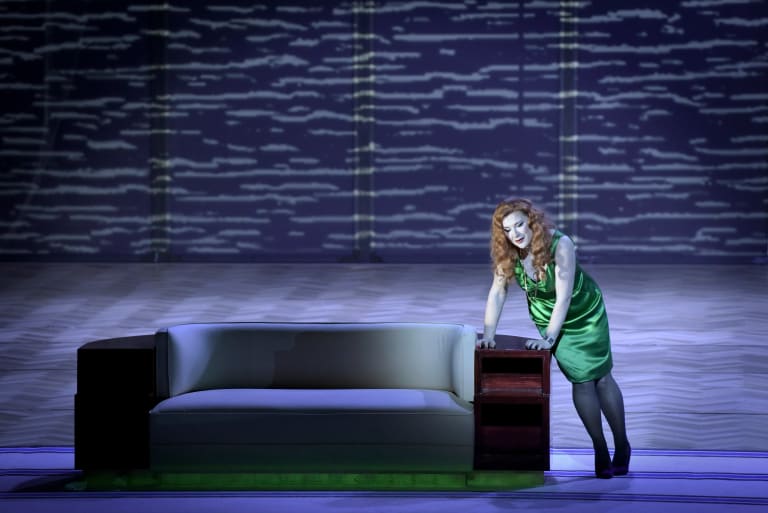 8/27 :
Le Château de Barbe-Bleue
© Vincent Pontet / OnP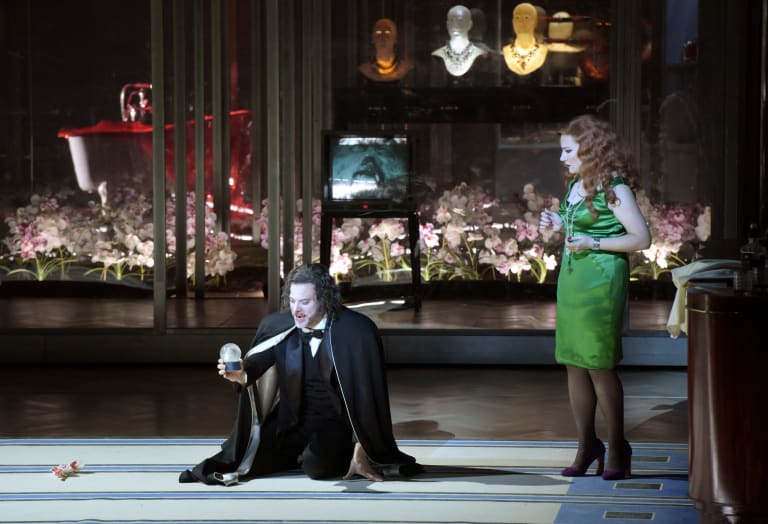 9/27 :
© Vincent Pontet / OnP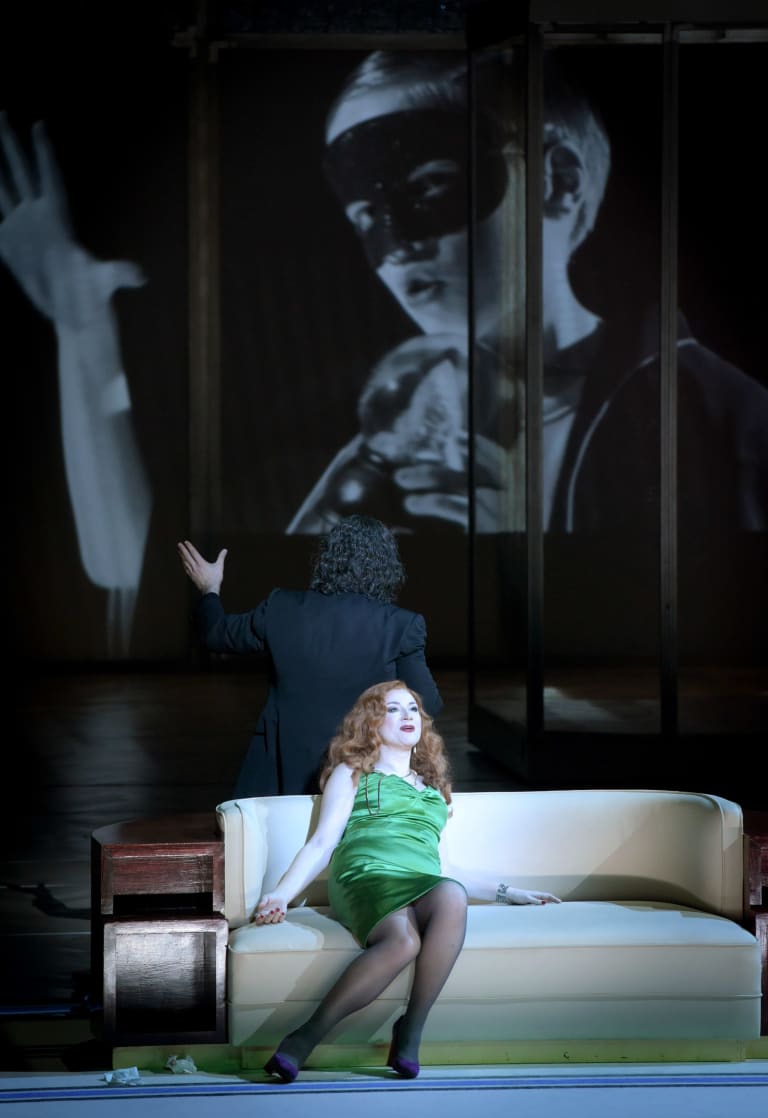 10/27 :
© Vincent Pontet / OnP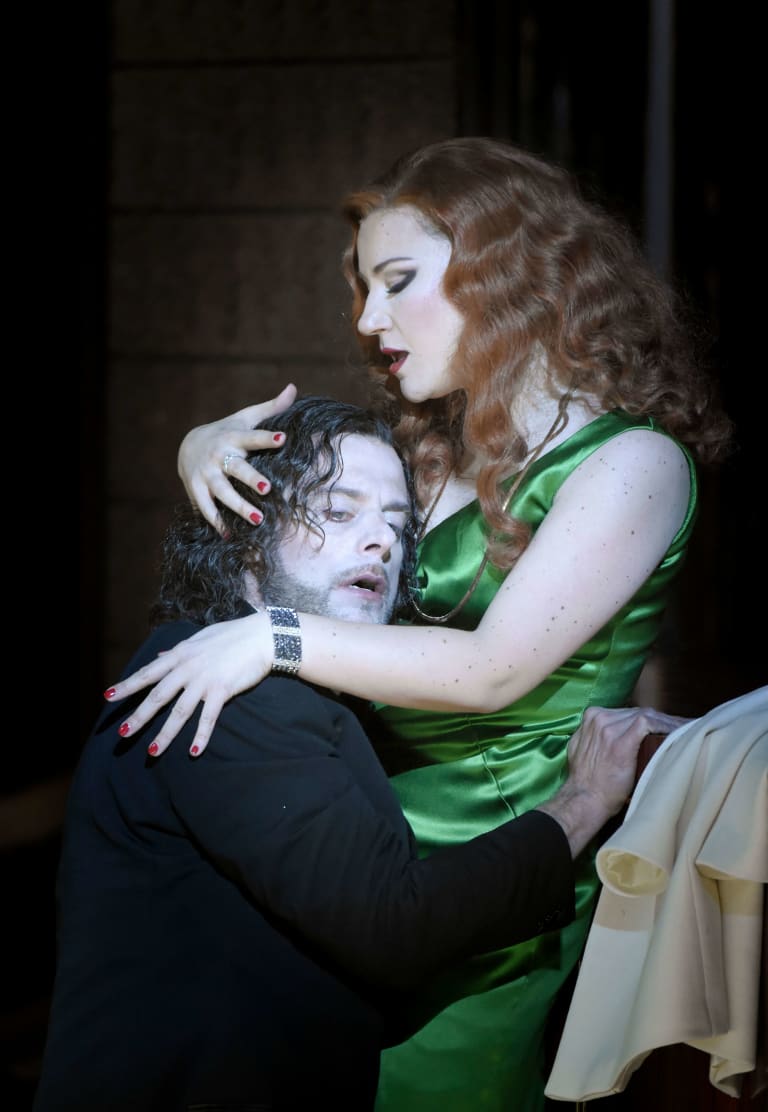 11/27 :
Le Château de Barbe-Bleue
© Vincent Pontet / OnP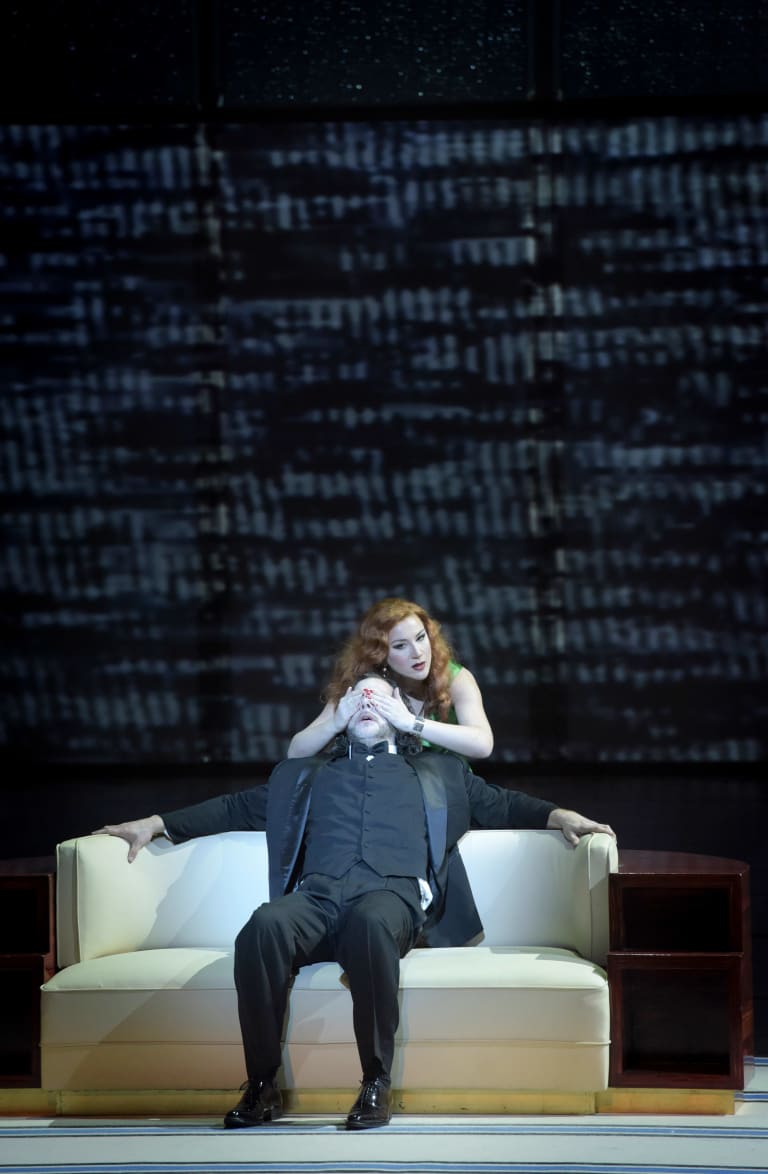 12/27 :
Le Château de Barbe-Bleue
© Vincent Pontet / OnP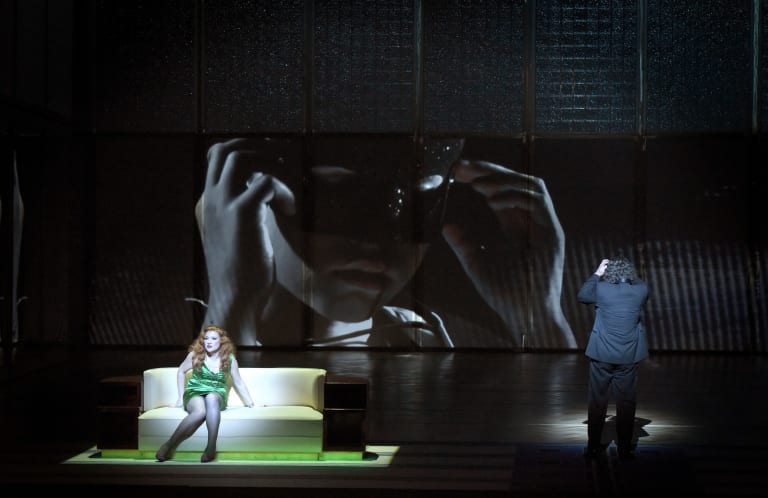 13/27 :
Le Château de Barbe-Bleue
© Vincent Pontet / OnP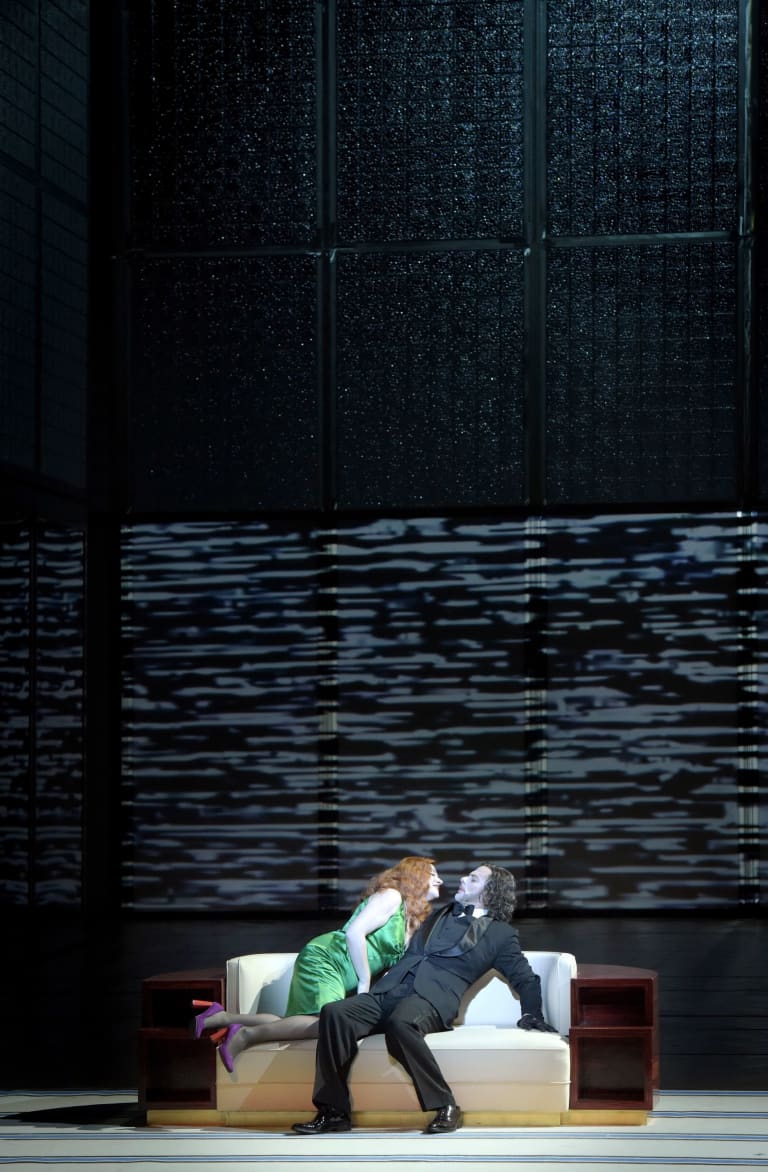 14/27 :
Le Château de Barbe-Bleue
© Vincent Pontet / OnP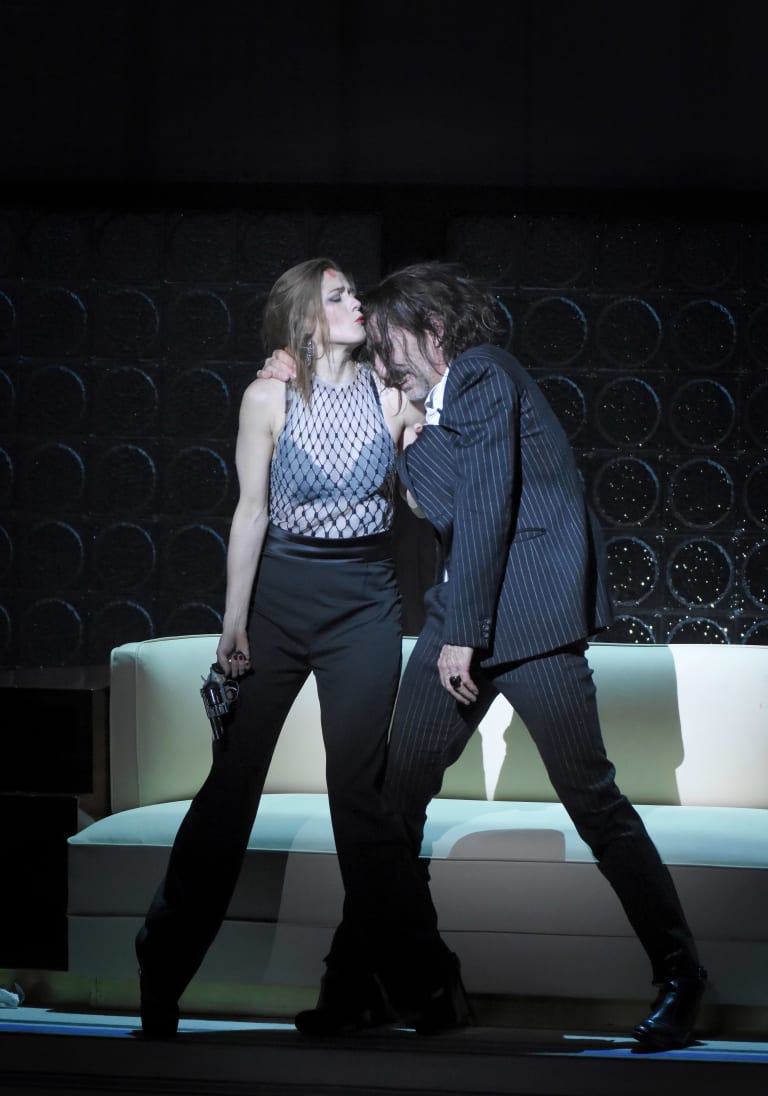 15/27 :
La Voix humaine
© Vincent Pontet / OnP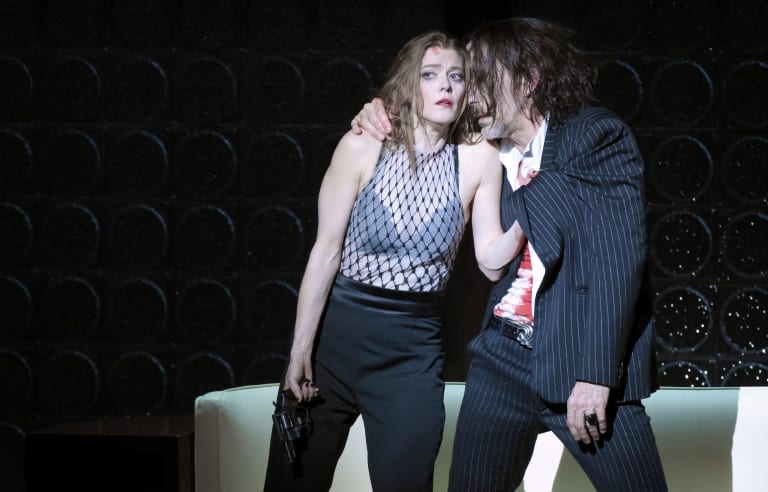 16/27 :
La Voix humaine
© Vincent Pontet / OnP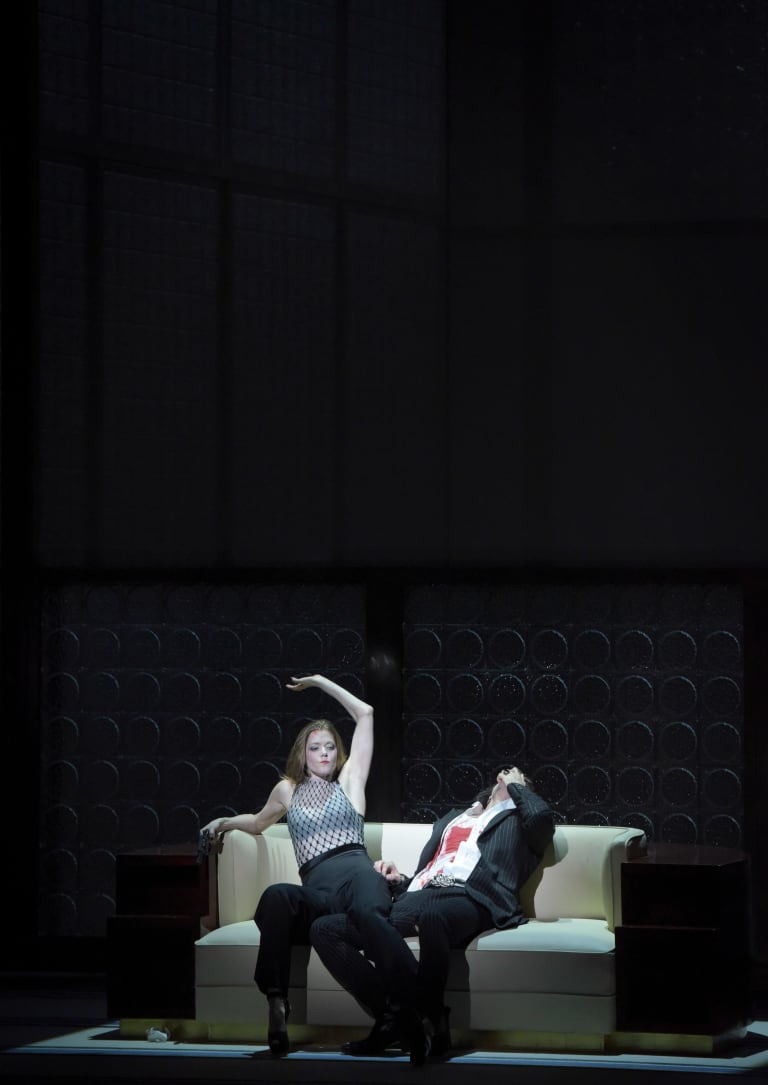 17/27 :
La Voix humaine
© Vincent Pontet / OnP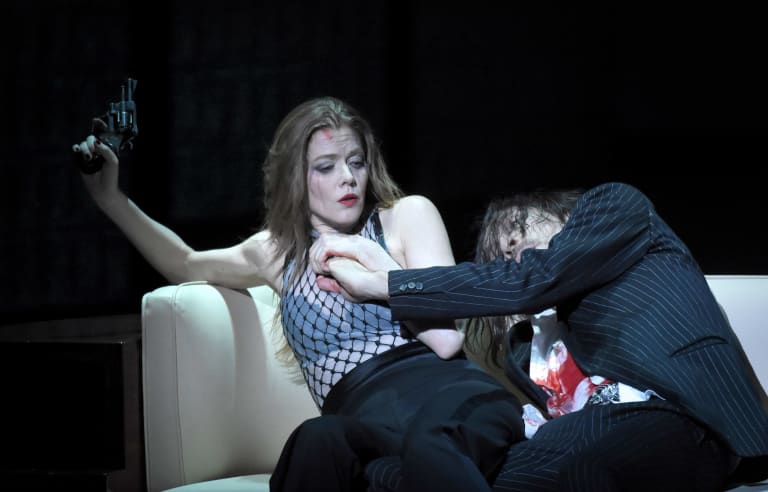 18/27 :
La Voix humaine
© Vincent Pontet / OnP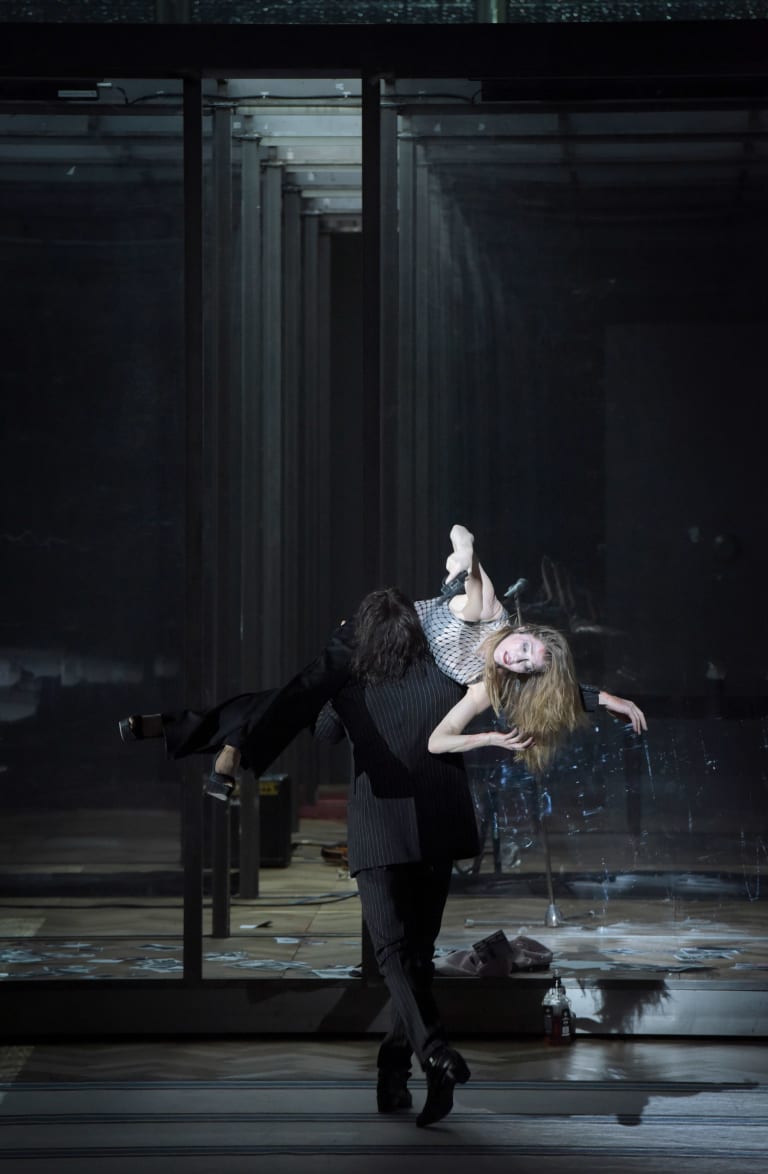 19/27 :
La Voix humaine
© Vincent Pontet / OnP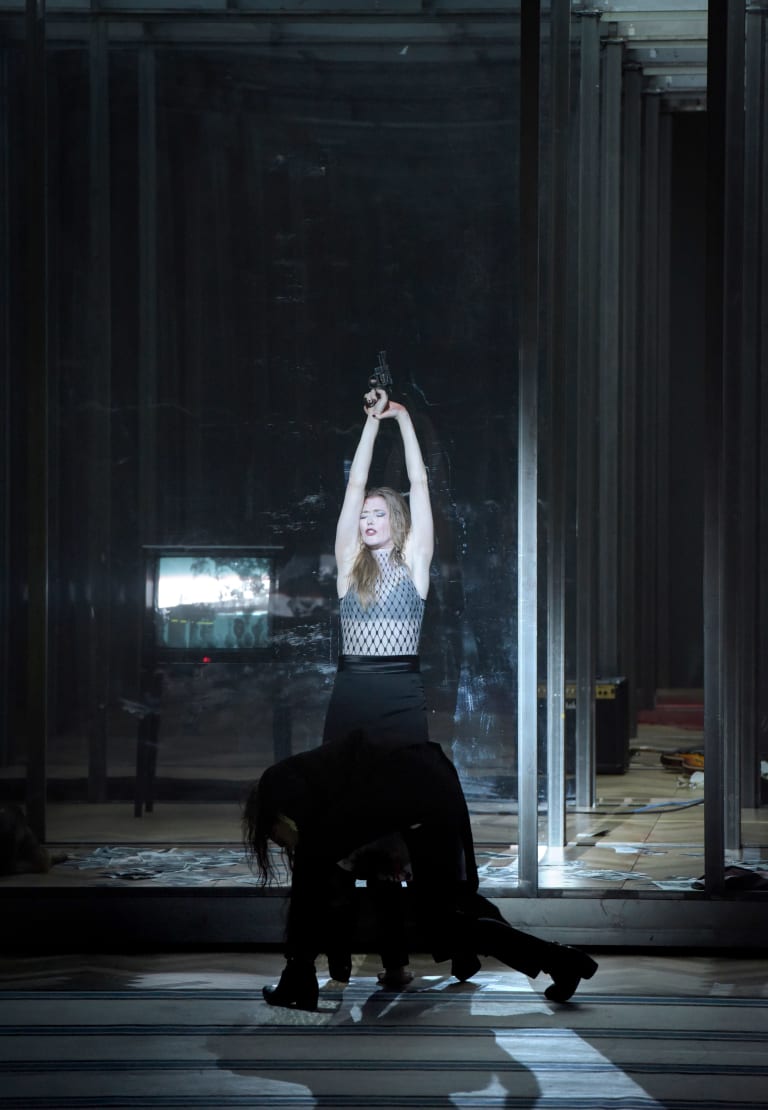 20/27 :
La Voix humaine
© Vincent Pontet / OnP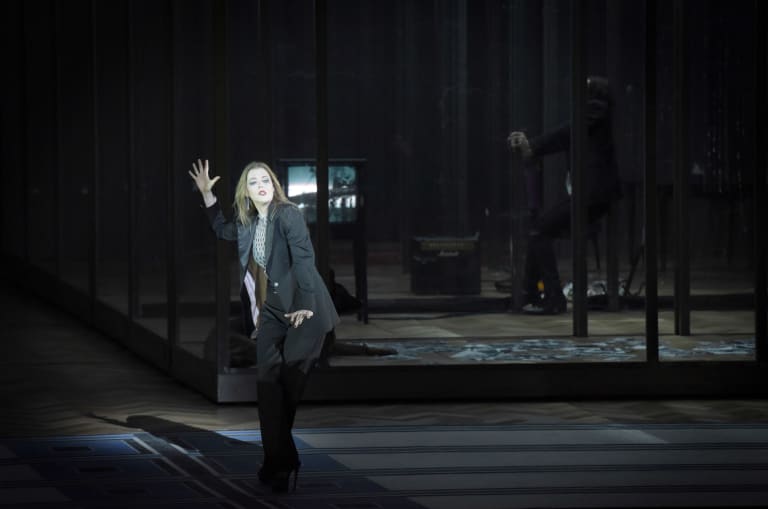 21/27 :
La Voix humaine
© Vincent Pontet / OnP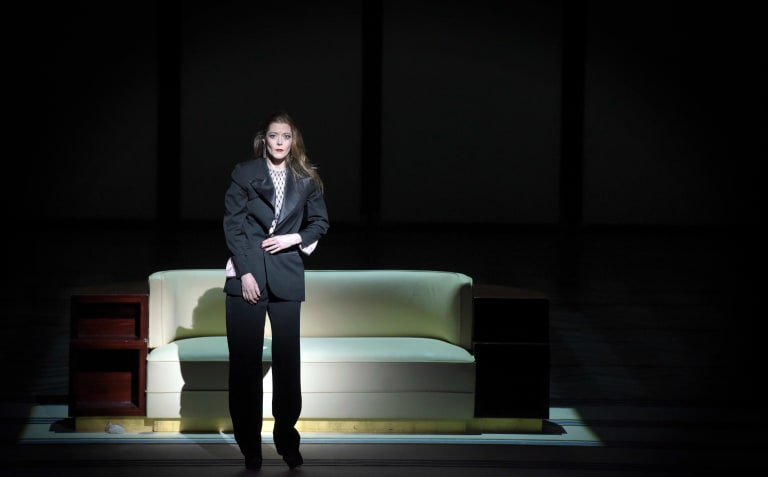 22/27 :
La Voix humaine
© Vincent Pontet / OnP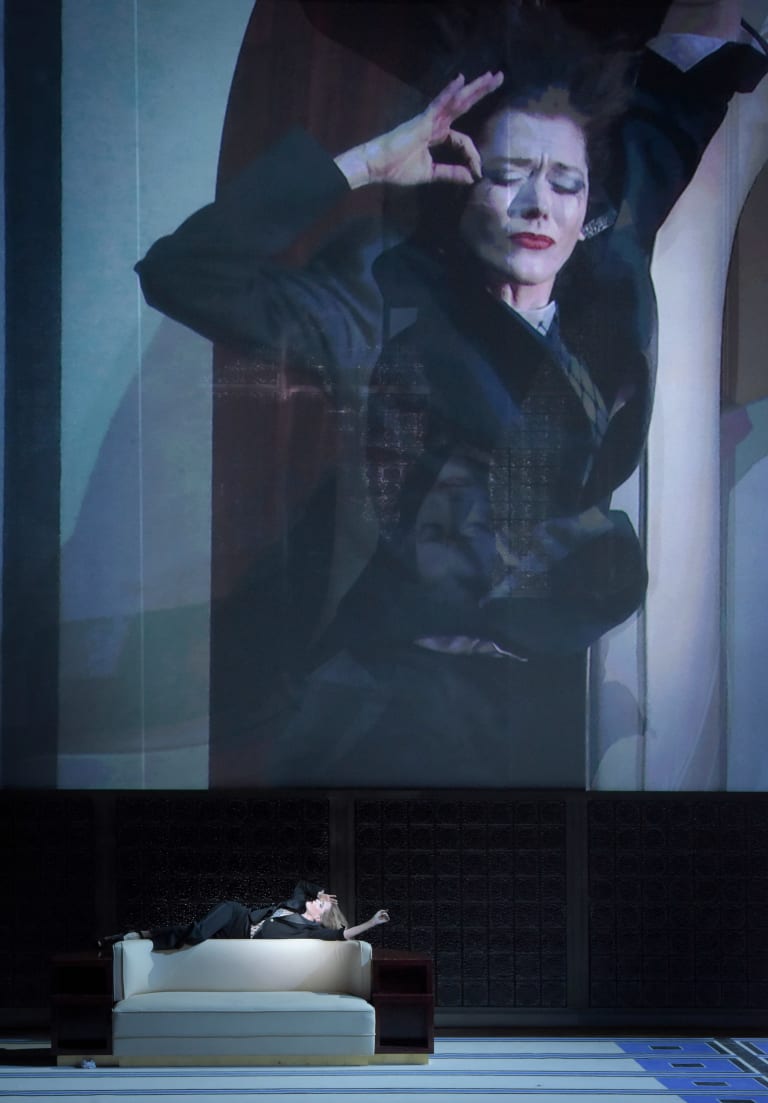 23/27 :
La Voix humaine
© Vincent Pontet / OnP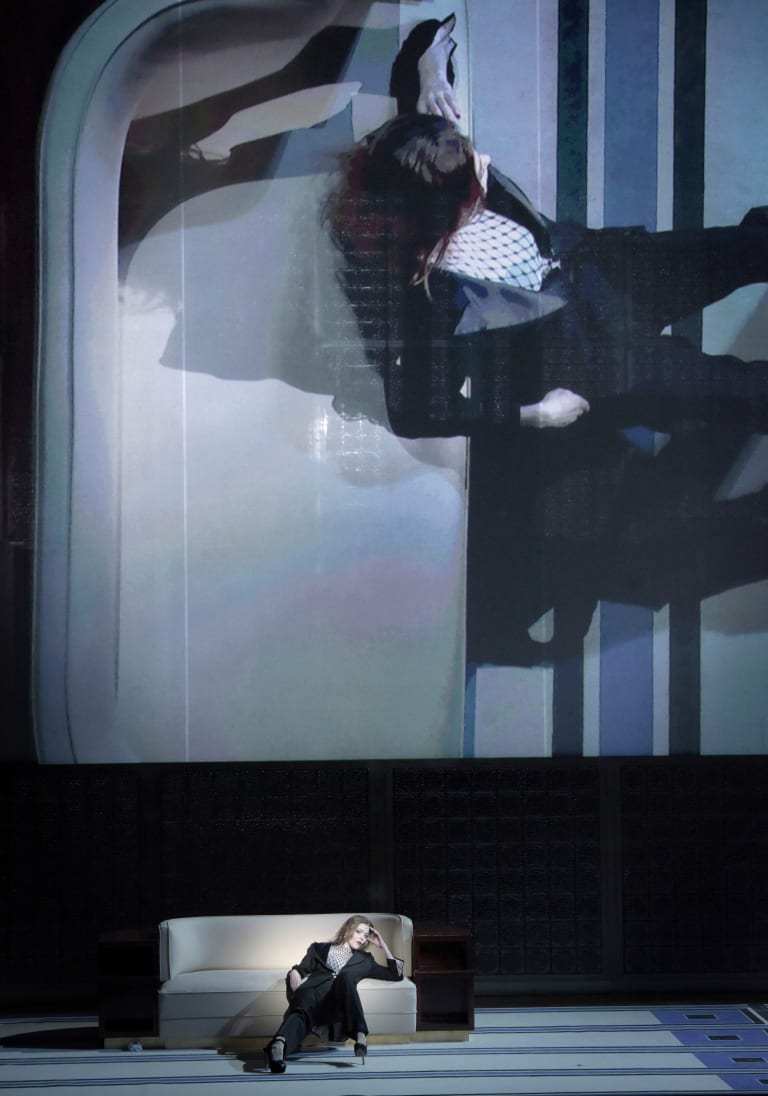 24/27 :
© Vincent Pontet / OnP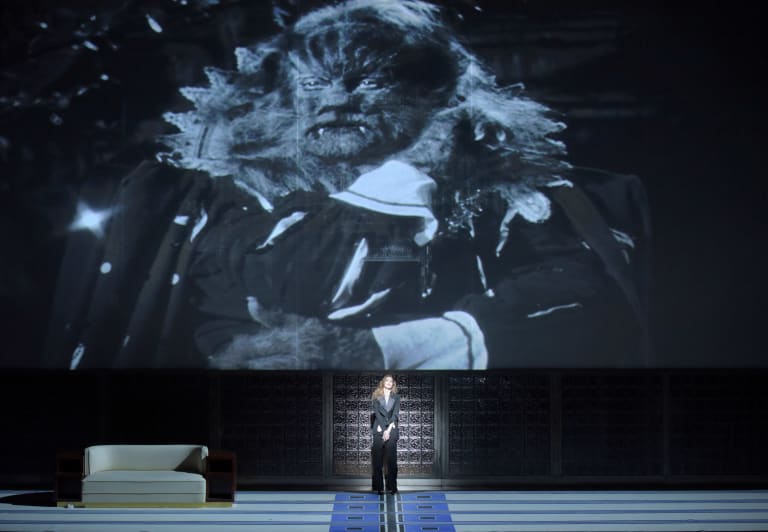 25/27 :
La Voix humaine
© Vincent Pontet / OnP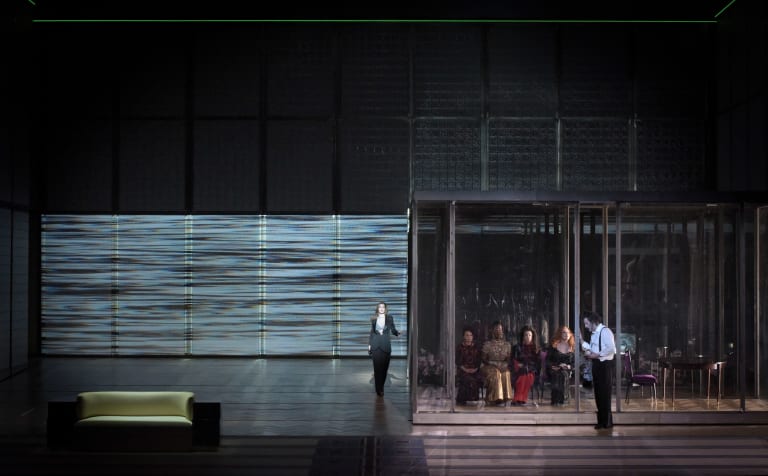 26/27 :
La Voix humaine
© Vincent Pontet / OnP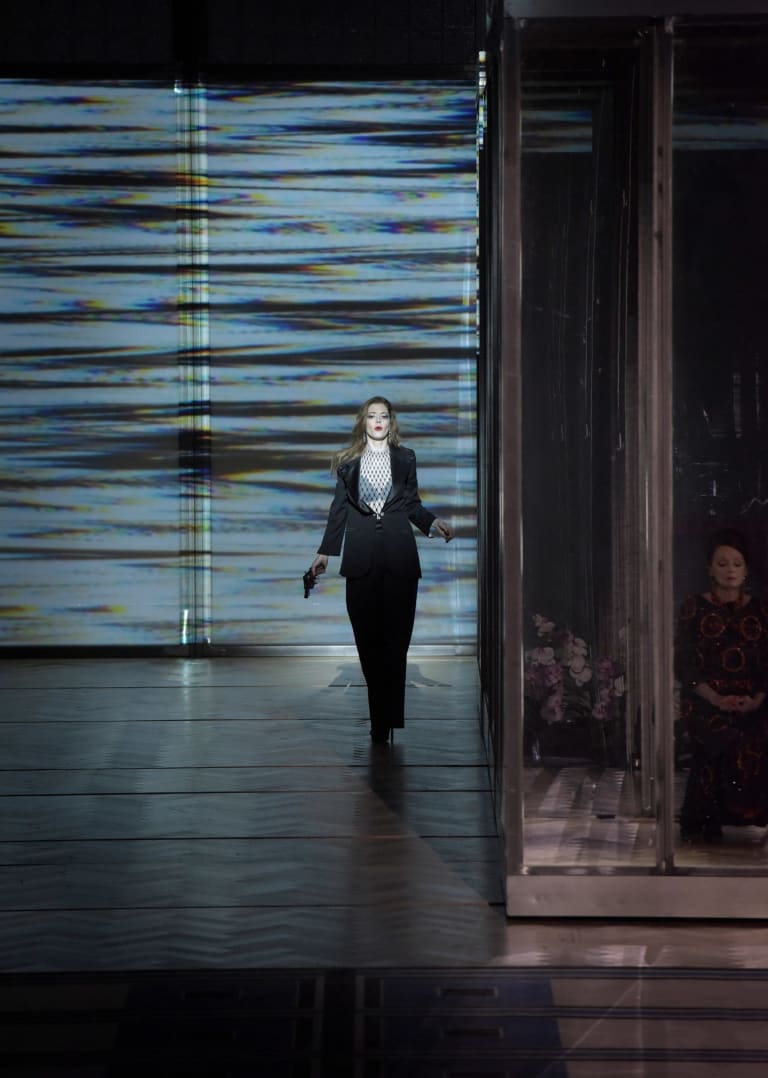 27/27 :
La Voix humaine
© Vincent Pontet / OnP
Videos clips
1/4 :
Lumière sur : Barbara Hannigan
2/4 :
Lumière sur : Les coulisses du Château de Barbe-Bleue / La Voix humaine
3/4 :
Le Château de Barbe-Bleue - Extrait (Ekaterina Gubanova & John Relyea)
4/4 :
La Voix humaine - Extrait (Barbara Hannigan)
Audio clips
Le Château de Barbe-Bleue / La Voix humaine - Béla Bartók / Francis Poulenc
Backstage
Article

A tale of madness, love and death

Podcast

Podcast Le Château de Barbe-Bleue / La Voix humaine

Article

On Bluebeard's Planet

Article

A theatre of the human condition

Article

A Gut-Feeling for Opera
Article
A tale of madness, love and death
Interview with Christian Longchamp, dramaturg
06'
"I want to tell a tale..." Thus begins Bluebeard's Castle and this production by Krzysztof Warlikowski, bringing together Béla Bartók's opera and La Voix Humaine by Francis Poulenc. A phantasmagorical odyssey at the crossroads of dream and nightmare, blurring the boundaries between the conscious and the unconscious for performers and spectators alike.
---
Krzysztof Warlikowski's production links the symbolist atmosphere of Béla Bartok with the realism of Francis Poulenc. How were two such aesthetically opposed works brought together?
       It all began with Stéphane Lissner's desire to programme Bluebeard's Castle by Bartok at Opera Garnier, in the wake of Schönberg's Moses und Aron at Bastille: his grand plan to begin his first mandate at the head of the Paris Opera with two key works by two key composers of the 20th century. Having persuaded Esa-Pekka Salonen to return to the Paris Opera to conduct the production, we had to find a second opera to complement the Bartok, which barely lasts an hour. We considered various possibilities. It was Krzysztof Warlikowski's idea to present two works one after the other without a break, like an excursion into the female psyche, and that led us to La Voix Humaine. What interested Krzysztof in Bluebeard was not so much the character of Bluebeard as that of Judith, so we had to find a counterpart for this extremely passionate woman, prisoner of Bluebeard's magnetism who, lured by her desire, always wants to know more. Her feelings for this man lead her to the brink of her inner abyss and to a danger of which she is finally less victim than mistress. Whether in theatre or opera, Krzysztof is fascinated by borderline female characters, those who make their mark on the world through their singularity or their passionate commitment, like Medea, Lulu, Donna Anna and Donna Elvira…

Can one talk about complementarity between the characters of Judith and Elle?
Setting aside the question of sisterhood, they are clearly linked. In a programme without an interval like this one, in which there is continuity between the two pieces, the second character is bound to be underpinned by the first. This plunging into Elle's imagination is thus enriched by the journey into Judith's inner self that precedes it.
You evoke the danger to which Judith exposes herself and which, in one sense, she ultimately overcomes. Now in Bartok, unlike Perrault's tale or the play by Maeterlinck, it is Judith herself who embodies danger. Was making her a menacing figure a way of linking the two works dramatically?
It's possible. In any case, it was out of the question to portray these two women as victims, even though Elle commits her excesses under the compulsion of her desire to leave the man with whom she is madly infatuated. This madness gives rise to feelings whose fascination lies in their contradictory nature. In this sense, the work can be read as a modern fairy tale that examines all the facets of passionate love. On no account, however, is it a tale in which the woman is victimised.

Unlike traditional adaptations of Cocteau's text?
If you compare different versions of this magnificent piece, you meet some very different women. In Rossellini's film, Anna Magnani is a victim, whereas Ingrid Bergman in the Swedish television version displays a certain inner strength. Krzysztof's version brings to it something else again. It can give the impression of departing from Cocteau and Poulenc's intentions, yet it also seeks to flesh out the character of Elle, to complexify this person who lives in different worlds: those of memory, of an impossible future and, obviously, of the imagination.

Without revealing too much, this production seems particularly attentive to the text. The stage directions at the beginning set the action in a bedroom and a murder scene; Elle is comparing the telephone to a weapon…
That phrase and the stage directions certainly resonated in our thinking… But let's bear in mind the fact that when Cocteau qualifies the bedroom as a murder scene, he is quite clearly referring to the murder committed by the man, whose attitude and the revelations he makes to the woman push her to suicide.
The violence inherent in the two works, and more generally in human existence, is particularly emphasised in this production…
Yes, and that is thanks to the acting capacities of the female singers. Krzysztof considers the performers to be of primordial importance. Each role is conceived for a particular individual. In the case of La Voix humaine, the character has been developed with Barbara Hannigan. Her limitless qualities as an actress have allowed the production to attain its ultimate intensity. The absolute confidence that she has in her director, by whom she feels supported and protected, has thus led her to put herself at risk both physically and vocally. But I haven't forgotten the important role played by Esa-Pekka Salonen during the preparatory work and particularly during the rehearsals with orchestra. The sensitivity and perspicacity of this extraordinary conductor have been essential in finding the right balance between the stage and the orchestral pit.

You qualified the production earlier as a fairy tale. The image of a deserted Palais Garnier at the beginning seems conducive to this and projects the audience into a world of illusions, an imaginary world reinforced by the illusionist's act that begins the performance.
Absolutely. And just as a magic trick must remain mysterious, so we must not reveal all to the spectator. S/he must be able to navigate freely through the production and make his/her own poetic correlations between the two works. Has Elle killed her lover? Is she dreaming of killing him? Is the character who levitates at the beginning connected to that of Barbara at the end? The production has to remain open-ended. That is also what makes it a fairy tale. It is Krzysztof's aim that, at the end of the performance, the spectators leave with their heads teeming with sensations and images, like a reader closing a book of stories.

At the end of the performance, one also has the impression of having watched a fairy tale about marital failure. Is that something you wanted to underline?
That was not our intention. The excessiveness of the feelings expressed is of extreme violence, death lies at the end of the journey but, in the last analysis, does all that signify failure? If Judith or Elle had been able to look back on their past, would they have considered themselves like that? Nothing is less certain. Without the excessiveness that consumes them, their stories would most certainly not have been liveable.
Podcast
Podcast Le Château de Barbe-Bleue / La Voix humaine
"Dance! Sing! 7 minutes at the Paris Opera" - by France Musique
07'
"Dance! Sing! 7 minutes at the Paris Opera" offers original incursions into the season thanks to broadcasts produced by France Musique and the Paris Opera. For each opera or ballet production, Judith Chaine present the works and artists you are going to discover when you attend performances in our theatres.    
Article
On Bluebeard's Planet
If you send me away, I'll sleep on your doorstep
10'
Man's animal nature and his domestication are at the heart of this literary escapade by Marie Darrieussecq. The author takes up the tale of Bluebeard and offers the reader a disenchanted dystopia in which the cloistering away and smothering of a figure half-woman, half-animal provides a parable on the despotism once described by Orwell and Huxley.
---
I was separated from the others when we were very young, according to custom. There were four of us in the litter: my sister Anne, my two brothers and me. My master had decided, on the death of the seventh human female, that he wouldn't have another one. But seeing how cute I was, in the end he kept me.
I could hardly read or write. But I was always well turned out, washed, brushed and copiously fed. I was petted and rewarded. No one ever hit me. My sister Anne was just as fortunate. My brothers, I believe, had a more war-like destiny, hunting for one, surveillance for the other. My master had built for me what he imagined our original habitat to have been, our habitat in the "wilds" if such a thing has ever existed. A gilded chamber full of artificial light which hurts my eyes a bit, but cheerful all the same.
Outside: the world and its conflicts. Inside, that softness that we sometimes enjoy with our masters. The well-known adventure, happy and unhappy … I said to him: "If you send me away, I'll sleep on your doorstep."
Obviously we don't understand each other. What I mean is: we don't speak the same language. He understands me by looking into my eyes, I think. I stretch my neck towards him. He caresses me. I concentrate and try to communicate with him telepathically: "If you send me away, I'll sleep on your doorstep". I tell myself it works, perhaps. If I show him enough love and submissiveness, he will spare me.
He doesn't talk much. I think that even for their species, he's considered to be rather taciturn. He often receives guests from his own world, but he stays in the background. He is very rich, in what counts as riches for them: sharp, shiny things, streams of scarlet stuff, softly rippling fabrics, embroidered furnishings, comet stones, and gigantic silos of their food. Silos that I imagine must be gigantic batteries. I can only imagine it. When they connect themselves up in that strange way they have, their glowing blue light becomes more intense, unbearable, impossible to look at directly.
He gave me the name "Madam" because it was the year of the Ms. And to make fun of something or other in humans. To mock our pathetic writing, I don't doubt. Our pathetic ways, our manners. I think he's enchanted by the things I do when they remind him, clumsily of course, of their own ways. That's how we used to gratify ourselves with our dogs, our cats, our wolves. In the stories that I am able to read, you see them sitting up like humans, wearing the same shoes and sleeping in beds wearing old-fashioned nightcaps that a grandmother might wear.
I wait for my master all day. I am lost without him. So I write. I've developed the technique by myself from the rudiments I learnt. I'm sitting in front of what serves me as a habitat. A sort of kennel comprising several little cubicles. There's no table. I write on my knees, in the margins of books. Sometimes he shows his guests how charming I am, always refusing to sleep in my cabin, always installed in front. It's a sort of little castle, built of those shiny materials they have. A castle that he designed in my size, scaled down for me. I'm a normal size for a female human, and everything is much too small in this castle. There's a tiny bed, like he imagines humans have, where I have to sleep curled up in a ball. He very kindly put some books at my disposal, I think he put them there to make it feel human, and for their colour, all red and gold. They are books with pictures in and I look at how the Earth was. I read about the life they led in those shelters called castles. "It was nothing but outings, hunting and fishing parties; nothing but dances, feasts and banquets: they never slept, and spent all night playing pranks on each other." He shows his guests how cute I am, with a book in my hand. I know them all by heart now, those decorative books.
In my shelter there is also a little washbasin and a toilet, a pretend one since, not being concerned, they don't have any system of this sort. His troupe of servants clean up from underneath, I think, under the sparkly floor; in any case, it all disappears: anyone would think it was all a fiction, including myself. Little dry biscuits appear in my bowl every morning. I suspect they're not very good but I've no way of comparing them with the food we were supposed to eat before, omnivorous predators that we were, until this species imposed order. They've combined all the nutriments we need, just as they combined two atoms of hydrogen with one atom of oxygen, in vast quantities, to provide us with water. I so depend on this automatic distribution of food and water that I don't dare ask for anything else. The apples you see in the stories, the sweets, the honey, where are they to be found? I believe that once upon a time on Earth, bees used to make honey. Bees are little buzzing organisms, yellow and black, not edible.
My master takes me out from time to time. I am so happy to go out, even in their countryside, which burns my eyes, so excited that I sing praises in my head to our lost Earth.
Tender meadows, sombre forests,
Calm rivers, laughing brooks,
Majestic, blue mountains.
I would love to romp around. But he keeps me close because a thousand dangers that I am ignorant of threaten me. And how do you move around in their space, a space that is devoured by light? Earthly landscapes pass through my head, like magic lanterns. I have only seen them in pictures, of course, but they please me.
The outside world is forbidden me: what would I do there? Within his property, I can move around, except in one particular zone. But we are a curious species: there's no help for it? It was curiosity that once made us conquer the world, at least the males of our species. I've learnt in the books that only the males, that is to say, 50% of us, took ships and other means of transport to see what was beyond the horizon. The females were shut inside their husbands' souls. The husband: that's what the male is called in the stories. Sometimes he's called the king, or the prince. Being shut inside their husband's soul was quite normal, as I understand it. I don't really know what a soul is: a sort of kennel? A group of little cubicles?
In one of the books, there is a naked female, like me, who is biting an apple; and a creature called serpent, with a very long body, without any arms or legs. Eve is punished for her curiosity. Her husband is called Adam, the male of the species. I also learnt that, unlike what I'd always believed, it was the females that gave birth to the whole species. That explains why the males kept them under such strict surveillance. I used to think that the females gave birth to females and the males gave birth to males, like our masters do, by binary fission. That's more egalitarian. I am all for binary fission.
My master brought in a male human once, to my little castle, for reproduction. The male and I, we were both so embarrassed by the situation that fortunately, nothing happened other than a hasty conversation, in which we tried to exchange as much news as possible about other domestic humans. About Anne, my sister Anne, about my brothers, about his family…
And I never heard of him again. In view of the failure of his biological mission, maybe they had him put down. My master seems more attached to me than to the idea of my having babies.
Our masters, whether they are male or female, divide into two, and one half goes off and generates another module, or a sort of swarm, I don't know. Their servants are very numerous. I don't know how many times they can perform this fission, maybe an infinite number. It's quite something. Mine shuts himself up for several of my waking-sleeping cycles. I think that towards the end, the process must get a bit sticky, because the servants have to evacuate a sort of shining liquid, I don't really understand it. Anyway, at those times, nobody pays any attention to me. I can stay really close to the forbidden zone. Our masters look like what they call robots in the books, but robots whose outer casing so to speak, is organic. Or maybe even some of the inner parts, I don't know. I would like to know.
But my master shuts himself away in the zone that's strictly out of bounds for me. What goes on in there? It seems he keeps me out for reasons of hygiene: none of my germs, or my genes, must contaminate the process. Imagine if a sort of chimera, half-master, half-human came out! He did warn me: if I try to cross the threshold (a vestibule full of light that terrifies me and attracts me at the same time), if I cross the threshold, he'll terminate me like all the others before me. And after me, he won't have another one. That's what he made me understand. Too much grief and too much disappointment, every time.
Maybe it's in there that he had them put down. Perhaps it's only a trap: when he's fed up with them, he forbids access to that weird zone arbitrarily. And when you go in there all the same, of course, it's the end.
Anne, my sister, Anne. I miss Anne. If Anne were here, I would ask her. If I'm right. To be curious. To have some ambition other than to remain the creature of a master. But how to escape? We are reduced to this state, both males and females, ever since the Earth was taken from beneath our feet. Our brothers, too, obey, go out on a leash when it's time for their walk and eat up their biscuits, not at all like in the books. Our brothers are also forbidden large zones of the world, and not just the doorways of light. Our brothers, too, are shut up inside the souls of these giants whose faces, devoured by blue light, we can barely see.
One day, I shall go, to have done with it. One day, I shall find the key.


Marie Darrieussecq
Article
A theatre of the human condition
Portrait of Krzysztof Warlikowski
06'
A major Figure of Polish theatre, a tormented artist with a post-romantic sensibility; a man of the theatre "haunted" by History, a provocateur and a troublemaker, Krzysztof Warlikowski fascinates and unnerves, captivates and scares leaving no one indifferent. With his endlessly evolving aesthetic of form, his unusual use of acting, his melancholic electronic music, Warlikowski has created an art theatre centred on the human condition.
In this disillusioned world where the gods have abandoned men, he feels empathy with lost souls, their existential quest and their inner conflicts. The larger History is experienced through the psyche of distress, the memory of the victims of social exclusion, the shattered consciousness of those living on the fringes. The abandonment of salutary utopias and the despair of missed revolutions has created a feeling of emptiness and a malaise in civilisation. Warlikowski observes the complexity of souls, questions their dilemmas and their contradictions and the metaphysics that he experiments with on stage is more of a modest recognition – in other words, a spiritual metamorphosis of man by his own will.
Poland year zero
In Wagner's Parsifal (2008), Warlikowski avoids trying to settle scores with Germany's past and focuses on Parsifal's inner journey. What he questions is the possibility of a new society with the idea of a spiritual Grail, a sort of purity of soul akin to the little child within us eclipsed by fear and prejudice. He makes just one reference to History and it is "pure" – to use his own words – direct and unvarnished. In the darkness, just before the prelude of the third act, he projects a montage of images from the film Germany, Year Zero by Roberto Rossellini: alone, little Edmund picks his way through the ruins of Berlin in 1948, climbs the stairs of a crumbling building and then jumps off the roof. This scandalous image of so young a suicide was far from a provocation: it expressed his doubts regarding the advent of a better world; it drew on memory and compassion; and yet, it also echoed his own childhood in Szczecin.
Krzysztof Warlikowski was born in Szczecin (Stettin in German) in 1962. And even though he left that city to study history and philosophy in Cracow and then Paris; and even though, with time, he would become the European artist par excellence, Szczecin remains a place which condenses his tormented vision and the demons of History that inhabit it – the decline of Western civilization, spiritual emptiness, antisemitism and homophobia, the ravages of capitalism and individualism, the rise of totalitarianism and the collapse of democracy.
That city, close to the German border on the Polish side of the Baltic has been shunted around for much of Europe's history. Polish, Prussian, Swedish, Danish, then German, it became part of Poland again when Stalin expanded Poland's territory westward in violation of the 1945 Yalta accords.
The consequences were huge: seven million Germans would leave Pomerania and its capital, Szczecin. Into that ghost city destroyed by war and built on land conquered by force, uprooted Polish Christians and Jews repatriated from the USSR would settle as well as they could. The German past would be expunged, the Iron Curtain would fall, and antisemitism would be stifled. Warlikowski would be born seventeen years later. There can be no doubt that the spectres of war have left an indelible mark on his way of thinking.
Look where it's forbidden…
"The true masters of the theatre are most easily found far from the stage". It was with that phrase that Warlikowski opened his speech for the Journée Mondiale du Théâtre 2015. The masters he was referring to—the prophets who herald the world's disillusionment—are the writers. Franz Kafka, Thomas Mann, Marcel Proust, and the contemporary John Maxwell Coetzee recount man's powerlessness in the face of tragic events. Media hype trivialises suffering and engenders a fear of the other; individualism cloisters consciousness behind a wall of conservative and intolerant thought. "Unable to build towers", our horizon is limited to the things that we know and which the theatre merely copies. In a world so obsessed by frontiers and walls, says the director, the real reason for theatre to exist is not to protect our blinkered bastions but to look beyond the walls where we find the forbidden truths.
In Gluck's Iphigénie en Tauride (2005) - of which a reprise is planned for the 2016-17 season - Ancient Greece is transposed into a modern retirement home where a dozen genuine retirees, hired specially for the production, keep company with a dying Iphigénie – the orphaned princess who recalls her youth in Aulide and Tauride. The visibility accorded to that disavowed minority in the red and gold décor of the Palais Garnier was not so willingly embraced by audiences. Because, in their inability to scale the walls of their own consciences, those silver-haired spectators were unable to endure a full-frontal reflection of their own condition.
Through the mirror
If the walls were scaled and if the thresholds of the doors were crossed, one would find a spartan bathroom with a white porcelain basin and a mirror. Malgorzata Szczesniak has conceived an extreme scenographic backdrop in which Man confronts his traumas. Such a profound exploration of troubled interiority can only occur in the clinical intimacy of a neutral space in a confined place where everything is stripped bare. On this stage at times the infernal agony of solitude can become almost tolerable.
In Tramway (2010), a loose adaptation of A Streetcar Named Desire, Blanche Dubois (Isabelle Huppert), alone in the world and borderline, gets off the streetcar and finds herself on Elysian Fields Avenue, a run-down working-class district of New Orleans. During her unhappy stay in the cramped apartment of her sister Stella and Stella's lover Stanley Kowalski, the bathroom becomes Blanche's only refuge. She takes hot baths to calm her nerves and in front of the mirror – personified by Denis Guéguin's live video – Blanche observes the turbulent complexities of her soul. This painful standoff suspended in time, this inner tribunal with neither god nor judge – since it is Blanche alone who is the torturer of her own conscience – unfurls in the form of a monologue, a key dramaturgical element in the work of Warlikowski.

Blind spots
Warlikowski's theatre is a space of shadowy light and blind spots; a place of resurrection where the characters are subjected to their repressed fears and the psychological defence mechanisms that accompany them. In the nebulous labyrinth of African Tales (2011) a dramatic montage made up of three Shakespearian tragedies, Othello, The Merchant of Venice and King Lear, the division of the realm by King Lear has more to do with emotional reasons than dynastic interests. Frightened by the realization of his paternal feelings, Lear circumvents his fear by asking a perverse question: how exactly do his three daughters love him? The tragedy will be encapsulated by a misplaced word and the fate that unfurls will be that of a man incapable of expressing his true feelings.
The dramatic monologue has a counterpart in opera: the aria. And if that moment of vocal virtuosity often tends towards the outward expression of emotion, Warlikowski makes sure that the voice emanates from a complex subconsciousness. In Verdi's
Macbeth
(2010), beyond the Shakespearian considerations of power, Macbeth is a man traumatised by war and shattered by the grief of lost innocence. The witches – played by children – are as much post-traumatic hallucinations as they are the expression of a phantasm evoking the sterility of his marriage.    
The ghosts of cinema
"When Krzysztof watches a film, he is only interested in the characters" says his choreographer Claude Bardouil. In his quest to give his characters greater substance, Warlikowski does not hesitate to look for doubles in the world of cinema. In Karol Szymanowski's King Roger (2009), King Roger and his wife Roxane bring to mind the Cruise/Kidman couple in Stanley Kubrick's Eyes Wide Shut (1999); Don Giovanni (2012), now a sexually-obsessed inner-city loser, takes his lead from Michael Fassbender in Shame (2011), directed by Steve McQueen.
In Janáek's The Makropoulos Affair (2007), Warlikowski takes the character of Emilia Marty and transposes her into an opera diva in the guise of the mythical Marilyn Monroe. However, Warlikowski moves beyond the star glamour and explores the tragic side of the iconic actress only to discover an unhappy, ageing woman destroyed by a chaotic childhood and a disastrous procession of failed love affairs. Malgorzata Szczesniak's scenography evokes the world of cinema and cabaret while the videos of Denis Guéguin reveal a wretched Marilyn in a world where as the flashbulbs explode, cameramen film and the public applaud the ill-fated fall of the idols.

Beyond this line, time becomes space
Increasingly, the dramatic focus of this man who feeds on cinema and draws inspiration from literature, shifts into a space beyond theatre, as if theatre was ultimately just a pretext to express his subjectivity and voice his concerns about our troubled world. Since (A)pollinia (2008), he has ceased to use a pre-established text in his theatre. The stage scripts are based on a loose collection of adaptations of plays, novels and improvised prose.
Faced with the horizontality of his dramatic writing and a creative process where the exploration of memory and conflict takes place in complete freedom, opera poses a real challenge. "Opera is one of the most contemporary of forms. It integrates absolutely everything!" says Warlikowski. In his quest for a new formal structure, he has conceived a form of vertical writing. Through the stratification of multiple meanings, temporal simultaneity, the blur of multiple spaces, the juxtaposition of sophisticated lighting techniques, choreography and hauntingly compelling videos – his opera productions come across as a syncretic kaleidoscope of realities and overlapping time.
His dramatic perspective is so extreme that the score's frozen time explodes and spills out over traditional boundaries; the narration goes well beyond the libretto and the musical discourse and the silent bodies insinuate themselves into prologues invented to recount another story. Fictitious characters appear: the Guide in Parsifal, the Dancer in Lulu (2012), and Children prowl around the stage, like painful shadows of the past or precursors of future fantasies.
---
Leyli Daryoush is a dramatist, a researcher, and a teacher in theatre studies at the Sorbonne-Nouvelle. She is also the author of theatre and opera librettos – Tehran '09 and TPNY memory – and Opéra et art vidéo à travers l'œuvre scénique de Krzysztof Warlikowski (due to be published in January 2016).
Article
A Gut-Feeling for Opera
Encounter between Barbara Hannigan and Yannick Haenel
18'
With Krzysztof Warlikowski's production of the diptych comprising Bluebeard's Castle and La Voix humaine once again on the bill, Yannick Haenel and Alexandre Lacroix met Barbara Hannigan, who is singing the role of Elle in Poulenc's opera, electrifying each performance with the intensity of her stage presence. Recently awarded the Medici Prize, the writer Yannick Haenel and Alexandre Lacroix, editor in chief of our partner publication Philosophie Magazine, interviewed this outstanding performer.
---
Yannick Haenel: What struck me first – fascinated me, I might say – is the way your appearances structure the evening as a whole: you appear in the prologue of Bluebeard's Castle as the assistant of a strange magician who performs conjuring tricks before our eyes – is he the devil? An assassin? – and who finally makes you levitate. You are thus implicated – an accomplice? – in the great crime scene that is Bluebeard's Castle. Then, as the final chords of Bartok's work resound, you reappear, advancing from the distance to the front of the stage, already a vehicle for passion and for the words – themselves also criminal - of Cocteau's text, La Voix humaine. Thus your very body is dramatic, since it carries the beginning of the performance, welds the world of Bartok to that of Poulenc, then occupies the space until the end. I wanted to ask you how you considered the relationship between these different roles, physically and vocally – even if your character is silent during the first half.
Barbara Hannigan: To my mind, links develop between these different moments. In the prologue, I am the illusionist's accomplice. But I am perhaps already one of Bluebeard's wives. When I'm levitating, it's violent: it's as if she's been taken hostage, being abused. Is he a former lover? Perhaps she was just sitting there in the audience a few years ago. Perhaps he chose her, and perhaps she knows deep down that one day, he'll choose another spectator sitting in the stalls to take part in this number and replace her. And yet, she loves him. Between them, there's something similar to the telephone call in Cocteau: the final link that joins two beings. Ultimately, I'm like the little white rabbit the magician pulls out of his hat: longing for his affection, terrified at the idea he might abandon me. It's strange, I imagine that woman as being drugged; I don't see how she could survive without taking drugs.
"The women I play at different points in the production are the same and yet not the same: Warlikowski's theatre is built around these contradictions." Barbara Hannigan
Alexandre Lacroix; Is the woman we see in the Prologue to Bluebeard's Castle the same as the one who comes back in La Voix humaine?
B.H.: They are the same character and yet not the same. Warlikowski's theatre is built around these contradictions.
Y.H.: That's what I feel too: this production plunges us into an hallucinatory logic, a dream logic. There's a crime, but the victim is also a killer. The woman in La Voix humaine is going to commit suicide, but she may have killed someone. Is that her lover on the phone? Is he dead? Who is dead? Who is alive? What's beautiful is that Cocteau's text, a sort of highly psychological French vaudeville, has been made into an immense metaphysical crime scene.
B.H.: At one point, my character says: "Things I can't imagine don't exist, or at least, they exist in a kind of very vague place which hurts less…" As a performer, my character's indecisiveness regarding the past could be my undoing. But it's not the case. On the contrary: this contradiction is necessary. I am nourished by it.   

Y.H.: The performing space of this production seems to me to be a place in which life and death are not contradictory. It's an impossible space but it is the space of art, in which life and death converse, where one is dead and where one lives, where one is alive and where one dies. When you appear at the caesura, at the cut-off point between the end of "Bluebeard" and the beginning of La Voix humaine, one has the impression that you are returning from the kingdom of the dead and that you are making your way along what the Tibetans call the bardo, the passageway just after death, when one isn't yet altogether dead. Do you read French?
B.H.: Better than I speak it.
Y.H.: I've written about Bluebeard. A little book entitles Le Sens du calme. In it I explain that when I was a child, I was obsessed by Perrault's tale of Bluebeard. I must have been twelve and I was convinced that I was living on the other side of that door, with the dead.
B.H.: That's an idea both terrifying and fascinating. I'd like to read that book. In this production, I find it interesting that Bluebeard's wives aren't dead.
Y.H.: Yes. They're on stage, they're alive.
B.H.: The relationship these women, supposedly kept prisoner, have with their tormentor, Bluebeard, is complex. When I discover them, on stage, I sense a lot of love.
Y.H.: Perhaps that's what death is.
"When you appear in the caesura between the two pieces, you seem to be making your way along what the Tibetans call the bardo, the passageway just after death in which one is not yet altogether dead." Yannick Haenel
B.H.: At another point, my character says: "Yesterday evening, I wanted to take a sleeping pill; I told myself that if I took more of them, I'd sleep better and that if I took them all, I would sleep a dreamless sleep, without waking, that I'd be dead." As I pronounce these words, I make a gesture that refers back to the scene with the magician at the beginning. As if death weren't serious, as if it were a simple conjuring trick.
Y.H.: It's no longer the bourgeois little drama by Cocteau, nor even that by Rossellini with Anna Magnani. This production touches on the origins of crime. When I saw you in Le Grand macabre and in Lulu, I wondered if there was a certain distance, irony, perhaps even sarcasm. Your body is deliberately contorted. In La Voix humaine, with the vertical video projection, it's as if you are crawling, like an animal, like an insect. This is a story of women, men and lovers, but there is something about it in the order of a graphic struggle with powers that are not assigned to human bodies. Usually, the voice emerges from the body. Here, it's as if the body emerges from the voice. A strange body. This very dark humour, aggressive, almost expressionist, reminds me of Schönberg.
B.H.: "The body that emerges from the voice", yes. Earlier, you talked about interpretation. It's a word often associated with singing, but I don't like it. I prefer to say embodiment, because interpretation is superposed. Embodiment is inside. I don't interpret, I embody words, music and all the rest of it. As for the dark humour, it's true. For me, Schönberg and his period evoke Transfigured Night, the poem by Richard Dehmel. He wrote a book entitled Weib und Welt (Woman and World) for which he was prosecuted. In it he talks about a woman who wants to commit suicide because she is pregnant by a man she does not love. As in La Voix humaine, at the heart of the work there is anxiety, solitude, isolation, the impossibility of connecting with someone else, the impossibility of really loving, of living with someone and, basically, living with herself… 
A.L.: Could you tell us about your collaboration with Krzysztof Warlikowski, the director?
B.H.: This is the third opera I've done with Krzysztof Warlikowski. The first time we met, when we did Lulu in 2012, there was an instant rapport of profound trust between us. That's important because with my colleagues, stage managers, pianists and conductors, I always have genuine relationships. Also, the first encounter is like a first date. A connection is established. Since then, the second and third productions have given us the opportunity to reveal something beautiful, intimate and awe-inspiring.
A.L.: What memories do you have of rehearsals?
B.H.: When we began rehearsals for La Voix humaine, I had a pink dress. I hadn't got my costume yet. There was a telephone, but I said I couldn't do it with a telephone. It was impossible. We didn't want anything bourgeois. The first image happened by accident. During rehearsals, I asked if I could open the door and the draught made my hair fly about. Krzysztof kept this effect which gave the character a savage side. I'm Bluebeard's wife, but deep down, I don't know this man.   

"In Bluebeard's castle, we plunge into a series of rooms, within the confines of the castle. In La Voix humaine, the character of Elle is linked to the outside world by the telephone cable: we have here two very different visions of love." Alexandre Lacroix
A.L.: In the scenography of Bluebeard's Castle, we discover a series of rooms: a spatial arrangement that takes us into caves of sorts, into a form of interiority, plunging us deeper and deeper into the castle. We are shut up inside and the outside world becomes inaccessible. On the other hand, there is that cable – a symbolic one at least – the telephone cable that connects Elle to Lui, therefore to the exterior. It's the exact opposite. We have here two very different visions of love.
Y.H.: In reality they are both forms of confinement – confinement in a room or internal confinement, like opposite sides of the same coin. But the mirror effect doesn't stop there: in "Bluebeard", the women are perhaps dead. In La Voix humaine, a man who has been killed rises again, as if Elle had become Bluebeard. This is theatre of cruelty. Even if, in Warlikowski's production, the telephone doesn't exist, the question of communication – impossible communication – remains strongly present. Someone intercepts it. There's another woman: on the switchboard. I know that Warlikowski is a great reader of Proust and devoted one of his recent productions to him. Now Proust refers to "telephone operators" who, for him, represent death: "Danaïdes of the invisible ceaselessly filling up and emptying the urns of sound, transmitting them from one to another" like funeral urns. I said to myself that this production had something of the sacrificial ceremony about it, as in antique theatre. The body and voice of one woman become humanity in its suffering, trying desperately to speak, stumbling up against the telephone operators, priestesses of the invisible.
B.H.: Yes, I find that passage rather violent – when the voice of Elle comes up against that of the switchboard operator. Her "Hello, miss, hello," over and over again. She needs the operator, she needs sympathy, but the operator does nothing but condemn her to solitude.

Y.H.: Listening to that woman talk to someone else and/or to herself, I was also reminded of a tale by a Jewish mystic about the heart and the spring. The entire history of life, of existence is contained within this separation between heart and spring. The spring is remote, on top of a mountain. The heart tries to approach the spring, but the nearer it gets to the mountain, the less it sees the spring, because it's at the summit. The only way they can meet is to sing for each other.
B.H.: Perhaps that's why Cocteau's words are stronger when you sing them than when you say them. In opera, the singers have a mysterious connection with the audience. That's why audiences either love them or reject them violently. It's different for a cellist or a pianist. Basically, a singer is a bit like Elle. The voice elicits violent, passionate, amorous reactions because it offers something primal, something true. You can't cheat. In C'est presqu'au bout du monde (Almost at the end of the world), Mathieu Amalric filmed me warming up my voice. It's something I do every day but it's very private, very intimate.
Y.H.: Yes, I saw that film. You can see very clearly that the voice – your voice – comes from the lower abdomen. That's what I call the spring.
B.H.: Yes. It's possible to hear immediately if someone has a problem by listening to their voice, whether it's too high, too low, too tight. In this opera, there are no grand vocal demonstrations. There's one top C and two top As. That's nothing. Anyone can sing La Voix Humaine. The difficulty comes from the fact it's just a little higher than the tessitura of the speaking voice. This is the least powerful sung register, the weakest for a soprano. It's a register that creates a situation of tension, of struggle.
Y.H.: That state of struggle is visible on stage. It's almost breathlessness. I also get the impression that the – very organic – movement from the back of the stage, when you're crawling, when you move to the sofa, delineates a definite territory. Like a feminine human animal, pacing this territory for 40 minutes, stubbornly, insistently. When you watch the performance, a map is drawn before your eyes.
A.L.: During rehearsals with Krzysztof Warlikowski, how did you work on your trajectory?
B.H.: We found the beginning of it on the third day. It was during an improvisation. Krzysztof asked me to fall, or I fell over. I don't remember now. With Krzysztof, rehearsals don't only take place in the rehearsal room. In the evening, when we have dinner together, we go on discussing things, trying new ideas.   

"I don't want to calm down on stage. Especially when singing this woman who is, by turns, woman, man, child, baby, telephone, revolver, dog." Barbara Hannigan
Y.H.: When one reads Le Théâtre et son double, Artaud refers to athleticism with regard to Balinese theatre – that anti-psychological theatre of unleashed power and crude gesture. There is something very athletic about you when you are on stage, something one doesn't often see at the opera: something in the nature of a confrontation with elemental forces.
B.H.: I don't want to calm down on stage. Especially when singing this woman who is, by turns, woman, man, child, baby, telephone, revolver, dog. In opera, during rehearsals, we sometimes wear knee-pads, for example. I refuse to because one falls in a very different way with them on. I'm bruised from hurling myself against the walls, but it's necessary, because it is aggressive, it is violent. It's necessary to sing like that. I've inflicted violence on my voice and on music, in favour of dischord. The last note of La Voix humaine is a G. Why a G? Because it's the only note that isn't part of the chord. It's a form of violence, dissonance. All the same, Krzyzstof and I have reduced the physical, acrobatic side because he didn't want anything too spectacular.
A.L.: Do you still have to pace yourself in order to sing an entire run?
B.H.: Not really. A baby can cry for hours without having vocal problems, because it's completely committed to the crying, s/it "is" the crying. It's the same thing with singing, according to schools like those of Roy Hart or Alfred Wolfsohn. Wolfsohn was a nurse during the First World War. He listened to the cries of the men at the front. He then became a singing teacher in London and made it possible to cover six octaves, where there were only three before. He completely changed vocal expression thanks to his total commitment. One of my singing teachers was from the Roy Hart school, and Roy Hart was a pupil of Wolfsohn's. It's a question of using the voice with total commitment, without protecting oneself.
Y.H.: Those cries from the First World War are also the voices that Freud heard, of soldiers he tried to heal, suffering from schizophrenia and hysteria.
B.H.: Yes, Wolfsohn was to the voice what Freud was to psychoanalysis. The voice doesn't originate in the throat, it emerges from your guts.
A.L.: I'd like to ask Yannick what 'total commitment' in terms of writing would be.
Y.H.: I think that to write with total commitment, is to be open to things that can't be depicted, like madness or death. I don't think one can be mad in writing. But one has to get as close as possible to supplication, to tortured bodies, to obtain that. In opera, song changes everything, it sets language singing. If Cocteau's text is orchestrated or sung, suddenly it becomes a monologue linked to death, to madness, to excess. Writing is that too, when it sings.   

© Collection Dupondt / akg-images - Henri Martinie / Roger-Viollet
Article
Anna de Noailles
"La Voix Humaine" by Jean Cocteau
11'
Jean Cocteau's La Voix humaine is clearly inspired by Duo à une seule voix by Anna de Noailles, of whom he was a fervent admirer. If the stories differ (in the first, the woman endures the end of a love affair whereas in the second she sidesteps the persistent advances of her lover), the two works share a number of similarities. Both retain the dialogue of the female character alone, both underscore the power of words, and both make the theme of love—be it salutary or destructive—their principal subject.

In 1911, Jean Cocteau (1889-1963) was 22 years old when he first met Anna de Noailles (1876-1933). That furtive introduction took place in a car… At the time, de Noailles, a young woman of the world and icon of the Third Republic, had already published six hugely successful works (three collections of poems and three novels). Her fame was such that many young writers came to her hoping to be recognised by a woman who had utterly transformed their adolescence through her startlingly new imagery and the suggestiveness of her verse. From the outset, Jean Cocteau was one of her greatest admirers. Even before they met, he had demonstrated his esteem for her by sending her his book Le Prince frivole, featuring some of her verses as an epigraph. Fascinated and "dumbfounded (…) by the beauty of the petite person and the grace of her tone of voice"1, Cocteau was quick to associate with the people who were close to Anna de Noailles - people like Marcel Proust, Edmond Rostand or Maurice Barrès... Having quickly become a familiar face in the house, he pushed his admiration to the point where he even began to adopt her ways - something one of her close friends was quick to notice when they nicknamed him "Anna-mâle"!2 In a letter to his mother in 1912, Cocteau bestowed himself with the title of the poetess's "page". From that day forward, and for almost twenty years, the two were bound by a special relationship - "one of those friendships which endure beyond the grave"3 in a spirit of genuine collaboration. Cocteau was more than familiar with the works of the woman he called his "big sister," as letters and sketches corroborate. In 1963, as a final tribute, his adoration would lead him to devote his last work to her : La Comtesse de Noailles, oui et non.
After the success of Cœur innombrable, Anna de Noailles tried her hand at novels. Three titles would follow between 1903 and 1905. However, in this new exercise, she soon realized that she found neither the fluency nor the pleasure of poetry. Moreover, even if the public seemed to appreciate her three works, the same was not the case for the professional critics who recommended that she should stick to poetry... Offended yet obstinate, Anna de Noailles opted for poetic prose. The end result was three original titles - each a form of anthology comprised of published press articles with excerpts from an abandoned novel and memories of the past. Her prose works include the 1923 volume, Les Innocentes ou La Sagesse des femmes made up of short texts in a variety of literary forms (letters, declarations of love or separation, narratives, etc.) all of which are the fruit of the poet's exploration of the notion of love and its tumultuous complexities.
La Voix humaine is clearly modelled on a piece of prose from this book entitled Duo à une seule voix. In effect, like the Cocteau text, Duo à une seule voix takes the form of a truncated dialogue in which only the words of the female character are given. The story can be summarised as such: a woman sidesteps the advances of her lover and skilfully refuses to yield despite the man's persistent urging.
The two titles raise a question: what is a voice described by Cocteau as "human" and thus, what would a non-human voice be; or for Noailles, what is the meaning of the opposition "duo à une seule voix"? The two authors refer to a phenomenon unique to man—the voice—which also has a place in musical terminology. Nevertheless, in the case of the poetess, her "duo" is more akin to a soliloquy or a solo. If this musical reference had not been so flagrant, the text could have belonged to a screenplay or, even more easily, to lines of text from another genre, namely, theatre. Perhaps Cocteau understood this, for he clearly intended his text to be adapted for the stage—in his introduction, he describes the set, the attitude of his character and the tone: "The scene […] shows the unequal angle of a woman's bedroom […] the nervous tension, the discomfort. […] bathrobe, negligee, ceiling, door, armchair, slipcovers, white lampshades". In addition, the question of genre also arises in the directions set out by the dramatist himself, who describes the text as a "monologue-dialogue". This unusual designation only leaves us wondering as to the author's intentions and about this new and intermediate form born out of the use of a telephone.
Beyond this literary device, the authors deliver a solid argumentative discourse on love and the power of words.
In Duo à une seule voix, we know practically nothing about the woman who rejects the passing concupiscence of a man whom she—like Cocteau—calls "my darling" or "my friend". The circumstances are similar in both texts: each scene takes place in a bedroom one evening; a woman is talking to a man whom she loves. The presence/absence of the latter—either by way of a telephone or through the non-transcription of his words—the very hollowness of his existence deflects attention away from him. Instead, we focus twice as much on the female character: firstly, attempting to reconstruct, through the unequivocal bias of her words the parts of the discourse that have eluded us; and secondly, to understand her reactions and comments. The emphasis then is on the evolving nature of her attitude and her reasoning throughout the text. Moreover, the heroines are faceless and of no specific appearance. In La Voix humaine, she is only vaguely characterised: there is no mention of her features or her physical description. She is nothing more than "a woman in a long negligee", nervous, "in love and a mediocre victim". These references confirm that the author is placing more of an emphasis on the psychological dimension of the character, as underscored by the distinctive yet ultimately commonplace situation. So we are indeed dealing with a common heroine caught in an everyday story of romantic separation. De Noailles, for her part, proves more eloquent concerning her character.
The most notable difference between the two works is to be found in the styles used by the authors. Indeed, Anna de Noailles' pages come alive with a cheerful and humorous tone that is in sharp contrast to Cocteau's text (and also the other texts in the collection). Whereas the first heroine wards off the overzealous ardour of her companion through loquacious mischievousness, the second immediately reveals herself to be acutely anxious and mired in extreme distress. This particular woman suffers and endures the end of her love affair with great difficulty. At first, she tries to control herself by evoking mundane platitudes (clothes, lunch…) so as to put up a front and prevent herself from revealing her genuine sadness. She obediently answers the questions of her former lover, avoids laying any blame on him, even going so far as to minimise his responsibility: "Don't apologise, you're very sweet, but I have nothing to blame you for". Then we understand the reason for the telephone call: the man wants to retrieve all the love letters he wrote to her before marrying another woman. And then we grasp the distress of a woman outraged by the lack of trust and more importantly by the despoiling of everything that her feelings and her memories represented. Only her lie about the pair of gloves enables her to retain a trace of the man she loved. From that point on, the pervasive uneasiness grows: vacillating between false fronts, lies and sadness, the heroine compares herself to a "sleepwalker". Most importantly however, in her heartbreak, and with her reason for living severely compromised, she turns to self-deprecation and self-degradation ("idiot, stupid"). The use of homicidal references ("criminal, blow, brutal, die, gun") attest to the intensity of the shock which in turn is equated with death. Finally, she can no longer conceal her suffering and she ends up admitting to him her desire to die. This slow but steady progression towards the abyss accelerates after she realises that the man, who had pretended to be at home, is lying.
In Noailles' Duo à une seule voix, the woman is in control of the situation. In the first instance, love does not seem to be as serious or as tragic. There is a more measured, less passionate reaction (the phrases are longer and more constructed), she explains the reasons for her refusal even though all the conditions seem to allow a perfect moment of love. We do not detect any anxiety or panic at first, even if she does say that she feels "uncomfortable and nervous". And yet, in the final part of her discourse we sense the weariness and sadness mounting in a way as unexpected as it is definitive. Even death and destruction seem to be associated with a rather aggressive question: "What does my health matter to you? It's not my life that you love but the part of it you could destroy." That scathing remark underscores the woman's perspicacity but also genuine pessimism.
---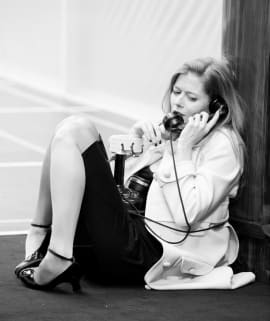 Therein lies the one fundamental point in common to both these two works: love is a struggle, a sort of internecine war in which the weapons of choice are words and phrases. Jean Cocteau abandoned his heroine to a real Psychomachia, just as a dying animal wrestles with death. And yet, beyond this conflict both internal and external, these female characters illustrate the vision shared by both of the authors: love remains the sole rampart against the vacuity of existence and the agony of emptiness which gnaws away at the two heroines. If, for Noailles, the situation in the text does not seem as inextricable as it is for Cocteau, it is because the man is there, regardless of whether he has been reduced to a wholly artificial form of mutism. He is physically present and the words connect the two characters—as opposed to "uniting" them in the literal sense—in the same way that the face, the eyes or gestures can. In La Voix humaine, words have an immense power to save ("If you hadn't called, I would be dead.") but they also have the capacity to annihilate and destroy the other. Here the polysemous word "coup" in "coup de téléphone" (telephone call), can be likened to the "couperet" (blade) of the guillotine ("coupe" repeated three times at the end of the text). "Now I can breathe because you're talking to me" whispers the character as she slowly founders—just like Noailles' heroine who cries that final injunction: "Talk to me!" It genuinely is a question of life or death, and if the life of the woman hangs on a mere thread, it is because she can only fully exist through the words of the other. In conclusion, the situation proves to be totally tragic and the characters presented are not that unlike Racine's heroine Phèdre, herself trapped by words of passion, between lies, silence and avowal.
As such, Cocteau's "human" voice is, without question, the one which humanises and sustains the other, it is the o
ne that enables the other to exist beyond distance and silence.  
1 La Comtesse de Noailles, oui et non, 1963, p. 79.
2 All were struck by his mimetism; Marthe, Antoine and Emmanuel Bibesco called him "Anna-mâle". (…) He imitated Anna in everything: head movements, hand gestures, exclamations, the florid writing style (…) with the fountain pen given by her." p. 18. Cahiers Jean Cocteau II, Jean Cocteau et Anna de Noailles, correspondance 1911-1931, Nrf, Gallimard, compiled by Claude Mignot-Ogliastri.
3 Op. cit , p. 80.
---
Marie-Lise Allard is a doctor of Literature, and specialist on the 20th century, Marie-Lise Allard is a teacher. She continues her research on Anna de Noailles, rehabilitating the author through her various publications.