Report from the 12 May 2017
The Venice Art Biennale: Xavier Veilhan and the Paris Opera Academy
Xavier Veilhan will be representing France at the 57th International Art Biennale in Venice in 2017 in partnership with the Paris Opera Academy.
In this context, creation becomes both an objective and a result. Experienced directors are offering artists and craftsmen in residence new interpretations of repertoire works.
The partnership with Xavier Veilhan is testimony to a desire to open up the Academy to all forms of contemporary creation and root it in an interdisciplinary dynamic.
Studio Venezia enables the artists of the Paris Opera Academy to work with contemporary creative minds like Frédéric Lo and Daniele Mana de Vaghe Stelle for example. Participation in this project underscores a desire to decompartmentalise individual disciplines and embrace new aesthetics.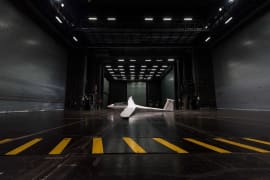 3e Scène
Matching Numbers par Xavier Veilhan