During the first rehearsals for Œdipe with the Chorus members, Ching-Lien Wu talks about Enescu's score for his only opera, rarely performed on stage. As the only character present throughout the entire opera, the Chorus conveys a range of emotions, from joy to despair, from supplication to drama. The Chorus Master emphasises the importance of the individual within the group. For, beyond the text, it is the personal expression, nuances and colours that each individual brings to vocal harmony, that can convey true intention and expression.

---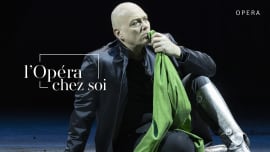 Œdipe by Georges Enesco

For his Paris Opera debut, Wajdi Mouawad evokes the life of OEdipus – the man unaware of his own identity...
---