Carmen is back to the Bastille Opera in a legendary production by Calixto Bieito. The stage director, who revisited for the Opera Lear, by Aribert Reimann and Simon Boccanegra, by Giuseppe Verdi, shares with us his own vision of Bizet's work and Carmen, a complex woman with a thousand faces.
---
Your production of Carmen has been touring throughout the world for about twenty years. Do you remember how you first approached this opera?
Calixto Bieito: In directing Carmen, I wanted above all to free this opera from clichés. I didn't want to imprison it in myth, especially not that surrounding femininity. I approached Carmen like a universal human character, like those of Shakespeare.
---
How would you describe "your" Carmen?
C.B.: My Carmen is made of flesh and blood. She embodies nobody but herself: she's a woman of her time with her own DNA. She's a very concrete character, as is Don José also. Getting back to her humanity meant underlining her numerous contradictions, the sombre and the luminous aspects of her personality.I think it would be a mistake to see Carmen as a femme fatale; she is simply a complex woman with many faces, all of which are revealed by Bizet's music.
---
It has been suggested that your Carmen was a prostitute…
C.B.: I am wary of the labels critics apply to my productions. Carmen is not a prostitute, any more than are Frasquita or Mercedes. She does sometimes lead the soldiers on, get them drinking, give herself to them if she feels like it, however brutal they are, and take part in a bit of trafficking as well… But she is above all a solitary creature, not particularly educate, simple. She wants to love, to feel desired, to run, to fly…
The Carmen and José couple you present gives the impression that you go beyond the "fait divers" to focus on a more societal and systemic form of violence…
C.B.: José is a tormented and violent man who battles with himself, with his duty, with his mother's influence and his obsessions. Through him, I wanted to underline a daily and contextual form of violence. We live in particularly cruel times, in which intolerance and violence affect the social, economic and, of course – I think here in Spain – domestic spheres.
---
The final murder is presented in a very stark manner…
C.B.: Yes, I contest the idea that Carmen seeks her own death and provokes José in order to be killed. Carmen wants to live and feel alive.
---
Carmen is one of the world's most widely performed operas. How does one handle that kind of shared preconception, that level of audience expectation? How does one free one's self from it?
C.B.: Although I am from a family of musicians and was immersed in opera from an early age, I did not want to tackle Carmen weighed down by tradition. I had no image in my head; my work was constructed by listening attentively to the music. For this production we have created different lighting effects that refer as much to Goya or Zurbarán as to the light one might savour in the Moroccan desert. We don't refer to a precise period: this could be the end of Franco's dictatorship just as it could be the early eighties… The quintet contains a parodical reference to traditional Spain: I wanted it to be disjointed, sarcastic and cynical. Mercedes and Frasquita wear flamenco costumes that remind us of what the tourists come to see in Spain. Of course, this is heavy with irony.   

---
In your rereading, the theme of frontiers is widely present. A theme that resonates strongly today…
C.B.: Yes, although given the importance in the media of the immigration question, it might seem opportunist to describe it today as an essential element in a production created nearly twenty years ago. Carmen is a frontier, in a literal sense: physically as well as metaphorically. And when I created this production eighteen years ago, this issue was not as global or as unavoidable as it has since become. The geographical issue is, by the way, emphasised by the treatment of the stage as a desert area. The bull is not an image of virility: it evokes the idea of the solitude belonging to such places. It is just like the bulls that line the roads of Monegros, in particular, near Zaragoza. Mountainous landscapes inhabited by those giants that are visible from miles around. rony.


Interview by Marion Mirande and Simon Hatab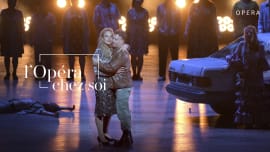 Carmen by Georges Bizet
Calixto Bieito offers the opera a new universe in a production that drives the characters into the darkest corners of their psyches...