In creating this ebullient opera buffa, Rossini captured all the fiery spirit of the comedy by Beaumarchais that inspired it. A native of Venice, birthplace of commedia dell'arte, Damiano Michieletto is highly sensitive to the burlesque vein in Rossini's music. He transposes the action of this Useless Precaution to a modern-day Seville inspired by the cinema of Almodóvar. Bartolo's monumental building, where Figaro's free spirit whirls and twirls, allows this director to give free rein to his off‑beat imagination.
---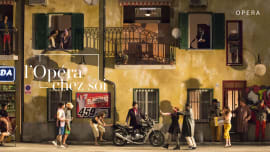 Il Barbiere di Siviglia by Gioacchino Rossini
The composer's opera buffa transcends the spirit of Beaumarchais' comedy and combines the absurd with a touch of satirical realism in a score where rhythm and virtuosity place the comic effects in an ongoing dramatic narration. ...