Tosca
Opera Giacomo Puccini
Opéra Bastille - from 04 to 25 June 2021
Language : Italian
Surtitle : French / English
About
In few words:
Based on the eponymous play by Victorien Sardou, Puccini's opera brings together all the elements of a melodrama: love, politics, violence and religion. Set against the backdrop of the struggle for Italian independence, Tosca is a tragic tale of thwarted love between a passionate, jealous and impulsive singer and a romantic, idealistic painter who champions civil liberties. In a period unsettled by the Battle of Marengo, which pits Napoléon Bonaparte's French republican army against the Imperial army of the Holy Roman Empire, the terrible and manipulative chief of police Scarpia bargains with the singer: In exchange for spending one night alone with him, he will free her lover Mario. In order to escape his grasp, she murders him. However he will exact his revenge from beyond the grave. In a landscape reminiscent of Pasolini, the crushing shadow of a cross hovers above everyone, representing colluding political and religious oppression. Through the ubiquitous presence of religious references in both private and public spaces alike, director Pierre Audi's interpretation skilfully sets out the dramatic lines of the narrative.
Opening

First part

50 mn

Intermission

25 mn

Second part

45 mn

Intermission

30 mn

Third part

30 mn

End
5 questions about Tosca, by Puccini
Tosca

Melodramma in three acts (1900)

After Victorien Sardou


Libretto :

Giuseppe Giacosa

Luigi Illica - D'après Victorien Sardou
Whether you're a member of Arop or not, the friends of the Opera can reserve seats for you on all performance dates, including those not yet open for sale and those announced as sold out.
Gallery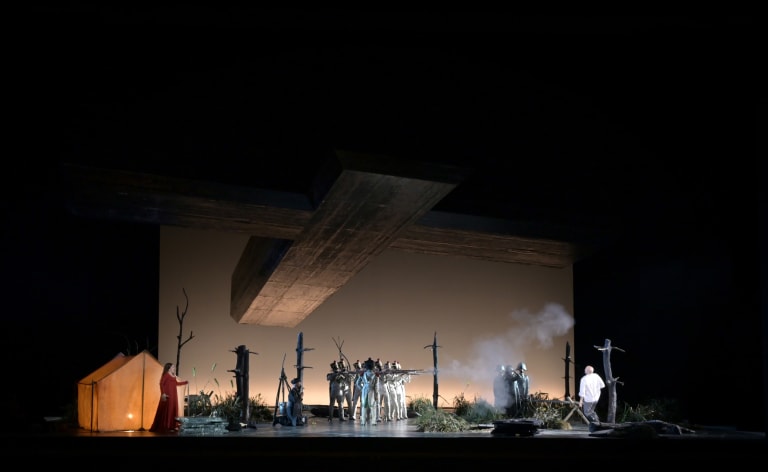 1/33 :
Tosca (saison 20/21) - Maria Agresta (Floria Tosca) et Michael Fabiano (Mario Cavaradossi)
© Vincent Pontet / OnP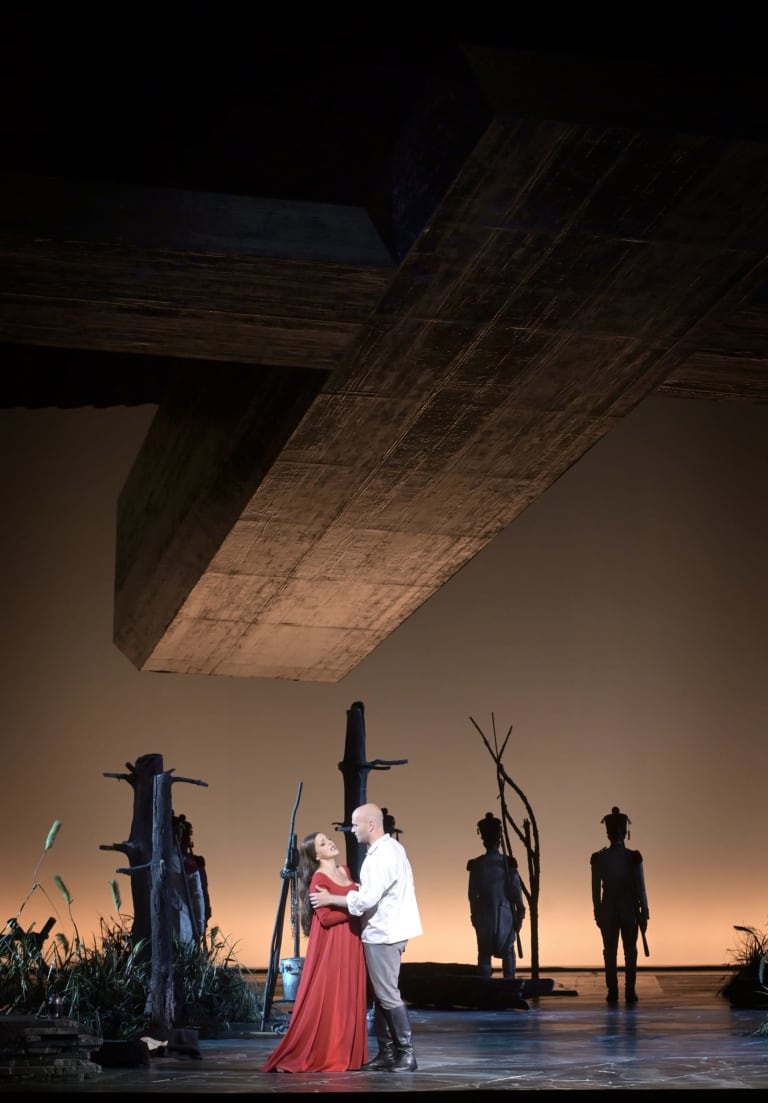 2/33 :
Tosca (saison 20/21)
© Vincent Pontet / OnP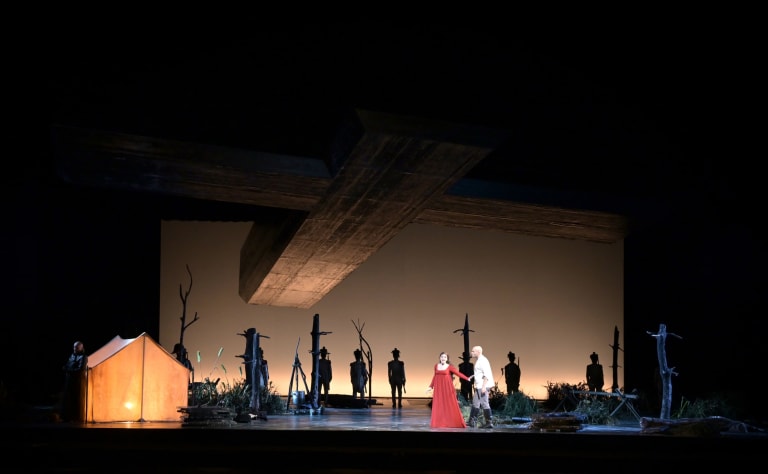 3/33 :
Tosca (saison 20/21) - Carlo Bosi (Spoletta), Maria Agresta (Floria Tosca) et Michael Fabiano (Mario Cavaradossi)
© Vincent Pontet / OnP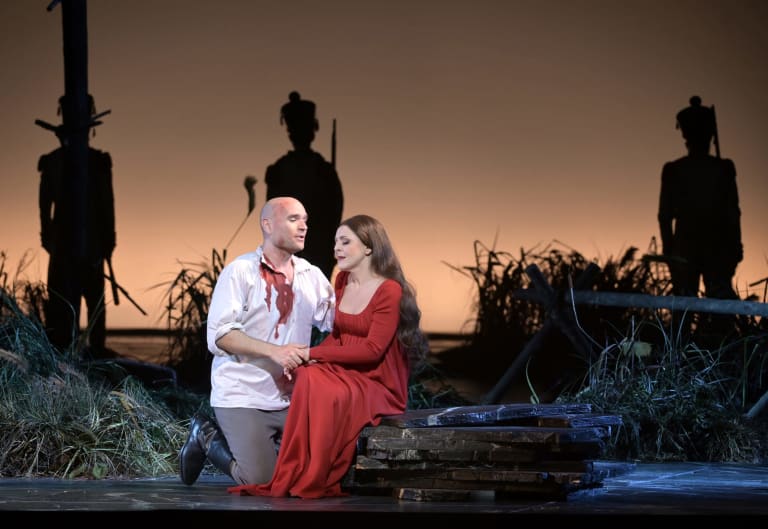 4/33 :
Tosca (saison 20/21) - Maria Agresta (Floria Tosca) et Michael Fabiano (Mario Cavaradossi)
© Vincent Pontet / OnP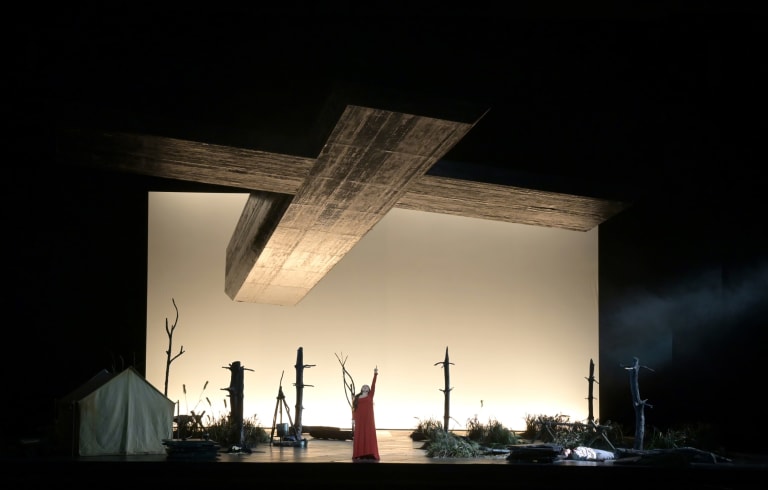 5/33 :
Tosca (saison 20/21) - Maria Agresta (Floria Tosca) et Michael Fabiano (Mario Cavaradossi)
© Vincent Pontet / OnP
6/33 :
Tosca (saison 20/21) - Michael Fabiano (Mario Cavaradossi)
© Vincent Pontet / OnP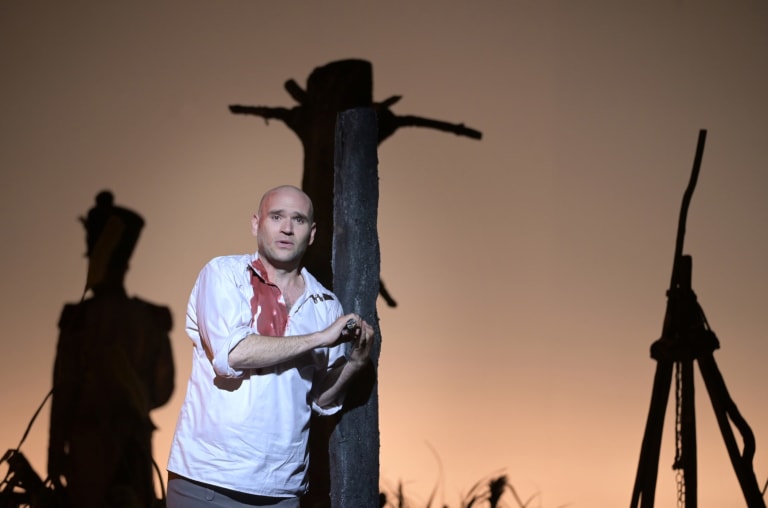 7/33 :
Tosca (saison 20/21) - Michael Fabiano (Mario Cavaradossi)
© Vincent Pontet / OnP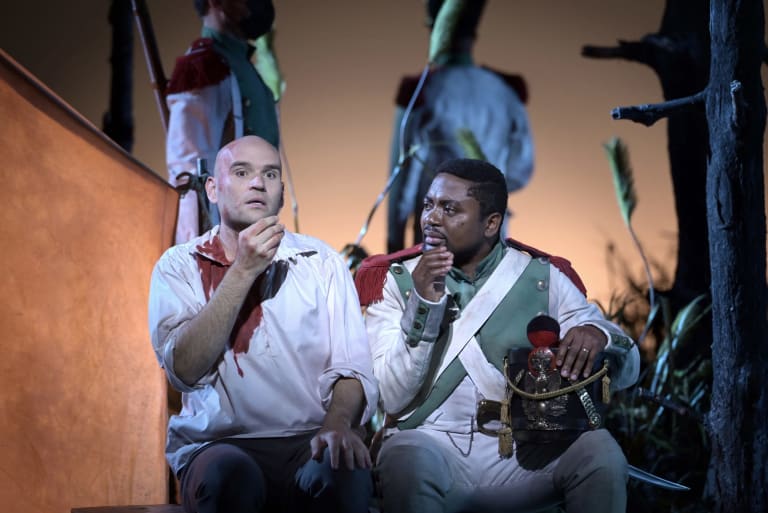 8/33 :
Tosca (saison 20/21) - Michael Fabiano (Mario Cavaradossi) et Florian Mbia (Un Carciere)
© Vincent Pontet / OnP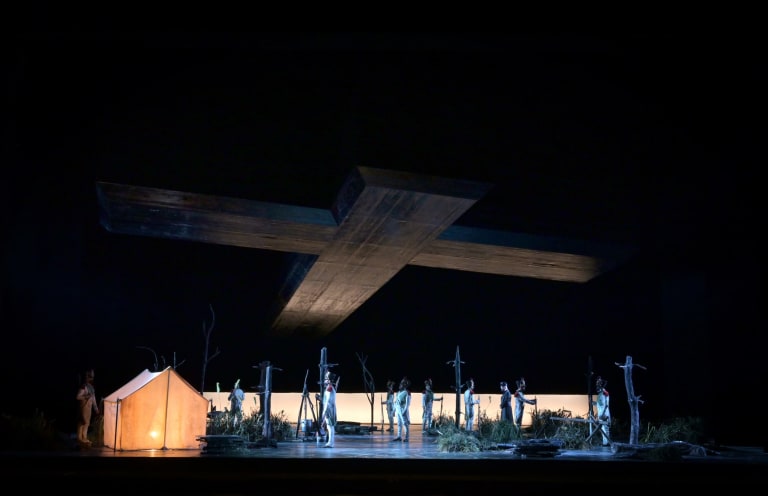 9/33 :
Tosca (saison 20/21)
© Vincent Pontet / OnP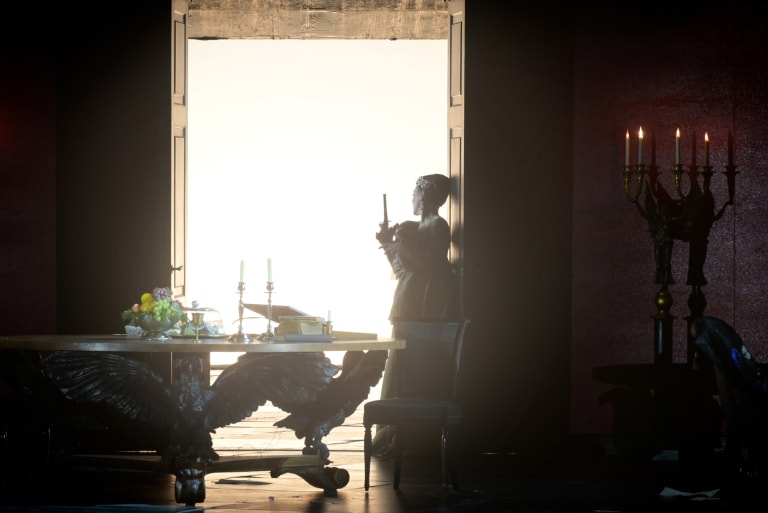 10/33 :
Tosca (saison 20/21) - Maria Agresta (Floria Tosca)
© Vincent Pontet / OnP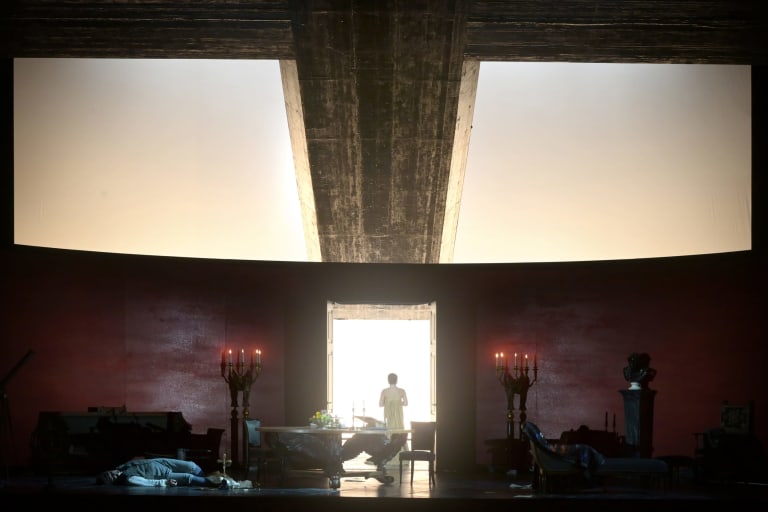 11/33 :
Tosca (saison 20/21) - Ludovic Tézier (Il Barone Scarpia) et Maria Agresta (Floria Tosca)
© Vincent Pontet / OnP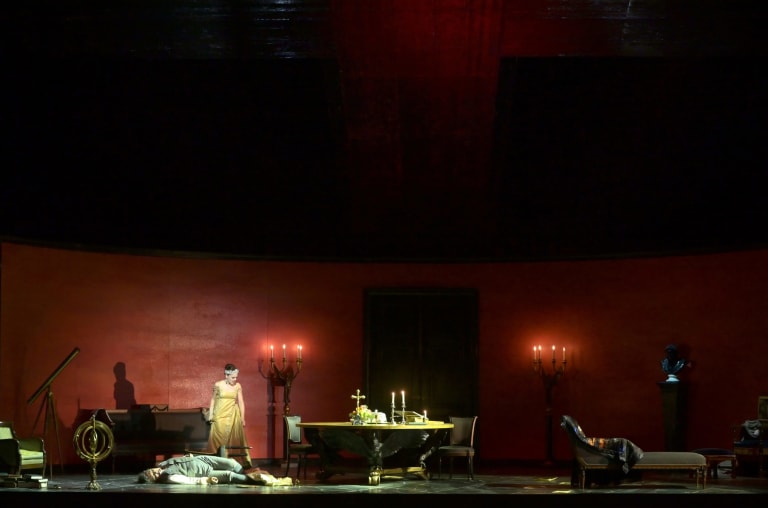 12/33 :
Tosca (saison 20/21) - Ludovic Tézier (Il Barone Scarpia) et Maria Agresta (Floria Tosca)
© Vincent Pontet / OnP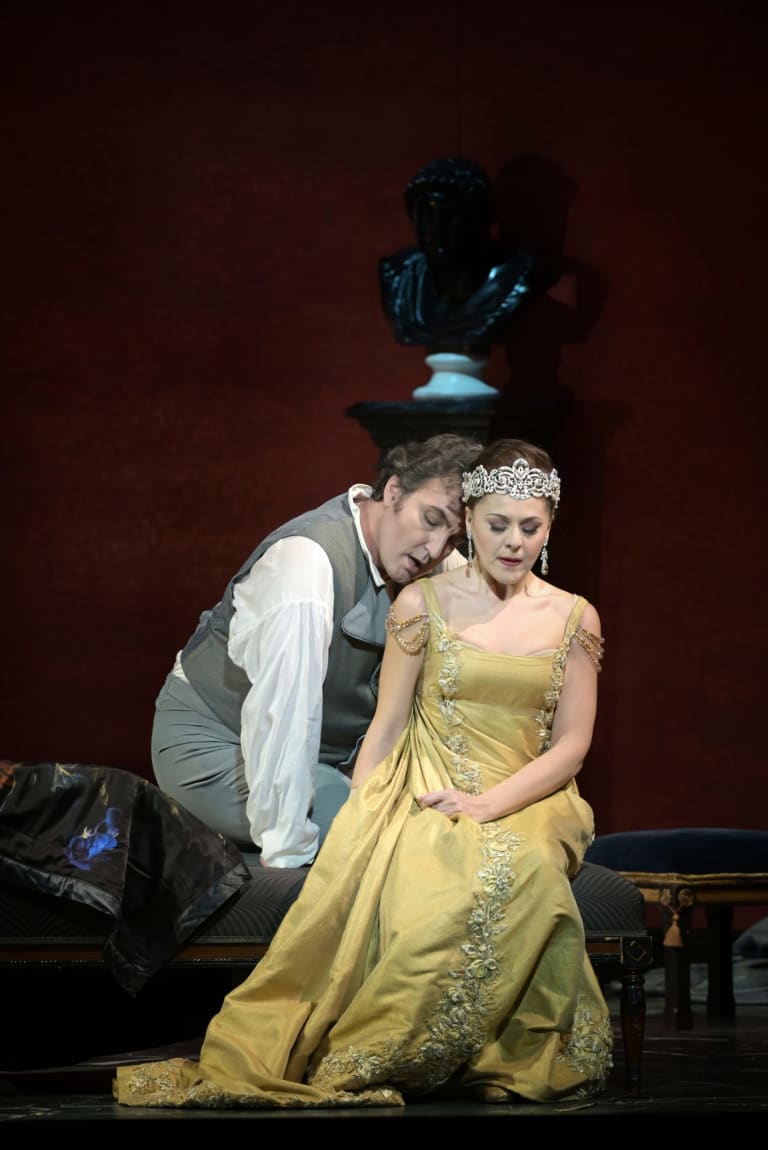 13/33 :
Tosca (saison 20/21) - Maria Agresta (Floria Tosca) et Ludovic Tézier (Il Barone Scarpia)
© Vincent Pontet / OnP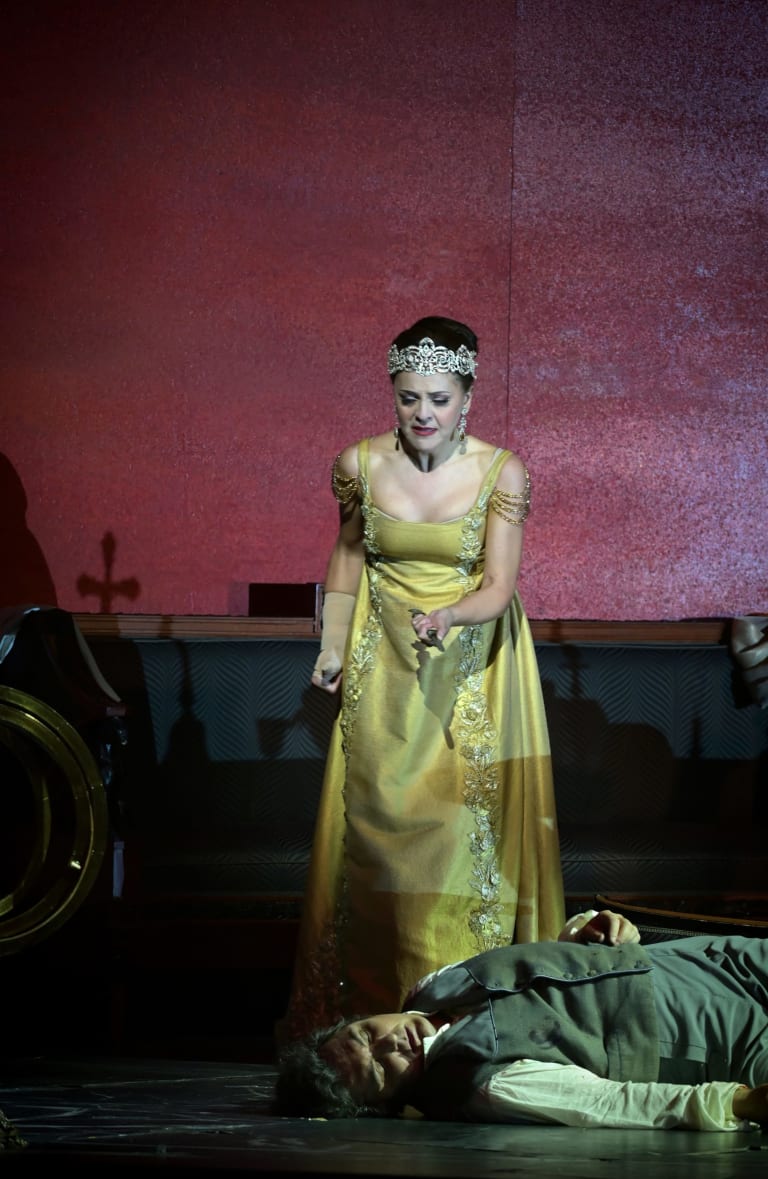 14/33 :
Tosca (saison 20/21) - Maria Agresta (Floria Tosca) et Ludovic Tézier (Il Barone Scarpia)
© Vincent Pontet / OnP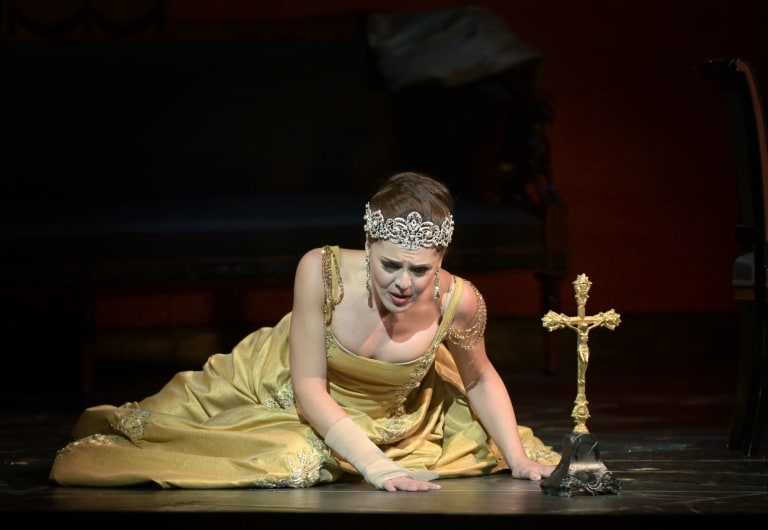 15/33 :
Tosca (saison 20/21) - Maria Agresta (Floria Tosca)
© Vincent Pontet / OnP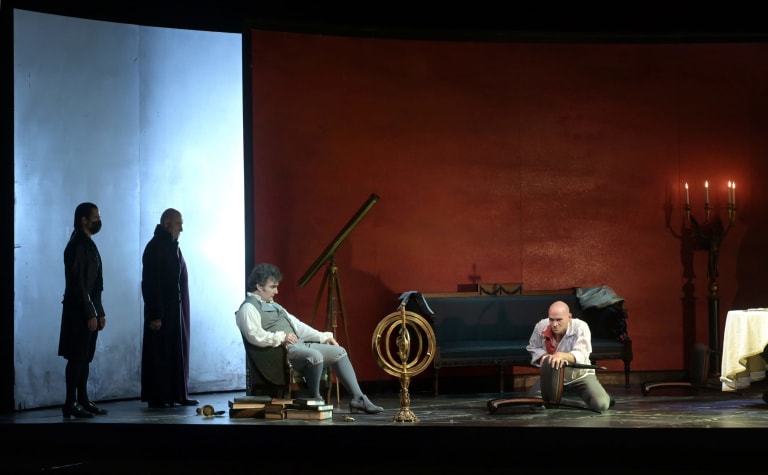 16/33 :
Tosca (saison 20/21) - Philippe Rouillon (Sciarrone), Ludovic Tézier (Il Barone Scarpia) et Michael Fabiano (Mario Cavaradossi)
© Vincent Pontet / OnP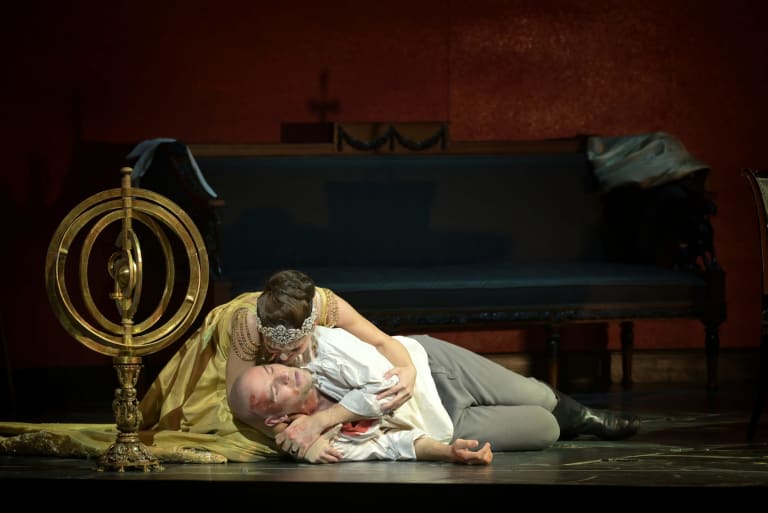 17/33 :
Tosca (saison 20/21) - Maria Agresta (Floria Tosca) et Michael Fabiano (Mario Cavaradossi)
© Vincent Pontet / OnP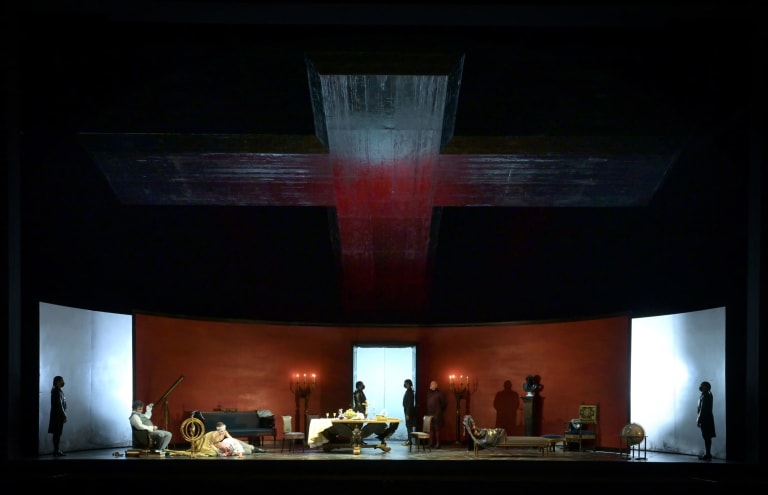 18/33 :
Tosca (saison 20/21) - Ludovic Tézier (Il Barone Scarpia), Maria Agresta (Floria Tosca), Michael Fabiano (Mario Cavaradossi) et Carlo Bosi (Spoletta)
© Vincent Pontet / OnP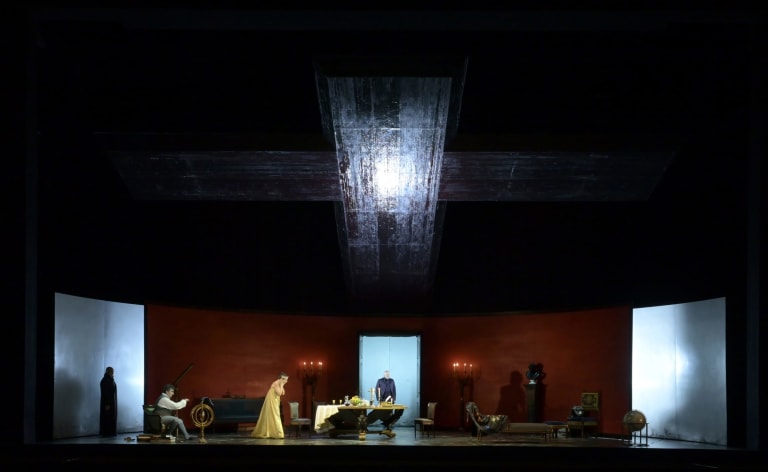 19/33 :
Tosca (saison 20/21) - Philippe Rouillon (Sciarrone), Ludovic Tézier (Il Barone Scarpia), Maria Agresta (Floria Tosca) et Carlo Bosi (Spoletta)
© Vincent Pontet / OnP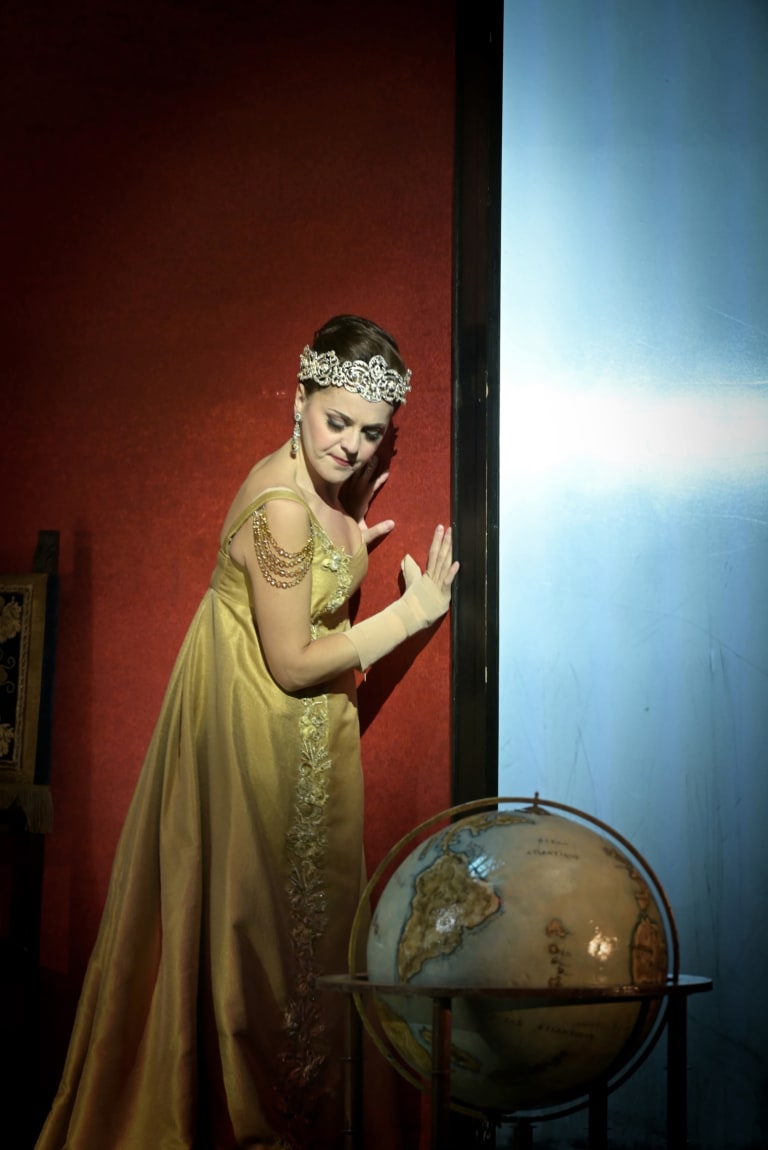 20/33 :
Tosca (saison 20/21) - Maria Agresta (Floria Tosca)
© Vincent Pontet / OnP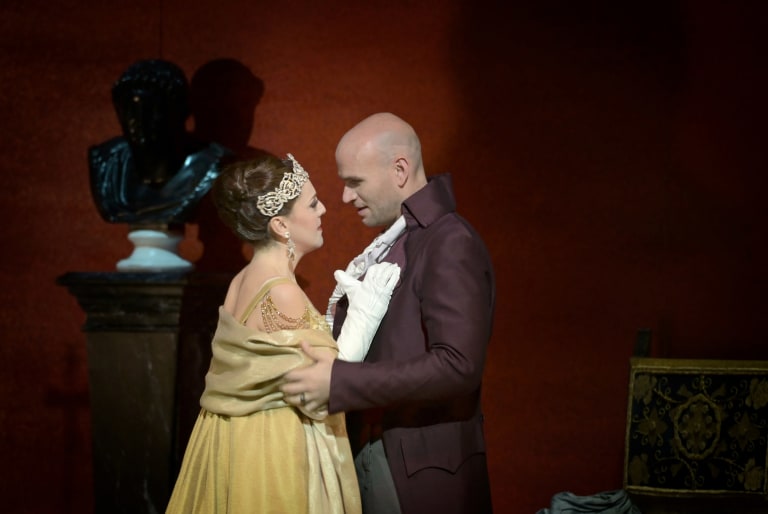 21/33 :
Tosca (saison 20/21) - Maria Agresta (Floria Tosca) et Michael Fabiano (Mario Cavaradossi)
© Vincent Pontet / OnP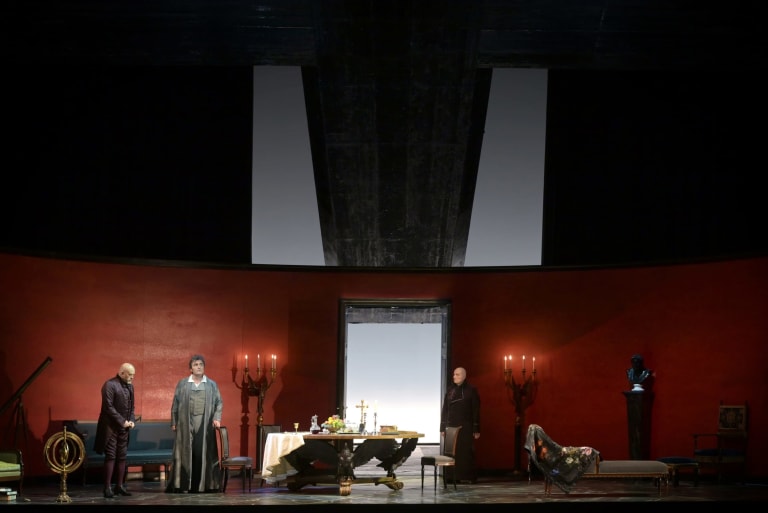 22/33 :
Tosca (saison 20/21) - Carlo Bosi (Spoletta), Ludovic Tézier (Il Barone Scarpia) et Philippe Rouillon (Sciarrone)
© Vincent Pontet / OnP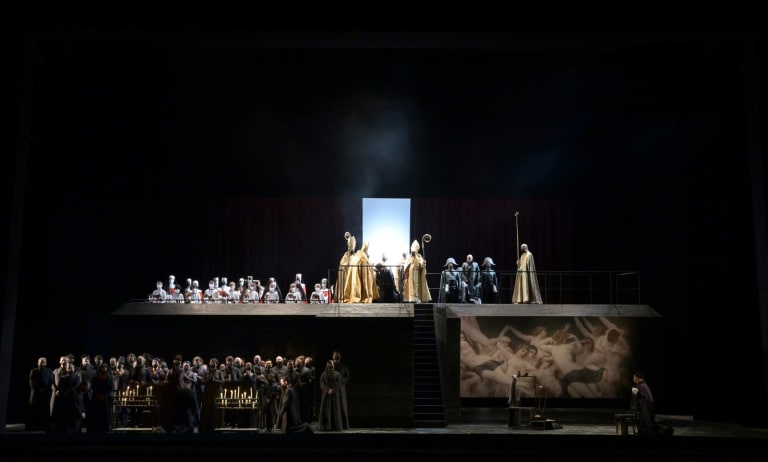 23/33 :
Tosca (saison 20/21) - Ludovic Tézier (Il Barone Scarpia)
© Vincent Pontet / OnP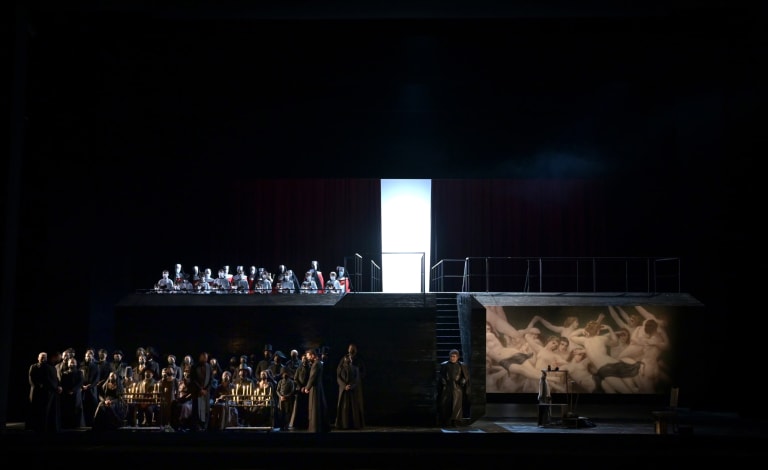 24/33 :
Tosca (saison 20/21) - Ludovic Tézier (Il Barone Scarpia)
© Vincent Pontet / OnP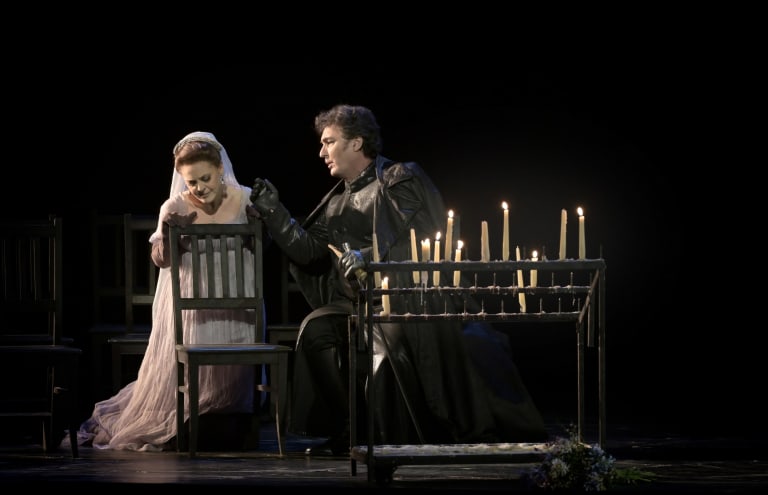 25/33 :
Tosca (saison 20/21) - Maria Agresta (Floria Tosca) et Ludovic Tézier (Il Barone Scarpia)
© Vincent Pontet / OnP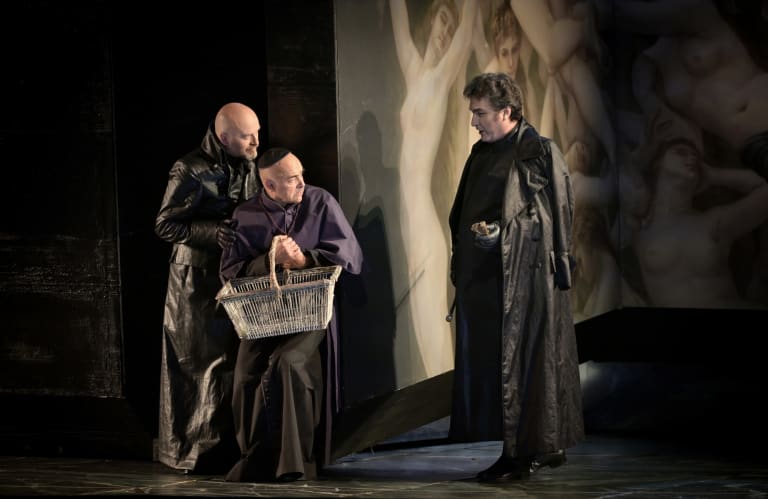 26/33 :
Tosca (saison 20/21) - Carlo Bosi (Spoletta), Frédéric Caton (Il Sagrestano) et Ludovic Tézier (Il Barone Scarpia)
© Vincent Pontet / OnP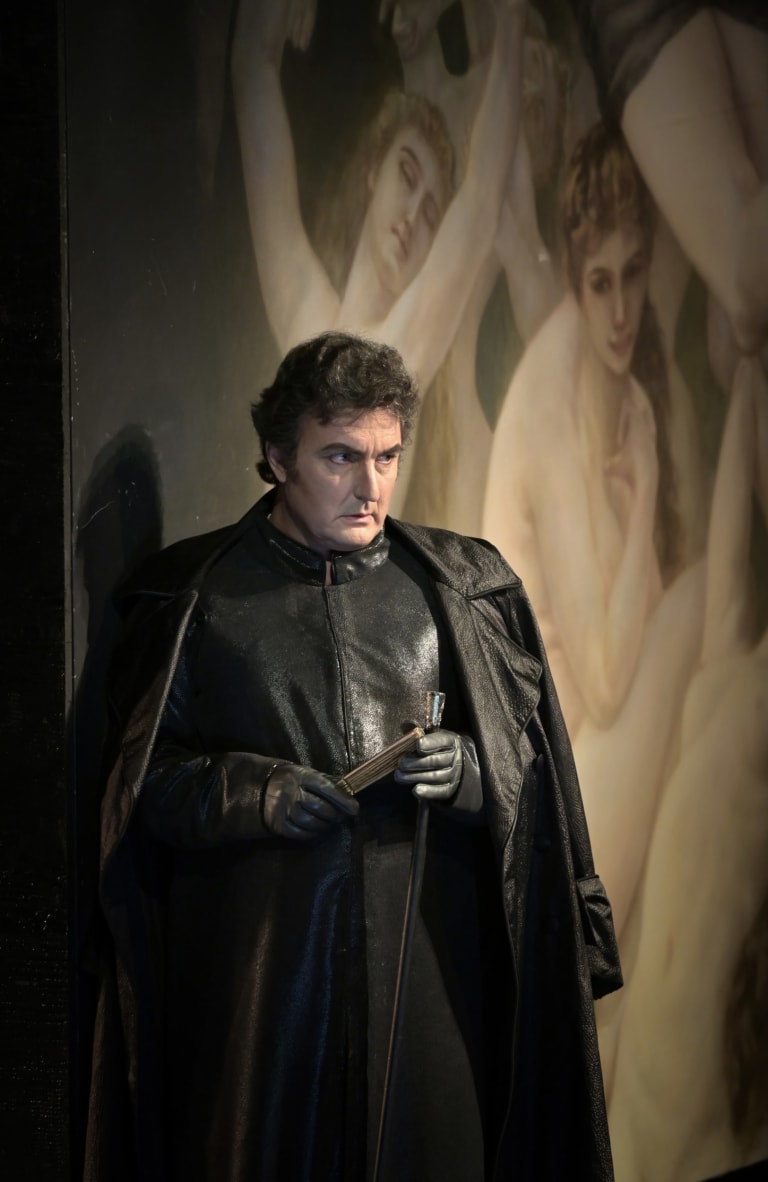 27/33 :
Tosca (saison 20/21) - Ludovic Tézier (Il Barone Scarpia)
© Vincent Pontet / OnP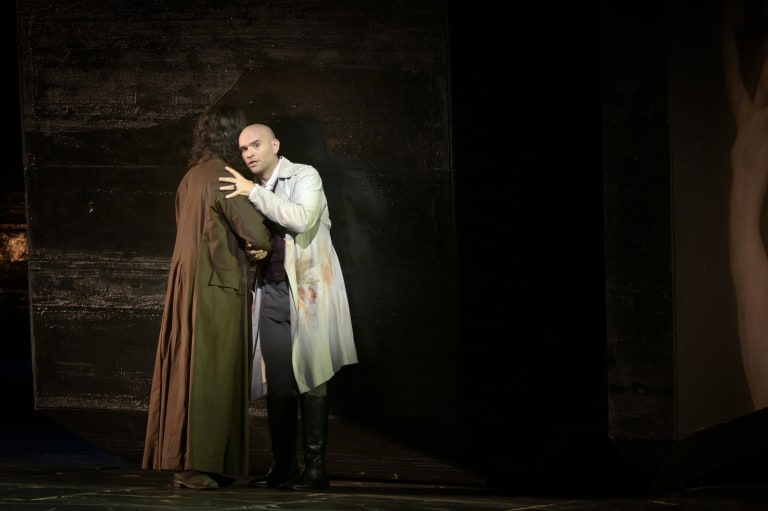 28/33 :
Tosca (saison 20/21) - Guilhem Worms (Cesare Angelotti) et Michael Fabiano (Mario Cavaradossi)
© Vincent Pontet / OnP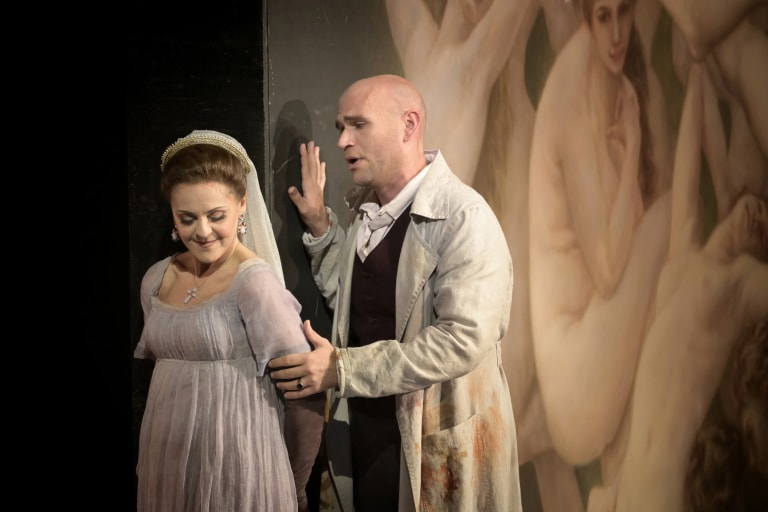 29/33 :
Tosca (saison 20/21) - Maria Agresta (Floria Tosca) et Michael Fabiano (Mario Cavaradossi)
© Vincent Pontet / OnP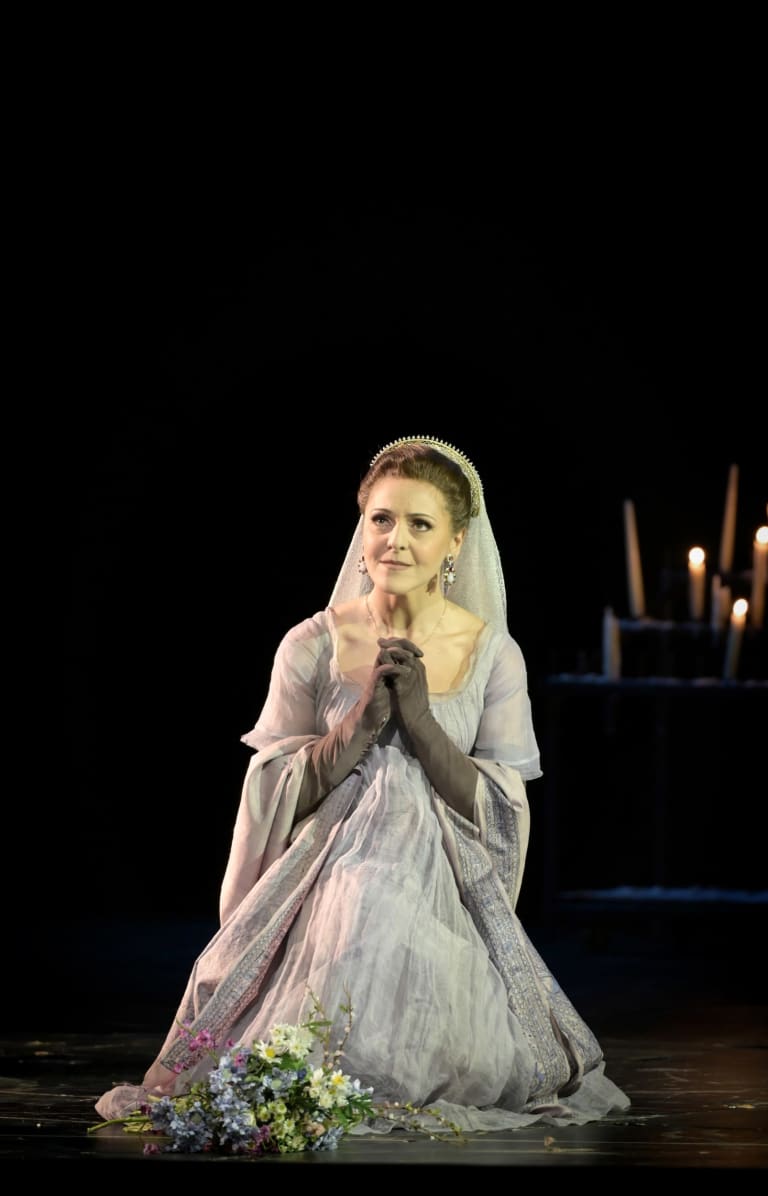 30/33 :
Tosca (saison 20/21) - Maria Agresta (Floria Tosca)
© Vincent Pontet / OnP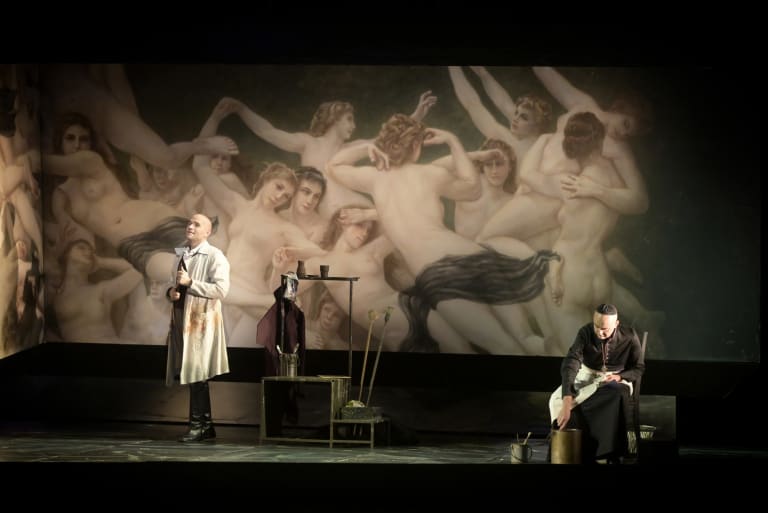 31/33 :
Tosca (saison 20/21) - Michael Fabiano (Mario Cavaradossi) et Frédéric Caton (Il Sagrestano)
© Vincent Pontet / OnP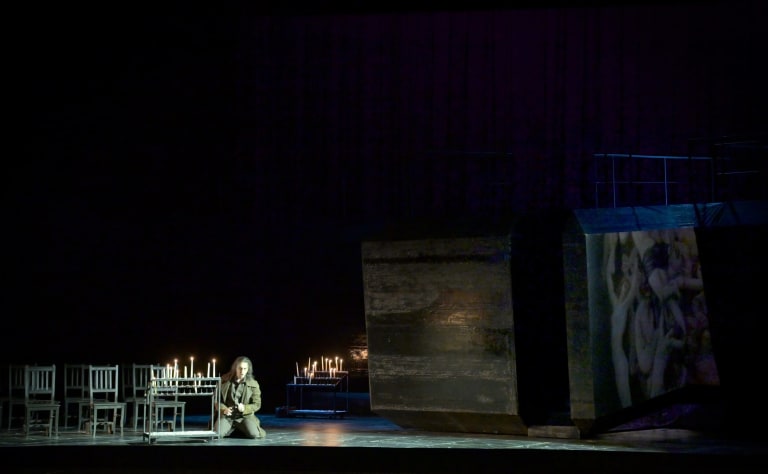 32/33 :
Tosca (saison 20/21) - Guilhem Worms (Cesare Angelotti)
© Vincent Pontet / OnP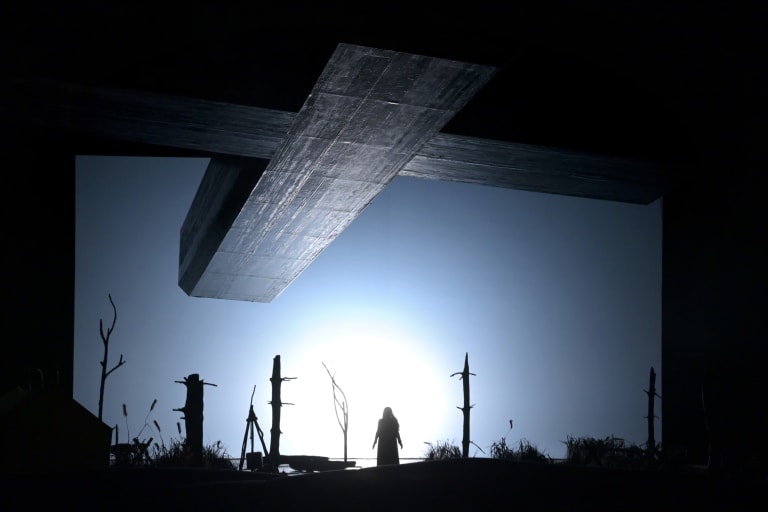 33/33 :
Tosca (saison 20/21)
© Vincent Pontet / OnP
1/3 :
[EXTRAIT] TOSCA by Giacomo Puccini "Vissi d'arte" (Maria Agresta)
2/3 :
[EXTRAIT] TOSCA by Giacomo Puccini "E lucevan le stelle" (Michael Fabiano)
3/3 :
[EXTRAIT] TOSCA by Giacomo Puccini (Maria Agresta & Michael Fabiano)
Audio clips
Tosca (saison 20/21) - Acte 2 (Ludovic Tézier et Maria Agresta)
Tosca (saison 20/21) - Acte 3 (Michael Fabiano)
Tosca (saison 20/21) - Maria Agresta (Floria Tosca)
Tosca (saison 18.19) - Acte I - Zeljko Lucic Et Choeurs