Ballet
Orpheus and Eurydice
Christoph Willibald Gluck - Dance opera by Pina Bausch
Palais Garnier - from 24 March to 06 April 2018
Opening night : 24 March 2018
About
In few words:
Dance, dance, otherwise we are lost!

- Pina Bausch
Hailed as a true event when it entered the repertoire in 2005, Orphée et Eurydice, a major work by the choreographer Pina Bausch, brings to life with great force one of the most celebrated myths in Western culture. Bausch revisits Gluck's work in the form of a danced opera, exploring in their intimate detail the links between movement and song. Fascinated by what "shakes people up", she brings to the score a disturbingly human quality, attaining through dance a universal vision of love of which she offers a sumptuous incarnation.
Orphée et Eurydice

Dance opera in four parts

Music

Christoph Willibald Gluck

Conductor

26, 27, 28 mars et 1er avr

Saturday 24 March 2018 at 19:30

Saturday 24 March 2018 at 19:30
Monday 26 March 2018 at 19:30
Tuesday 27 March 2018 at 19:30
Wednesday 28 March 2018 at 19:30
Friday 30 March 2018 at 19:30
Saturday 31 March 2018 at 19:30
Sunday 01 April 2018 at 19:30
Monday 02 April 2018 at 14:30
Tuesday 03 April 2018 at 19:30
Thursday 05 April 2018 at 19:30
Friday 06 April 2018 at 19:30

Latest update 22 March 2018, cast is likely to change.
Whether you're a member of Arop or not, the friends of the Opera can reserve seats for you on all performance dates, including those not yet open for sale and those announced as sold out.
Gallery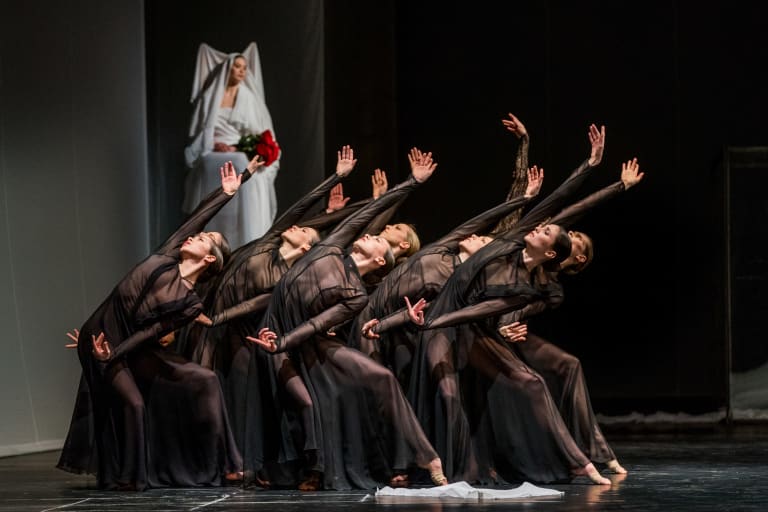 1/18 :
© Yonathan Kellerman / OnP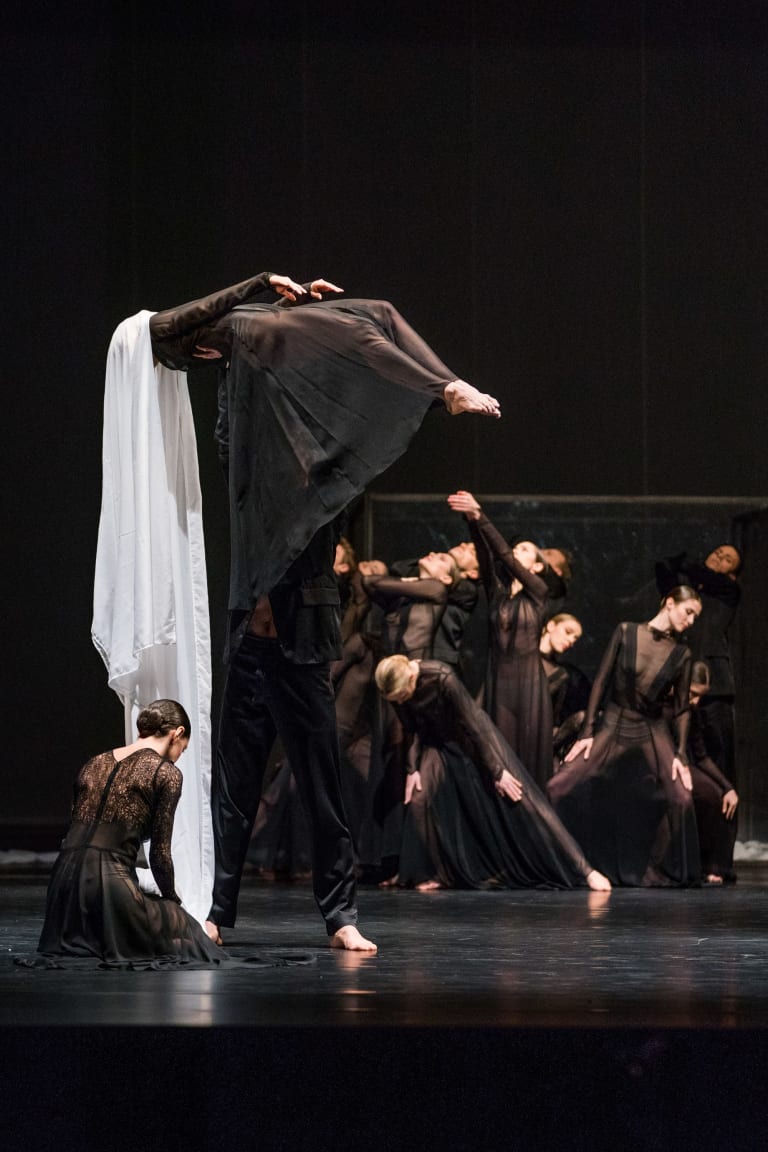 2/18 :
© Yonathan Kellerman / OnP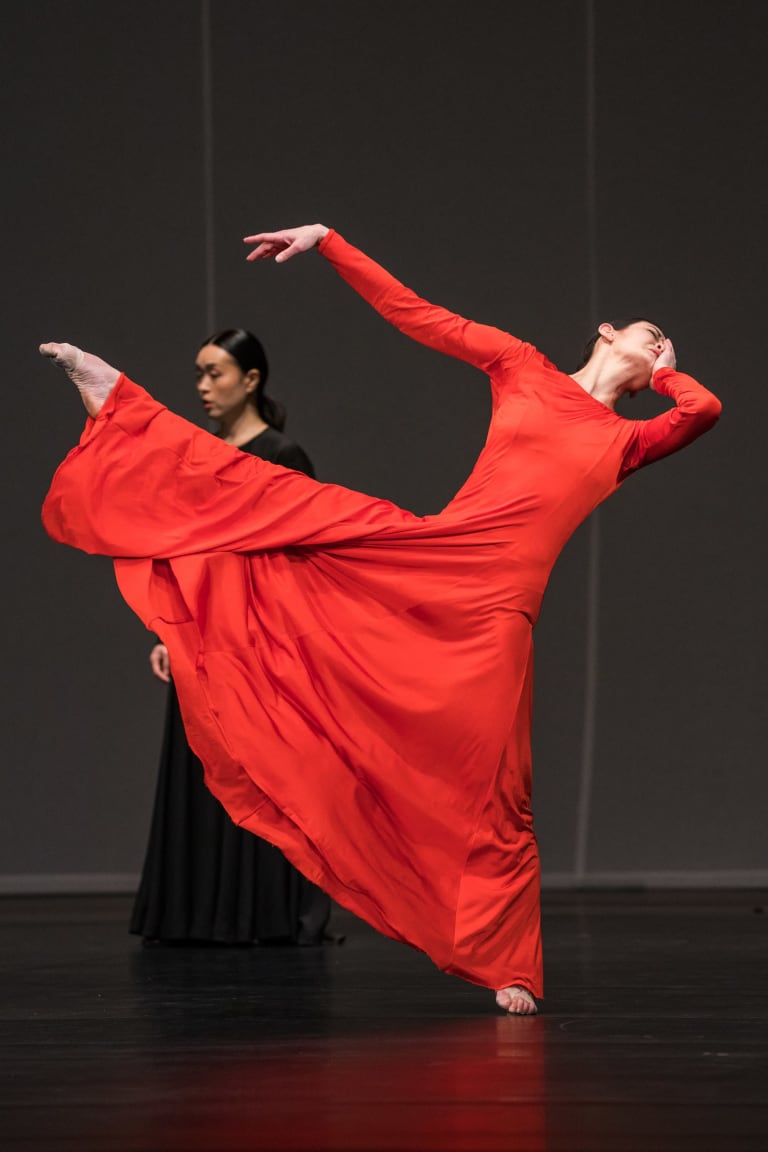 3/18 :
Alice Renavand
© Yonathan Kellerman / OnP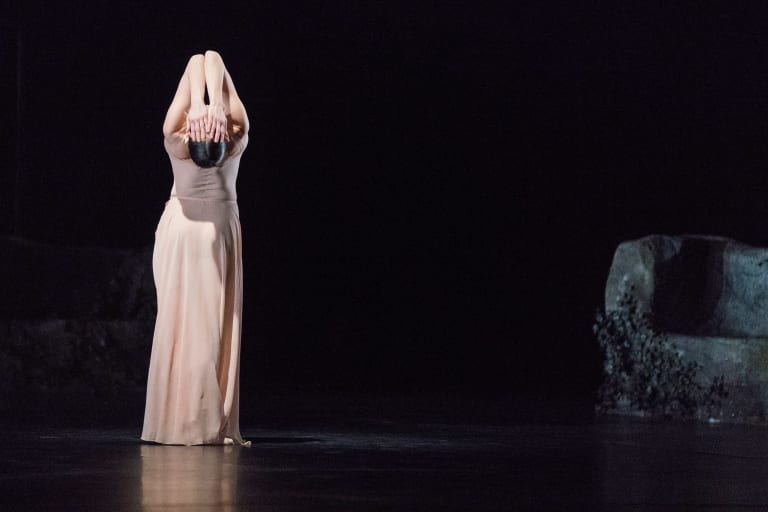 4/18 :
© Yonathan Kellerman / OnP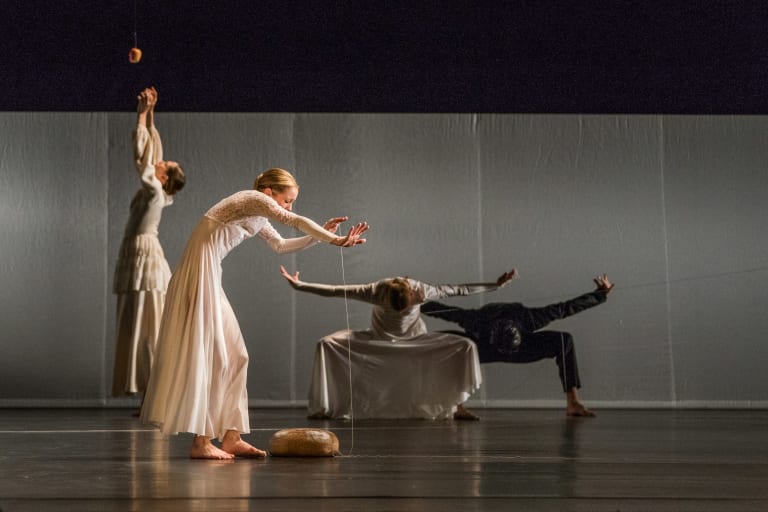 5/18 :
© Yonathan Kellerman / OnP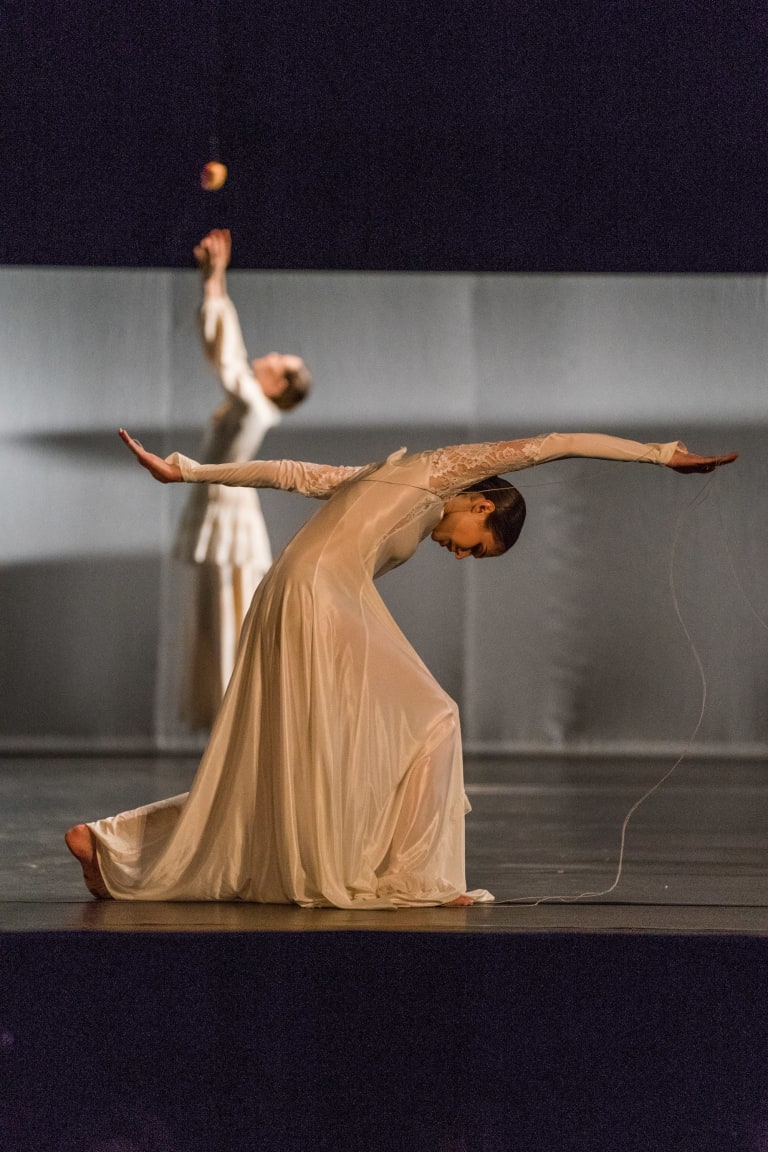 6/18 :
© Yonathan Kellerman / OnP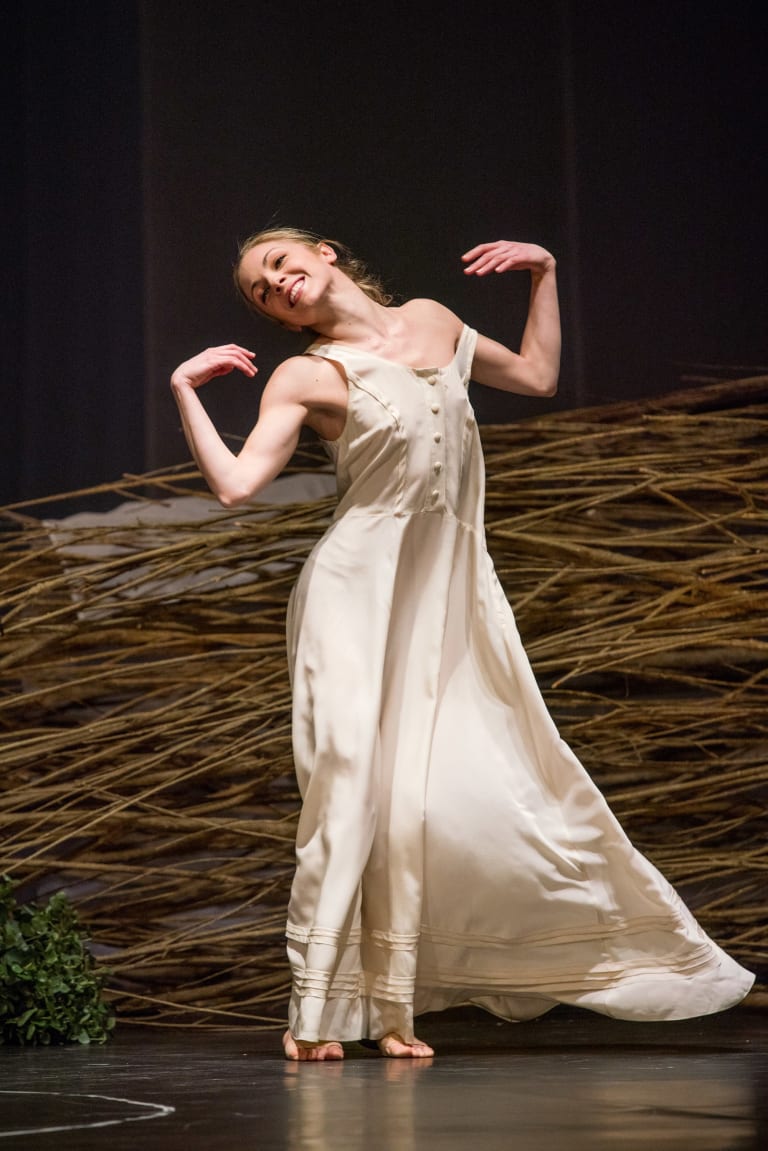 7/18 :
Charlotte Ranson
© Yonathan Kellerman / OnP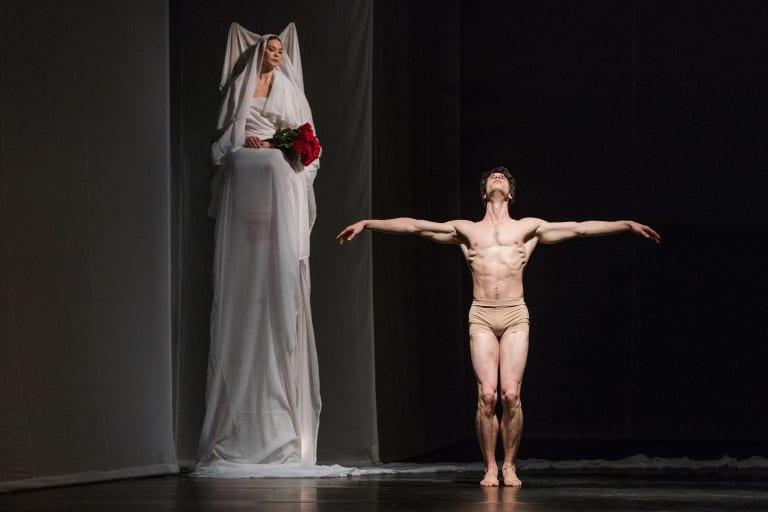 8/18 :
Alice Renavand and Florian Magnenet
© Yonathan Kellerman / OnP
9/18 :
© Yonathan Kellerman / OnP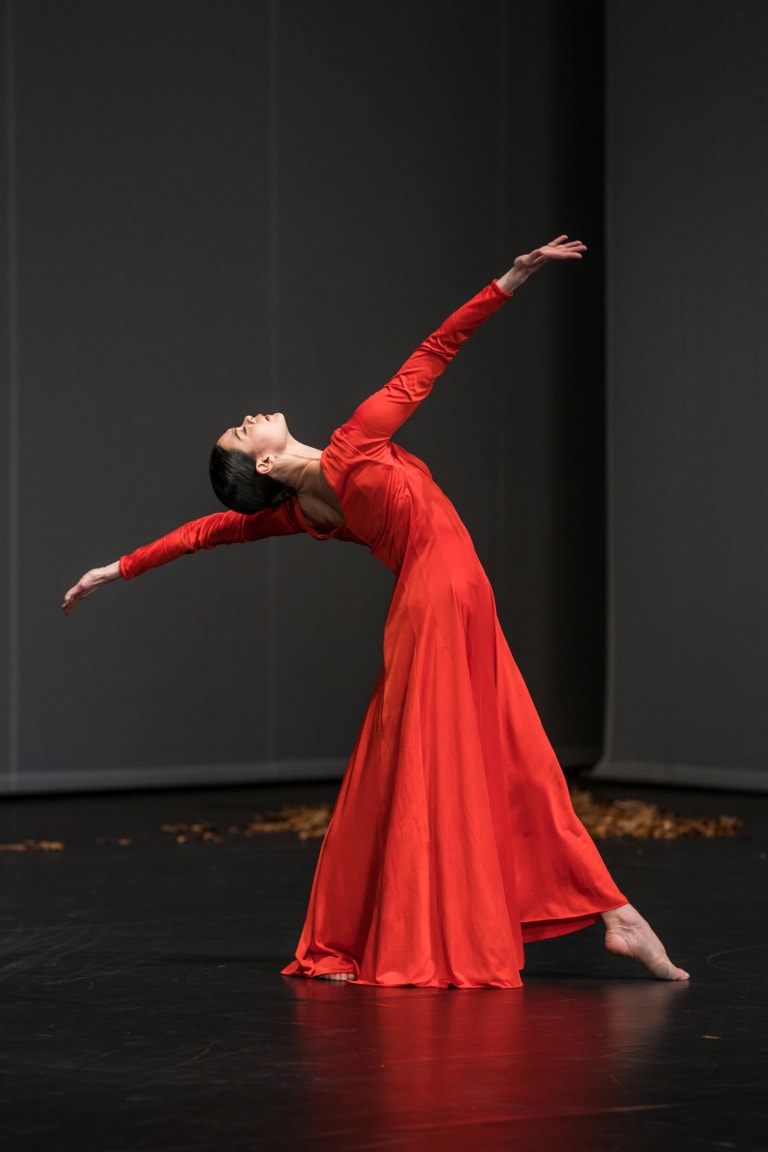 10/18 :
Alice Renavand
© Yonathan Kellerman / OnP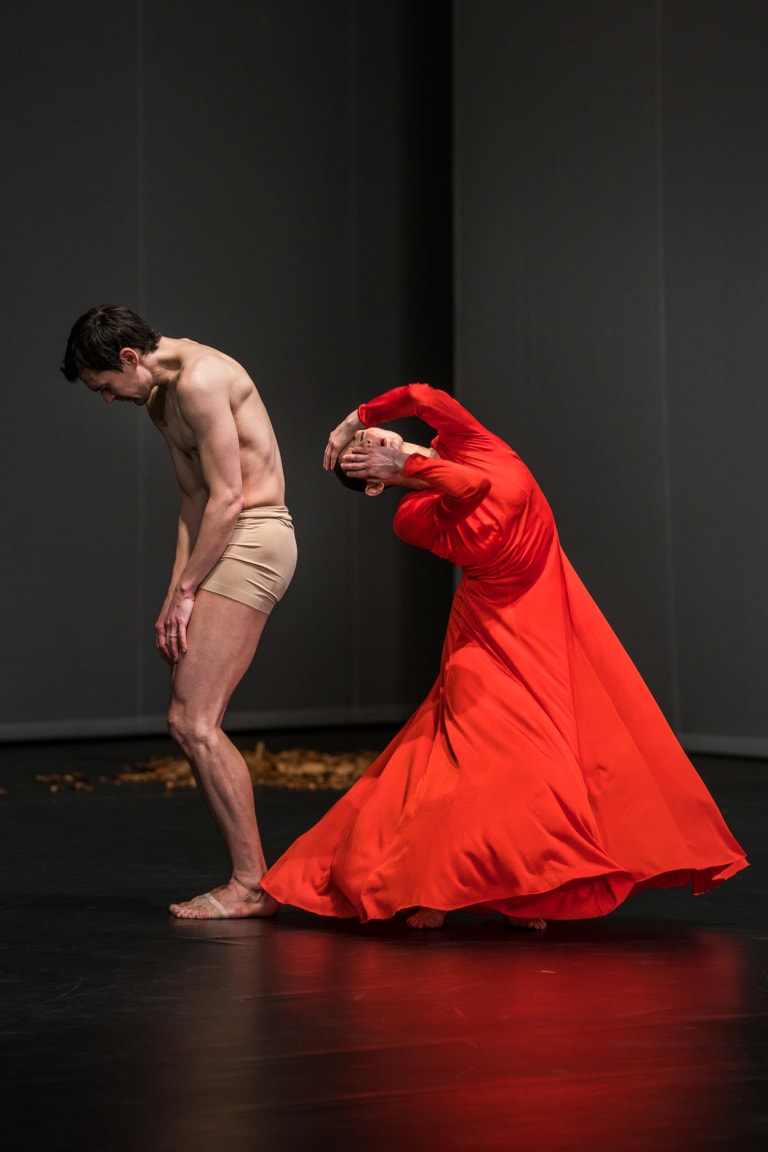 11/18 :
© Yonathan Kellerman / OnP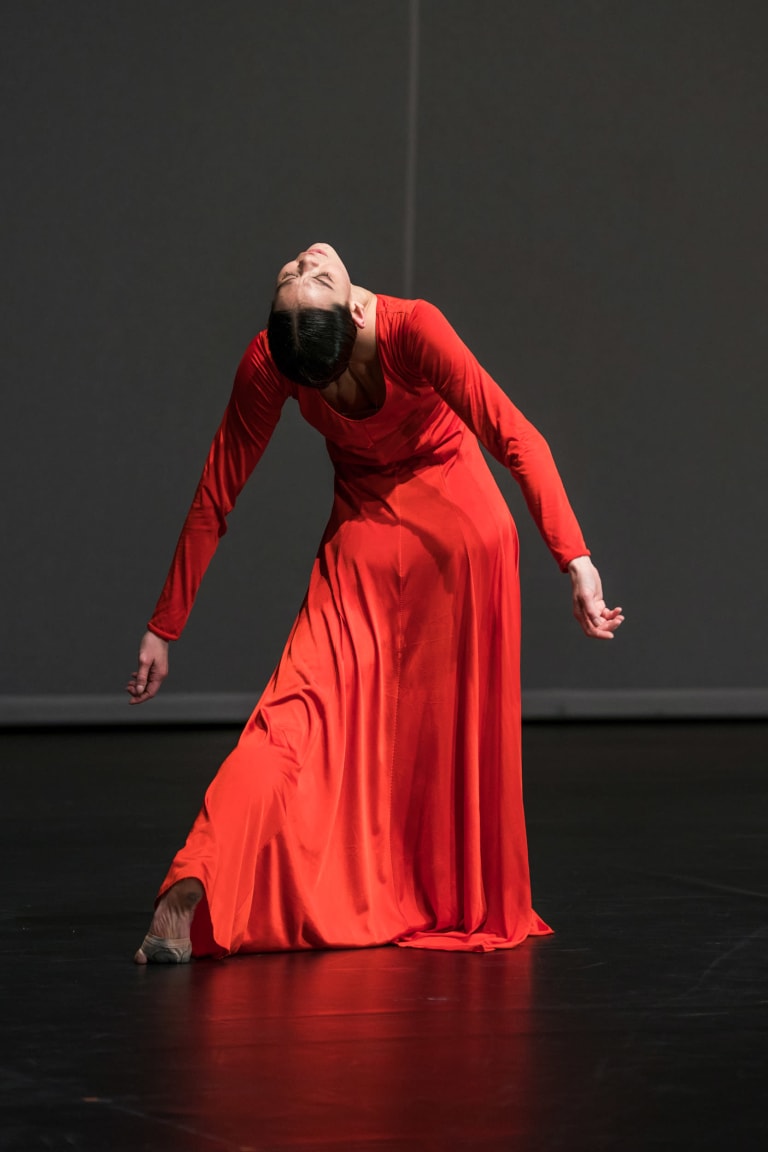 12/18 :
Alice Renavand
© Yonathan Kellerman / OnP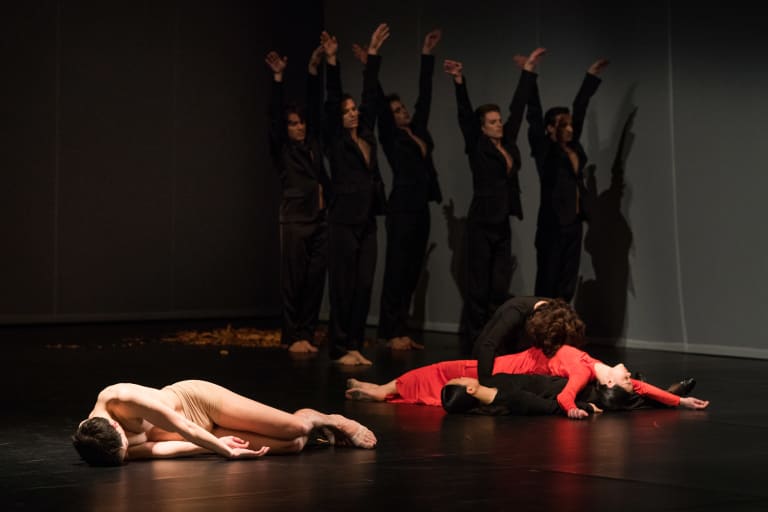 13/18 :
© Yonathan Kellerman / OnP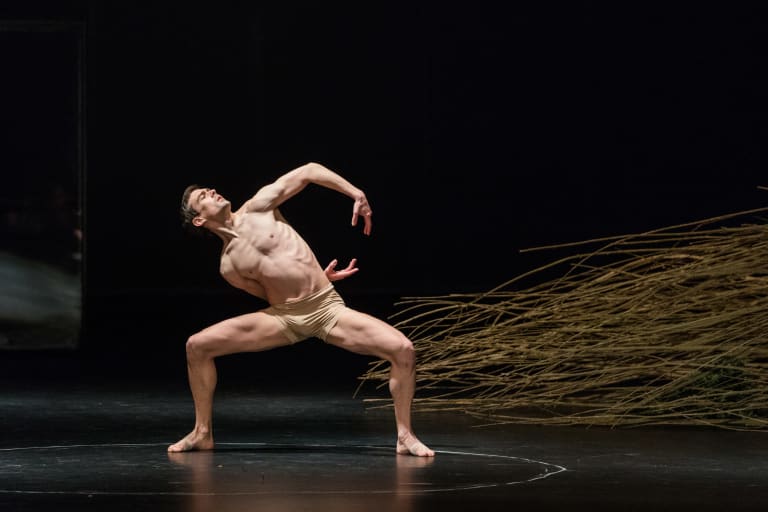 14/18 :
© Yonathan Kellerman / OnP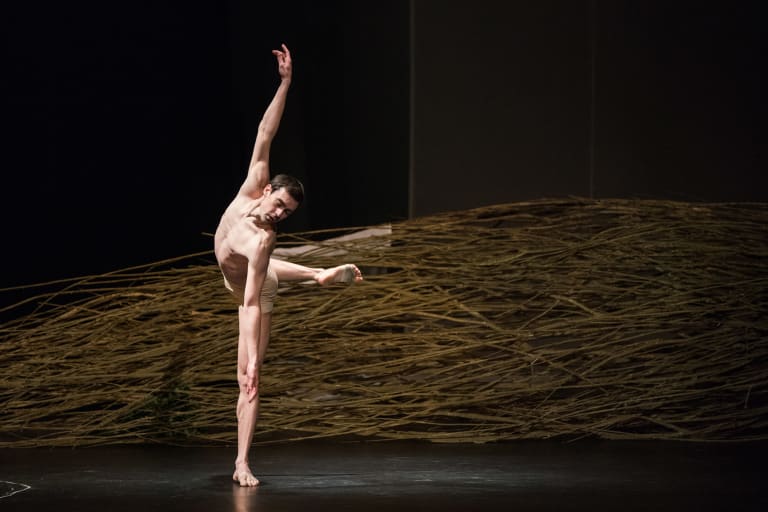 15/18 :
© Yonathan Kellerman / OnP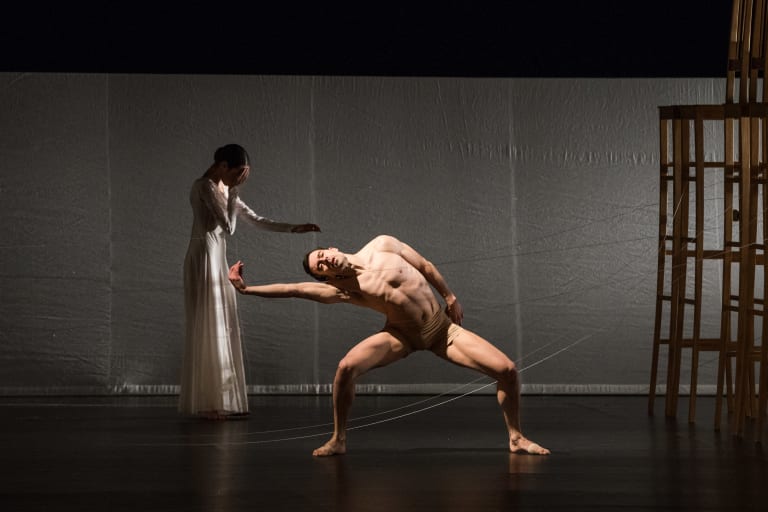 16/18 :
© Yonathan Kellerman / OnP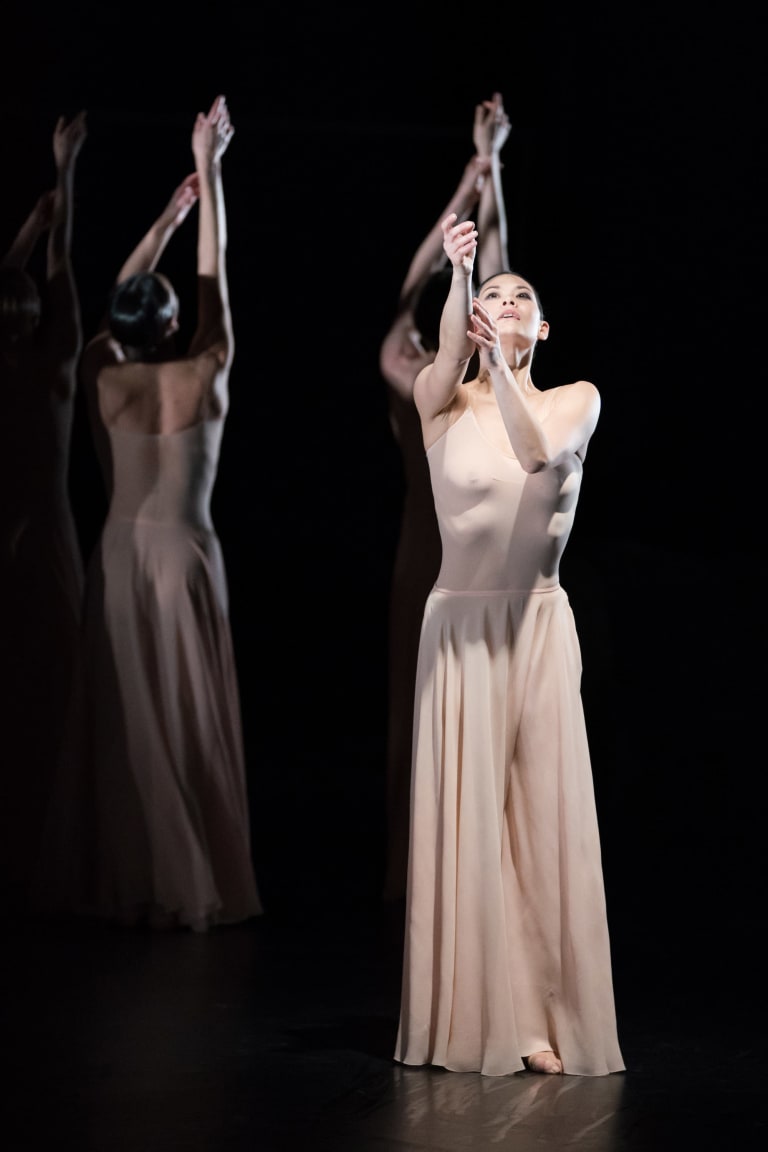 17/18 :
© Yonathan Kellerman / OnP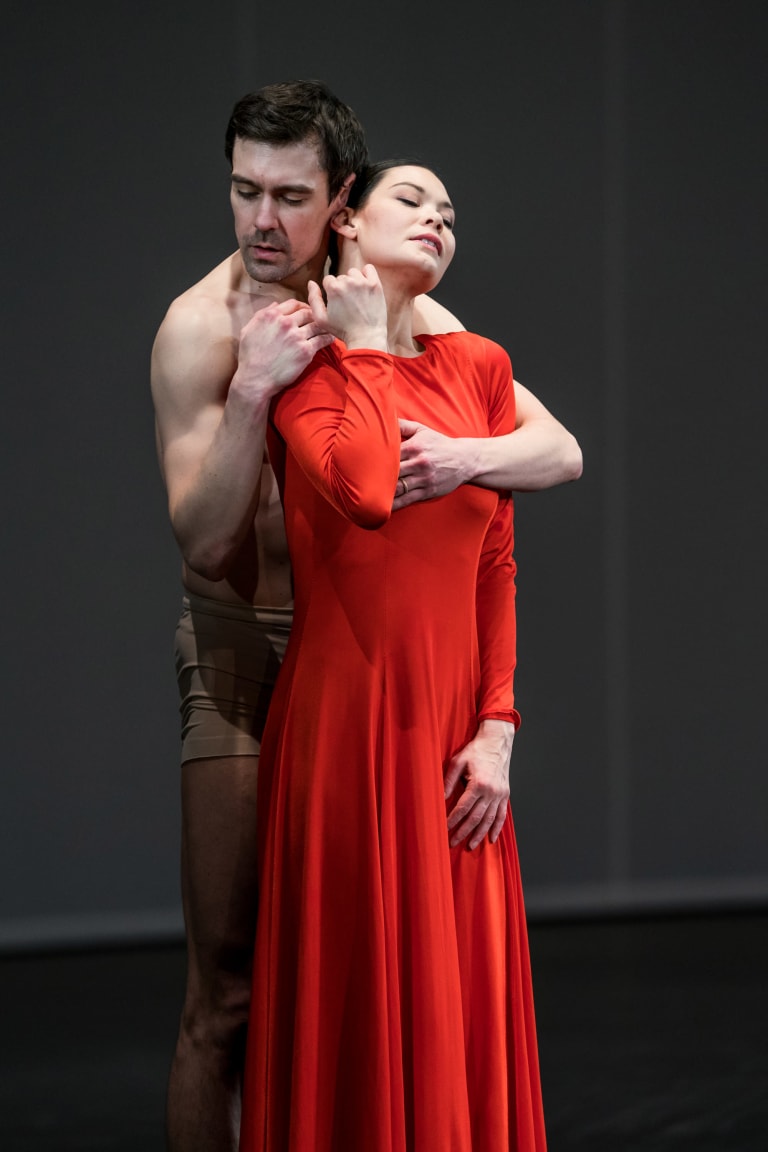 18/18 :
© Yonathan Kellerman / OnP
Videos clips
1/2 :
Lumière sur : Les répétitions d'Orphée et Eurydice
2/2 :
Orphée et Eurydice (Pina Bausch) - Extrait
Audio clips
Orphée et Eurydice - Christoph Willibald Gluck / Pina Bausch
Orphée et Eurydice - « O wenn in diesen dunklen Hainen… »
Backstage
Article

When Pina Bausch sets the trend

Podcast

Podcast Orpheus and Eurydice

Article

Marie-Agnès Gillot bids farewell to the stage

Article

Passing on the message
Article
When Pina Bausch sets the trend
Interview with Pierpaolo Piccioli from Valentino and Pierre Hardy
05'
With The Rite of Spring and Orpheus and Eurydice, two of the choreographer's legendary pieces, on the bill, our partner, Numéro asked two creators how their work has been influenced by Pina Bausch.
---
Pierpalolo Piccioli, artitic director of the fashion house Valentino
In the press, you spoke of your love for dance and, particularly with regard to your 2016 autumn and winter collection, the influence of Martha Graham. Looking at your work, it is Pina Bausch's influence that is rather more perceptible.
Pierpaolo Piccioli: Martha Graham said that "dance is the secret language of the soul". I would add that fashion is the visible part, the surface that reveals our deep-seated emotional states. In that sense, one may consider dance and fashion to be complementary art forms that maintain a permanent dialogue with each other.
I feel very close to Pina Bausch's artistic temperament. Her work helped to liberate the movement of the female body and to free female spirits. She opened up dance to new possibilities, applying her own vision to certain theatrical and ballet traditions. The co-existence of experimentation and tradition is part of my own method. I've adopted a similar approach by reinterpreting the Valentino heritage in my own collections.

Did you find The Rite of Spring particularly striking?
Yes, because the fluidity of the dancers' movements perfectly matched their dramatic emotions. I will never forget the first time I saw that piece, it moved me profoundly.

Clothes play an important role in the work of Pina Bausch. Women wear long, very light-weight dresses giving them a timeless look that reminds me particularly of your fashion shows which are interwoven with references to art history.
Grace is an aesthetic category that belongs to no one genre or period. To capture the moment at which it appears is a challenge for any creator. The women you just described embody the highest expression of feminine beauty: powerful but fragile, tormented yet delicate.

Her use of colour is highly symbolic and significant. Does that resonate with your own approach to colour?
I like to cultivate a clash between ethereal energy and other more punk forms of energy. Colour is the most powerful tool for expressing this contrast. The intensity of red fabric conversing with bare skin is the perfect example of this poetry. Contradictions are also tensions.
Pierre Hardy, shoe designer
Have you been influenced by Pina Bausch?
It took me a long time to learn to like Pina Bausch, her expressionism put me off at first, as did that violence of emotion. I don't know if she has influenced me but clearly her relationship with clothes, and particularly with shoes, is very strong. The dresses are almost like characters that the dancers embody. As for the shoes, they take part in her dramatic writing: the dancers are constantly putting them on, taking them off and placing them on stage. They are often classic high heeled court shoes, black or red patent leather, and old shoes, as if they had once belonged to someone else.

In Café Müller, Meryl Tankard trots nervously along on fairly high heels. The shoe seems to be dictating the gestures of the character.
Exactly. Pina Bausch completely integrated the shoe into the body's movement. Something we can observe in everyday life returns in a theatricalised, exacerbated form. The same goes for colours, which she uses like signs.

Her pieces are nurtured by the almost daily reality of the social being, in particular by the complex relationships between men and women. Do you see a parallel with fashion design?
In effect, one would say that her heroines have been transplanted straight from the street to the stage, where they suddenly start dancing. Her pieces sublimate the confrontation between the masculine and the feminine and the use of "real clothes", instead of stage costumes, plays an essential role. In my view, she was a sort of Martin Margiela of dance, with that very raw way of playing with reality. I am also fascinated by her way of creating a sort of timelessness in her discourse. We have seen her performers age on stage and, whilst incorporating biological, corporeal time, Pina Bausch took care to detach the clothes from the temporality of fashion, since we can't tell to which decade they belong.

Podcast
Podcast Orpheus and Eurydice
"Dance! Sing! 7 minutes at the Paris Opera"
07'
"Dance! Sing! 7 minutes at the Paris Opera" offers original incursions into the season thanks to broadcasts produced by France Musique and the Paris Opera. For each opera or ballet production, Judith Chaine present the works and artists you are going to discover when you attend performances in our theatres.        
Article
Pure lines
Gluck's Orpheus and Eurydice translated by Pina Bausch
05'
In 2005, Pina Bausch gave the Paris Opera Ballet her version of Orpheus and Eurydice, choreographed on Christoph Willibald Gluck's music. In this danced opera, first performed in 1975, the choreographer translated the intensity of the tragedy into gesture, delicately combining singing with dance. By returning to the essence of human emotion and freeing dance from all artifice, she translated the composer's intentions with the utmost fidelity.
From its first performance in 1762 in Vienna, in the original Italian version, until its adaptation by Pina Bausch in 1975 as a choreographed opera, Gluck's "Orpheus" had a number of avatars: revived and adapted many times, it bears witness to changes in tastes and practices over the ages; and yet it also bears the marks of a constant quest for authenticity, for the absolute, beyond artifice and practical constraints.
We are familiar with the reforming ideas that led Gluck to compose his Orpheus and Eurydice: rejecting the surfeit of special effects and artifices characteristic of Italian-style opera, he aimed to allow music once again to serve the clear exposition of drama and emotion and thus restore opera to its natural framework. In the initial version of "Orpheus", first performed in Vienna in 1762, Calzabigi's libretto is in Italian and the principal role is for a castrato, but the sobriety of the melodic lines and the close illustration of the action by the music, inspired by French-style classical tragedy with which Gluck was familiar, were novelties and had a strong effect on audiences.

So much so that Gluck, who settled in Paris in the 1770s, decided to adapt Orpheus and Eurydice for French audiences: he had the libretto translated into French by Pierre-Louis Moline, added several numbers to the score (including Amour's aria "Si les doux accords de ta lyre" and Orpheus's "L'Espoir renaît dans mon âme") and rewrote the role of Orpheus for tenor. First performed in 1774 at the Theatre of the Palais-Royal, the Parisian version of the opera was hailed as a triumph and the work, definitively adopted by the French, was to remain in the repertoire until the opening decades of the next century.
From the 1830s onwards, however, the fashion in Paris was for Rossini and Meyerbeer, and Gluck's Orpheo disappeared from the billboard. In 1858, though, the director of the Théâtre-Lyrique Léon Carvalho decided to revive the work: wishing to readapt it to Parisian tastes, he asked the current idol of the opera-going public, Pauline Viardot, to sing the role of Orpheus. Gluck had initially conceived the role for a castrato, then rewritten it for a tenor: it was now a question of adapting it for mezzo-soprano, a female voice. It was Berlioz who carried out the work, transposing the role to a tessitura equivalent to that of the original version whilst maintaining the modifications and additions to the melodic line made by Gluck for the Paris version of 1774. Performed at the Théâtre-Lyrique in 1859, this third version of Orpheus was, in its turn, a huge success. Since then, the idea of having Orpheus performed by a woman has stuck, and the "Berlioz version" has definitively supplanted the previous two.
In 1975, Pina Bausch's revival of Orpheus and Eurydice marked yet another stage in the history of this work. The choreographer transformed the opera into a ballet, using a German libretto this time (translated from the French version) and divided into four tableaux: "Mourning", "Violence", "Peace" and "Death". These terms express the existential notion of despair associated with Pina Bausch's style ever since her earliest works: for her, the body must be confronted directly with the suffering, both physical and moral, that resides at the heart of human existence, in order to accept and transcend it. It is in this light that one must consider that fact the Pina Bausch took out the happy ending added by Moline for the French version, in which Orpheus and Eurydice are reunited thanks to the mercy of the gods, and restored the original ending culminating in the separation and death of the two lovers.
Thence, more generally, derives a form of dance which never aims to be decorative: "Reality can no longer always be danced […] I mean that the movements are so simple that one might think that this is not dance. And for me, it's the opposite." To transform the stage into a place for the direct expression of human feelings, free from artifice and floweriness, such was Gluck's intention at the time; such, finally, over and beyond the modifications and successive versions of the work, is the constant factor in the history of Orpheus and Eurydice.
Article
Marie-Agnès Gillot bids farewell to the stage
A photographic record of an Étoile's career
07'
An Étoile dancer since her 2004 nomination during Carolyn Carlson's ballet Signes, Marie-Agnès Gillot is a multi-faceted artist. A teacher who, at a very early age, chose the path of education in parallel with her dance career at the Opera Ballet. A muse and source of inspiration, but also a committed woman who defends a host of causes. A personality of the cultural world too, who is already preparing a series of fine projects after leaving the stages of the Palais Garnier and the Opéra Bastille. As she prepares to bid farewell as Eurydice in Pina Bausch's ballet, she discusses emblematic moments of her life and offers us a brief personal profile.
---
I'd run into Pina Bausch quite a few times in the cafeteria at Garnier before I met her in the studio. And then she had me audition for the role of Eurydice….
When you become involved in one of her works, Pina's uniqueness resides in the singularity of the movement. Initially, it is pleasing to do. But then it becomes far more difficult to execute perfectly. The smallest detail makes the difference. You think you have mastered the movement when in fact you're a long way from having grasped it. Its fluidity makes us believe we can get there. But Pina's choreography is a totality and that's what is so hard. I was the first to be chosen to perform the role in Paris, I perhaps will be the last.   

Signes - Carlson : the first Etoile dancer to be promoted while performing a contemporary ballet: 2004
"I realise that certain of my spiritual fathers have become masters and then ghosts."
I created this ballet with Carolyn Carlson in 1997. Obviously, it is highly emblematic of my career—as is that particular choreographer, artist and woman. I continue to work with her on the solo My Dialogue with Rothko. It's always a great pleasure to rediscover those links with the visual arts that are omnipresent in her work. (The ballet Signes was choreographed in sets by Olivier Debré). She passed on the last solo that she created for herself, it's very symbolic.
I would say there's a bloodline between those women and me. Pina and Carolyn. What they passed on, their presence, their kindness—all that has been very important to me throughout my career as well.

Balanchine – Robbins – Petit - Forsythe- Ek – Mc Gregor…
Forsythe, Ek, McGregor… those choreographers are the men of my life. I also need to mention Roland Petit, Robbins, Balanchine and so many others. I am lucky to have known them when they were alive (except Balanchine of course) and to have had the chance to work with them. Today, they're the great classics, their names have become legendary. For me, more than anything else, they were inspiring men, synonymous with encounters and exchanges. In the end, I realise that my fathers have become masters and then ghosts. Time passes so quickly!      
I passed my dance teacher's diploma at the age of 18. For me, teaching wasn't something that was a given just because I'm an Etoile dancer (an Etoile dancer receives the diploma without passing the exam). It was something I wanted as of an early age: to teach and to pass on what I knew. I was fortunate enough to have had the chance to work alongside the great masters. I am happy today to be able in turn to help young people and pass on what I know. Teaching is not some favour bestowed on me, I have always liked it—to share the secrets I have discovered, to show the way. I hope to be able to continue to accompany and guide people. To point them in the right direction. As such, I have created a School with a sponsor in Italy, close to Turin, and I hope to be able to open an annexe in Paris.

A multi-faceted artist: her collaborative works, her advertising campaigns
The last advertising campaign I did for Estée Lauder was a nice collaborative effort. The idea was simple: "A day with Marie-Agnès". Very few things were staged, I wanted it to be filmed in places familiar to me—that resembled me. I also designed and created my first clothing collection last year for Petit Bateau with my son. It was a wonderful project. Recently, I met the singer Arthur H. I liked him right away. He called me a week before he was due to start filming his video clip for La Boxeuse amoureuse. I listened to his composition and I said yes. Throughout my life, geniuses and music have propelled me forward on.

An activist
I became involved with children's causes early on, then AIDS, Cancer, and women's issues… As a public figure, I am fortunate that I was approached to defend the causes that are dear to me. I also fight for relatives and friends affected by such diseases. The first cause I actively got involved in is still very important to me, it's called "The Chain of Hope". It's all about straightforward gestures, surgeons who operate on children…

"Throughout my life, geniuses and music have propelled me forward."
An icon from the world of culture
We have a very rich cultural offering in France, particularly in Paris. However, I think there's still not enough cross-fertilisation between genres and ethnicities. Paris as a city is a melting pot but culture is still not representative enough of that diversity. When Dimitri Chamblas and I presented a "carte blanche" performance at Saló (a pop-up club dedicated to alternative cultures), I had the opportunity to meet and work with some unknown dancers who were nevertheless hugely talented. There is still a great deal to do to bring us all together. Today, we are drifting apart. I hope to give more cohesion and meaning to all of that.
Article
Passing on the message
Conversation about Orpheus with Dominique Mercy and Stéphane Bullion
09'
In 2012, dancer Étoile Stéphane Bullion slipped into the mythical role of Orpheus for the first time. Dominique Mercy, Pina Bausch's constant fellow traveller, accompanied him in the learning process. As creator of the role, his work in transmitting it and preserving the spirit of the late choreographer, whilst keeping the repertoire alive, was precious. Now that the ballet Orpheus and Eurydice is once again on the bill at the Palais Garnier, opening on March 24th, Octave proposes a combined interview with the two artists.

---
Dominique Mercy, Orpheus and Eurydice is a piece you have performed a number of times and that you have already passed on to the Paris Opera Ballet. Has the question of memory, essential to the theme of the piece as well as to the art of dance, changed since Pina Bausch's death?
Dominique Mercy : After Pina Bausch died, Brigitte Lefèvre, Director of Dance at the Paris Opera, asked me to revive "Orpheus". I was both delighted and worried because I didn't know what it would mean to do all that work without Pina and now I'm very happy to be here: it corresponds to Pina Bausch's own idea of her repertoire, which she began to take care of as early as 1980. For a long time, she created two new works per season, then only one so as to be able to programme and perform existing pieces. With cast changes and new dancers from other companies bringing different energies, her pieces regained a form of youthfulness. She also knew how to muster and use this fresh energy for her new works: for her, everything happened step by step, with the same organic rhythm, because one piece gave rise to another, which she chose specifically to form part of a corpus of work she believed in. That was her way of neither forgetting nor repeating herself and making people understand how important each work is in itself if a repertoire is to remain alive.
Stéphane Bullion :
Our company is the only one to which Pina Bausch transmitted her pieces so that they would enter our repertoire and we are very lucky! Every instant of rehearsal is permeated with that particular perfume I picked up on from her presence and that I encountered during "Rite of Spring". In the time it took her to come in and put the finishing touches, she communicated something huge which one never loses because, as with Dominque Mercy and Malou Airoudo, who was the first to dance the role of Eurydice, dance is passed on from dancer to dancer and isn't merely a question of learning and executing the steps.
Isn't the fact that the company wasn't dissolved and that Pina Bausch's art of is passed on by her own dancers the sign that her art and her life continue?
D. M. : The day the company learnt of the death of Pina Bausch, we only had a few hours in which to decide whether or not to go ahead with the performance we had prepared for that evening, and we decided to do it. That was, I think, the first step in our undertaking to carry on presenting this repertoire so that it would continue to exist, in close collaboration with the company, rather than automatically doing new things, even if that is not excluded.
S. B. : The Paris Opera Ballet thrives on an older repertoire, although that does not mean that Petipa's ballets are museum pieces: all repertoire, whether classical, modern or contemporary, remains alive provided the performers and those who transmit it "nourish" it with the stuff of life and take into account the various people and personalities involved as well as formal elements. The transmission of a ballet is not just a matter of "cut and paste"; you don't dance Swan Lake at the age of twenty as you dance it at thirty-five because in the meantime you have danced "Orpheus", for example.
D. M. : I've always been surprised by the sort of aura that surrounds transmission, its museum-like connotation, because, in my view, there is nothing more vital than people on stage! In the face of each performer, one has to consider what the most interesting thing to touch on is. And the basis of Pina Bausch's work was to work with each of us to reach the intention underlying each step. I remember that, when she created the role of Orpheus with me, I began to alternate with another dancer for whom certain passages were a bit more complicated and it wasn't a problem at all for Pina to simplify because that wasn't the most important thing for her. It's the same thing today with her repertoire: nothing is necessarily immutable, it's not a case of repeating the original steps but of reviving the spirit of the piece and if the intention behind the step is there, one can almost do without the step itself!
S. B. :
What Dominique doesn't mention is that the vocabulary of classical dance always gives the impression of being more "written" than the others. Now Pina Bausch's is very much a written language and very precise even though one has the impression of an extremely free form of dance, less codified and not part of an alphabet. That's why Dominique has so many indications to give us, because the writing of one of Pina Bausch's choreographic sequences imposes real technical constraints. If I manage to find the key to dancing this ballet as it should be danced, I know I won't be the same dancer!
This new role of Orpheus must be a real challenge given that, whilst the action involving the three characters – Orpheus, Eurydice and Amour - is deployed with simplicity and clarity, it leaves Orpheus alone on stage almost all the time! How do you approach such a mythological figure when you also know the importance of the theme of watching and seeing in this ballet?
S. B. : It's marvellous to work on the interpretation of a role in a ballet when you have already discovered it as a spectator; since all repertoire is made up of different versions and interpretations, I avoid comparisons, or else I would never go on stage again - I'd stay at home! I don't draw comparisons with the way I've approached other roles either because, each time, in order to get inside a role, I try to arrive in the studio with as neutral and as open a mind as possible, without any preconceived ideas. In "Orpheus", what Pina Bausch constructed with the music, each step is guided by an intention, a line of thought and there's always motivation that comes from somewhere other than from the body. When you are privileged enough to "profit" (in the noble sense of the term), from the presence of the dancer who created the role, you can but think: "I know nothing and I am to be taught everything" so as not to start off on the wrong foot.
D. M. : 
In effect, there is something very physical and instinctive in dance which doesn't require words and one has to be free to risk feeling what is going on around oneself. It's important not to try to know too much before trying to understand, as Stephane says, because the important thing is the role, Orpheus sick with love following Eurydice all the way to the Underworld to bring her back to life, not battling with the right leg that doesn't want to go in front of the left, even if, day after day, that is what happens: learning, adjusting, discovering and understanding where it's all going and where it's coming from… In the studio, solving problems, seeking new directions, new things, are part of life and even if dance is an arduous activity, it's a real joy. It's through the writing and beyond it that we repeatedly find a form of liberty, because rather than following on from the work, memory comes more through in the formative movement of the work. And then, when one begins to stage a piece, there are other emotions that well up, a bit like hot springs.