Report from the 3 June 2019
Tournée du Ballet de l'Opéra national de Paris en Asie, Singapour
ASIE - SINGAPOUR
Representations
Esplanade – Theatres on the Bay : 
Friday, June 21, 2019 - 8:00 pm
Saturday, June 22, 2019 - 3:00 pm
Saturday, June 30, 2019 - 8:00 pm 
Sunday, June 23, 2019 - 3:00 pm  
Program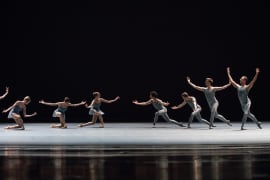 BLAKE WORKS I
Music: James Blake
Choreographiy | Scenography: William Forsythe
Costume design: William Forsythe, Dorothée Merg
Lighting design: William Forsythe, Tanja Rühl

Created for the Paris Opera Ballet in 2016.
If Approximate Sonata and Artifact Suite entered the Paris Opera Ballets repertoire in 2006, William Forsythe's last creation for the company Pas./parts dates back to 1999. When creating Blake Works 1 in July 2016, the choreographer discovered a new generation of dancers. He chose seven songs from British composer James Blake's album The Colour in Anything, to accompany a ballet which dazzles by its freshness and once again illustrates the way in which William Forsythe plays with classical codes.   

Cast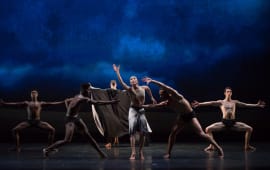 IN THE NIGHT
Music: Frédéric Chopin
Choreographiy: Jerome Robbins
Costume design: Antony Dowell
Set design, Lighting design: Jennifer Tipton

Created for the New York City Ballet in 1970 and entered Paris Opera Ballet's repertory in 1989.
ln the Night is a tributes to Frederic Chopin. Seeking to free the composer from the commonplaces that have often belittled his music, Robbins transforms Les Nocturnes into ln the Night, a long and poetic pas de deux built like a metaphor of love in ail its states.    
Cast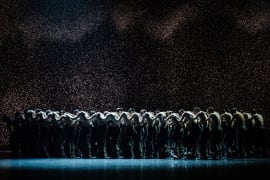 THE SEASONS' CANON
Music: Max Richter
Choreographiy: : Crystal Pite
Costume design: Nancy Bryant
Lighting design: Tom Visser
Set design: Jay Gower Taylor

Created for the Paris Opera Ballet in 2016.
For this ballet, Crystal Pite, a former dancer with the Frankfurt Ballet and currently resident choreographer at the Nederlands Dans Theater, draws inspiration from the meticulous observation of natural phenomena as well as the recomposed version of Vivaldi's Four Seasons by composer Max Richter. Max Richter offers a freely recomposed version of Vivaldl's Four Seasons. He concentrates on certain moments of the score and remodels them to create "new objects", superimposing familiar fragments or juxtaposing them ad infinitum to bring new life to a work that has been well-worn by the excessive exploitation it suffers today, "I've only kept 25% of the notes, but Vivaldi's DNA is in every bar. I've retained the forms, the gestures, the textures and the nuances"  

Cast
ASIE - SHANGHAÏ
Representations
Grand Theâtre de Shanghaï  300 People's Avenue, Shanghai 200003, Chine    
4 performances of Swan Lake

Saturday, June 29, 2019 - 7:30 pm 
Sunday, June 30, 2019 - 2:00 pm 
Sunday, June 30, 2019 - 7:30 pm 
Monday, July 1st, 2019 - 7:30 pm  
 2 performances of the mixed bill
Thursday July 4, 2019 - 7:30 pm 
Friday, July 5, 2019 - 7:30 pm  
Program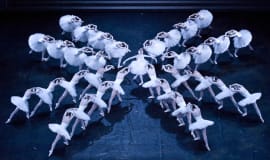 LE LAC DES CYGNES
Livret : Vladimir Begichev, Vassili Geltser
Music: Piotr Ilyitch Tchaikovski
Choreographiy:  Rudolf Noureev d'après Marius Petipa et Lev Ivanov
Set design: Ezio Frigerio
Costume design:  Franca Squarciapino
Lighting design:  Vinicio Chelli
Production créée par le Ballet de l'Opéra de Paris en 1984.
Orchestre symphonique de Shanghaï
Conductor : Valery Ovsyanikov 

Cast
Legends
From Greek mythology (Zeus, the ruler of the gods, assumed the form of a swan to seduce Leda) to the wild romanticism of Ludwig Il of Bavaria (who borrowed from the realms of Wagner the symbolism of the swan which he would exalt to the point of obsession), legends of the beautiful unsullied bird, symbol of inaccessible purity and ambiguous eroticism, abound in Narse and Celtic folklore just as they do in the fables of Russia and Persia  

Pantomime
The vocabulary of mime plays an essential raie in Swan Lake adopting expressions commonly used in pantomime to express sadness (tears) but also love and memories.  

Composing for dance
When he came to compose Swan Lake, Tchaikovsky adopted from his predecessors - primarily the French musicians whom he greatly admired (Adolphe Adam for Giselle in 1841, Léo Délibes for Coppélia in 1870 and Sylvia in 1876) - the technique of attributing melodic themes to the principal characters that would recur and develop at their every appearance (leitmotiv) and creating a comprehensive, unified composition with a symphonie character.  

A russian ballet
First performed in Moscow in 1877 to a choreography by Reisinger, Swan Lake got off to a precarious start. It was not until 1893 that Ivan Alexandrovitch Vsevolozhsky, director of the Imperial Theatres of Saint Petersburg, began entertaining the idea of restaging Swan Lake with Marius Petipa and Lev lvanov. The two choreographers had previously worked with Tchaikovsky to create The Sleeping Beauty /1890) and The Nutcracker /1892). The new version of Swan Lake was an immediate success. Numerous Russian choreographers would subsequently restage the ballet, including Alexander Gorsky /at the Bolshoi Theatre in 1901), Michel Fokine with Diaghilev's Ballets Russes (in 1911), Nicolai Sergeyev (in 1934) and more recently, Alexeï Ratmansky (in 2016).  

Nureyev's version
ln a more Freudian interpretation of the work, Rudolf Nureyev's version re-evaluates the male raies and gives greater psychological depth to all the characters. The set, conceived by Ezio Frigerio, consists of a closed, unembellished, "frozen· space. lt is also a mental space inside which the Prince can give free rein to his fantasies. When he came to create the painted canvases, the set designer drew inspiration from Claude Monet and his « extraordinary pictorial sensitivity·picturale.»  

BLAKE WORKS I (William Forsythe)
IN THE NIGHT (Jerome Robbins)
THE SEASONS' CANON (Crystal Pite)  
Major Partner of the Ballet Tour in Asia

Read more

Official Carrier for the Ballet Tour in Asia