Report from the 11 March 2019
Paris Opera Ballet tour of the United Arab Emirates Abu Dhabi
Performances
At the Emirates Palace Auditorium:
Friday March 29, 2019 – 8 pm
Saturday March 30, 2019 – 8 pm
Programme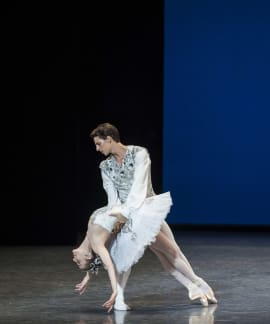 JOYAUX
Music, Emeralds: Gabriel Fauré Suites de Pélléas et Mélisande (1889)et de Shylock (1898), extraits.
Music, Rubies: Igor Stravinsky Capriccio pour piano et orchestre.
Music, Diamonds: Piotr Ilyitch Tchaikovski Symphonie n°3 en ré majeur, op.29, extraits.
Choreography: George Balanchine
Sets | Costumes: Christian Lacroix
Lighting design: Jennifer Tipton
Ballet first performed in 1967 by the New York City Ballet and added to the Paris Opera's repertoire in 2000.
Jewels / Joyaux is exceptional, both in terms of George Balanchine's original work and in the history of ballet: a long piece in three acts, devoid of narrative and driven by a single theme, in this case, precious stones.
The story goes that Balanchine decided to create the choreography for the ballet after a visit to the jewelers Van Cleef & Arpels, but it seems that the choreographer also drew inspiration from his usual sources, namely, the music which charmed him and the dancers who bewitched him.
Perhaps there was also another motivation: the desire to give rise to a vast and sumptuous work that would not only be appreciated by a wider audience but would also be compatible with the great company which he had just inherited when he took over at the New York State Theater in Lincoln Center.
The result was a ballet which matched his aspirations in every way. First performed in New York on April 13, 1967, Jewels proved to be an immediate and resounding success which the passage of time has not impaired. […]

Women love jewels and they loved George Balanchine. The choreographer who loved women created a ballet which paid homage to them. Jewels is a triptych, each of which glistens with the brilliance of a gemstone.

Physical perfection and colours mingle with the musical extracts of Gabriel Fauré, Igor Stravinsky and Piotr Ilyich Tchaikovsky. The three parts Émeraudes / Emeralds, Rubis / Rubies and Diamants / Diamonds transpose the choreographic styles of the three countries where Balanchine worked.
These ballets are performed with the agreement of the George Balanchine Trust SM, in accordance with the performance standards pertaining to both the Balanchine style and the Balanchine technique, which are established and provided by the Balanchine Trust.