Report from the 18 June 2020
JAM CAPSULE: THE 3E SCENE ON SHOW AT THE GRANDE HALLE DE LA VILLETTE
From 23 June to 12 September 2020, experience the 3e Scène as you never imagined it at the Grande Halle de la Villette.
The 3e Scène is the guest of Parisian workshop The Jam Project, dedicated to cultural production, scenography and creation, for the launch of Jam Capsule: a monumental and immersive scenographic showcase designed to present works in an innovative context.
Five programmes will be on show, including that of the 3e Scène.
In a few figures
4K video projection with spatialized sound, a video projection area of 2500 square meters in a giant cell 12 metres high, 40 metres long and 25 metres wide.
The 3e Scène Jam Capsule proposes six short films from the platform. An opportunity to discover the visions of contemporary artists from all horizons on a journey to the heart of the world of opera and ballet, in a truly novel way.
On the programme, 50 minutes with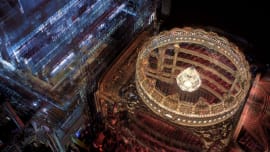 Hugo Arcier's Clinamen
Digital artist Hugo Arcier's daring project reveals the quintessence of dance and movement. Using motion capture, he strips down the bodies of three dancers on the stage of the Opéra Garnier, leaving only the to-and-fro of interlacing atoms. Thus begins a spellbinding dance behind the scenes of a futuristic Opera House.
---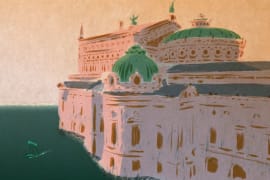 Vibrato by Sébastien Laudenbach
Evoking the recollections of Charles Garnier's widow, Sébastien Laudenbach transforms the Palais Garnier into a temple of sensuality and eroticism.
---
Nephtali by Glen Keane
The legendary Disney cartoonist, inspired by the grace of dancer Marion Barbeau, brings to life a dancer in a fairy-tale world.
---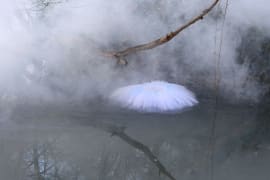 Claude Lévêque's Lac perdu
The Opera – a temple of artifice and props - provides the inspiration for visual artist Claude Lévêque's dreamlike roaming through a world of ballet shoes, wigs, tutus, bubbles and clouds... an invitation to reverie!
---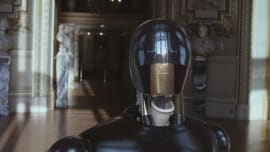 L'Entretien by Félix de Givry and Ugo Bienvenu
What if mankind became extinct and only humanoid creatures remained? The duo of directors imagine Mikki the maintenance robot, hailing from the world of cartoonist Ugo Bienvenu and projecting the images of a mysterious dancer on the stage of the Opéra Garnier every evening.
---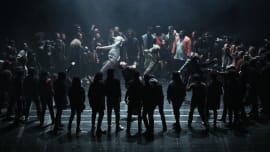 Les Indes Galantes by Clément Cogitore
An explosive choreographic reinterpretation of an excerpt from Rameau's ballet by Krump dancers.