Report from the 19 June 2020
DEATH OF NICOLAS JOEL
It was with immense sorrow that Stéphane Lissner, Philippe Jordan and all the staff of the Paris Opera learned of the death, last night, of Nicolas Joel, Director of the Paris Opera from 2009 to 2014.
A man of the theatre and a director of opera houses, Nicolas Joel reigned supreme for 19 years at Toulouse's Théâtre du Capitole, from 1990 to 2009, before being invited to take over the reins of the Paris Opera.
It was on stage, as assistant and then director that he made a name for himself all over the world: in France, Europe, the United States, and also in Latin America and Japan. Nicolas Joel worked with the greatest names in the greatest lyric institutions, even after taking on managerial functions.
Thanks to his outstanding involvement, Nicolas Joel has left his mark on the history of the performing arts over the last thirty years.
Biography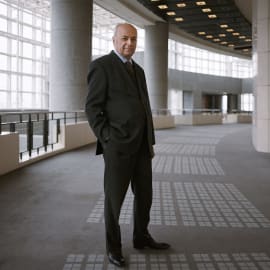 Nicolas Joel was born in 1953 in Paris.
In 1973, he was recruited by the Opéra du Rhin as assistant stage director, a position he held until 1978 in Strasbourg, at the Bayreuth and Salzburg festivals and at the San Francisco Opera.
He began his directing career in 1979 with a production of The Ring for the Opéra du Rhin and the Opéra de Lyon. In 1981, he directed Samson et Dalila with Shirley Verrett and Placido Domingo in San Francisco, then Aida with Luciano Pavarotti in San Francisco, Chicago and Toronto. He staged a second Ring in Wiesbaden, Aida in Vienna directed by L. Maazel, La Voix humaine, Ernani and Parsifal in San Francisco, Eugene Onegin, Cavalleria Rusticana and Pagliacci in Amsterdam, Rigoletto and La Traviata in Zurich, Tosca in Lausanne for José Van Dam's debut in Scarpia...
In 1994, he made his La Scala Milan debut with La Rondine, then revived Roméo et Juliette at Covent Garden in London and staged Carmen at the Teatro Colon in Buenos Aires. In 1995, he staged Faust in San Francisco, then made his debut at the New York Metropolitan Opera in 1996 with a new production of Andrea Chénier (with Luciano Pavarotti in the title role). In 1998, Nicolas Joel was back at the Chicago Opera for Les Pêcheurs de perles, at Madrid's Teatro Real for Un ballo in maschera and at the Metropolitan Opera for Lucia di Lammermoor. In 1999, he staged a new production of Manon at La Scala in Milan. He also revived Werther and Samson et Dalila in Los Angeles, Roméo et Juliette in Chicago and at Covent Garden and Manon in Madrid (2000). In 2002, he presented a new production of La Rondine at Covent Garden.
On French stages, he directed, amongst other works, Roméo et Juliette, Turandot and Thaïs in Nancy (revived at the Opéra Comique in Paris and at the Théâtre du Capitole in 1988), Debussy's La Damoiselle élue and Purcell's Dido and Aeneas with Jessye Norman at the Paris Opera, Faust and the world premiere of Montségur by Marcel Landowski in Toulouse, Andrea Chénier at both the Opéra du Rhin and the Opéra de Lyon.
At the Paris Opera he presented a new production of Un ballo in maschera with Luciano Pavarotti in 1992, which was broadcast on a giant screen on the Place de la Bastille.
In 1987, Nicolas Joel was invited to the Chorégies d'Orange for Der fliegende Holländer and returned for Nabucco (1989 and 1994), Gounod's Faust (1990 and 2008), Aïda (1991 and 2001), Carmen (1998), Roméo et Juliette (2002), Otello (2003) and La Bohème (2005).
From 1990 to 2009, Nicolas Joel was director of the Théâtre du Capitole. There, he directed many new productions: Falstaff, Il Trovatore, Elektra, Eugene Onegin, then Rigoletto and Roméo et Juliette with Roberto Alagna. For the reopening of the Capitole in 1996, he presented Louise and Werther with Roberto Alagna in the title role.
Among his Toulouse productions, Boris Godunov, Die Walküre, La Forza del destino, Louise, Hamlet (the latter two productions were revived at Paris' Théâtre du Châtelet), Das Rheingold, Mignon, Otello, Die Meistersinger von Nürnberg, Siegfried, Götterdämmerung and The Magic Flute were particularly noteworthy.
In 2004, after the renovation of the stage house, he reopened the Théâtre du Capitole with Jenufa and directed Don Carlo, L'incoronazione di Poppea, Die Frau ohne Schatten and Tristan und Isolde.
In 2007-2008, after Lalo's Le Roi d'Ys, Nicolas Joel directed a new production of Der Rosenkavalier and revived his production of Les Contes d'Hoffmann which had premiered at Madrid's Teatro Real in 2006. His latter engagements included Daphne and Faust in Vienna, Aïda and Le Cid in Zurich, Rienzi in Leipzig and La Rondine at the Metropolitan Opera.
From August 2009 until August 2014, Nicolas Joel was Director of the Paris Opera. He appointed Philippe Jordan as Musical Director. Philippe Jordan would notably conduct Wagner's Ring - back in Paris at last - directed for the stage by Günter Krämer.
"We are losing a friend, a great man of the theatre who knew and loved music. He gave me his trust and guided me for many years at the Paris Opera and far beyond." - Philippe Jordan
To open his first season at the Paris Opera, he chose to present Mireille at the Palais Garnier and later, in 2011 at the Opéra Bastille, staged the first production of Bruno Mantovani's Akhmatova to a libretto by Christophe Ghristi.
On two occasions Nicolas Joel received the Prix de la Critique Dramatique et Musicale for his operatic productions, as well as a Victoire de la Musique in 1996 in the category "best operatic production" for Dialogues des carmélites (September 2009). He also received the Grand Prix de l'Académie d'Occitanie.
Nicolas Joel was an Officer of the Legion of Honour and of the National Order of Merit, Knight of the Order of Arts and Letters and Commander of the Romanian Order of Cultural Merit.