If you have never heard Mikhail Timoshenko at the Opera, you can discover him in Jean-Stéphane Bron's film L'Opéra, currently showing in cinemas. The director filmed the young baritone's arrival in Paris and his debuts at the Academy. He has just finished singing in Les Fêtes d'Hébé at the Amphitheatre and is soon to perform in Wozzeck (Erster Handwerksbursch) and Rigoletto (Il Conte di Ceprano). We followed him through the corridors of the Opéra Bastille, between two rehearsal studios, asking him this question: "What is life like at the Academy? "
---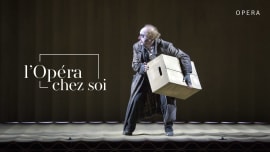 Rigoletto by Giuseppe Verdi
Conducted by Nicola Luisotti, this new production of Rigoletto marks director Claus Guth's first collaboration with the Paris Opera.