Invited for the first time to the Paris Opera, Wajdi Mouawad is directing Œdipe, Georges Enescu's opera created in 1936 at the Palais Garnier and never performed there again since. As a man of the theatre and a true specialist on the myth, he retraces the trajectory of this man who does not know himself and his path to self-knowledge.
---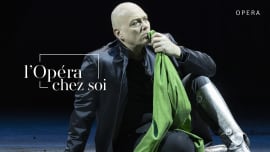 Œdipe by Georges Enesco

For his Paris Opera debut, Wajdi Mouawad evokes the life of OEdipus – the man unaware of his own identity...
---