A much-appreciated art during the 19th century, the aim of mime was, quite simply, to tell a story through gestures and was often used in action ballets to move the story along. Today regarded as somewhat outdated, it nevertheless remains a discipline with a codified language which is difficult to master. In Swan Lake, Rudolf Nureyev chose to retain the mime scene in Act II and originally created by Marius Petipa. It is the crucial point at which Odette encounters the Prince for the first time and tells him about her curse. The ballet is temporarily suspended to allow for a few moments of narration and mime. Hannah O'Neill, Première Danseuse of Paris Opera, and Ballet teacher Jean-Guillaume Bart examine this mime for us. Midway between a dance pose and a natural position, it must be neither mechanical nor caricatured, but rather, a silent declamation.

---
Follow the dissection of Mime in Swan Lake (diaporama)
The Prince asks Odette who she is. When the mime begins, the two dancers share the stage. The centre is empty.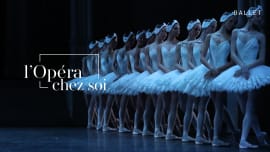 Swan Lake by Rudolf Nureyev
Drawing on ancient Slavic and Norse mythology where destiny is often born out of the mysterious forces of nature, Swan Lake has become a legend in its own right...