Rudolf Nureyev's final production for the Paris Opera Ballet in 1992, La Bayadère has today enjoyed over 200 performances. Here is a look back at one of the great successes of the company's repertoire through the testimony of the three artists who first to performed the principal roles.    

On October 8, 1992, when the curtain came down on the first performance of La Bayadère, Rudolf Nureyev had triumphed one last time on the stage of the Palais Garnier. It was his final choreographic work and it brought to a close a career entirely devoted to dance. The ballet he bequeathed the Paris Opera—the institution where he had been Director of Dance from 1983 to 1989—is as testamentary as it is iconic. In the Seven years he held that post, he never relented in his quest to preserve and pass on the great classical repertoire by restaging the ballets of Marius Petipa: Don Quichotte, Swan Lake, The Nutcracker, and Raymonda.
"La Bayadère is the work of Marius Petipa, a Frenchman. It is an integral part of France's heritage. I am bringing it back to its homeland". Nureyev said. His long cherished wish was fulfilled on the stage of the Palais Garnier, the symbol of Rudolf Nureyev's artistic life. Indeed, it was on that stage one evening in May 1961 that he dazzled Paris as a young soloist from the Kirov performing the role of Solor in Act III—the Kingdom of the Shades—of La Bayadère alongside Olga Moiseeva. Thirteen years later, in 1974, at the request of Rolf Liebermann, it was also on that stage that he would mount his first ballet production for the Paris Opera Ballet by reviving that third act from La Bayadère. And finally, three months prior to his death, it was on that same stage that the entire ballet would be performed in three acts (and not four as he had originally wished—because like Petipa before him, he was obliged to relinquish any hope of staging the collapse of the temple). Relying on his own memory and with the assistance of Ninel Kourgapkina his former partner from the Kirov, Rudolf Nureyev gathered all his energies and devoted everything he had to the creation of his Bayadère—a mission made all the more urgent due to his failing health.
Now let take a look back at the premiere of the ballet and Rudolf Nureyev's final moments at the Paris Opera through the words of Isabelle Guérin, Elisabeth Platel and Laurent Hilaire, the Étoile dancers who created the roles of this version of La Bayadère.
Elisabeth Platel, creator of the role of Gamzatti and current director of the Paris Opera Ballet School:
"When Nureyev made his break for freedom and arrived in Paris, he already had notions of reviving La Bayadère in a mega-production with tigers and other exotic animals… When he was appointed Director of Dance at the Opera in 1983, the first ballet he chose to stage was the "phenomenal" Raymonda, so we already had the impression that he was on an important educational mission. It was a mission he would pursue in all the ballets which followed, and in which we would find bridges and connections that prepared us for the following ballets until we reached La Bayadère. To all intents and purpose, this ballet is the culmination of his life as both an artist and a man. He came back to direct it at the Opera from which he had resigned as Director of Dance three years earlier and had become its principal choreographer. We were all aware of Rudolf's illness and we all knew that we were engaged in a race against time. It was in that spirit that everyone mobilised for the production. It was a mark of gratitude towards Rudolf. We began rehearsals in June 1992 whilst we were dancing Swan Lake at Bastille. Rudolf began with the first pas de deux from Act One with Laurent Hilaire and Isabelle Guérin, to music that was already familiar to us, because he had previously borrowed it from Minkus for Don Quichotte. From the start of rehearsals, we'd also learned the pantomime scenes and, in particular, the one featuring the fight between Nikiya and Gamzatti. Six months earlier, I had danced the role of Nikiya at the Bolshoi Theatre in Moscow in Yuri Grigorovich's version so Rudolf asked me to show him how Grigorovitch had choreographed the scene. He was not satisfied, preferring to go back to the traditional pantomime. We then worked using the video of the Kirov as a guide, deciphering and envisaging the scene as a genuine variation. The only thing which differed was the roulade which he made Nikiya and Gamzatti perform during their confrontation. He liked roulades so much that he envisaged choreographing several others, but because of the costumes, he was forced to abandon that idea.
The role of Gamzatti is truly a role for an actress. It's what he made me appreciate, and I am truly grateful for that because at first, I have to admit, I couldn't understand why he didn't give me the role of Nikiya. I had already danced the role a number of times before, in particular with him in London. And yet he asked me to transform Gamzatti into a genuine princess and move beyond the clichés which generally depicted her as wicked, to create a sensitive and complex character who discovers that the marriage her father, the rajah, has arranged for her is, in the end, extraordinary because she is totally won over by the young warrior Solor. And even though he is in love with Nikiya, he is not impervious to Gamzatti's charms. It was this ambiguity that we explored in depth, particularly with Laurent who performed the role of Solor, as it enabled us to give a truly dramatic dimension to Gamzatti's character. Moreover, Rudolf made me promise never to give up the role. And I think that I would not have been able to dance Nikiya in the way that I did afterwards if I hadn't danced the role of Gamzatti first".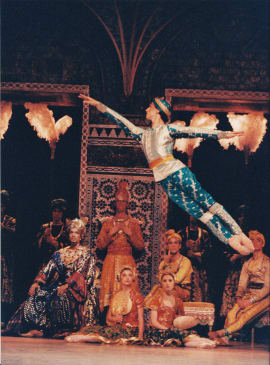 Laurent Hilaire, creator of the role of Solor
"Three years after he left the Opera, Rudolf returned, but it wasn't really a return because in reality he had never really left. His sprit had never truly left us and it wasn't the choreographer or the former Director of Dance who came back, it was Rudolf Nureyev, an entity unto himself. During the rehearsals for La Bayadère, I remember that he watched a great deal. He gazed with the intensity of someone watching for the last time, as if he wanted to forever record in his mind what he was seeing. That gaze strengthened my desire to live up to everything that he had given us personally himself and by the very nature of who he was… I approached that ballet—and the role of Solor in particular—bolstered by all the art I had been able to acquire from Nureyev, from the physical investment to the aesthetic culmination. La Bayadère is a sort of testament-ballet. We had to rise to the challenge. We owed it to Rudolf. Being on stage supposes being greater than oneself, surpassing oneself and that is only possible when we allow ourselves to do so. For me, that is the definition of an artist and it is also a way of responding to the demands of Nureyev's vision. Despite his illness, he was there every day. He was very humble with respect to his art, he was utterly devoted to it. There was a profound and genuine osmosis between the dancers. We shared the same awareness. We worked lucidly on our commitment as dancers and trusting in everything he had taught us to focus it one last time in order to serve an exceptional undertaking. For Nureyev, a work's stature depended on rigour and discipline as a means to achieve excellence. On the evening of the première, although Rudolf was in very poor health, I watched him go up on stage and receive an ovation from the audience. I saw an ailing Rudolf regain that incredible gaze with his eyes aglitter, and for a moment I saw the Nureyev again. It was obvious that the work would endure and be passed down to successive generations of dancers. All the memories of working with him are moments engraved in me. Rudolf gave us a living memory which, despite his absence, encouraged us to act as if he was still amongst us. That was one of his greatest strengths! Finally, we shouldn't forget the beauty of the sets and costumes which made it one of the most beautiful if not the most beautiful productions of La Bayadère in the world!"
Isabelle Guérin, creator of the role of Nikiya
"We were very happy that he was returning, especially for La Bayadère, a ballet so dear to him and which he had so wished for. Although Rudolf was no longer as before, although his body was fragile and a far cry from the sculpted Apollo of yesteryear, his charisma and his eye were definitely there. I remember that it as a creation characterised by a mixture of joy and concern; I was extremely worried that he wouldn't be able to finish the ballet. During rehearsals, he was sometimes absent, dozing on the bed that he had had moved into the studio, but when he was awake, he looked at us with that keen eye and hypnotic gaze, and we sensed his presence, his desire to live. We were prepared to dance the style of La Bayadère, it came just at the right moment! Laurent and I were his children, he had made us both Étoiles and we found ourselves together again one last time for this ballet-testament which, in a way, was like coming full circle. The evening of the première, I was terribly worried that he wouldn't be able to stay the course, but at the end of the performance, when the curtain fell and he came to greet us, it was the real Rudolf Nureyev I saw and not merely his shadow. He was back and all Paris was at his feet! After his death, each time the ballet was revived, I had the impression that he was still there. He shaped me so much that he is always there inside me, perhaps more present in death than when he was alive. He taught us rigour and a respect for choreography. Even though he was often described as a difficult and tempestuous character, he was extremely generous in the studio. He gave us everything, and in return, we needed to be ready and willing to take on the rigours of a relentless daily work schedule. While one never expected any thanks from him, a glance at the end of a ballet was worth all the gold in the world. He himself was a model of hard work. Regardless of the excesses of the night before, he was always at the barre the next morning. Those who met Nureyev were marked for life and I was truly fortunate to have had the chance to meet the man and to have lived during that period. It was an era bubbling with excitement".
Interviewed by Jérôme Maurel, November 2015
---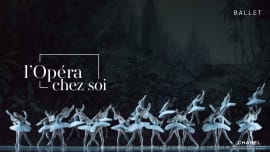 La Bayadère by Rudolf Noureev
The final work of a life utterly devoted to dance, La Bayadère by Rudolf Nureyev has become one of the jewels of the Paris Opera Ballet's repertoire.