Report from the 4 January 2023
MARINE CHAGNON NOMINATED FOR A CLASSICAL MUSIC AWARD
French Mezzo-soprano Marine Chagnon, artist in residence at the Paris Opera Academy since September 2021, was nominated in the 2023 Victoires de la musique classique, in the Revelation Opera Singer category.
Since her debut at the Academy, she has appeared in the title-role of Scarlatti's La Giuditta, at the Festival Voix d'automne (Grange au Lac d'Évian) and as Poppea in Monteverdi's L'incoronazione di Poppea at the Athénée Théâtre Louis-Jouvet and in a French tour.
This season, Marine Chagnon is taking her first steps at the Palais Garnier in the role of Tisbe in Rossini's La Cenerentola. Last December, she sang Rosine's aria from The Barber of Seville with the Paris Opera Orchestra conducted by Nil Venditti at the Palais Garnier.
The public will see her again on 25 January under the direction of Gustavo Dudamel on the occasion of the maestro's carte blanche at the Palais Garnier.
A look back at his critically acclaimed career at the Paris Opera
Il Nerone – L'Incoronazione di Poppea – Monteverdi, Dumestre, Françon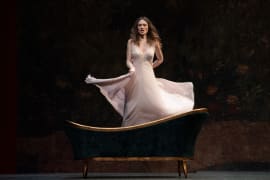 « Le véritable triomphe est celui de la Poppea de Marine Chagnon, noble, au ton juste, avec je-ne-sais-quoi dans l'émission qui peut rappeler Magdalena Kozena ou Anna Caterina Antonacci. Une promesse, et une Poppée assurément digne d'être couronnée. »
Loïc Chahine – Diapason
---
La Giudita – Scarlatti, Noally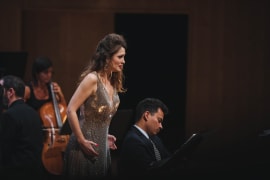 « Dans le rôle de Giuditta, la mezzo-soprano française Marine Chagnon trouve les plus justes accents et démontre une sensibilité naturelle qui s'allie à merveille aux démonstrations d'amour simulées dont elle se voit contrainte d'user pour griser le Général Philistin et l'occire.
La voix est conduite avec habileté, claire de timbre et d'une grande densité d'ensemble. Elle trouve de majestueux et doucereux accents lorsqu'elle chante la singulière berceuse, soutenue par deux flûtes à bec que Scarlatti introduit à cet instant précis, devant endormir le fier guerrier afin de mieux l'exécuter durant son sommeil. »
José Pons – Olyrix
---
Concert d'ouverture septembre 2022
« Marine Chagnon confirme ses qualités (hormis quelques élans pressés dans les aigus) avec son intensité de médium et de tragédienne, envoyant, de son regard et de sa voix, des foudres auxquelles le public répond pleinement. »
Charles Arden - Olyrix
---
La Cenerentola – Rossini, Matheuz, Gallienne
« Martina Russomanno (Clorinda) et Marine Chagnon (Tisbe) sont deux excellentes soeurs […] la mezzo-soprano française profite de son timbre chaud dans chacune de ses interventions. »
Victoria Okada – Toute la Culture
Au printemps 2022, Marine Chagnon sort, en duo avec la pianiste Joséphine Ambroselli, son premier disque chez Mirare intitulé Ljus consacré à la mélodie suédoise.
« Un bouquet de mélodies suédoises de la première moitié du XXe siècle d'une poésie particulière, «oscillant en permanence entre la délicatesse fauréenne et une forme d'ambition opératique» […] collecté avec sa pianiste Joséphine Ambroselli et l'aide bienveillante d'illustres aînées, comme Anne-Sofie von Otter… Et le souvenir d'une enfance bercée par la culture suédoise. »
Thierry Hillériteau – Le Figaro
---
Biography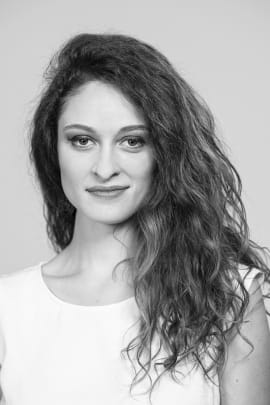 In residence at the Paris Opera Academy from 2021
Marine Chagnon graduated with honours from the Paris Music Conservatoire and obtained her master's degree in Elène Golgevit's class in 2022. She completed her training with masterclasses given by renowned artists: Ludovic Tézier, Anne Sofie von Otter, Barbara Hannigan, Karine Deshayes...
Her stage appearances include Lola in Cavalleria rusticana, the China Cup / the Cat in L'Enfant et les Sortilèges at Théâtre du Châtelet, Cherubino in Le Nozze di Figaro, the Second Lady in The Magic Flute at the Vichy Opera, la Périchole (title-role) at the Scène Nationale du Sud‑Aquitain, Eurydice in L'Orfeo and Annio in La clemenza di Tito at Opéra / Grand Théâtre de Dijon, Mélisande in Pelléas et Mélisande in a web series soon to be broadcast (Paris Music Conservatoire).