Report from the 23 April 2022
FRANÇOIS ALU, NAMED ÉTOILE OF THE NATIONAL OPERA OF PARIS.
On the proposal of Aurélie Dupont, Director of Dance, Alexander Neef, Director of the Paris Opera, appointed François Alu as Dancer Étoile of the Paris Opera on the stage of the Opéra Bastille, following the performance of the ballet La Bayadère (Rudolf Nureyev) in which he interpreted the role of Solor, on Saturday, April 23, 2022.
This performance was part of the event My first time at the Opera, which welcomes families and children at special rates for their first visit to the Paris Opera.
Biography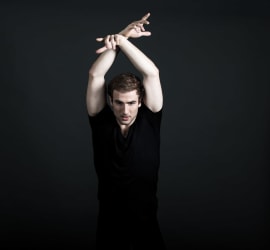 Born in 1993 in the Cher region of France, François Alu began his apprenticeship with his mother, a dance teacher in his native region.
2004
Enters the Dance School of the National Opera of Paris.
2010
Engaged - at the age of 17 - in the Corps de Ballet of the National Opera of Paris...
---