Report from the 28 June 2016
The unveiling of the Palais Garnier's Ring of Light
---
On June 28, 2016, the extensive rehabilitation of the Palais Garnier's "Ring of Light" reached completion: for the first time since they were erected by Charles Garnier in 1875, the lighting installations surrounding the building have been restored to their original glory. After three years of work, they were finally unveiled to the public.  
In 2013, a project began to restore the 60 lighting fixtures that make up the Ring of Light: 22 lamp posts, 2 candelabras, 22 caryatids, 4 pyramidal columns, 8 rostral columns and 2 imperial columns.
The project attracted the support of almost 900 private donors who managed to raise 1.8 million euros. Those donors, comprised of individuals and companies alike, had the opportunity to sponsor one of the lighting fixtures of the Ring of Light by financing that fixture's entire restoration.
The initial phase of the work was completed in April 2014 with the inauguration of the Emperor's Ramp, an entrance built for the exclusive use of Napoléon III. The second phase of the restoration work on the Eastern façade of the Palais Garnier is now complete.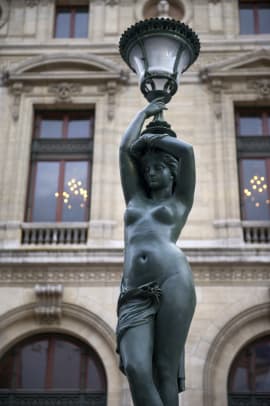 During the ceremony, the donors were able to individually unveil their restored caryatids. It was also the occasion for two of the major donors, Mrs. Tuulikki Janssen and Mr. Henry Hermand to be honoured with the insignia of Commander of Arts and Letters.
By supporting the Ring of Light project, a number of donors wished to demonstrate their commitment to a unique heritage whilst also paying tribute to someone dear to them. The relatives of a former Ballet dancer from the Paris Opera who had moved to the United States and recently died wanted to adopt a light fixture from the Ring of Light in her memory. A husband decided to surprise his wife by dedicating his donation to her. Similarly, a sponsoring couple chose a caryatid to celebrate the birth of their daughter.