Report from the 4 May 2021
LAURENT VERNEY
It is with profound sorrow that Alexander Neef, the musicians of the Orchestra and the teams of the Paris Opera have learned the sudden passing away of Laurent Verney, First Solo Viola of the Paris Opera for almost 40 years. Our most sincere condolences go out to his family and his closed ones.
"The passing away of Laurent Verney will leave a deep hole, not to say a void, in our orchestra. His death remains inconceivable to me. I have known Laurent since my debuts at the Paris Opera in 2004 with Ariadne auf Naxos. He embodied the soul of our orchestra. With his talent, his commitment and his enthusiasm, he kept on inspiring us, again and again. He knew how to give his instrument, the viola, a personality I never heard before. As part of his activity in our opera house, Laurent gave, tirelessly, all he had to give: to his two viola sections, to our orchestra and to opera in general – both on a professional and a personal level. We will remember him as long as our artistic lives endure."
Philippe Jordan – Music Director of the Paris Opera Orchestra s
---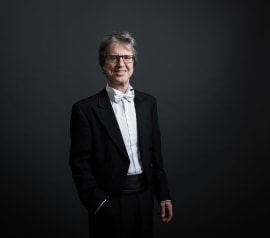 After his studies at the Paris CNSMD (1st unanimous viola prize in the class of Serge Collot and in the music chamber class of Maurice Crut – third cycle with Bruno Pasquier), Laurent Verney was appointed First solo viola of the Paris Opera Orchestra at 25 years old. Laurent Verney led in parallel a career as concerto and chamber music player. He played as a soloist with the Radio France Philharmonic Orchestra, the Orchestre National Capitole de Toulouse, the Bucharest Philharmonic Orchestra, and –of course- the Paris Opera Orchestra, with conductors such as Yehudi Menuhin, Pierre Dervaux, Eliahu Inbal and Myung-Whun Chung. As a chamber music player, he regularly performed with musicians including Augustin Dumay, Nicholas Angelich, Veronika Eberle, Marc Coppey, Michel Portal, Franck Braley, Olivier Charlier, Pierre-Laurent Aimard, Jérôme Pernoo, Gérard Caussé, Emmanuel Pahud, Paul Meyer, Jean-Guihen Queyras, Philippe Bernold, Henri Demarquette, Antoine Tamestit, Renaud and Gautier Capuçon in the Montpellier, Eméri, Deauville festivals, the "La folle journée" in Nantes, the Montreal, London Wigmore Hall, and the Radio France "Présences" festivals. Passionate about Richard Wagner's music, in 2017, he was invited at the Bayreuth Festival as co-soloist. A keen supporter of his instrument and its repertoire along the centuries, Laurent Verney showed a taste and a strong interest in contemporary music. He played under the baton of Luciano Berio – among others- and created the works of Nicolas Bacri, Lucien Guérinel, Louis Saguer, Amali Tlil, Michèle Reverdy. He regularly played masterpieces of the contemporary repertoire: Salvatore Sciarinno, Bruno Montovani, Iannis Xenakis, Toru Takemitsu, Gérard Grisey (two pieces where created by his teacher Serge Collot) and Pierre Boulez. His discography features, among others, Nicolas Bacri's works for viola and orchestra (the nouvelle académie Grand Prize), "the romantic viola", which became "the Art of viola" in 2007 (Arion), Brahms's sonatas with Nicholas Angelich (Harmonia Mundi), Schubert's "The Trout" (Erato), "Rencontre" by Michèle Reverdy, "Opera in duet" with Emmanuel Ceysson, and "Harold in Italy" by Hector Berlioz with the Paris Opera Orchestra, conducted by Myung-Whun Chung (Deutsche Grammophon). Laurent Verney was also an outstanding teacher who was constantly involved in the mission of passing on his knowledge, and particularly inside the Paris Opera Academy where he was involved in the young musicians' training programme. He also taught at the Paris CRR and the Paris Boulogne-Billancourt Pôle supérieur. He had just been appointed (February 2021) viola teacher at the Lyon CNSM.