Report from the 28 April 2021
ALBA – WHEN BON ENTENDEUR, SOFIANE PAMART AND THE PARIS OPERA MEET IN THE HEART OF THE PALAIS GARNIER
The video clip Alba is the lovechild of the electro music collective Bon Entendeur, pianist Sofiane Pamart and Paris Opera Dance Director Aurélie Dupont. In the current context, the clip sounds like a promise: going back in theatres, enjoying once again the pleasure of live music and live dance, but also wandering, by night, along the streets of Paris.
"I'm really happy to work with Bon Entendeur and Sofiane Pamart. When they told me about their project, I thought of Marion Gautier de Charnacé right away, thinking she would be the perfect dancer to complete this artistic trio. The idea of shooting a video clip in an empty theatre resonates with the times we're living, and it's a way to show that we are still able to create in these difficult times."
Aurélie Dupont, Directrice du Ballet de l'Opéra national de Paris
Made by Alexandre Brisa, entirely shot in black and white, the video clip illustrates beauty with dance. The piano notes are echoing to the rhythm of electro music in one of the most beautiful building of the French capital.

---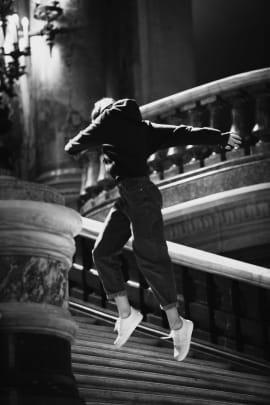 It's midnight. The hour strikes like an invitation. The invitation to leave the intimacy of our living rooms to go out and seek a few stolen pleasures of the night. A woman is walking alone in the deserted streets lying before the Opera. Feeling curious, she goes in. In this temple of lyrical art and dance, Sofian Pamart and Bon Entendeur share their musical creation, transcended by the artistic performance of Marion Gautier de Charnacé, dancer of the Paris Opera Ballet. Her casual dance illuminates these mythical premises, the Palais Garnier where cultures blend in music.