Report from the 2 May 2017
The Paris Opera Ballet on tour in Poitiers
Three works which entered the Paris Opera Ballet's repertoire in April are coming together for an evening based around the American School.
First performed in 1968, Walkaround Time explores the stage potential of the ready-made: Merce Cunningham depicts ordinary movements whilst David Behrman composes a musical score based upon "found sounds". A confluence of modernities that masterfully takes advantage of the structure, transparency and secret mechanisms of Marcel Duchamp's famous work Le Grand Verre from which the sets are inspired.
The evening continues with two ballets by William Forsythe, associate choreographer of the Paris Opera Ballet. Following Trio, created in 1996 for the Ballet Frankfurt, Herman Schmerman, first performed four years earlier, is an exuberantly energetic and humorous tribute to Balanchine: "When I first heard the name "Herman Schmerman", I thought it was an engaging title without any specific meaning, a little like the ballet which is just an amusing piece of choreography.
---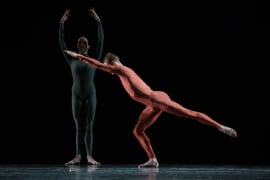 Walkaround Time - New to the repertoire     
Music: David Behrman
Choreography :  Merce Cunningham
Décors d'après Marcel Duchamp, Le Grand Verre et Jasper Johns
Costumes by Jasper Johns
Lighting:  Beverly Emmons
Cast
Carolyn :
Laurence Laffon ou Caroline Bance
Walda :
Ninon Raux ou Victoire Anquetil
Sandra :
Lucie Fenwick ou Adomaitis
Meg :
Sophie Mayoux ou Amélie Joannides
Suzanna :
Sofia Parcen ou Eugénie Drion
Merce :
Simon Le Borgne
Dove :
Julien Meyzindi

Douglas :
Antonin Monié
Chris :
Julien Cozette ou Jean-Baptiste Chavignier
---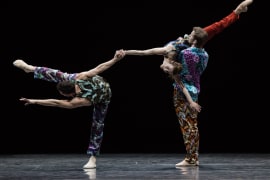 Trio
Music: Ludwig van Beethoven
Choreography, scenography, lighting: William Forsythe   
Costumes: Stephen Galloway

Cast
Ladies:     
Ludmila Pagliero (18/05 et 19/05) - Eleonore Guérineau (20/05)

Gentlemen:     
Fabien Revillion et Simon Valastro (18/05 and 19/05)
Maxime Thomas et Hugo Vigliotti (20/05)

---
Herman Schmerman
Music: Thom Willems
Choreography, scenography, lighting: William Forsythe
Costumes: Gianni Versace, William Forsythe
Cast
Duo - female:    
Hannah O'Neill
Duo - male:    
François Alu   

Quintet- Francesca :
Marion Gautier de Charnacé

Quintet - Vicky :
Roxane Stojanov (18/05 et 19/05) and Lydie Vareilhes (20/05)

Quintet- Helen :
Caroline Osmont (18/05 et 20/05) and Lydie Vareilhes (19/05)

Quintet- Tony : 
Sébastien Bertaud

Quintet- Maurice : 
Pablo Legasa