Report from the 31 August 2022
"MOLIÈRE EN MUSIQUES" EXHIBITION AT THE PARIS OPERA LIBRARY-MUSEUM
In the autumn of 2022, the BnF is celebrating Molière with two complementary exhibitions that will help visitors rediscover the works of the famous playwright. Constantly staged and reinvented, they have spanned the centuries. The BnF | Bibliothèque-musée de l'Opéra site will host the "Molière en musiques" exhibition.

MOLIÈRE EN MUSIQUES
from 27 September 2022 to 14 January 2023
Paris Opera Library-Museum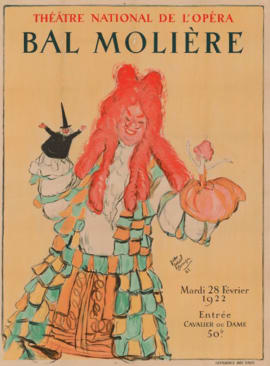 Curator: Laurence Decobert, Head of Iconography and Documentation Department, Performing Arts Department, BnF
Scenography and graphic design : Atelier Deltaèdre, Claire Holvoet Vermautet Noémie Grégoire.

Practical information:
Open every day from 10am to 5pm
at the Paris Opera I Palais Garnier
Bibliothèque-musée / Library-Museum / Entrance at the corner of rue Scribe and rue Auber, 75009
Ticketing and booking conditions:
The exhibition is accessible with a ticket for the self-guided tour of the Palais Garnier, available at the Paris Opera ticket office.
Full price: 14 euros – Reduced price: 10 euros
Book
This exhibition is dedicated to music and dance in the work of Molière. The two arts are inseparable: almost half of his plays are mixed with musical and dance interludes, and he even took part in the birth of French opera in the 1670s. Thanks to the collections of the BnF, the Paris Opera and the Comédie-Française, the exhibition explores the conditions of the emergence of the comedy-ballet, and the importance of the genre in Molière's performances over time.
Molière can be linked to numerous musicians. During his lifetime, the playwright collaborated with Lully and Marc-Antoine Charpentier in the making of comedies and ballets, yet the list goes on and on, to such an extent that his texts have inspired the art of Euterpe for four centuries. Rossini, Mozart, Gounod, Saint-Saëns, Auric, Poulenc, Dutilleux, Jolivet, Sauguet, but also choreographers such as Pierre Beauchamps, Lifar, Balanchine, Béjart, Francine Lancelot: all of them were inspired by Molière's work. The exhibition takes a look at the connections of composers and choreographers with his texts, between historical truth and the creation of new works.

The exhibition begins with the invention of the 'comédie-ballet' in the 1660s, which was closely linked to King Louis XIV's taste for music and dance, and mentions the Court parties that led to the development of the genre. The exhibition then presents how Moliere's plays transformed over the following centuries, as the figure of Moliere as a national hero took shape: composers and choreographers took up his plays as arguments for new works, while at the same time, the comedie-ballets continued to be performed, with or without music. Finally, the exhibition looks at these pieces revivals over the last fifty years, between splendid performances inspired by the renewed interest in Baroque music, and a more contemporary or fantasy touch.

---
The BNF organizes a 2nd complementary exhibition, 'Molière, le jeu du vrai et du faux' (Molière, playing on truth and false), on the same dates at the Richelieu site. - Learn more