Report from the 1 July 2020
THE 3e SCÈNE ON THE WIDE SCREEN: THE FILM "CELLES QUI CHANTENT" IN CINEMAS
PRESENTATION
As cinemas reopen, the 3e Scène is pleased to announce the release of its film Celles qui chantent, in cinemas as of Wednesday, July 8.

The film brings together 4 short films from the 3e Scène:

A Night at the Opera by Sergei Loznitsa

Karim Moussaoui's Les Divas du Taguerabt


Violetta by Julie Deliquet

Hidden by Jafar Panahi
With total freedom and without consulting each other, each artist chose a subject. Once finished, the same theme seemed to unite their films, so different from a formal point of view: each recounts in its own way something about the country and society where its heroine sings, whilst at the same time questioning the notions of representation and interpretation.
Durée de la séance : 1h15
Diffusé à Paris et en régions durant tout l'été
UNE NUIT À L'OPÉRA by SERGEI LOZNITSA
Using archive footage, Sergei Loznitsa lightheartedly revives the gala evenings organised at the Palais Garnier in the 50s and 60s. In great pomp, the Tout-Paris and the international celebrities of the times climb the steps of the Opera in front of a rapturous public.
With, amongst other celebrities: Marcel Achard, Brigitte Bardot, Jean-Claude Brialy, Bourvil, Maria Callas, Charlie Chaplin, Jean Cocteau, Sacha Distel, Sacha Guitry, Grace Kelly, Serge Lifar, Michèle Morgan, Patachou, Gérard Philippe, Françoise Sagan, Charles Vanel.
Queen Juliana of the Netherlands, Queen Ingrid of Denmark, Prince George of Greece, Prince Rainier of Monaco, Queen Elizabeth II of England and Prince Philip, the Duke and Duchess of Windsor, King Baudouin and Queen Fabiola, King Olav V of Norway, King Gustav VI of Sweden, Vincent Auriol, René Coty, Jacques Chaban-Delmas, Maurice Couve de Murville, General de Gaulle, André Malraux, the Shah of Iran and Princess Palhavi, Nikita Khrushchev, Claude and Georges Pompidou, Félix Houphouët Boigny.
SERGEI LOZNITSA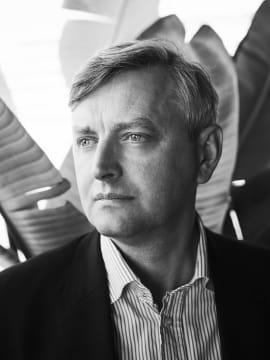 Sergei Loznitsa was born on 5 September 1964 and grew up in Kiev (Ukraine). In 1987, he graduated from the Kiev School of Applied Mathematics. From 1987 to 1991, he worked as a scientist at the Kiev Institute of Cybernetics, specializing in artificial intelligence research. In 1997, he graduated from Moscow's National Institute of Cinematography, where he studied directing. Since 1996, Sergei Loznitsa has directed 21 documentary films and 4 fiction films. His first feature film Ma joie (2010) was in the official competition at the Cannes Film Festival, followed by Dans la brume (2012), which won the FIPRESCI prize at the 65th Cannes Film Festival. In 2017, Sergei Loznitsa presented his third film, Une femme douce, in the official competition at the Cannes Film Festival. In 2018, he received the award for the best directo in the category "Un Certain Regard" at the Cannes Film Festival for Donbass.
---
LES DIVAS DU TAGUERABT by KARIM MOUSSAOUI
Karim Moussaoui wonders what an opera might consist of in Algerian musical culture. Accompanied by his film crew, he sets off into the desert in search of the mysterious Divas of the Taguerabt...
KARIM MOUSSAOUI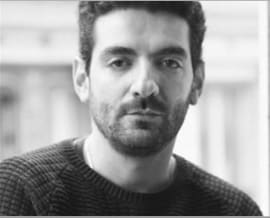 Born in 1976, Karim Moussaoui is the author of three short films and one particularly acclaimed medium-length film, Les jours d'avant, (selected at the festivals of Locarno, Clermont-Ferrand, Brive, Grand Prix at the Premiers Plans festival in Angers and finalist at the César awards in the category "Best short film"). He is a founding member of the Algiers cultural association for the promotion of the cinema, Chrysalide. He was also in charge of film programming at the French Institute of Algiers for several years. His first feature film En attendant les hirondelles, as laureate of the Gan Foundation for Cinema, was selected in 2016 at the Cannes Film Festival's Semaine de la Critique. He also contributes to the newspaper Le Monde to give his view on the Hirak movement and its development in Algeria.
---
VIOLETTA by JULIE DELIQUET
In the corridors of the Opéra Bastille and the Gustave-Roussy hospital in Villejuif, two women embody mirror images of disease. Between fiction and reality, they will bear witness to differing relationships to tragedy and representation.

JULIE DELIQUET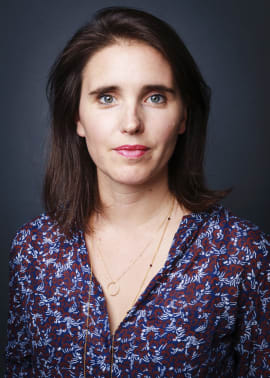 After studying cinema and completing her training at the Conservatoire in Montpellier and then at the École du Studio Théâtre d'Asnières, Julie Deliquet continued her training at the École Internationale Jacques Lecoq. She created the Collectif ln Vitro in 2009 and presented Derniers Remords avant l'oubli by Jean-Luc Lagarce. In 2011, she created Brecht's La Noce, and then in 2013, Nous sommes seuls maintenant, a collective creation. In 2015, she directed Gabriel(le) for the "Adolescence et territoire(s)" project at the initiative of the Odéon. In September 2016, at the Comédie Française, she directed Vania based on Anton Chekhov's Uncle Vania. She produced Mélanco/ie(s) in October 2017 at the Théâtre de la Bastille, based on Chekhov's Three Sisters and Ivanov. In 2019, at the Comédie Française, she adapted Fanny et Alexandre, based on Ingmar Bergman's film. In 2020, she adapted Un conte de Noël based on Arnaud Desplechin's film, at the Théâtre de l'Odéon.

---
HIDDEN by JAFAR PANAHI
Jafar Panahi goes in search of a young woman with an exceptional voice who is forbidden to sing by the Iranian religious authorities.
JAFAR PANAHI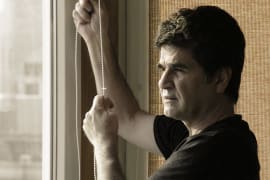 In 1992, Jafar Panahi directed the TV film L'Ami, and was subsequently taken on as Abbas Kiarostami's assistant on Au travers des oliviers. In 1995, he directed his first feature film, Le Ballon blanc, based on a screenplay by Kiarostami, which was awarded the Caméra d'Or at Cannes the same year. He then made Le Miroir, a documentary that won the Golden Leopard at the 1997 Locarno Film Festival. His films denounce the inequality and lack of freedom in Iranian society. The director's repeated criticisms of the Iranian regime have earned him the reputation of being a subversive filmmaker. He was sentenced to 6 years in prison but finally placed under house arrest with a ban on filming. Despite his country's censors, he continued to shoot clandestinely and in 2018 won the Screenplay Prize at Cannes for his film Trois visages.