Report from the 19 December 2018
"Saturnales" - Dispositifs de Claude Lévêque
The year 2019 marks a double anniversary for the Paris Opera which is celebrating both the House's 350th birthday and the 30th anniversary of the Opéra Bastille.
The Paris Opera has given artist Claude Lévêque carte blanche to move into both its theatres: the Opéra Bastille and the Palais Garnier.
Saturnales is the title of the visual devices revealed at the Opéra Bastille on Thursday December 20th and on the occasion of the New Year's Gala, on December 30th and 31st at the Palais Garnier.
Claude Lévêque's work articulates objects and lights and has a powerful effect over places and spectators alike.
---
Claude Lévêque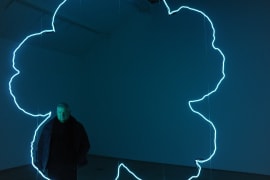 Born in Nevers 1953, Claude Lévêque lives and works in Montreuil and Pèteloup in the Nièvre. In 1982, after studying at the École des Beaux-Arts in Bourges, he participated in the 12th Paris Biennale. Two years later, the Eric Fabre gallery staged his first personal exhibition. Since then, his work has taken on an international dimension (Stigmata, PS1, New York, 1999; Double manège, Mito Tower Art Museum, Tokyo, 2003; Le Grand Soir, French Pavilion, Biennale de Venise, 2009; Sous le plus grand chapiteau du monde, Louvre Museum, Paris, 2014-2016; Life on the Line, Chapelle de la Vieille Charité, Marseille, 2018; Aube bleue, Galerie Kamel Mennour, Paris, 2018; Midnight Lightning, Galerie Kamel Mennour, London 2018). For the Paris Opera, Claude Lévêque created the sets and stage design for Siddharta, a ballet by Angelin Preljocaj (2010) and Herr Monde in Merce Cunningham's MiniEvent (2004). He also directed Lac perdu for the 3e Scène.