Report from the 2 June 2023
OPÉRA D'ÉTÉ 2023
For its 10th edition, the event Opéra d'été (Summer Opera) is already a great success, with 46 free screenings of ballets and operas, in France (Metropolitan and Overseas), in 9 departments and 17 cities, including Sarcelles (Val-d'Oise), Saint-Raphaël (Var) or the Ternes castle (Cantal).
Opéra d'été allows new audiences to discover operatic and choreographic works close to home or on holiday, thanks to an original and popular broadcast medium, in excellent quality (5.1, H-D).
Each year, the Paris Opera is offering during the summer season free screenings of opera and ballet performances, filmed at the Palais Garnier or Bastille Opera, in the open air and/or in an accessible heritage site, in partnership with French municipalities or departments.
Eight performances are presented this 2023 summer season:
Operas
PLATÉE
Opera - Jean-Philippe Rameau
Direction: Laurent Pelly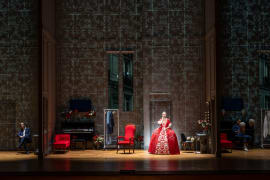 LE NOZZE DI FIGARO
Opera - Wolfgang Amadeus Mozart
Direction: Netia Jones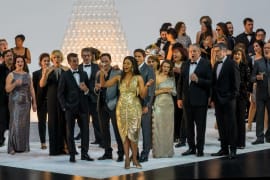 LA TRAVIATA
Opera - Giuseppe Verdi
Direction: Simon Stone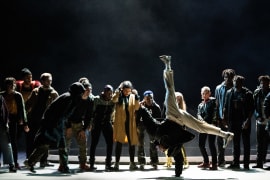 LES INDES GALANTES
Opera - Jean-Philippe Rameau
Direction: Clément Cogitore
Ballets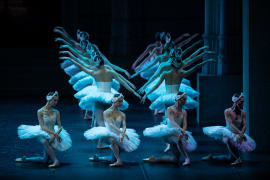 SWAN LAKE
Ballet - Rudolf Nureyev
Music: Piotr Ilyitch Tchaïkovsky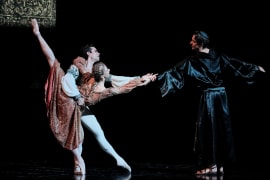 ROMEO AND JULIET
Ballet - Rudolf Nureyev
Music: Serguei Prokofiev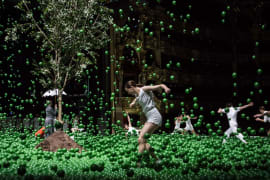 PLAY
Ballet - Alexander Ekman
Music: Mikael Karlsson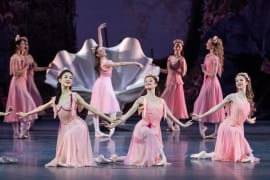 A MIDSUMMER NIGHT'S DREAM
Ballet - George Balanchine
Music: Felix Mendelssohn-Bartholdy
---
SCHEDULE
Bas-Rhin
Les Indes galantes
au Jardin des deux rives, Strasbourg (le 25/06/2023 à 22h00)
Alpes-de-Haute-Provence
Les Indes galantes au Centre Culturel René Char, Digne-les-Bains (le 04/07/2023 à 21h00)
Les Noces de Figaro au Centre Culturel René Char, Digne-les-Bains (le 05/07/2023 à 21h00)

Meurthe-et-Moselle
Les Noces de Figaro au Cinéma Citéa, Toul (le 04/07/2023 à 19h15)
Les Noces de Figaro à la Salle des fêtes, Villerupt (le 07/07/2023 à 20h00)
Le Lac des cygnes au Cinéma Citéa, Toul (le 11/07/2023 à 19h15)
La Traviata au Cinéma Citéa, Toul (le 22/08/2023 à 19h15)
Roméo et Juliette au Cinéma Citéa, Toul (le 29/08/2023 à 19h15)

Moselle
Les Indes galantes au Centre Pompidou, Metz (le 05/07/2023 à 22h30)

Finistère
Le Lac des cygnes à L'Éphémère, jardin de l'Évêché, Quimper (le 07/07/2023 à 20h00)
Les Noces de Figaro à L'Éphémère, jardin de l'Évêché, Quimper (le 01/09/2023 à 20h00)
Haute-Saône
La Traviata au Théâtre François Villon, Vesoul (le 12/07/2023 à 18h00)
Les Noces de Figaro au Théâtre François Villon, Vesoul (le 19/07/2023 à 18h00)

Val-d'Oise
Le Lac des cygnes à la Salle Jacques Berrier, Sarcelles (le 12/07/2023 à 20h30)

Hautes-Alpes
Le Songe d'une nuit d'été au Museum départemental, Gap (le 14/07/2023 à 15h00)
Les Indes galantes au Museum départemental, Gap (le 25/08/2023 à 19h30)

Alpes-Maritimes
Les Indes galantes au Théâtre Robinson, Mandelieu-la-Napoule (le 17/07/2023 à 21h45)
Play au Théâtre Robinson, Mandelieu-la-Napoule (le 14/08/2023 à 21h30)

Pyrénées-Atlantique
La Traviata au Cinéma Le Méliès, Pau (le 18/07/2023 à 20h00)
Roméo et Juliette au Cinéma Le Méliès, Pau (le 07/08/2023 à 20h00)

Tarn-et-Garonne
Le Lac des cygnes au Jardin des plantes, Montauban (le 18/07/2023 à 20h30)
Roméo et Juliette au Jardin des plantes, Montauban (le 19/07/2023 à 20h30)

Hauts-de-Seine
Platée sur le Parvis de la Seine Musicale (le 19/07/2023)
Le Songe d'une nuit d'été sur le Parvis de la Seine Musicale (le 20/07/2023)

Finistère
Les Noces de Figaro au Théâtre Georges Madec, Esquibien-Audierne (le 20/07/2023 à 20h30)
Le Lac des cygnes au Théâtre Georges Madec, Esquibien-Audierne (le 03/08/2023 à 20h30)

Creuse
Les Indes galantes à la Cité de la tapisserie, Aubusson (le 23/07/2023 à 18h00)
Le Lac des cygnes à la Cité de la tapisserie, Aubusson (le 23/08/2023 à 18h00)

Tahiti
Les Noces de Figaro aux Jardins de Paofai, Papeete (le 10/08/2023 à 18h00)
Le Songe d'une nuit d'été aux Jardins de Paofai, Papeete (le 10/08/2023 à 18h00)

Var
La Traviata, Plage du Débarquement au Dramont, Saint-Raphaël (le 27/07/2023 à 21h45)
Les Noces de Figaro, Plage du Débarquement au Dramont, Saint-Raphaël (le 21/08/2023 à 21h45)

Lot
Les Indes galantes, Place du Mercadial, Saint-Céré (le 31/07/2023 à 21H00)

Territoire de Belfort
La Traviata, Site naturel du Malsaucy, Belfort (le 03/08/2023 à 21h30)
Play, Site naturel du Malsaucy, Belfort (le 24/08/2023 à 21h30)

Nouvelle-Calédonie
Roméo et Juliette au Parc urbain des Sainte-Marie, Nouméa (le 04/08/2023 à 19h00)
La Traviata Voie Maurice Meunier, Magenta (le 29/09/2023 à 19h00)

Cantal
Les Noces de Figaro au Chateau des Ternes (le 07/08/2023 à 21h00)
Roméo et Juliette au Château d'Anjony (le 14/08/2023 à 21h00)

Val-de-Marne
Le Lac des cygnes au Parc Grand Godet, Villeneuve-le-Roi (le 08/08/2023 à 22H00)

Haute-Savoie
Le Songe d'une nuit d'été au Parc Vignières, Annecy (le 12/08/2023 à 21h30)

Pas-de-Calais
Platée au Chateau d'Hardelot (le 18/08/2023 à 21h30)

CHARENTE-MARITIME
Le Songe d'une nuit d'été au Théâtre antique de Barzan (le 23/08/2023 à 21h30)
Alpes-Maritimes
Les Noces de Figaro, Place de la Castre, Cannes (le 25/08/2023 à 21h00)
Loir-et-Cher
Les Noces de Figaro au Centre culturel La Pyramide, Romorantin-Lanthenay (le 08/09/2023 à 20h00)
Roméo et Juliette au Centre culturel Le Minotaure, Vendôme (le 22/09/2023 à 20h00)

Corse-du-Sud
Les Indes galantes, Théâtre de verdure de l'Espace Jean Paul de Rocca Serra à Porto Vecchio (le 05/08/2023 at 9pm)
Le Songe d'une nuit d'été, Théâtre de verdure de l'Espace Jean Paul de Rocca Serra à Porto Vecchio (le 28/08/2023at 9.pm)