Report from the 11 March 2023
GUILLAUME DIOP NOMINATED ETOILE DANCER OF THE PARIS OPERA
On behalf of Alexander Neef, the Paris Opera Director, José Martinez, Dance Director, has nominated Guillaume Diop Etoile dancer of the Paris Opera following the morning performance of the ballet Giselle (based on Jean Coralli and Jules Perrot), in which he danced for the second time the role of Albrecht on the stage of the LG Arts Center in Seoul, Korea, on Saturday 11 March, 2023 (2pm, local time) along with Dorothée Gilbert.
He will then star in Le Chant du compagnon errant (Maurice Béjart), staged at the Bastille Opera from 21 April to 28 May 2023.
---
Biography
Guillaume Diop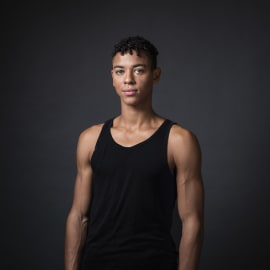 2012: Enters the Paris Opera Ballet School.
2018: Joins the Paris Opera Corps de Ballet.
2021: Cercle Carpeaux Dance Prize. Arop Dance Award for the season 2020/2021.
2022: « Coryphée ».
2023: « Sujet ».