Report from the 6 January 2020
Ballet de l'Opéra national de Paris - tournée 2020 au Japon | Tokyo
Over the last 20 years, the Company has visited the Japanese capital eight times, performing some great masterpieces of its repertoire, such as The IXe Symphonie (Maurice Béjart) in 1999, Jewels (George Balanchine) and La Bayadère (Rudolf Noureev) in 2003, Swan Lake (Rudof Noureev) and Paquita (Pierre Lacotte) in 2006, Le Parc (Angelin Preljocaj) in 2008, Cinderella (Rudolf Noureev) in 2010, Les Enfants du paradis (José Martinez) in 2013, Don Quixote (Rudolf Noureev) and La Dame aux Camélias (John Neumeier) in 2014, La Sylphide (Pierre Lacotte) and a mix programme in 2017. Answering the invitation of the Japan Performing Arts Foundation and its executive director Norio Takahash, this 2020 tour at the Tokyo Bunka Kaikan highlights once more the strong relationship developed over time between the Paris Opera Ballet and the Japanese audience.
The Paris Opera Ballet will perform two masterpieces belonging to its repertoire. Two ballets depicting a tormented passion; Giselle, a classic and timeless ballet of the Romantic era (5 showings from 02/27 to 03/01) and Onegin, a great ballet of the 20th century by John Cranko (5 showings from 03/05 to 03/08).   
Program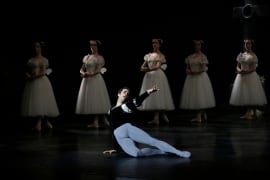 GISELLE
Libretto:Théophile Gautier, Jules-Henri de Vernoy de Saint-Georges
Music: Adolphe Adam
Choreography: Jean Coralli, Jules Perrot (1841)
Set design: Alexandre Benois
Costume design: Alexandre Benois
Les Étoiles, les Premiers Danseurs et le Corps de Ballet 
Orchestre Philharmonique de la ville de Tokyo
Conductor: Benjamin Shwartz
The credits list itself is a testimony of its continuous success. Théophile Gautier, the libretto co-writer; Jean Coralli and Jules Perrot, the men behind the choreography; Alexandre Benois, whose designs inspired the sets and costumes; Patrice Bart and Eugène Polyakov, who revived the work for the Paris Opera. So many talents gathered to create a unique art piece, considered as the Olympus of classical dance. Based on a book by Heinrich Heine, this ballet exemplifies a whole era put into motion by an artistic movement prizing sensibility over sense: the Romanticism. Giselle, a young peasant girl, is seduced by Albrecht and dances her love for him.
But when she learns that Albrecht is already engaged to Princess Bathilde, she loses her mind and dies. Albrecht is condemned by Myrtha, the Queen of the Wilis (the spirits of young girls who died before their wedding day) to death with incessant dancing. He will be saved by Giselle's unconditional love and the rise of dawn, when the Wilis lose their power.
Premiered in Paris in 1841, this ballet transcended all boundaries and has been enjoying ever since a continuous success. This jewel of the classical repertoire, well known for its narrative and its choreography, is still regarded as the quintessence of Romantic ballet.   

Representations
Thursday 27 February 2020 - 7:00 pm 
Friday 28 February 2020 - 7:00 pm 
Saturday 29 February 2020 - 1:00 pm 
Saturday 29 February 2020 - 6:00 pm 
Sunday 1 March 2020 - 3:00 pm  
Cast (subject to change)
Giselle : Amandine Albisson or Léonore Baulac or Dorothée Gilbert
Albrecht : Mathieu Ganio or Germain Louvet or Hugo Marchand
Myrtha : Hannah O'Neill  
---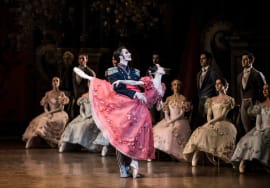 ONÉGUINE
Music: Piotr Ilyitch Tchaïkovski
Arrangment: Kurt-Heinz Stolze
Libretto: John Cranko
Choreography | Director: John Cranko
Set and costume design: Jürgen Rose
Lighting design: Steen Bjarke   

Les Étoiles, les Premiers Danseurs et le Corps de Ballet 
Orchestre Philharmonique de la ville de Tokyo
Conductor: James Tuggle
Written between 1823 and 1831, Eugene Onegin, a novel in verse by Alexander Pushkin, was a huge success and largely contributed to the expansion of Russian literature in the world. Like his 18th century peers, Pushkin took his cue from French classicism, but his work contains a Romantic influence specific of his time. Above all, Pushkin is regarded as the founding father of the modern Russian literary language, for he enriched Russian with both a universal dimension and a national soul, at a time where French was considered as a more suitable culture by the imperial court. He thus created a language encompassing formal beauty and simple, bright phrases, sharp humour and poetry, raw realism and popular folklore. Pushkin brilliantly gave birth to modern characters, tormented by their passions and mistakes, doomed by fate and destiny; literary portraits that became emblematic figures of unrequited passion. Eugene Onegin may well be the premonitory tale of Pushkin's death. It tells the tragic and romantic intrigue that destroyed the lives of four young lovers. Onegin, a superfluous, nonchalant dandy tired of his idle social life, his friend Lenski, a poet imbued with German literature, the sweet Olga Larina, his fiancée, and Tatiana, Olga's sister, a sentimental and naïve young girl.
South - African choreographer John Cranko discovered Eugene Onegin in the early 1950s and was immediately seduced by this novel. "I was deeply impressed by this work, a perfect base to create a ballet, allowing me to think of entire scenes combining opposite styles thanks to a perfectly structured quartet". He became the first choreographer of Anglo-Saxon culture to dig in the work and the main themes of Pushkin. In Onegin, Cranko delivers a ballet fully centred on the main characters, highlighting their tragic, self-destructing feelings nourished by unfulfilled love. Set to musical excerpts by Tchaikovsky structured by Kurt-Heinz Stolze, with designs and costumes by Jürgen Rose, this production depicts to perfection the universal story of a tormented passion.  

Cast (subject to change)
Eugène Onéguine : Mathieu Ganio or Hugo Marchand
Tatiana : Léonore Baulac or Naïs Duboscq
Lenski : Germain Louvet or Paul Marque  
Representations
Thursday 5 March 2020 - 7:00 pm 
Vendredi 6 mars 2020 - 7:00 pm 
Saturday 7 March 2020 - 1:00 pm 
Saturday 7 March 2020 - 7:00 pm 
Sunday 8 March 2020 - 3:00 pm  
Mécène du rayonnement international de l'Opéra

Read more

Mécène de la saison du Ballet de l'Opéra National de Paris