Report from the 25 May 2023
ALEXANDER NEEF ANNOUNCES THE RESIGNATION OF GUSTAVO DUDAMEL
The Paris Opera announces the resignation of Gustavo Dudamel as Music Director at the end of the 22/23 season for personal reasons.
Alexander Neef, general director of the Paris Opera, acknowledges his decision and wishes to take a moment to reflect on the appointement of a new Music Director, a key position essential to guarantee the highest standards of performance.
« It is with a heavy heart, and after long consideration, that I announce my resignation as Music Director of the Paris Opera, in order to spend more time with my family.
It has been a privilege to share such wonderful moments with the Orchestra, Chorus, and artistic teams of Opera de Paris over the past two seasons. This is a time which I believe has changed all of us in many unique and complex ways, and I certainly have a greater appreciation for life, and for how art and music enriches my every day existence and that of those around us.
I have no plans other than to be with my loved ones, to whom I am deeply grateful for helping me to continue to be strong in my resolve to grow and remain challenged, both personally and artistically, each and every day ».

Gustavo Dudamel.
« I would like to thank Gustavo Dudamel whose passion and immense talent have brought so much to the repertoire of our house. He was able to forge a special relationship with the musicians of the Orchestra, the artists of the Chorus, the singers and the artistic teams, a relationship marked by mutual respect and the desire to create the most beautiful performances together. The recent success of Nixon in China is one of the most striking illustrations. Gustavo Dudamel is an immense musician. I express my deep gratitude to him for the work accomplished during his tenure, and I fully respect his decision ».
Alexander Neef
Regarding the 23/24 season, the Paris Opera will communicate more details in due time about the projects that have been announced with the participation of Gustavo Dudamel.
---
Biography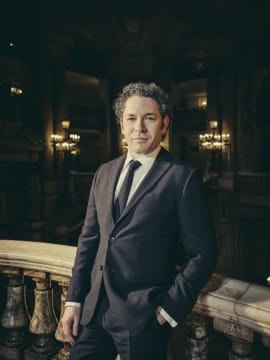 Gustavo Dudamel

Gustavo Dudamel was born in 1981 in Barquisimeto, Venezuela. In 1996, at the age of 18, he was appointed Music Director of the Simón Bolívar Youth Symphony Orchestra of Venezuela.

In 2004, he won the inaugural Bamberger Symphoniker Gustav Mahler Competition and gained international fame. He was nominated (2007-2012) Music Director of the Gothenburg Symphony.

He was then appointed Music and Artistic Director of the Los Angeles philharmonic Orchestra in 2009.In 2023, Gustavo Dudamel was appointed Music Director of the New York Philharmonic Orchestra starting in the 2026/2027 season...