Using Nirvana frontman Kurt Cobain's live rendition of the classic Habanera from Carmen as an anecdotal point of departure, we asked ourselves if the divide between opera and pop music is as definitive as many would have us believe. And if Mozart – whose Die Zauberflöte is currently on the bill at the Opéra Bastille – was himself a pop composer? We put the question to Agnès Gayraud, the philosopher and lead singer of the group La Féline who has penned a fascinating essay on the subject – Dialectic of Pop, published by Éditions La Découverte.
---
Carmen and Die Zauberflöte count among the most popular operas in the repertoire, however, in your essay Dialectic of Pop, you evoke the difference between "popular music" and "pop music". Can you elaborate on that distinction for us?
Agnès Gayraud: Effectively, opera is a part of popular culture: everyone can hum an opera aria. However, it does not fall within the scope of pop in the wider sense of "recorded popular music". Opera is oriented towards vocal performance without the addition of any stylistic technological devices. One does not process the voice of a singer or sculpt its sonorities during the recording process. Conversely, the production of pop music is determined by the arrangement of sounds, recording techniques, special effects and mixing, etc. There is therefore an ontological separation between pop and what the philosopher Theodor Adorno called "classical Western music" to which opera belongs: music composed and historically set in a highly specific musical medium. With regard to pop, my research leads me to suggest that the medium used—recording—gives rise to a new musical art form, just as cinematographic techniques gave rise to their own autonomous art form—with their own specific production conditions and aesthetic challenges—as opposed to being just "filmed theatre". Of course, all this does not prevent music itself from circulating: pop has never ceased to integrate musical passages from the classical repertoire, appropriating pieces from Bach, Pachelbel, Varèse or Ravi Shankar… It does not hesitate to appropriate certain arias from opera just as it is able to draw inspiration from its vocal techniques—think of Freddie Mercury or Klaus Nomi—yet it fashions them with mixing and reverberation techniques specific to the art of pop music…    
In the 1990s, Kurt Cobain gave a rendition of Habanera from Carmen in concert. Indeed, he is not not the only one to have appropriated that legendary musical piece: Beyoncé, Stromae and Lana Del Rey have all done so too. What incentive does pop have in appropriating pieces from the opera repertoire?
A.G.: In its catchiest form, pop thrives on memorable melodies. As such, an opera aria provides appealing material. It becomes an immediately recognisable gimmick. All the subtlety comes with the re-arrangement and in marking it with one's own personal style such as when Jimi Hendrix performed the American national anthem on an electric guitar. When Kurt Cobain played a simple rendition of habanera in concert, he enjoyed switching the virtuoso voice of an opera singer for a simple electric guitar with a drum accompaniment. In what was an almost childlike gesture of appropriation, it was as if he were saying: "this aria belongs to me too." Like any piece of art that becomes part of common culture—one could even say mainstream—the pleasure is inherent in the rearrangement, the adaptation. Pop's interest in opera, or at least popular opera—clearly, Wozzeck has not enjoyed the same success as Carmen in the pop world—has a great deal to do with the pleasure derived from according a more individualised, more localised dimension to a heritage which in its operatic form seems more or less institutional and so widespread as to be impersonal.    
Isn't it also a subversive gesture, a sort of revenge on opera which can represent an intimidating form of culture?
A.G.: Yes, and I would add that it is also about taking back from opera what the genre took from the street. Because Carmen takes place in the street and it depicts the working classes—officers, cigarette girls, crooks… However, on a purely musical level, there is something else, beyond subversion or re-appropriation, namely, a profound affinity between opera arias and pop tunes—with operetta serving as the link between the two. Beyond its recorded-music character, pop is "guided" by an aesthetic ideal which I call the "utopia of popularity". This utopia of popularity is the ideal of a popular art in so far as it reconciles the obvious with rigourous standards in music, the desire that instant gratification be ultimately in tune with authentic art. The "hit" is, so to speak, its concrete form, insofar as it appeals to the greatest number of people while retaining high artistic value—one often forgets the second part of the equation which is nonetheless essential when talking about a utopian ideal. In short, to produce this sense of the obvious without artistic compromise seems to me to be fairly structural aesthetic goal for pop music (in the wider sense). And yet, to a certain degree, opera also contains that same promise.


Should we believe that this "utopia of popularity", or this "ideal of the hit" which guides the creative process of pop, has already guided some opera composers?
A.G.: Yes, in an aria like habanera from Carmen, I find as much. I think it is clear that Bizet wanted to compose music that would instantly charm his audience without having to sacrifice rigorous artistic standards and was distressed by his opera's initial lack of success—even though that success would come later. One can detect a typically pop appeal value that Carmen herself represents within the fiction, her name evoking both enchantment and song.
   

In your essay, you see Mozart as a precursor of pop musicians…
A.G.: Yes. Obviously, he is not a precursor of pop music in terms of production and recording conditions and all that the latter imply and make possible, but he is something of a precursor when it comes to expressing the promise of reconciliation through music. In a letter to his father, he confides that he is searching for a musical model "with the just tempo": a music that can appeal to both experts and philistines, which the initiated would be able to admire for musical reasons and the others would like without knowing necessarily why and without that ignorance becoming a breeding ground for mediocrity or manipulation. He also depicts this ideal in Die Zauberflöte: when Tamino plays the flute and everyone, including the animals in the forest, gather around him, "enchanted" by what they hear.
    
Yes, indeed, Die Zauberflöte ends with a reconciliation extoled by the chorus…
A.G.: Adorno admired Die Zauberflöte and its faith in the reconciliatory power of music, but he was also convinced that Mozart had represented a moment in history that was now outdated. With the advent of the cultural industry, he saw this utopia as a mere advertising tool: from such a viewpoint, both popular light music and opera to him seemed entirely suspect. One can understand and assimilate this Adornian criticism—we know that most industrial successes have nothing of the Mozartian just tempo and that the mainstream sometimes seems to resemble more of a cultural dystopia than the realisation of a utopia of popularity. However, my role is to show that this commitment to reconciliation is not dead. It remains a driving force in pop music—albeit dialectically. So why not for opera?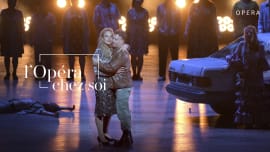 Carmen by Georges Bizet
Calixto Bieito offers the opera a new universe in a production that drives the characters into the darkest corners of their psyches...