Victor Hugo's talent for elaborating suspenseful plots was quickly spotted by European Opera Houses. Like the cinema production companies of today, they were always on the lookout for likely subjects that, when transformed into a good opera, would draw the crowds.
Victor Hugo, a great source of inspiration for opera
In all his plays, Victor Hugo is peerless in the art of creating a profusion of subplots trapping his characters within a web of intrigue that tightens its grip on them the more they struggle against the tide of events: Ruy Blas, Marie Tudor, Cromwell, Doña Sol … virtually all his heroes are embroiled in machinations that gradually become clear to their victims only to convince them that escape is hopeless. Hugo has no rival for creating scenes of maximum dramatic intensity: two women who love the same man but must join forces in order to save him; three men all in love with the same woman, each plotting vengeance; a valet whose love for his queen will be the downfall of both… Each drama sets in motion events that will culminate in disaster: a father who kills his daughter believing that he is assassinating the lover who has dishonoured her; a queen who sends a faithless lover to the scaffold, then learns in extremis that she has been deceived… To this one must add the art of depicting outlandish characters: Torquemade, Gwynplain, Quasimodo… not to mention the cutting riposte and the grand speech in which the character examines his soul and faces his tragic destiny. Hugo had a talent like no one else for creating extreme situations in which passion is laid bare. All these qualities are eminently operatic.
The number of operas inspired by the works of Victor Hugo is considerable. There are more than fifty of them, not to mention the contemporary musicals based on his novels. However, of all these operas, only a few have attained lasting fame; and of the two operas by Verdi based on works by Hugo, one must remember that Rigoletto was far more widely successful than Le Roi s'amuse, the play that inspired it. Indeed, it takes more than just a good story to make a good opera, but then, the meeting between Hugo and Verdi was that of two giants.
Their stature is indeed comparable: give or take ten years or so, they were the same age and both traversed the century as artists and commentators. Both were characterised by their commitment to political progress, Hugo devoting his life to the cause of the French Republic and Verdi to that of a united Italian nation. Both succeeded, in different ways, in embodying the spirit of their country.
In comparing these two giants it is also important to remember that Hugo is absolutely not Verdi's librettist, or script writer as we would call him today. Critics like to imagine with a certain regret what would have happened if Berlioz and Hugo had worked together. It is by no means certain that the result would have been convincing: Berlioz, admittedly struck by the rhyme and rhythm of the author of Les Orientales, was however extremely demanding in the matter of the texts he set and one wonders if their collaboration would have come to anything. Verdi worked with Piave, a professional librettist employed by La Fenice in Venice who was perfectly aware of the difference between a well-written line of verse and a well-sung line. This difference was beyond Victor Hugo: admittedly, he uses songs and off-stage sound effects in a remarkable way in his theatrical works, but he never manage to produce singable alexandrines as becomes clear when one reads La Esmeralda, the only opera libretto he ever wrote, which was based on his novel Notre Dame de Paris.
Verdi - dramatist
Transforming a play into an opera means cutting out two thirds of the original text: this is what Debussy did with Maeterlinck's Pelléas et Mélisande as did Poulenc with Dialogues des carmélites by Bernanos. It implies a considerable tightening up of the plot and the dilemma of deciding what to keep. It is in the context of this rewriting that one can form a detailed appreciation of the role of the music. In a few bars, the music can create an atmosphere that it would take dozens of lines of verse to establish. By inserting the text into a broader orchestral discourse and allowing the characters to confront each other in duos and trios etc. in which they speak at the same time, the music can bring home the impact of a phrase or situation whereas it might require several scenes to create a comparable effect in the theatre.
However, unlike many other opera composers of the day, it is clear that Verdi did not reduce Hugo's contribution merely to that of a good plot. He was evidently aware that through its structure Hugo was expressing something much broader – his vision of the world. The important thing was not only to draw on the dramatic strengths of the text but also to preserve the spirit of the original through the music. This is a specifically musical undertaking that goes beyond the structuring of scenes, duos and trios etc. but which aims to evoke with a variety of means, what one could term the
Hugolien
spirit characteristic of each drama.    
Opera
In this respect, Ernani and Rigoletto are very different. The first allows for tight, concise plotting articulated around a few key moments: three men love the same woman and everything turns to disaster. Verdi cut out the humorous elements (the character of Da Silva, the ageing lover, becomes an implacable avenger; that of Charles V of Spain, who is ready to share the woman he loves, becomes King Carlos, tormented and prepared to be merciful. Rigoletto, on the other hand, introduces a mixture of humour and tragedy to opera in the figure of the accursed fool. These two works each embody a change in Verdi's aesthetic choices: in Ernani, the musical challenge was to leave behind the grand historic frescos of Nabucco and I Lombardi alla prima crociata and to focus on the psychology of the characters; in Rigoletto, the aim was to create a musical chiaroscuro capable of bringing to life characters that were completely new to the operatic stage. It was not merely the plot but the universe depicted by Victor Hugo that inspired these two major aesthetic turning points.
Drama
We know that Hugo was wary of opera. But this is really a measure of the respect he had for it. In 1840, when Lucrezia Borgia was performed at the Italian Theatre, he brought an action against Donizetti for plagiarism, accusing him of stealing his ideas. The defence argued that an opera, which was musical, and a play, which was theatrical, had strictly nothing in common. The plot of Hugo's drama had, perhaps, fertilized the seed of the opera, but otherwise it was original and in no way exposed its author to the accusation of plagiarism. In any case, operas and plays each had markedly different objectives: drama aimed to create the illusion of real life, a portrait of contemporary mores, an explosion of passions and ideas which grip the mind, of feelings that agitate the spirit within the framework of a plot. Opera, however, which by its very nature could not create an illusion of reality, aimed to charm its listeners with memorable arias, with melody, musical lines that caught the ear. An opera and a theatrical drama, even treating the same subject, were therefore two completely different genres having nothing in common. Such was the case for the defence in the celebrated court case.
Now, it is exactly this idea that Verdi contested and Hugo was well aware that opera could perfectly well provide material for forgers and plagiarists. Over and above the plot and its possibilities, it is the desire to establish another relationship with reality that unites Hugo and Verdi, and listening to the music shows what the swan of Busseto made of the work of the exile from Guernsey. Hugo elaborated his settings, characters and created a sense of time and place in order to enact a
drama
or, as he himself put it in the preface to
Cromwell
, an "optical point" through which the entire world could be reflected in all its diversity.    
Reality from an optical point
This is exactly what Verdi spent his entire life doing, particularly with Piave in Rigoletto – an opera whose originality has been endlessly underlined. Even more so than in Ernani, and laying aside questions of mixed genres and the juxtaposition of the grotesque, the pathetic and the sublime, of what is odious and what is pitiful, it is the very status of what we hear and see on stage, the "optical point" through which we observe the world that is transformed. Where Wagner dreamed of music-drama in which stage performance would be like an apparition, a bodily cristallisation; where Berlioz imagined that each dramatic moment must be experienced from the view point of the character concerned; where Hugo desired a drama which made explicit the complex fabric of contradictions in which the individual is destroyed, Verdi created opera which brought the psychological development of his characters and the portrayal of their inner sufferings to the ultimate degree of burning intensity. Performance was to render the sinuous web of their torments visible, audible, palpable.
The Sung Word
This ideal implies profound changes in the organisation of the plot and the action: in the wake of Hugo, who accorded great importance to brief, rapid exchanges, Verdi asked his librettists, particularly Piave, to concentrate and accelerate the action in which lingering over conventional arias would no longer be a possibility. Psychological development had to be palpable in a single word, in the timbre of the voice and above all in the juxtaposition of different kinds of word setting. It is perhaps here that the meeting point between Hugo and Verdi is at its most diffuse but also at its most profound. Hugo in his plays chose words that would hit home, words from every day life: the art of naming things and events in new, condensed metaphors. Verdi tracks down the parola scenica: those words that, when sung, express the physical and emotional presence of the character, in its entirety, in what he says and sings. It is thus that certain words, when sung, "ring" in our ears and remain in our memories alongside snatches of melody; that the word "maledizione" sung by Rigoletto reaches us in its multiplicity of emotional colours giving with each utterance new meaning to his character and to the word itself.
---
Violaine Anger has worked as a producer for France Musique and France Culture. After teaching at the Paris Conservatoire, she then joined the staff of the University of Evry Val d'Essone, the École Polytechnique and the École Professorale in Paris.
---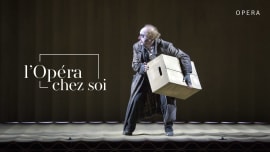 Rigoletto by Giuseppe Verdi
Conducted by Nicola Luisotti, this new production of Rigoletto marks director Claus Guth's first collaboration with the Paris Opera.