In 2016, Léonore Baulac and Germain Louvet were named Étoile dancers after two performances of Swan Lake. Since then, they have both taken on numerous roles. They are now coming back together to play Odette/Odile and Prince Siegfried. Octave went to meet with them to ask them for their impressions and to reflect on their careers.
---
In 2016, you were both named Étoile Dancers after two performances of Swan Lake. Today, how do you feel about dancing the ballet again?
Léonore Baulac: It's a pleasure and a privilege to dance such a masterpiece from the repertoire. However, having been named an Étoile in the role of Odette/Odile doesn't diminish the difficulty and pressure that the role engenders.
Germain Louvet:
Beyond the fact that we were both named Étoiles for the same ballet, it's the first great classical ballet that Léonore and I are dancing again. Up until now, I've practically only performed roles that are new for me. This is an opportunity for me to rediscover the sensations from two years ago and build on them by giving greater depth to the artistic and dramatic aspect of the role of Prince Siegfried. Technically, it's almost like putting on an outfit which has been sitting in the closet for two years but you're happy to be wearing it again.
Taking into account the various new roles you have performed over the last two years, what new elements would you like to bring when you play your character?
LB: I've sought to improve my rendition of the role's highly distinctive arm work and upper-body work to make me seem as much like a bird as possible. I also wanted to accentuate Odette's fragility and put greater emphasis on the tragedy of her condemnation in the fourth act.
GL:
These last two years have given me greater confidence and self-assurance. I've tried to use that experience to give greater gravitas and theatricality to my role. Two years ago, I allowed myself to be guided by my instincts. Now, I want to embark on a more profound exploration by examining the details: where to focus my gaze, how to interact with the dancers of the Corps de Ballet, with Rothbart, Odette, etc. In 2016, performing the role enabled me to find depth, precision, a personal balance, a certain ease. Performing it again two years later allows me to see how my body and my mind have developed.    
Léonore, how do you manage to perform the dual role of Odette/Odile?
LB: Obviously, the two characters need to contrast each other. Odette is pure and fragile while Odile is seductive and manipulative. However, one still has to insufflate Odile with enough ambiguity to make Prince Siegfried's doubts seem credible.
   

Germain, in your view, how do you perform "a good Prince Siegfried"?
GL: I think it's important to be able to express a certain duality. You need to find the right balance between a character of high rank and noble elegance and at the same time be able to reveal the tortured and melancholic human side of a young adolescent prince who is still trying to find himself. To achieve that, I looked to my own experiences to find a way to express it on stage.  
The Corps de Ballet plays a major role in the piece. Does this large-scale mobilisation on the part of the troupe affect your performance?
LB: The Corps de Ballet in Swan Lake is magnificent. As a matter of fact, my favourite passage as a spectator is the dance of the swans at the beginning of the fourth act. It's also one of the hardest ballets for the dancers. Certain poses, for example, are really long and painful. So, we decided with Germain to not linger on or prolong certain gestures because we knew that there were 24 dancers behind us with cramps. It's a question of teamwork and we all support each other.
GL:
The Corps de Ballet is the life force which holds the whole performance together. In general terms, it is the cement of a classical ballet like
Swan Lake
. For me, there are two forms of interactions. The first has to do with the narrative. The Corps de Ballet provides the material and gives me what I need to work with so I can give a quality performance. The second is more personal. The Corps de Ballet is an essential support for the soloists. For me personally, it allows me to maintain my self-confidence and to feel motivated and assisted.    
In more general terms, what is your relationship with Tchaikovsky and Nureyev's choreographic work? What, in your view, makes Swan Lake such a unique ballet?
LB: Tchaikovsky is a masterpiece that never ceases to stir and inspire. By combining it with the bright idea of transforming the woman into a mythological creature whose grace can exceed that of a human makes the ballet quite unique. I am always impressed by works which manage to move people in such a universal way across time and through the generations.
GL:
In my opinion, Tchaikovsky poured his soul, his sensitivity and his suffering into the music for
Swan Lake
. It may be a pain linked to his sexuality in an era when he couldn't live it fully. We need to perform these roles with the emotion contained in the music. It's like constantly having to battle between the joy of discovering who you are and the fear of not being able to accept the discovery. I think that Nureyev made much use of that ambivalence and fragility to steer his choreographic narrative.    
In retrospect, what are the roles that have marked you the most? And what roles would you like to tackle next?
LB: To dance Nureyev's Romeo and Juliet, Pina Bausch's Rite of Spring and John Neumeier's La Dame aux camélias were dreams, and to actually realise them was particularly fulfilling both in my career and in my life. Today, I dream of dancing them again. Now, I'd really like to tackle the roles of Tatiana in Cranko's Onegin and Giselle. There are a lot of contemporary choreographers who I'd like to work with, and with a little luck, I'd like to participate in creations that will also mark the history of dance!
GL:
My role in
Romeo and Juliet
turned out to be a true artistic encounter. After
Swan Lake
,
Don Quichotte
proved to be a great personal challenge. It really was the first time that I'd performed a role that was less "serious", it was rather like being cast against type, but it ultimately allowed me to discover another facet. I realised that when you are honest with yourself, you always find a way to fit with character. Sasha Waltz's
Romeo and Juliet
was outstanding. Working with her and Juan Cruz Diaz de Esnaola was extremely fulfilling. It was the first time that I'd danced on stage simply as myself without artifice. As for the future, I dream of dancing both Béjart's
Boléro
and
Pina Bausch. I also want to perform
Mayerling
. In terms of classical ballets, the Prince in
Sleeping Beauty
, the Chevalier Des Grieux in
Manon
or Armand in
La Dame aux camélias
are roles that I would love to dance.    
---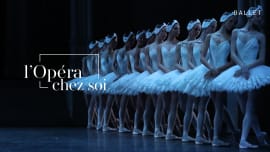 Swan Lake by Rudolf Nureyev
Drawing on ancient Slavic and Norse mythology where destiny is often born out of the mysterious forces of nature, Swan Lake has become a legend in its own right...