Often used by opera composers, stage music accompanies the dramatic action of an opera. Associated with the military "banda" in Giuseppe Verdi's Aida or the blacksmiths' anvils in Richard Wagner's Rheingold, it stimulates the audience's imagination by suggesting another place or a new action. Octave followed Alexander Martin, head of stage music at the Opera, backstage at the Opéra Bastille. He discusses the nature of his work and the specificities of stage music.
---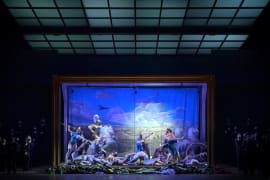 Aida by Giuseppe Verdi
The recording of the new production of Aida will be available from 02/18/2021 to 08/20/2021 on Arte.