The video streams offered by the Paris Opera allow you to discover or rediscover some of the productions that have marked recent seasons. Alongside the videos, Octave invited a number of artists who participated in these productions to add their own personal touch. Willingly playing along, they agreed to film themselves at home in order to relate their experiences, share their memories of rehearsals and performances and discuss the technical and artistic challenges of their roles. They also explain how they continue their artistic activity during lockdown, whilst waiting to return to the stage and their public.
---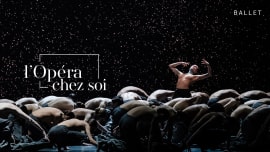 Soirée Thierrée / Shechter / Pérez / Pite
Four contemporary choreographers come together for a programme that leads the Opera's dancers to a new form of modernity where bodies vibrate with intensity.